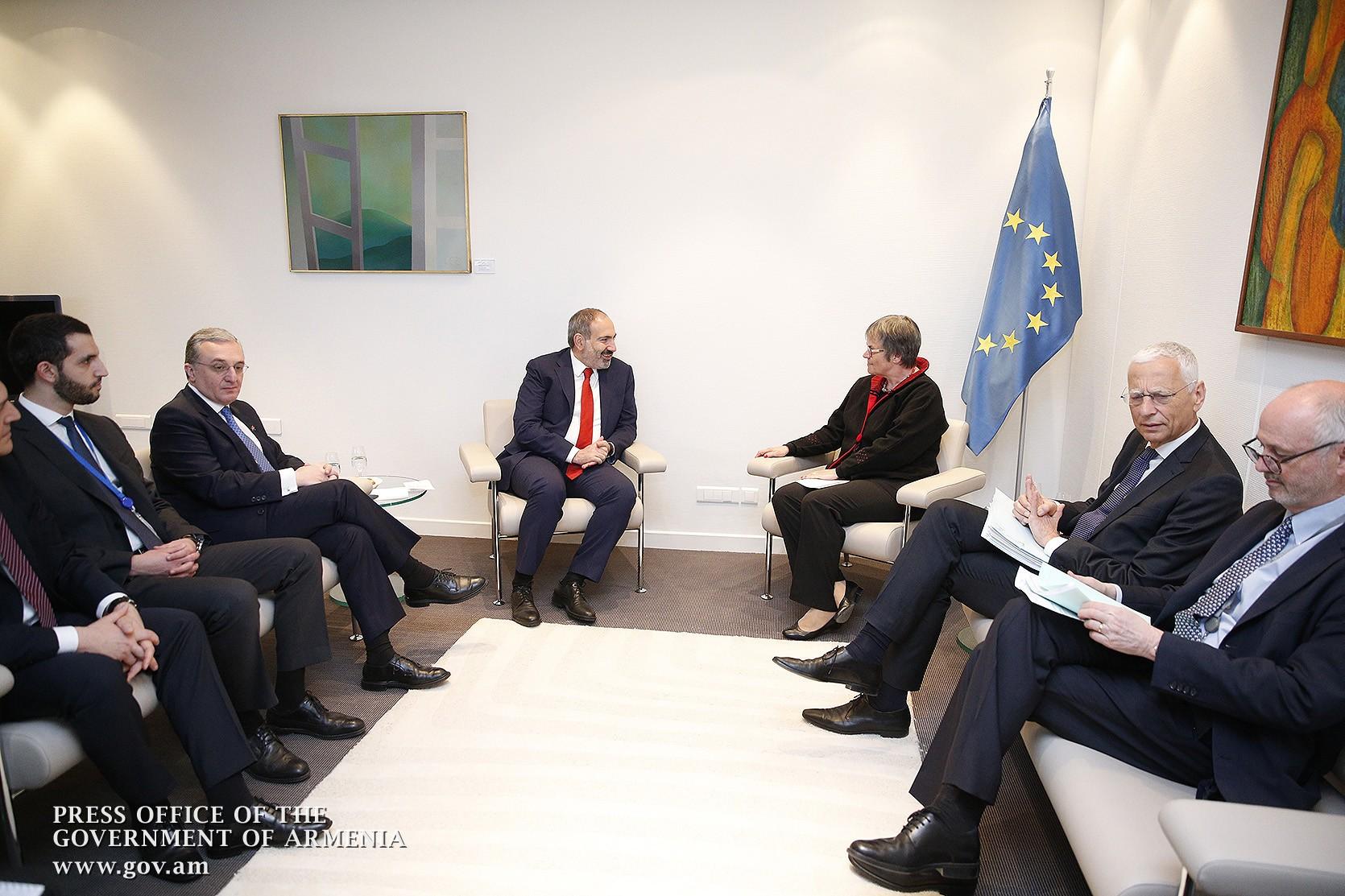 Pashinyan Begins Visit to Council of Europe: Meets with PACE President Liliane Maury Pasquier
The following is an Armenian government press release.
Prime Minister Nikol Pashinyan arrived in Strasbourg late on April 10.
On April 11, the Prime Minister's working visit to the Council of Europe started.
Nikol Pashinyan first met with PACE President Liliane Maury Pasquier. Before the meeting, Prime Minister Pashinyan signed the Golden Book of the PACE President.
The PACE President welcomed the Prime Minister's visit to the Council of Europe, noting that she was glad to meet with Nikol Pashinyan again, this time in Strasbourg. She expressed satisfaction with her visit to Armenia at the end of March, during which she held fruitful meetings and discussions with Armenia's leadership, made a speech in the National Assembly of the Republic of Armenia and attended the opening of Europe Square in Yerevan.
Liliane Maury Pasquier noted that the RA Prime Minister's hectic visit agenda - high-level meetings with CoE officials, the Premier's speech at the PACE spring plenary session, the official opening of the Armenia's Velvet Revolution exhibition – testifies to the effectiveness of CoE-Armenia cooperation and the sides' willingness to deepen it. The PACE President noted that the Council of Europe is set to cooperate with Armenia in strengthening democratic institutions, protecting human rights and enhancing the rule of law.
Thankful for the reception, the Armenian Prime Minister said he had kept warm memories of his late March meeting with the PACE President in Yerevan and was glad to see Liliane Maury Pasquier again, this time in Strasbourg. Emphasizing that Armenia is a full member of the Council of Europe and PACE, the Premier expressed satisfaction with the ongoing cooperation with the Council of Europe, the high level of which was reflected in the outcome of late March visits paid to our country by the PACE Co-Rapporteurs and the PACE President, as well as in the report on Armenia's democratic situation.

The parties discussed the prospects of cooperation between Armenia and the Council of Europe. They referred to the steps implemented under the 2019-2022 CoE-Armenia Partnership Action Plan and prioritized the full implementation of the commitments assumed by the sides.
Nikol Pashinyan noted that the Armenian government has developed an ambitious reform agenda, and the Council of Europe's support is crucial in this respect. The PACE President welcomed the democratic changes underway in our country and reaffirmed their readiness to assist Armenia in the promotion of human rights, democracy and the rule of law.
During the meeting, the parties touched upon the Nagorno-Karabakh conflict settlement process.
If you found a typo you can notify us by selecting the text area and pressing CTRL+Enter