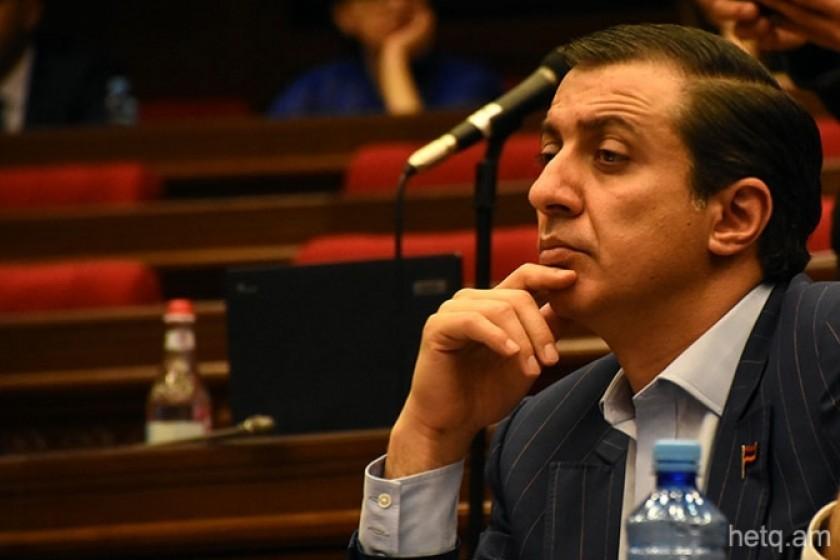 Panama Papers' Mihran Poghosyan: Armenia's Former Chief Compulsory Enforcement Officer Charged with Embezzlement, Abuse of Authority
Mihran Poghosyan, a former Chief Compulsory Enforcement Officer (CCEO) of Armenia, has been charged with embezzlement and abuse of official authority.
Poghosyan is best known for his shady offshore financial dealings as first reported by Hetq in April 2016 after the release of the Panama Papers.
The SIS has also filed a motion with the courts to issue an arrest warrant for Poghosyan.
Armenia's Special Investigative Service (SIS), in a statement released today, says that Poghosyan, while serving as the CCEO, appointed his personal bodyguard and his chauffeur as top-level advisers at the Compulsory Enforcement Service but that Poghosyan used the two to carry out personal matters rather than government work. (Poghosyan served as CCEO from 2011-2016).
The SIS says the two never showed up for work but received 44.199 million drams in wages.
The SIS also claims that while serving as CCEO Poghosyan defrauded the Armenian government out of millions when he purchased cars, to be used by his agency, at above market cost from a company he owned.
In conclusion, the SIS says that Poghosyan also defrauded the Armenian government out of an additional 43.890 million drams when he paid Best Realty Ltd. (a company registered in Armenia but owned by his off-shore companies Sigtem Real Estate Inc. and Hopkinten Trading In.) to carry out appraisals of fixed and moveable property in Compulsory Enforcement Service cases.
Readers will note that the SIS launched a criminal case into Poghosyan's offshore transactions in 2016 but dropped the matter in January 2017.
Poghosyan, who resigned from his post at the Compulsory Enforcement Service in April 2016, always maintained he was not involved in any offshore business deals.
He was elected an Armenian MP on the Republican Party of Armenia ticket in May 2017.
If you found a typo you can notify us by selecting the text area and pressing CTRL+Enter