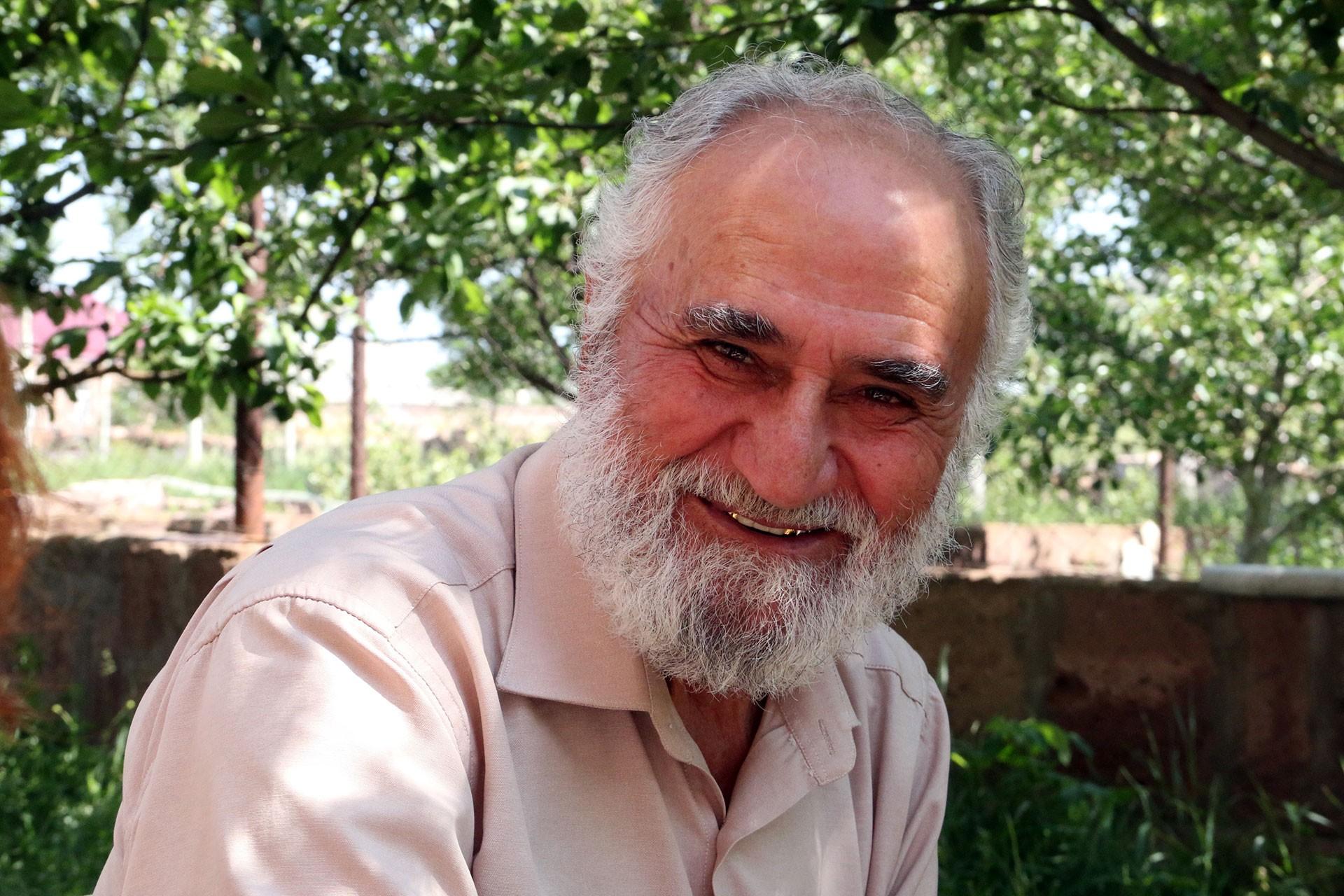 Rouzvelt Torosyan's Unexpected Discovery: Unearths Ancient Burial Site While Digging Outhouse Pit
70- year-old Sarnaghbyur resident Rouzvelt Torosyan is an imposing figure, but his charcoal colored eyes exude a whimsical love of life and there's always a smile on his grey-bearded face.
Mr. Torosyan greets us, who have travelled to this village in Shirak Province to escape the heat of the city, with a strong handshake.
He smiles when we say we would have guessed he's a much younger than seventy.
"Don't forget that I'm living on a layer of soil that dates back 5,000 years. I've remained fresh," says Mr. Torosyan, referring to a burial mound he unearthed some thirty years ago while digging a hole for the wooden outhouse.
He never would have imagined that a mere shovel would transport him back in time several millennia.
Huge slabs, flat stone flooring, ready-made walls, terrain roofs, and the "dirty" hole for the toilet are quickly transformed into a potato cellar.
"It was clear that I would drain the toilet somewhere else," Mr. Torosyan laughs. "I decided to build a cellar to store potatoes, carrots and beets. There was a slab floor, there were walls. I left a round hole at the top to go in and out. Oh, I forgot to say that the ladder is mobile."
He invites us down into the potato cellar.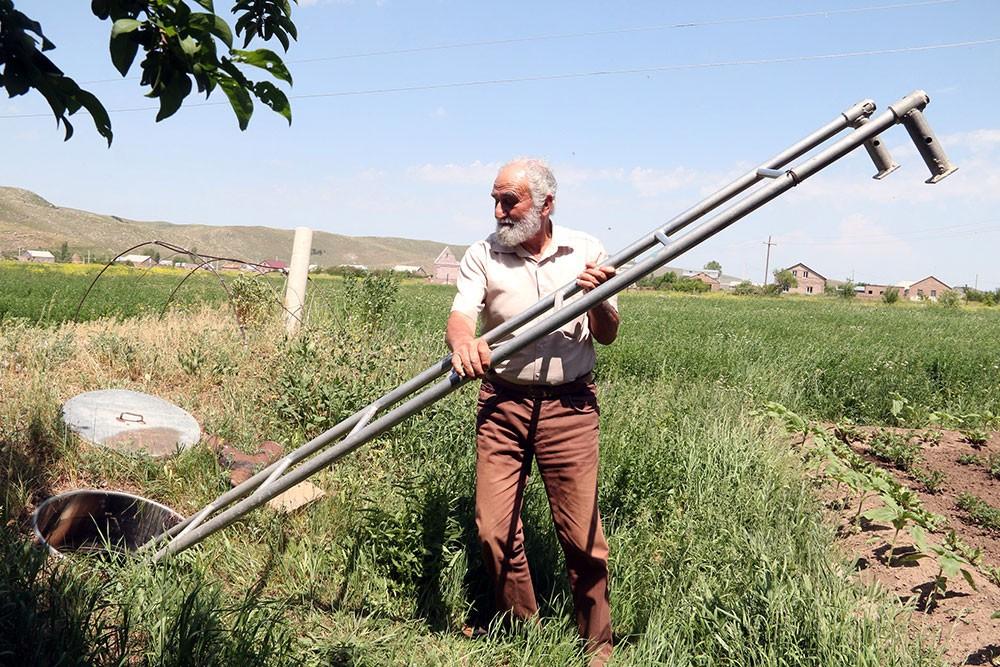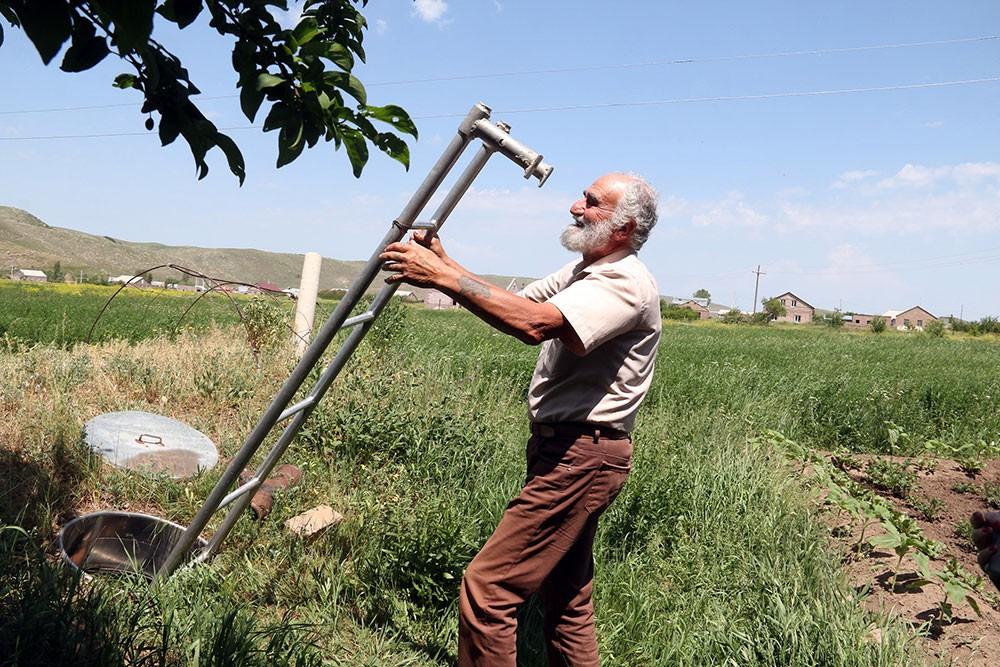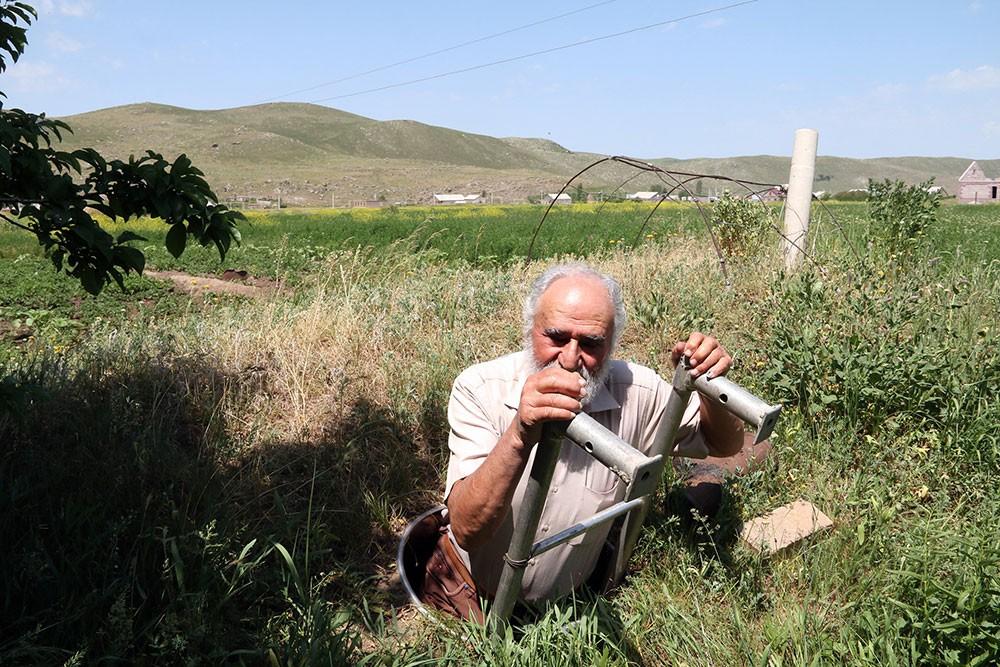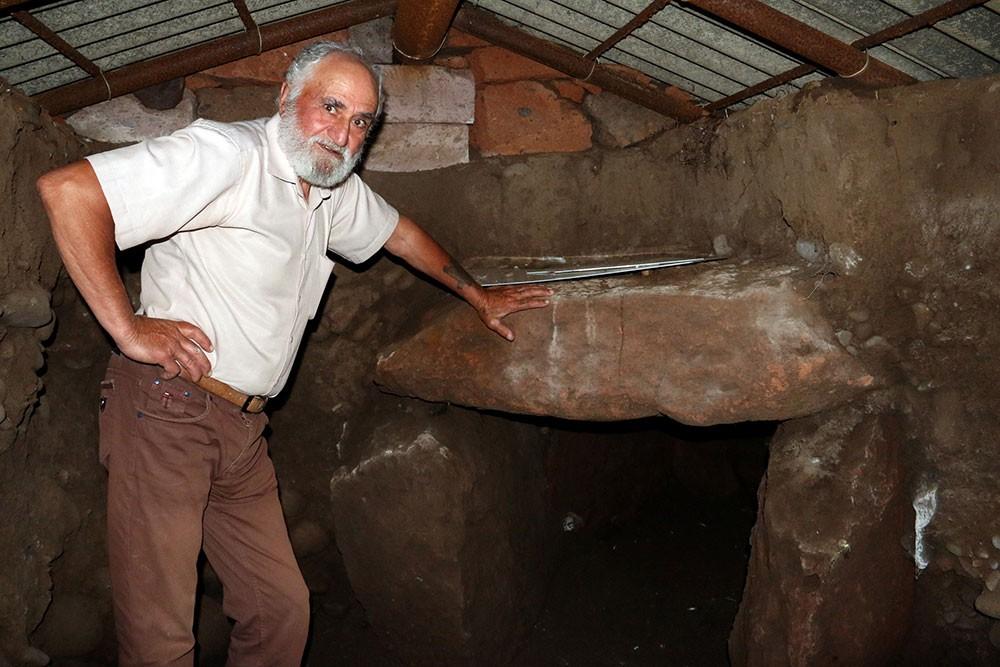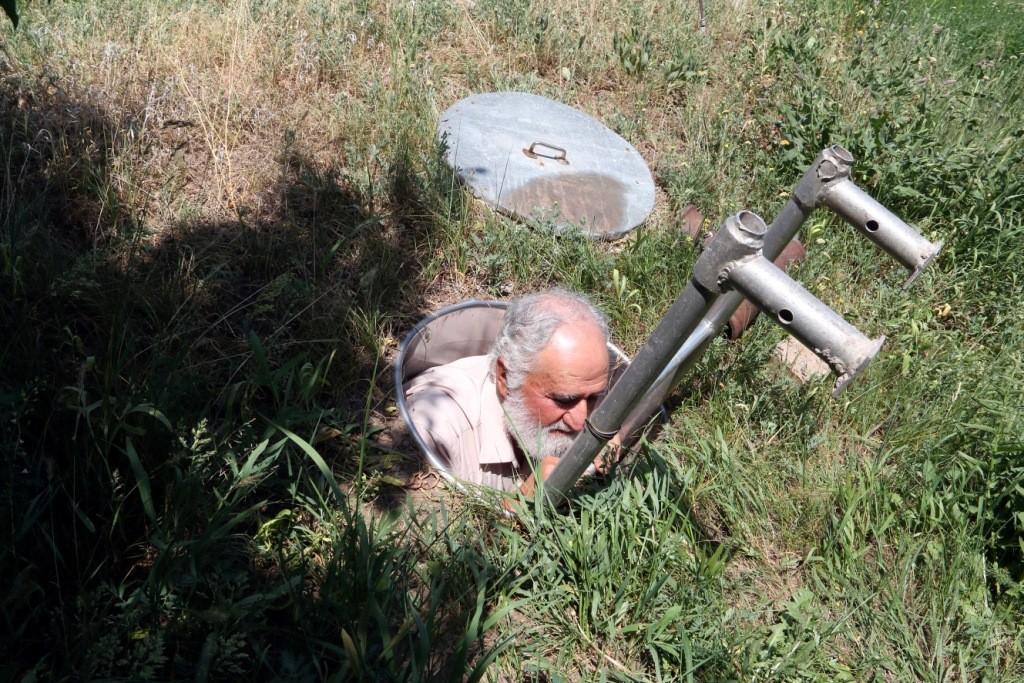 Inside the pit, traces of the deeper passage under the ground are visible, but they're covered with stones. Mr. Torosyan preferred study a small area.
"Clay jugs appeared here. I found plates and beads. And I found a cup, possibly for drinking water or beer. Maybe they drank yogurt," he says, adding that he found no human or animal bones.
Mr. Torosyan displays the clay plates in his bookcase and has donated some of the other items. He gifted the clay jug to filmmaker Mikayel Dovlatyan.
"They were shooting the film Khnkarkoum in our village. It was 10-12 years ago. The village mayor brought Mikayel Dovlatyan to our home, and I gifted him that jug. There was another person with him. I gave him the clay beads. He now says he wants a second one. I told him that if I find another one, I'll give it to him," says Mr. Torosyan, laughing.
He invites us to inspect the house's cellar, also built atop the burial mound.
Besides Mr. Torosyan, no one else has conducted local excavations. He says that no one has shown any interest.
When he made the discovery in the 1990s, he didn't know who to turn to.
Mr. Torosyan, a Sarnaghbyur native, moved to Gyumri at the age of sixteen. He stayed for almost 23 years, returning to the village after the 1988 Spitak earthquake.
He bought a plot on the outskirts of the village and built a house.
"On May 11, I started digging the foundation and we moved in on November 28. To tell the truth, the walls are still without plaster, but we do not even notice it. The important thing is the solid walls and the roof," he says. "We raised four children, though we had seven. Three died. We were busy raising kids. There was no time for remodeling."
Mr. Torosyan says he's discovered 14 mausoleums. He knows some other places and invites us to dig.
"You see this potato patch? There's a mausoleum underneath. You see those bushes? There's one under every bush," he says, pointing to the places where the tombs are located in a large area adjacent to the house. "I have four pear trees. Three are planted on the burial field, and they grow well and bring good fruit."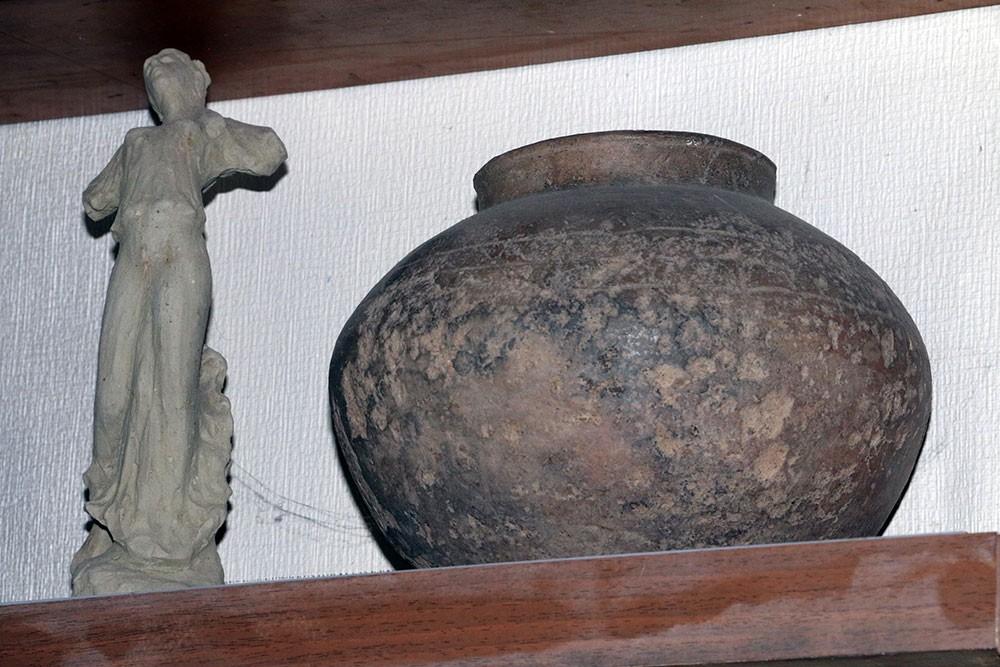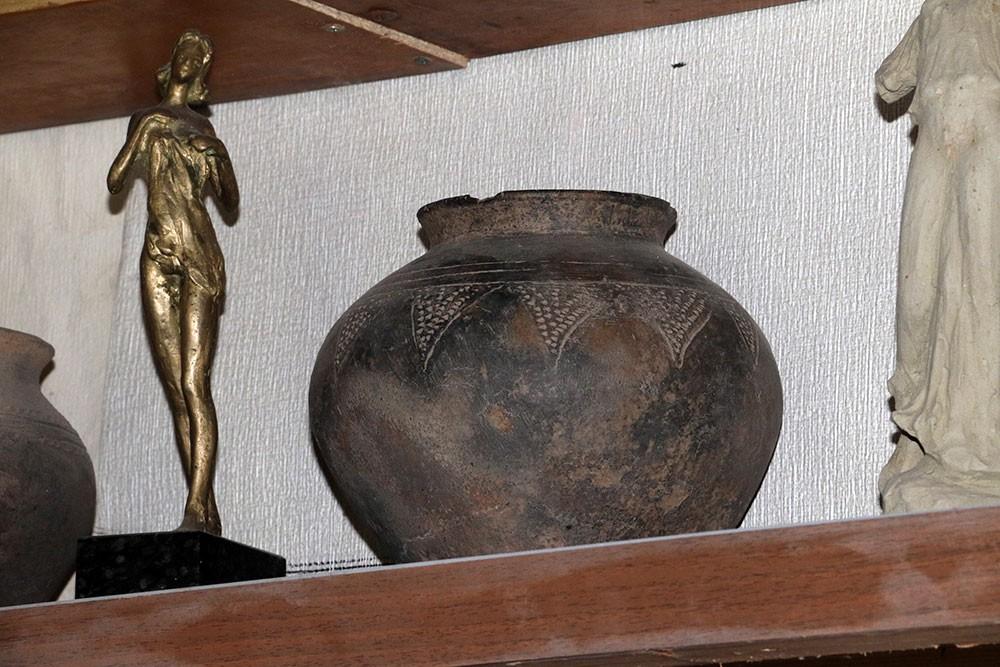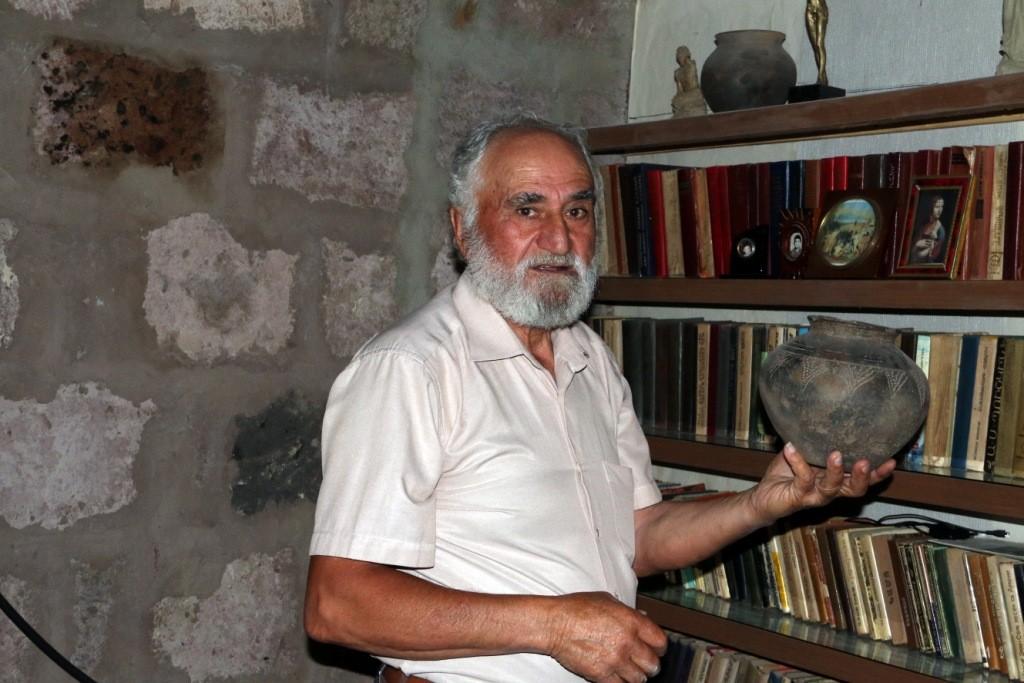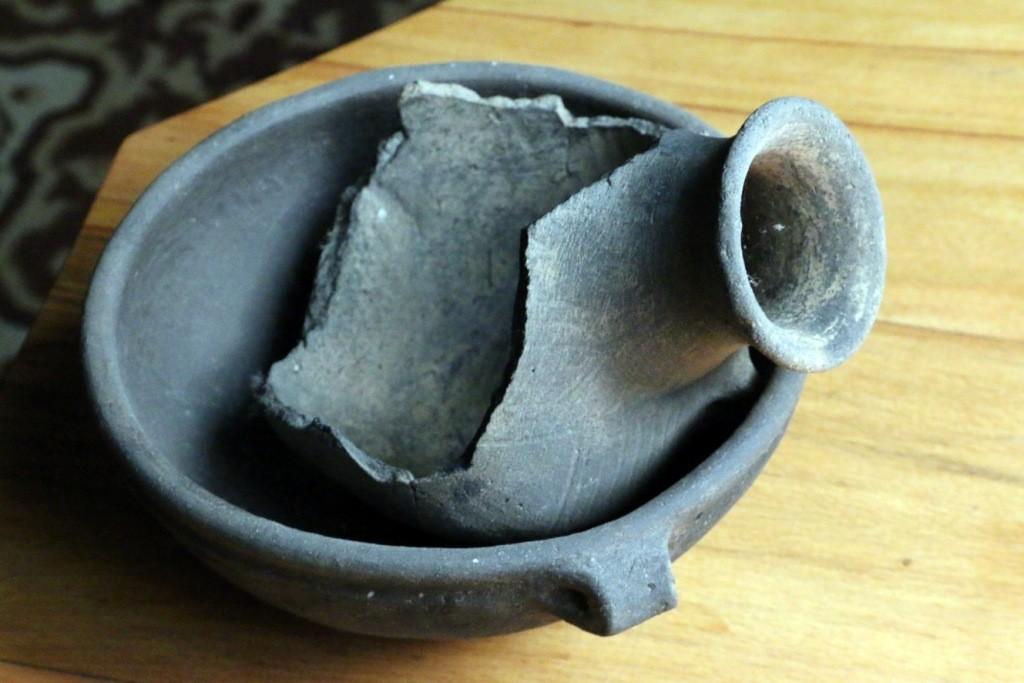 Mr. Torosyan is convinced that the tombs discovered in the garden date back 3,000 to 5,000 years. He says that he read about burial fields in an encyclopedia and compared them with those he found. He says there is an ancient site in the Sarnaghbyur on the hill called Ghalach, where no archaeological studies have been carried out. Remains of the Cyclop Castle are to be found in the vicinity of the village.
"If you say a mausoleum, people will think there's a gold earthen pot buried," Mr. Torosyan says laughing. "But they do not realize that gold is our history. The ones I found were just clay, but I'm interested in knowing exactly what point in history I'm living next to. to live next. That is why I say that I do not need anything. If they want to come and dig, I'll wholeheartedly agree."
Photos and video by Hakob Poghosyan
If you found a typo you can notify us by selecting the text area and pressing CTRL+Enter