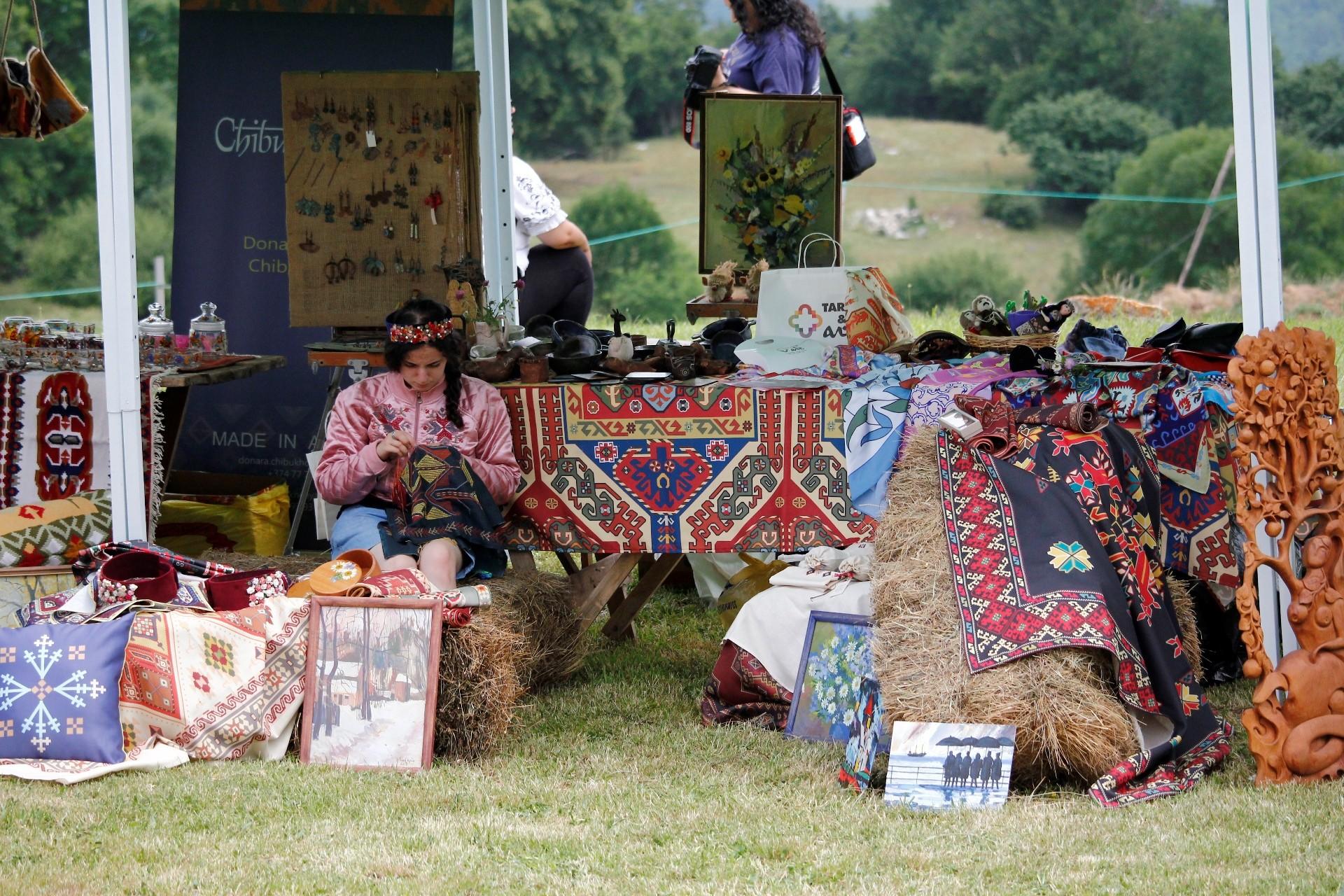 HayBuis Armenian Herb Annual Festival: From Pottery Ornaments to Healing Teas
HayBuis Armenian Herb Annual Festival, held in Yenokavan village of Armenia's Tavush Province since 2015, strives to make Armenian herbs famous via introducing the ways of their application, use and therapeutic significance.
Various herb-related producers present their works in separate pavilions. Gayane Aghayan and Irina Chibukhchyan are the organizers of the festival.
It turns out that Tavush natural herbs are used by famous brands in different spheres.
Bnature company, producing skin care products, collects several types of herbs from the Tavush mountains. Tavush chamomile, sage, lindens, hypericum and other plants are used in Bnature products. Company founder Arpine Barseghyan says that each herb has its own effect on human skin, preventing allergic problems, contributing to the recovery and rehabilitation of the skin, and so on.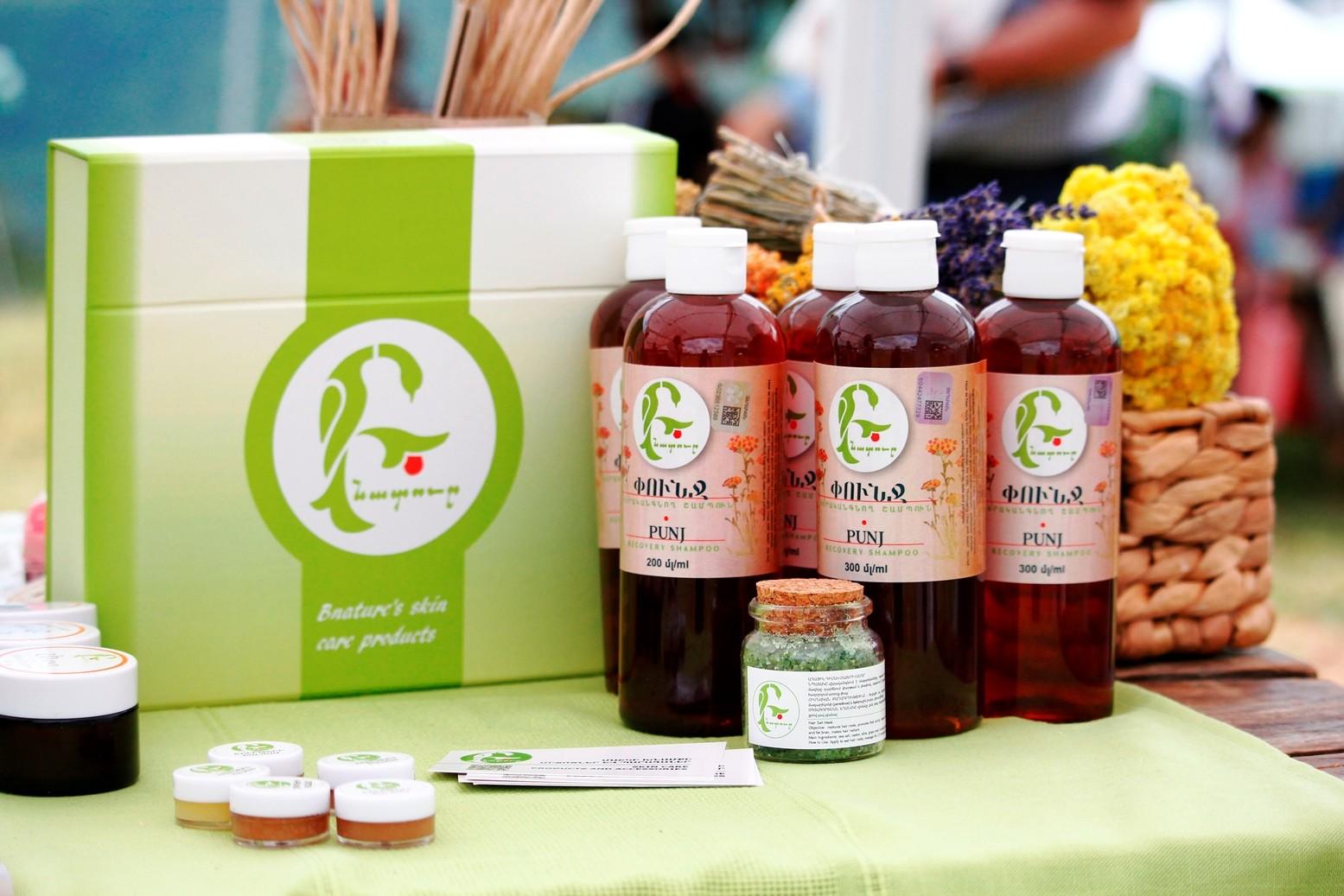 The Shushan-Tatev brand is famous for jewelry lovers.
The company was founded by Ghaltakhchyan sisters. Tatev Ghaltakhchyan says herbs are a part of their jewelry collection. "We work with a combination of bronze, polymer clay, silver, natural flowers and enamel. We use dried plants, combining those with natural stones," says Tatev. Myosotis and wild chamomile are collected from the Tavush mountains by Tatev.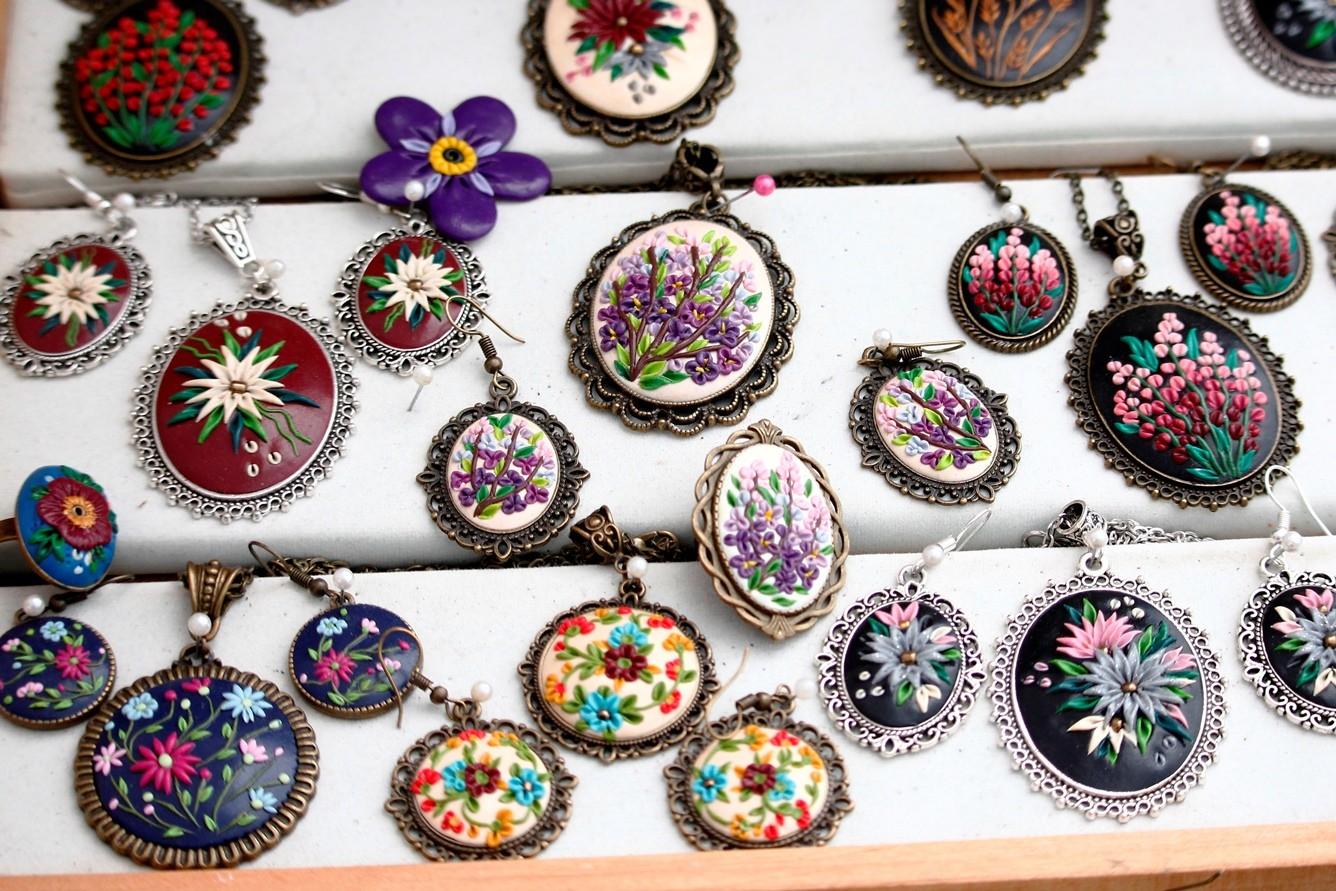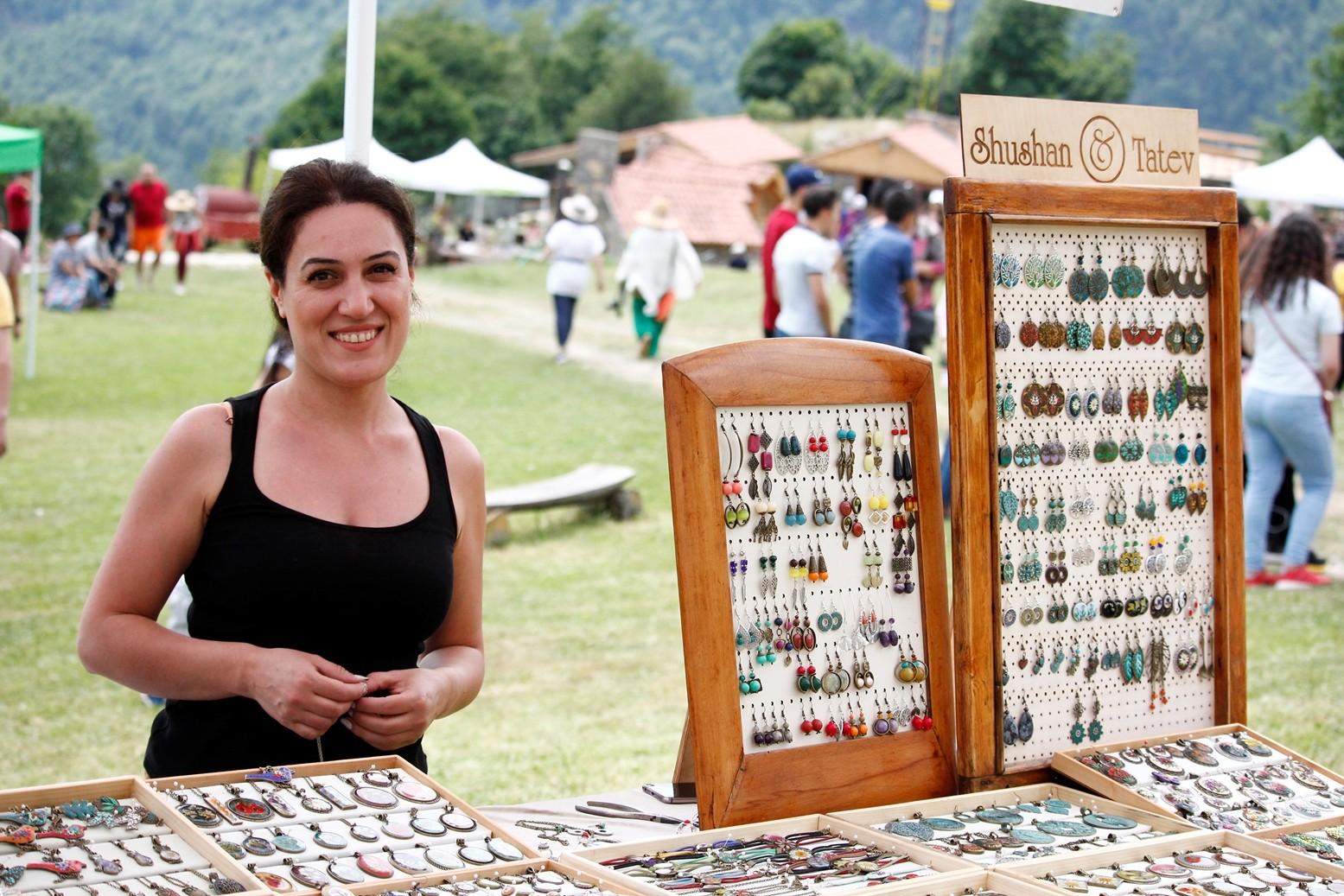 Students and researchers at the YSU Department of Botany and Mycology participated in the festival to inform the visitors about fake pharmacy chamomile offered in various pharmacies, which are not only useless, but might have adverse effects like allergic outbreaks. There are only a few companies that sow and process genuine pharmacy chamomile, which has a delicate, pleasant, sweet taste and smell.
The smell of other species is unpleasant, and the taste is bitter. Young scientists have prepared teas and boxes made with fake and genuine chamomile to teach people to distinguish the fake from the real one by appearance, taste or smell.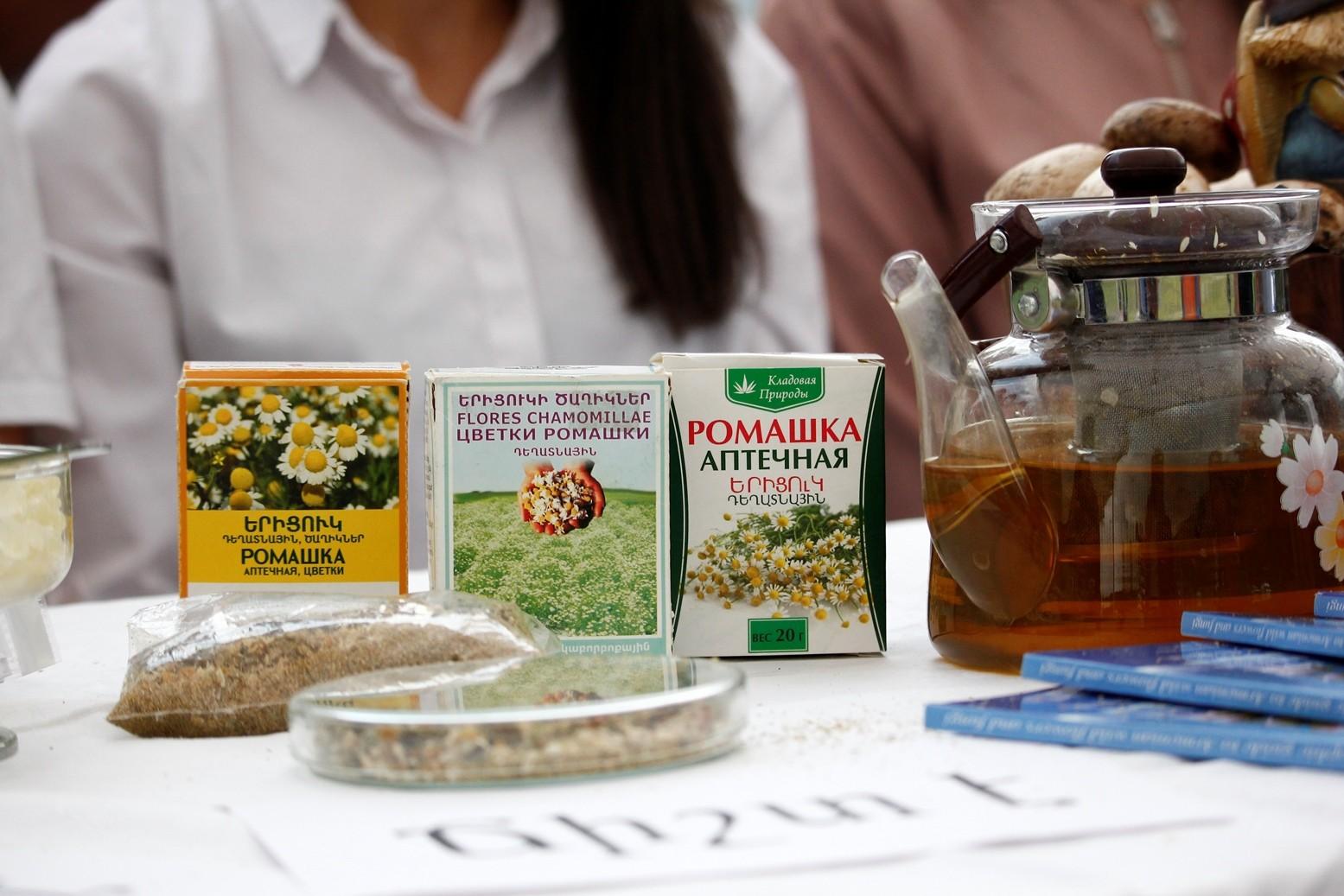 Inspired by a spice mix collected by a recipe of Astghik's grandmother in Artsakh, Lusine Varshamyan from Tavush and Astghik Kocharyan from Artsakh collaborated to make similar spice mixes famous and named their brand SarinKhot.
Lusine and Astghik collect thyme, savory, mint from Tavush and hawthorn flowers and several others from Artsakh. Every day Lusine reveals the similarities of Artsakh and Tavush residents, including the cuisine tastes. Besides the similar climatic conditions, there is another secret: many of the Tavush residents have moved from Artsakh.
Sea Veroniques company co-founder Veronica Barseghyan has been engaged in ceramics for five years. She prefers white clay and eco-printing. Dried mountainous plants are smashed on the clay and put in the stove. The plants burn, while their traces remain. These traces on the clay are being painted, resulting in unique works every time.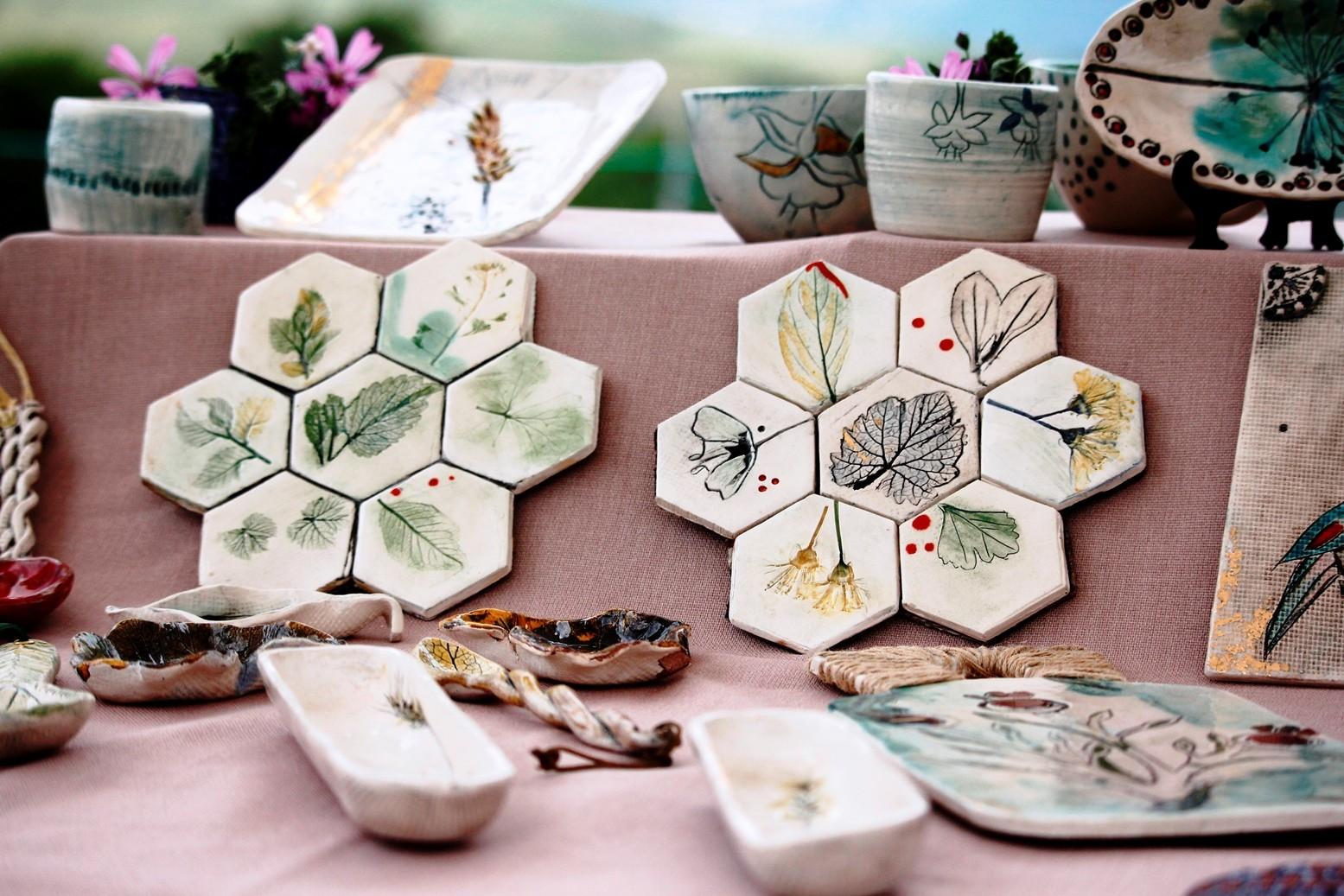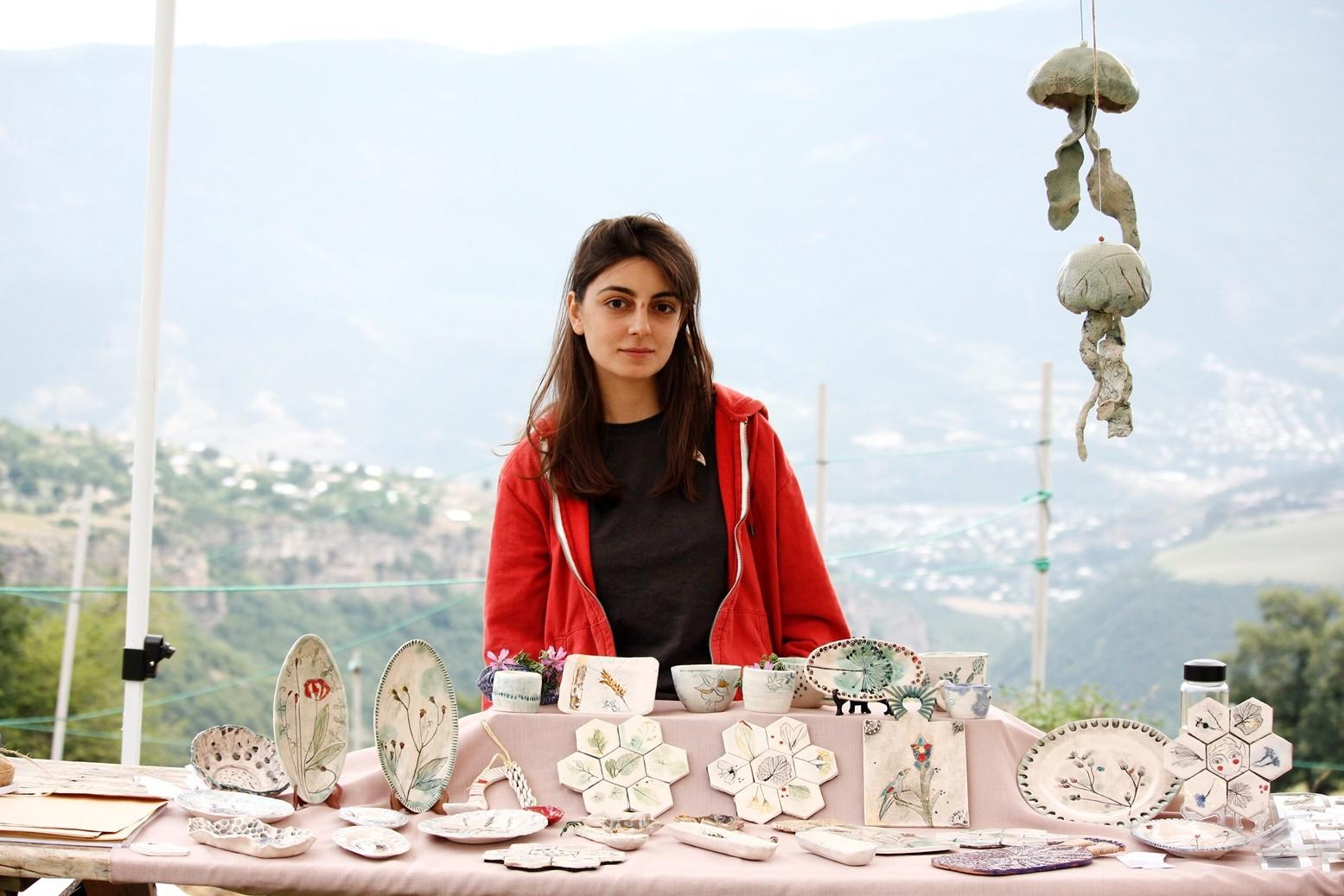 The Nreni(Pomegranate tree) sewing workshop, founded by Narine Tchagharyan, unites women engaged in handmade work. Created with the support of international organizations, the workshop produces linen, kitchen utensils and eco bags.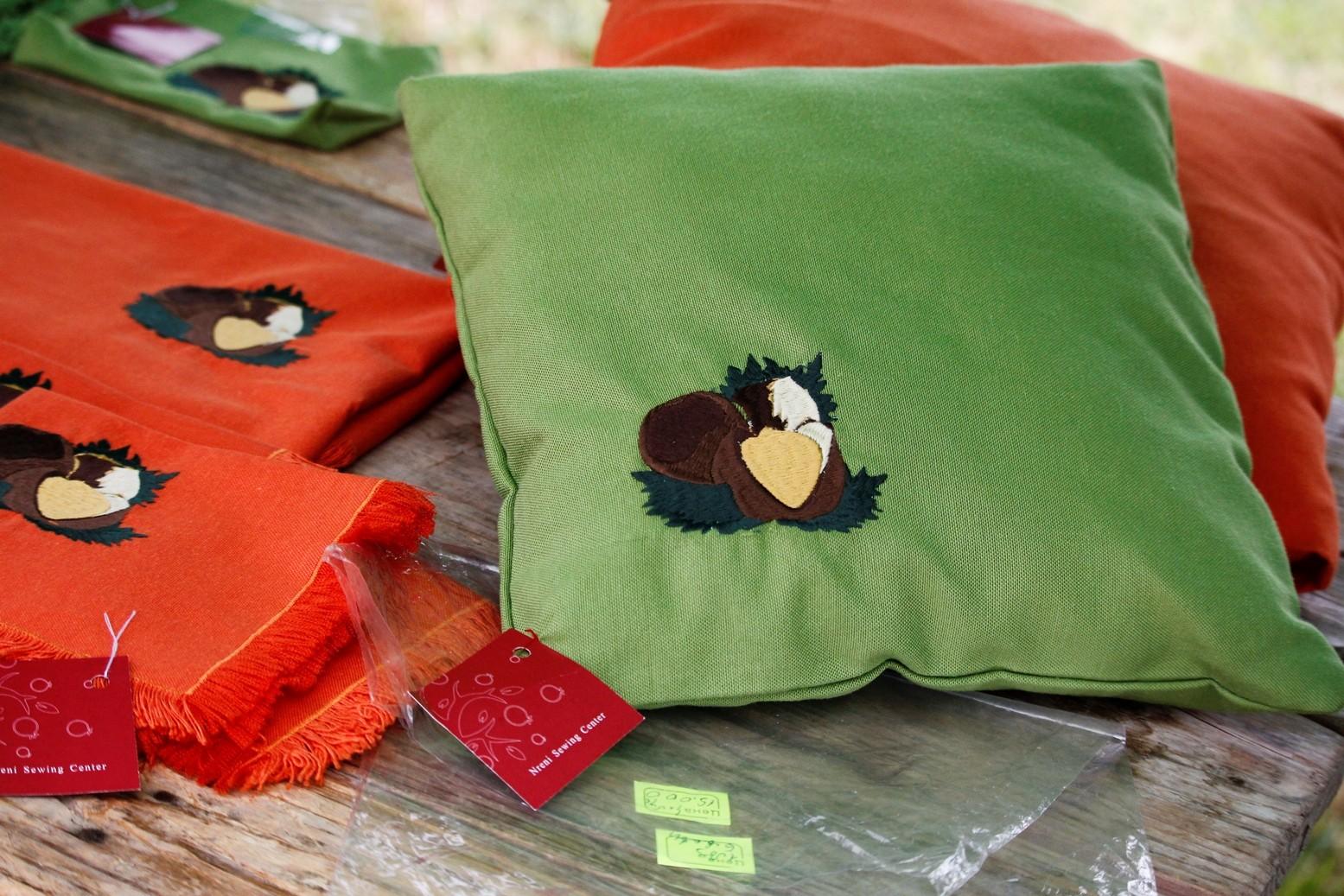 The Chibukhchyan brand, founded by Anush and Donara Chibukhchyan from Ijevan, is based on Armenian ornaments and letters in the form of birds, which come from medieval miniatures.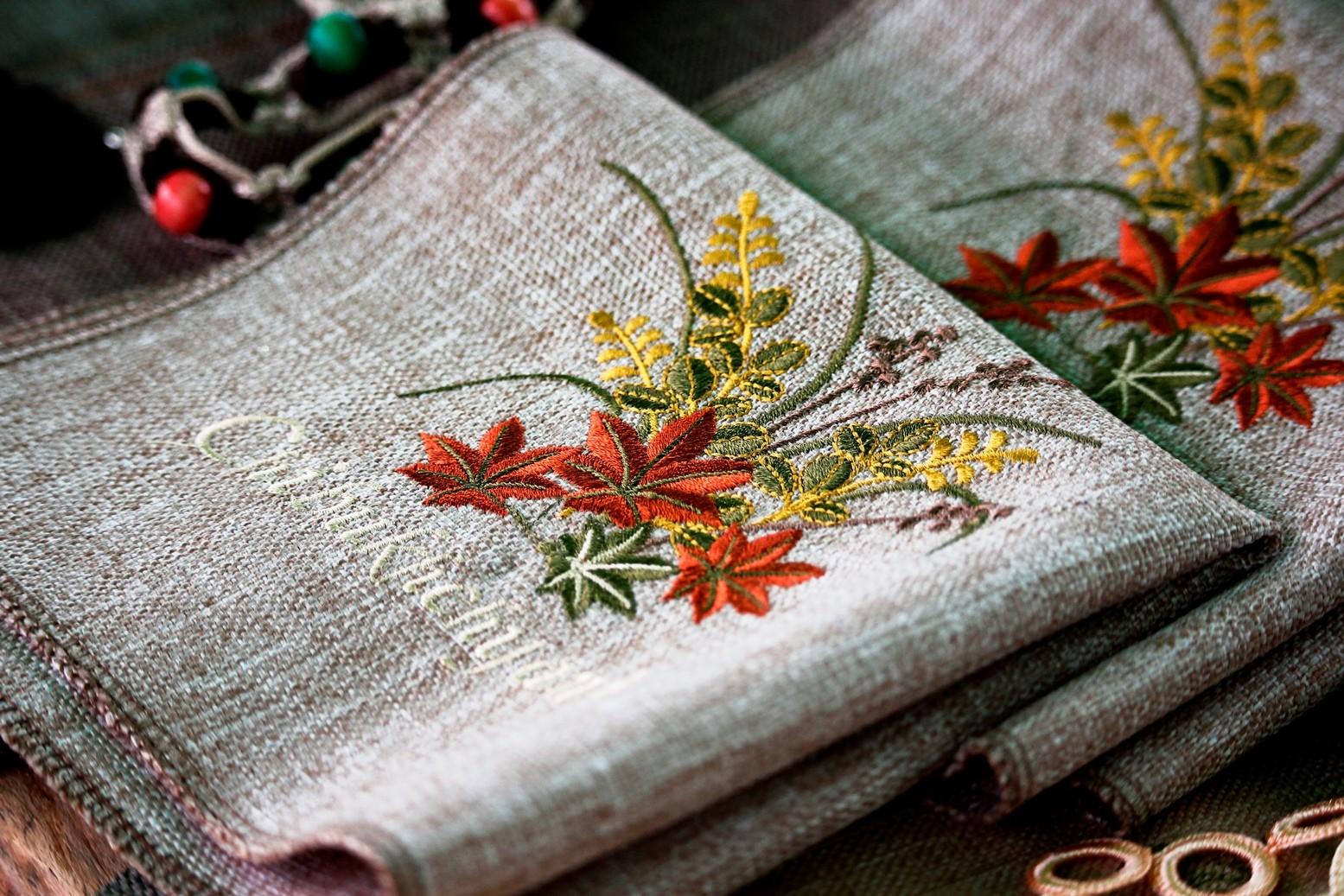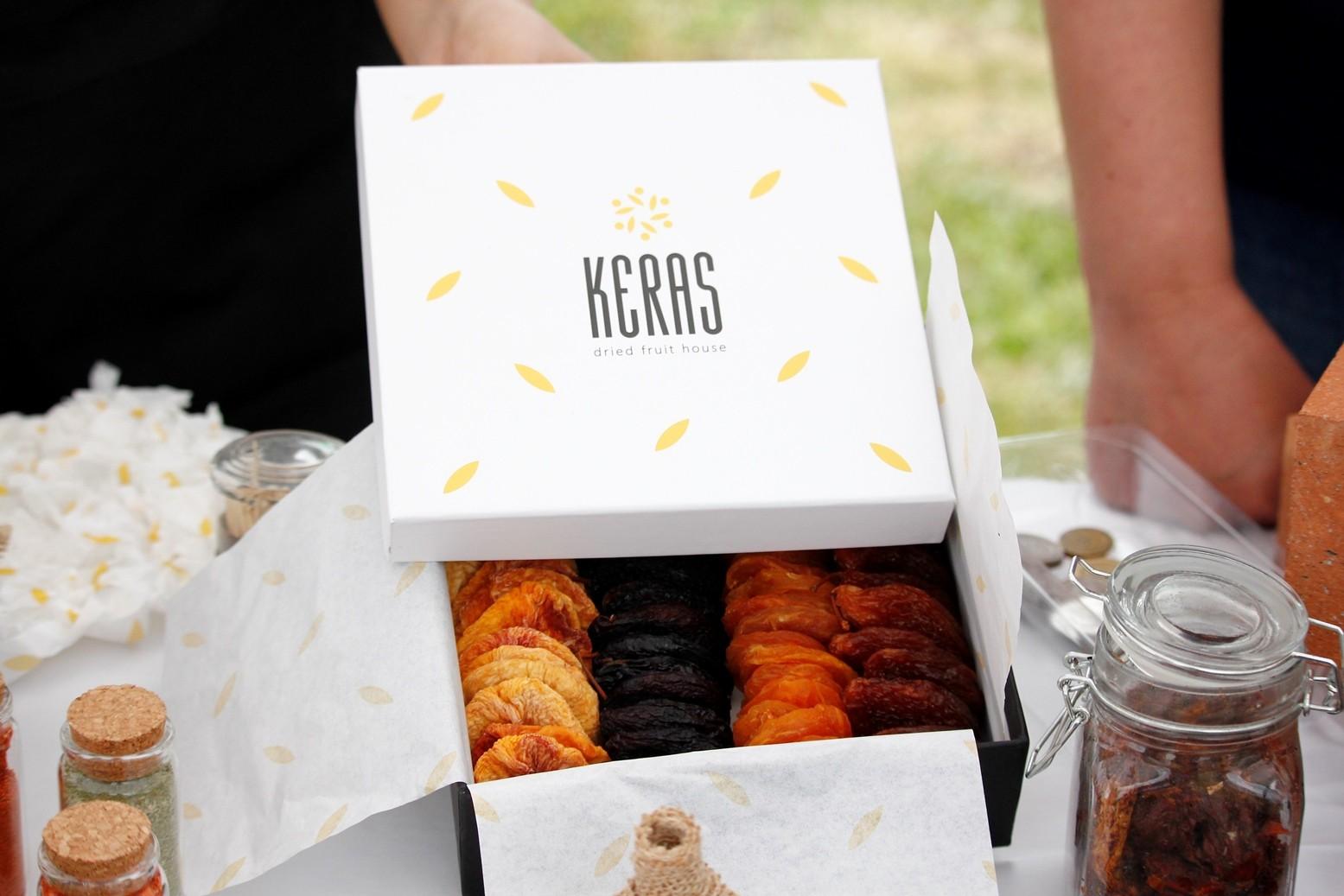 The company is represented mainly by herbal trimmings, including the tree of life.
Keras(Cherry) dried fruits are produced in Armavir Province, by the engineer Sukiasyan family. Being unfamiliar to rural life before, they moved to village 20 years ago and started making dried fruit.
Their daughter, the founder of the Keras store, Victoria Sukiasyan, says that due to design and appearance, the traditional Armenian dried fruits have become a special gift.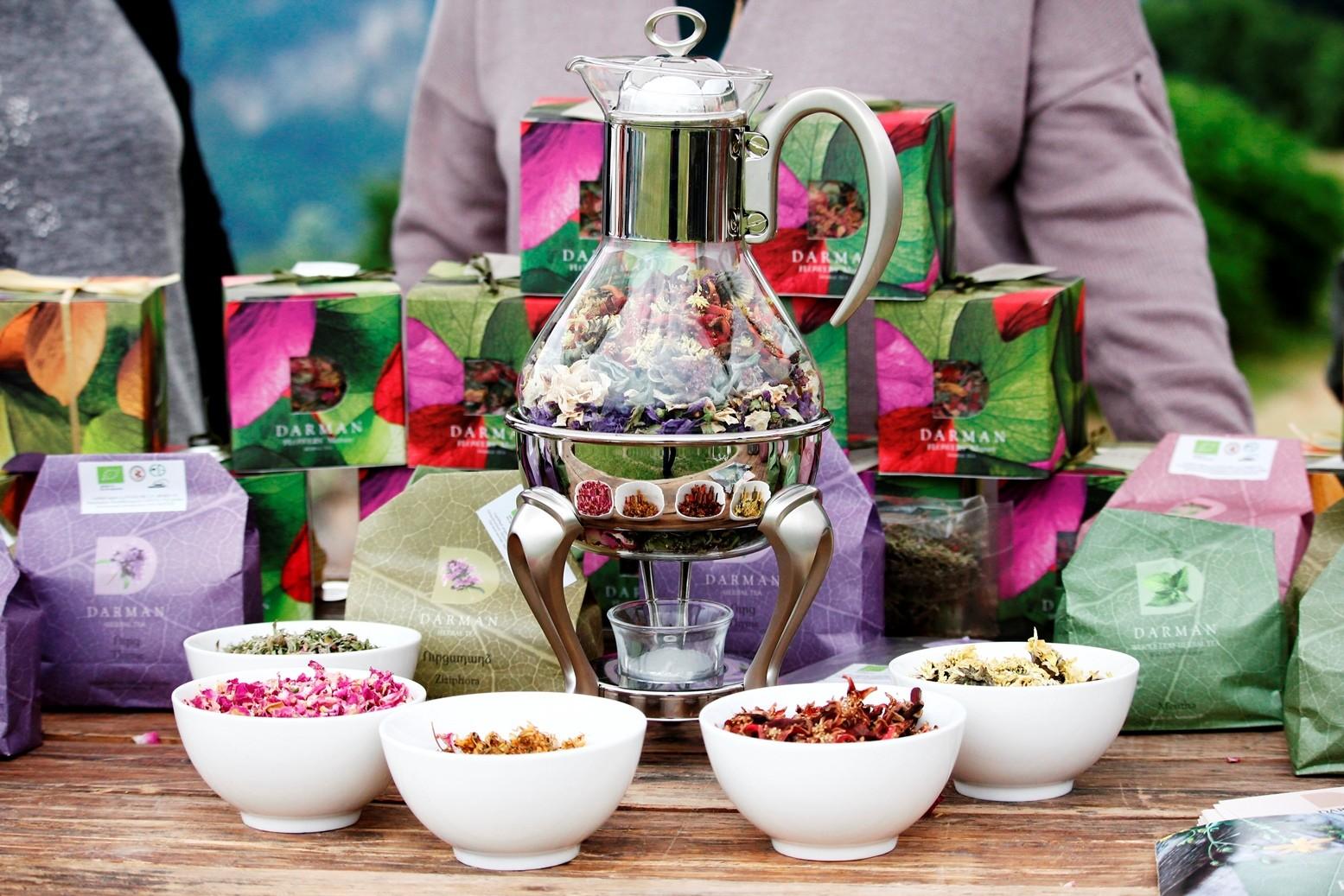 The Nazanyan family, living in Berd, started collecting and manufacturing Darman herbal teas after one of the family members had successfully recovered from a serious ailment due to herbal remedies.
The workshop operates in the Tavush village of the Tavush Province. These teas do not use stems, but only flowers and leaves. The assembly and production are carried out manually, there is nothing mechanized. It also has beautifully designed packaging, and, due to the right marketing, it has gained its place in the market. Darman teas are also exported to Russia, European countries, and France.
"These herbs grow on our pure mountains and ecologically clean soils. Even the chemical composition of the soil has been investigated and no harmful minerals have been discovered,"says Greta Hovakimyan, the mother of Darman's founder.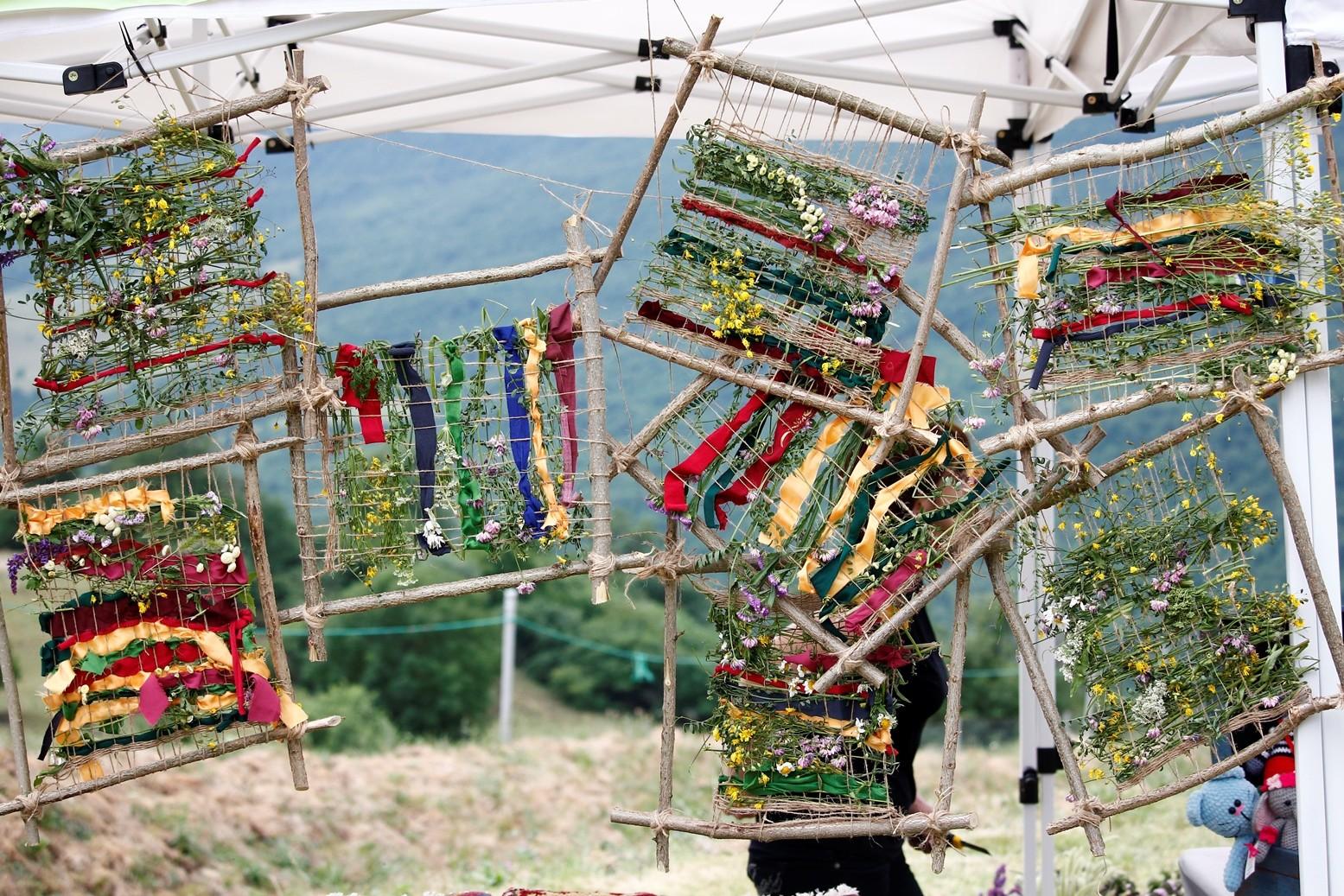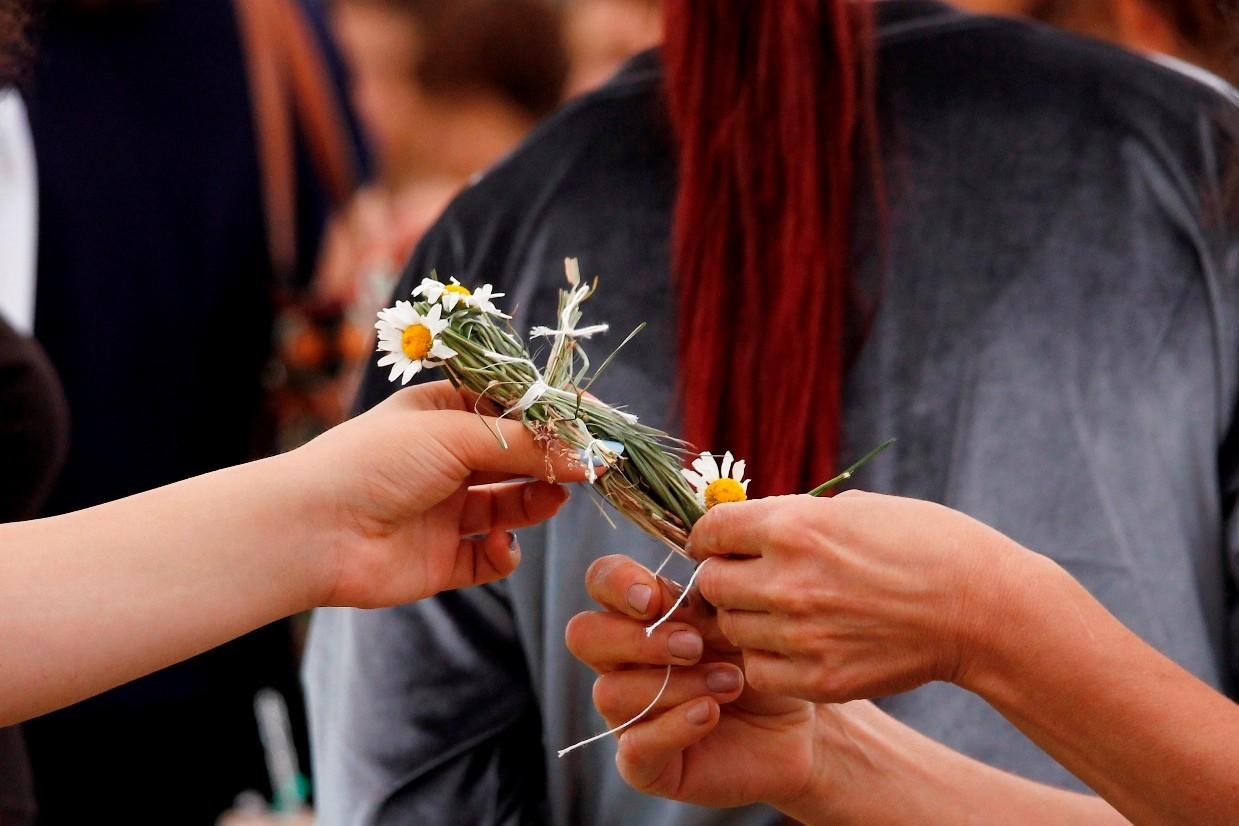 If you found a typo you can notify us by selecting the text area and pressing CTRL+Enter