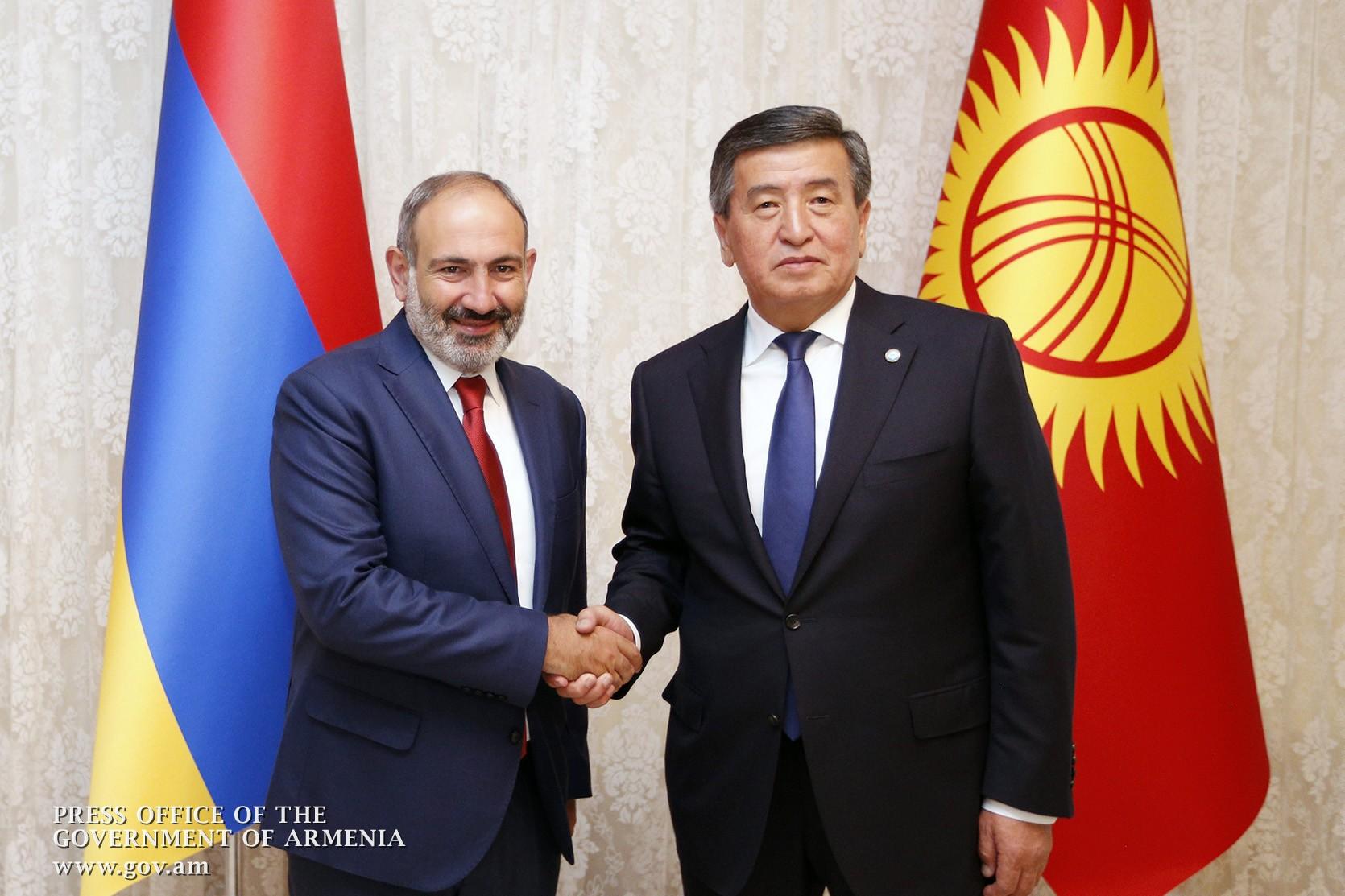 Pashinyan Flies to Kyrgyz Republic to Attend Eurasian Intergovernmental Council Meeting
Against the backdrop of internal political tensions in the Kyrgyz Republic, Armenian Prime Minister Nikol Pashinyan flew to Bishkek today to attend a meeting of the Eurasian Intergovernmental Council's. Pashinyan today met with Kyrgyz Republic President Sooronbay Jeenbekov.
The following is an unedited Armenian government press release on the meeting.
Welcoming Prime Minister Nikol Pashinyan to Issyk-Kul, the President of Kyrgyzstan noted:
"Dear Nikol Vovayevich,
Welcome to Issyk-Kul. We are very happy to welcome you here. You are a very honorable guest. I would like to stress that not only me, but all Kyrgyz people know you and your political activities. Your participation in today's meeting will help develop cooperation in the Eurasian space. I am happy for your visit. Thank you."
Thanking the President of Kyrgyzstan for the warm welcome, Prime Minister Nikol Pashinyan stated, in part:
"Dear Sooronbay Jeenbekov,
I am glad to meet with you, and it is my pleasure to be here. This is my first visit to Kyrgyzstan. I have never been here before: I had not seen Issyk-Kul to date. Of course, we have many issues to discuss, concerning both our Eurasian relations and in our bilateral relations. I am aware of this year's statistics, which shows some growth in our trade turnover. We need to work together so that the bilateral trade could develop to the best interest of our countries. I think that the opportunities offered by the EAEU should be used in full.
Both Armenia and Kyrgyzstan are small countries in the Union, and we have many common interests. This does not mean at all that we have any problems with other partners, but the point is that we can better understand each other's problems, and we must develop constructive cooperation between our two countries. Thank you."
Pleased with the current level of political dialogue, the parties reaffirmed their willingness to develop interaction between Armenia and Kyrgyzstan in both bilateral and multilateral formats.
The Armenian Prime Minister and the President of Kyrgyzstan addressed issues related to political dialogue, bilateral trade and economic cooperation. They reflected on the agenda of the Supreme Eurasian Economic Council, due to be held this October in Yerevan.
Taking the opportunity, the interlocutors exchanged views on other issues of mutual concern. In this context, Sooronbay Jeenbekov spoke about the ongoing political developments in Kyrgyzstan.