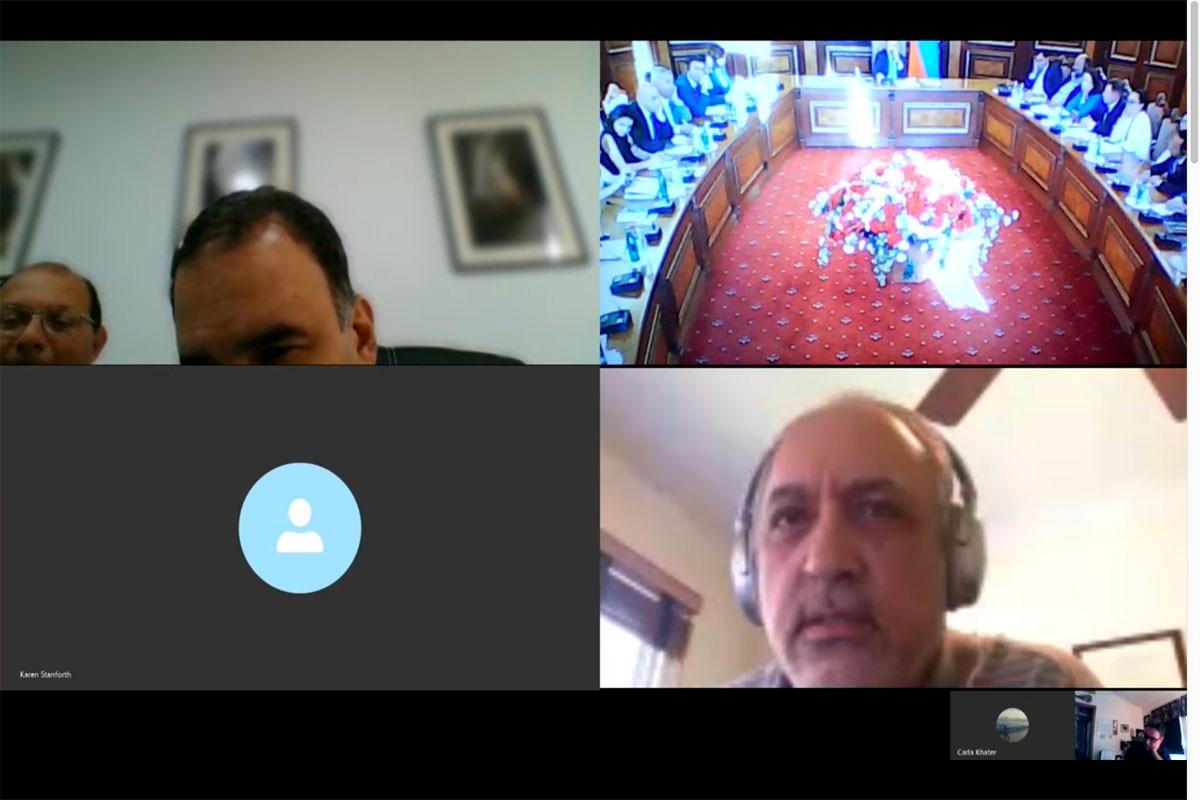 Amulsar Debate Intensifies; Elard Specialist to Lydian Official - "Your assessment is flawed"
The Armenian government today released a video of a Skype conversation with representatives of Elard, the company that recently reviewed the Environmental Impact Assessment (EIA) and the Environmental and Social Impact Assessment (ESIA) conducted by Lydian Armenia, the company operating the Amulsar mine.
The Amulsar mine issue has been in the news of late following a tentative decision by the Pashinyan government to go ahead with the mine.
Seemingly caught off guard by the protest this decision ignited, Prime Minister Nikol Pashinyan then announced that in order to be completely certain that the mine would not cause damage to the environment and area residents he would once again speak to the Elard experts to get clear answers to these questions.
Also attending the video hook-up meeting, was Lydian Armenia representative Armen Stepanyan, who also asked questions of Elard expert Dr. Nidal. Below is a translation of the passage where the two are discussing Elard's conclusion that Lydian's EIA and ESIA are flawed.
Armen Stepanyan (Lydian Representative)
Mr. Nidal has argued that a new EIA is a matter of policy or law, but several times before it was mentioned that there was a need for new study. I have a few questions to ask him on this.
Are you familiar with the RA legislation, which may not be clearly defined by some people's comments? In some cases, at least, it is written in which cases can an EIA be reviewed.
Have you looked at the international standards regarding the same issue? What standard is it that our EIA and ESIA do not comply with, and which, as a result, there is the need for a new EIA, ESIA?
I would like to say that our project has been repeatedly tested by Knight Piesold, which is also an international consulting firm. According to its recent report our project has fully complied with all IFC, EBRD and all points of equalization principles. I would like to know whether these points have been considered or not, and if they have been considered, what point is it that our project does not comply with, so much so that there is a need for new study.
Dr. Nidal (Elard Specialist)
I was not aware that a Lydian representative was supposed to be present at this event, but anyway.
We have had extensive communication with Lydian representatives since submitting our draft opinion, and these discussions have extensively and thoroughly reviewed all the documents, not only the EIA and Social Impact Assessment, but also a large volume of Lydian documents, as well as documents obtained as a result of our searches in various investigative databases and databases. I repeat, ordering another EIA is not up to me. Whether it is worth doing or when, I cannot say.
I do know that you have a lot of flaws when it comes to the models and research, and we've discussed it with your representatives both in writing and verbally, and I don't think this is the right place to discuss their specifics. You know very well what these shortcomings are.
Prime Minister Nikol Pashinyan
Excuse me, but I think this is the right place to discuss those shortcomings, if you can clarify.
Dr. Nidal
Good. You have submitted an eleven-page response to our draft report. We have responded to each of them, have asked questions, and have asked you questions through the Investigative Committee.
You didn't answer most of these questions, or the answers were indirect, skirting the essence of the matter. Some of your answers have even helped us improve our evaluation. I can specifically say which ones. But anyway, tell me whether this would be the right place to discuss those eleven pages and our thirty-page response. Probably not.
However, your assessment has failed in several key directions when it comes to research.
Summing up, your study focused only on wells, you did not do any research on other areas. Whereas, for example, you need to do a water pumping study, you haven't done that. Your modeling did not include the fracture system at all.
You did not even study the heap leaching system even with the magnitude or scale of natural water systems. Do you want to continue this list now?
Someone mentioned during this discussion that you are ready to implement mitigation measures flexibly. I appreciate the fact that you are ready to do so, but you acknowledge that the mitigation measures you offer are flawed. It's not up to me to remind you that during our phone calls your team answered some of these questions, saying that modeling is an esoteric exercise. This is a side issue. Modeling is not at all reliable, it's your modeling, it's your team that did the work, and now your answer is that this was esoteric, and we shouldn't trust the results of the modeling. I refuse to accept it in response.
Yes, I argue that your assessment is flawed, and several actions have not even been studied or included.
You have dug wells only in the open pit area, the surrounding areas have not been explored at all, and your team's response was that there are so many sources that we cannot explore them all. But we didn't ask you to study all the water. When we identified the gaps in the data, the positive, the real gaps that your team identified, we weren't the ones who pointed them out.
We have cited links in your own report regarding its shortcomings. As I said, it's not up to me now to go through those pages and read the answers we received from your team. In most cases they were circular responses, avoiding the issue.
Right now, I can ask you a question. What does Lydian plan to do with a ten-year recirculation heap system? No answer to that. What do you do with that water?
I have no idea what you're going to do with that water.
So, I must disagree with your claim that you have answered every question. I appreciate the fact that you are ready to ensure compliance, that you are ready to adapt the management system, that you are ready to be flexible in your plans, but I must disagree that you have followed all necessary actions according to standard protocols. No, your assessment is flawed.
If you found a typo you can notify us by selecting the text area and pressing CTRL+Enter