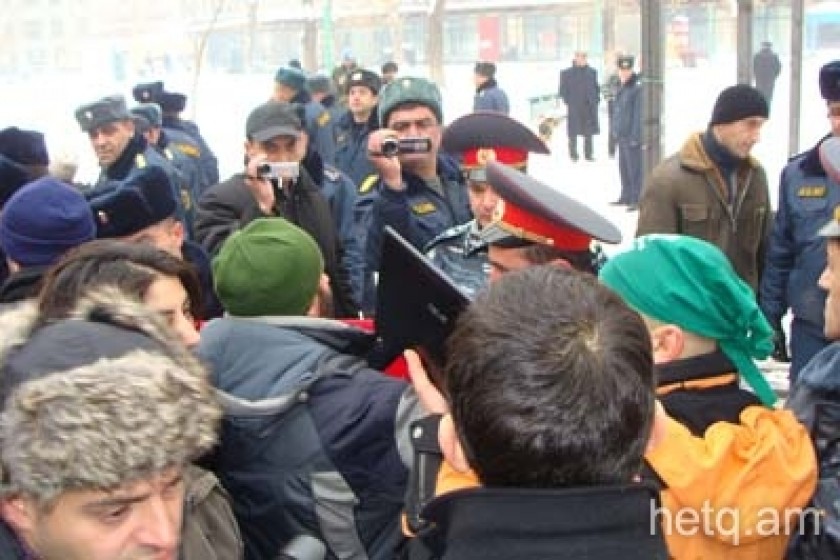 Protestors Block Construction Truck at Mashtots Park
As reported earlier, police descended on a controversial construction site in Mashtots Park this morning after attempting to disperse a crowd of protestors who were staging a vigil.
The police surrounded the site, not allowing activists or reporters to approach.
Heritage Party MP Zaruhi Postanjyan was present as well and said that the police action was illegal and that the construction site itself lacks the proper permits.
"I have not seen one construction permit posted anywhere," the MP told reporters, adding that the district leader is obliged to stop the construction work.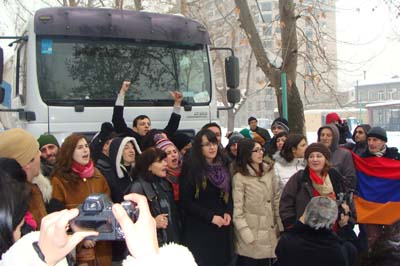 Vahram Soghomonyan, one of the protestors, said that the neighbourhood didn't need more shops but rather parkland.
A construction truck pulled up and a group of protestors rushed out and stood in front of it.
The angry driver got out and told the crowd to make way or else he'd hot the over the head with a pipe. The cops separated the driver from the activists.
The cops told MP Postanjyan that they had instructions from the mayor not to allow the activists to prevent the continuation of work.
Protestors stood their ground in front of the truck and broke out into song.