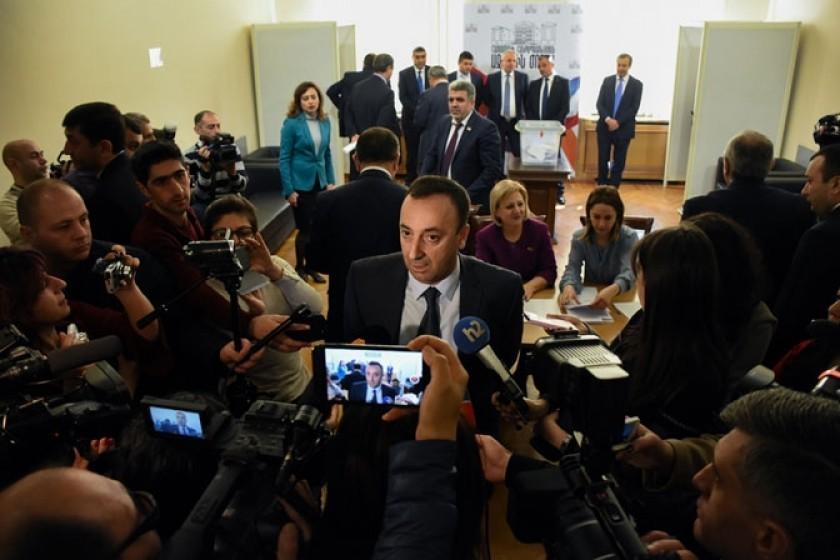 Armenian Parliament Passes Bill Seeking to Oust Constitutional Court President
By a vote of 98-1, the Armenian National Assembly today approved a bill which will send the matter of ousting Hrayr Tovmasyan as Constitutional Court President to the Constitutional Court itself for review.
The bill was introduced by the Im Kayl (My Step) faction, which enjoys a majority in the parliament.
Prosperous Armenia MPs refrained from voting. Faction President Gagik Tsarukyan said the bill lacked adequate substantiation.
The bill's backers say that Tovmasyan violated court protocol when reviewing the case of former Armenian President Robert Kocharyan, now on trial for bribe taking and usurping state power.
The Constitutional Court will now decide whether there is adequate justification to strip Tovmasyan of his power.
According to the bill's backers, Hrayr Tovmasyan committed substantial disciplinary violations during the examination of former Armenian President Robert Kocharyan's appeal to the Constitutional Court. That is, he showed bias, since he is the godfather of Kocharyan's defense lawyer Aram Orbelyan, a fact Tovmasyan did not raise to avoid possibly being recused from the case.
The bill also mentions that Tovmasyan held various high positions during the reign of Republican Party of Armenia, and that force has supported Kocharyan.
It should be recalled that Hrayr Tovmasyan was elected to the Constitutional Court on March 2, 2018 with 64 votes in favor and 27 against. His candidacy was nominated by former parliament speaker Ara Babloyan.