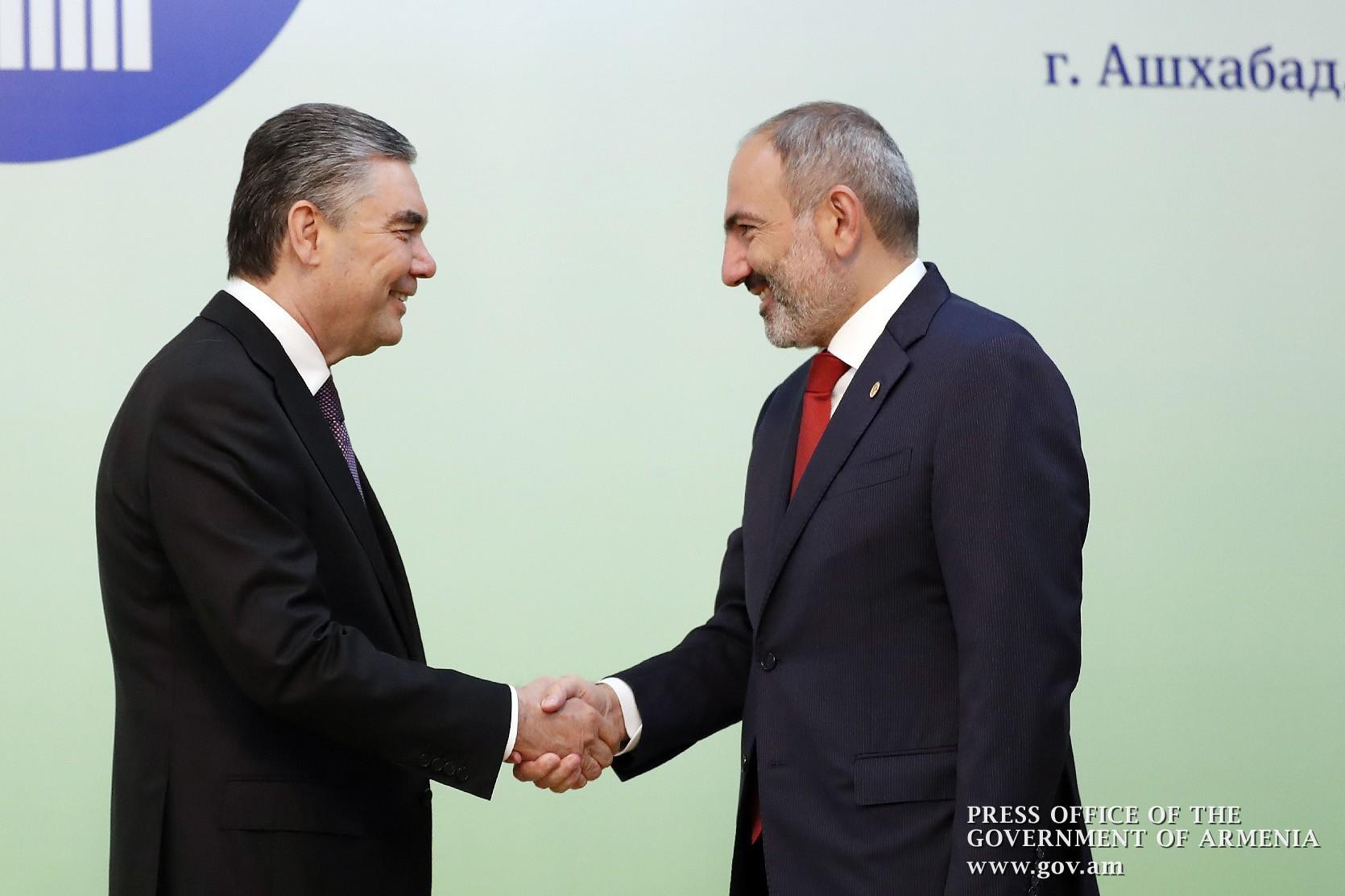 Pashinyan Kicks Off Working Visit to Turkmenistan
The following is an Armenian government press release.
Prime Minister Nikol Pashinyan's working visit to Turkmenistan has kicked off.
On the morning of 11 October, Nikol Pashinyan met with Turkmen President Gurbanguly Berdimuhamedow in Ashgabat.
Welcoming the Armenian Prime Minister to Ashgabat, the President of Turkmenistan said Nikol Pashinyan's visit was a good opportunity to discuss ways of promoting bilateral and multilateral relations.
"Dear Nikol Vovayevich, allow me to thank you for accepting our invitation to participate in the CIS Summit. I think we have a good opportunity to discuss our future cooperation for the well-being of our peoples," he said.
Pleased with the current status of Armenian-Turkmen relations, Gurbanguly Berdimuhamedow noted that Turkmenistan is interested in developing mutually beneficial cooperation with Armenia.

In turn, Nikol Pashinyan said he was pleased to visit Turkmenistan and have the opportunity to exchange views on the process and development of the Armenian-Turkmen partnership.
"Dear Gurbanguly Berdimuhamedow, I would like to thank you for your invitation to visit Turkmenistan and for the warm welcome. It is a pleasure to be in Ashgabat. This is my first visit to Turkmenistan, during which we can discuss not only a multilateral agenda, but also our bilateral cooperation. I am convinced that we will be able to discuss all issues of common interest," Nikol Pashinyan said.
The Prime Minister of Armenia noted that Turkmenistan is an important Central Asian partner for our country. While the two countries are bound by constructive ties of cooperation, yet it seems necessary to strengthen economic cooperation in the framework of high-level political dialogue.
The Armenian Prime Minister and the President of Turkmenistan discussed a bilateral and multilateral cooperation agenda, economic ties and trade, as well as the realization of the potential available in different fields of interstate relations.
Prospects for cooperation in the field of hydrocarbons were discussed. The parties agreed that the friendship between the two peoples constitutes a solid groundwork for strengthening relations between Armenia and Turkmenistan. In this context, they expressed mutual readiness to promote mutually beneficial programs and initiatives.
The interlocutors exchanged views on the importance of the activities of the CIS Council of Heads of State, the development of cooperation in the CIS and other issues.