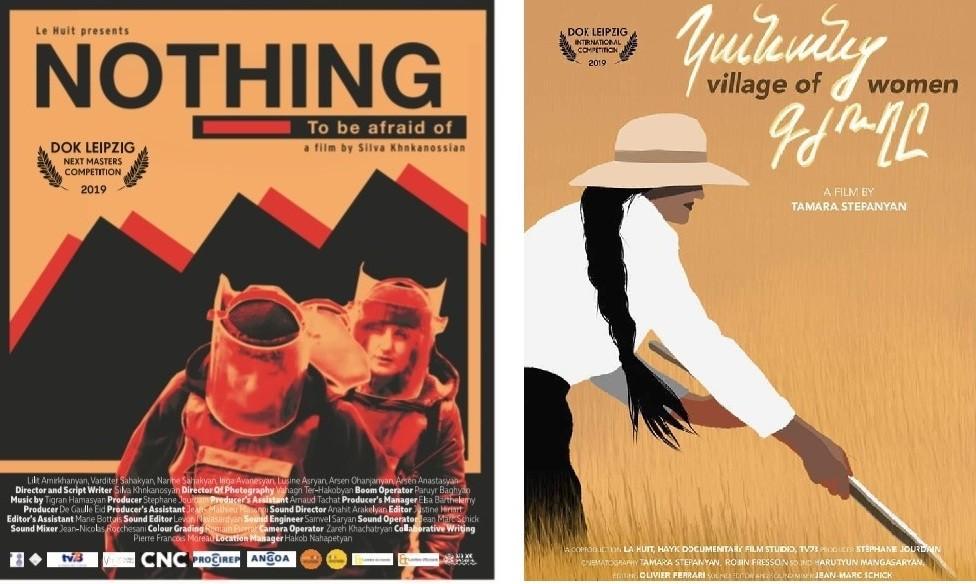 Films by Armenian Directors at Prestigious DOK Leipzig Documentary Competition Festival: Success of EurasiaDoc Project
The EurasiaDoc script writing Armenian residence was held from September 17-28 with 6 previously selected participants this year having the opportunity to develop their documentary projects. The final versions of the projects will be reviewed by Docmonde organization (France) following which 3 projects that have passed to the final and that will participate in the co-production forum will be announced.
During its lifetime EurasiaDoc has had 182 participants from 11 countries, a total of 26 trainings and 7 co-production meetings. The 8th time in a row the forum is held in Armenia. This year it will take place from November 28 to 30.
We have talked about the first stage, the details of script writing residence, role of EurasiaDoc as the main and probably unique project of documentary film development and production with EurasiaDoc Armenia representative Arevik Avanesyan.
Before turning to the conversation itself we would like to note that to date 6 films have been produced within the framework of EurasiaDoc, 24 of which already have attained a complete, final status. One of the major events of this year the films "Village of Women" and "Nothing to be Afraid of" which were part of EurasiaDoc entering the competition programme of the prestigious international Leipzig DOC film festival.
Let's start with the reasons why EurasiaDoc is an important project: it does a complex of functions ranging from script writing trainings to the end results, the start of film co-production.
Yes, as such, EurasiaDoc ensures the presence of the platform from the embryonic stage to the creation of the film, up to screenings. I find it especially important as the field of documentary filmmaking is very weak here; the possibilities of gaining real financial aid are limited and there are no trainings which would direct an author to work with an international expert.
EurasiaDoc is a professional platform that can bridge the gaps the logical chain of which is built through idea-final stage-international screening.
When the project was just starting off in Armenia and it was the second working year (2012), founding head of Lussas organization, film director Jean-Marie Barbe mentioned that topics chosen by Armenian directors were really specific and were mostly about Genocide and identity.
Have there been any changes in this in recent years?
I believe the changes are obvious and so are the developments. Now we have started to understand that human stories and today's reality are more captivating.
During the last 2-3 years Armenian projects have been quite impressive. Last year they selected 4 projects instead of 3 as they were very strong and it was hard to make a choice.
For instance, Sona Simonyan's film is about people who live in Gyumri ("Great Expectations", 60 minutes, Armenia, France, Georgia) who bear the consequences of the earthquake but who are very much into today's life. From this point of view, the film is no longer a story of the past; instead, it depicts today's reality by carefully addressing the consequences of the disaster.
Another interesting story is presented by Silva Khnkanosian. Her film is about female deminers who work in Artsakh (Karabakh) and who find themselves in double contradiction: the war has become the reason they have employment, but at the same time these women never stop dreaming about peace. This year the film will be screened at the prestigious international film festival Leipzig where it is part of the competition programme ("Nothing to be Afraid of", 72 minutes, France, Armenia).
In general this is a very specific year in the sense that at once 2 films by Armenian directors have been selected for Leipzig's competition programme which is both exciting and a big success story for EurasiaDoc. One, as I've already mentioned, is Silva Khnkanosian's "Nothing to be Afraid of" and the other is Tamara Stepanyan's "Village of Women".
I understand that the script writing training which precedes the co-production forum was conducted by trainer Samuel Aubin, who had arrived from France, from September 17 to 28. Later on, 3 out of 6 projects developed within the framework of the training will be given a chance to participate at the forum. I would ask you to go in greater detail about the process and format of the training.
There were 11 applications this year among which 6 were selected on the basis of the presented materials. As in previous years, the trainings help the authors develop necessary skills which lead them to finalizing the project folder and the script.
The trainings are quite intensive: the trainer works both in group and individually. Apart from working on the project folder and on the script, he also gives special shooting assignments. The authors of the projects try to understand whether what they present is understandable for the international market and whether it is feasible technically and in other senses.

Let's come back to current developments in documentary filmmaking.
This year film festival "Golden Apricot" made some program changes, including grouping fiction and documentary under one category. When I asked program director Karen Avetisyan about the reason behind such change he told me this was done to draw more attention as otherwise, documentary presented in a separate program would be lagging behind.
As a producer, what opportunities of the development of documentaries can you single out? Which are the challenges facing documentary filmmaking?
The potential of making documentaries is really huge, but at the same time, it is true that this type of films is facing great difficulties both because of its specificity and from the perspective of financial means necessary for its creation.
One thing is sure: there is no lack of unique stories. There are also directors who "tell" these stories in a very interesting language and way. Much to my regret, the documentary is ignored and we have much work to do here as the potential which can be seen in the international arena but somehow doesn't manage to be fully realized is not to be lost.
The international market in this respect has its rules and requirements. Of course, documentaries can't compete with fiction films, but through special policies we can make documentaries which will be competitive and much awaited in international markets.
Judging by this, I understand that EurasiaDoc is almost the sole chance for documentary development here which can really bring local production to international markets.
Documentary film projects are also financed by National Cinema Center of Armenia and "Hayk" Documentary Film Studio but the process is really complicated and not sufficient yet. It is necessary to create platforms equipped with professional tools which will allow carrying out the films, comparing them with international experience and rich content.
In this respect, as I've already mentioned, EurasiaDoc's activity in Armenia is irreplaceable. I'm happy that the Ministry of Education, Science, Culture and Sport of the Republic of Armenia has also contributed to the local training. However, we have financial gaps related to the launch and process of co-production meetings. We have already turned to a number of organizations with which we are negotiating.
The co-production forum will be held in November. Will you explain the process of the forum in detail? Do you expect any of our participant's projects to enter production stage?
There are around 20 guests and buyers from Europe who will take part at the forum. During 2 days the authors selected following the training will present their projects (pitching) as result of which the buyers, producers and festival representatives will select projects for co-production.
There are individual meeting with the participants planned during the third day of the forum. As it has been previously arranged, all the guests need to choose one project to then work on its development.
That is to say, 16 and more projects can enter development stage. Based on the experience of the last 2 years, I can tell you that Armenian projects always become a bone of contention. They stir much interest and, as a rule, they find good partners.
I find it really important to hold the forum in Yerevan as it enables the representatives of the field to become more active and to establish new contacts but, unfortunately, it looks like this will be the last year as there are serious financing problems.
P.S. EurasiaDoc 2019 was made possible due to the financing of the Ministry of Education, Science, Culture and Sport of the Republic of Armenia, partial financing by DocMonde French organization and City of Lyon, partial financing by EU Office in Armenia and Embassy of the French Republic in Armenia as well as the NGO of Independent Filmmakers' Community of Armenia (IFCA), Armenian General Benevolent Union (AGBU) and Filmmakers Union's (non-financial) support.
Main photo: Posters of Silva Khnkanosian's "Nothing to be Afraid of" and Tamara Stepanyan's "Village of Women" documentary films
The other photos: participants of EurasiaDoc script writing residence 2019 (from the left) and EurasiaDoc Armenian representative Arevik Avanesyan.
If you found a typo you can notify us by selecting the text area and pressing CTRL+Enter