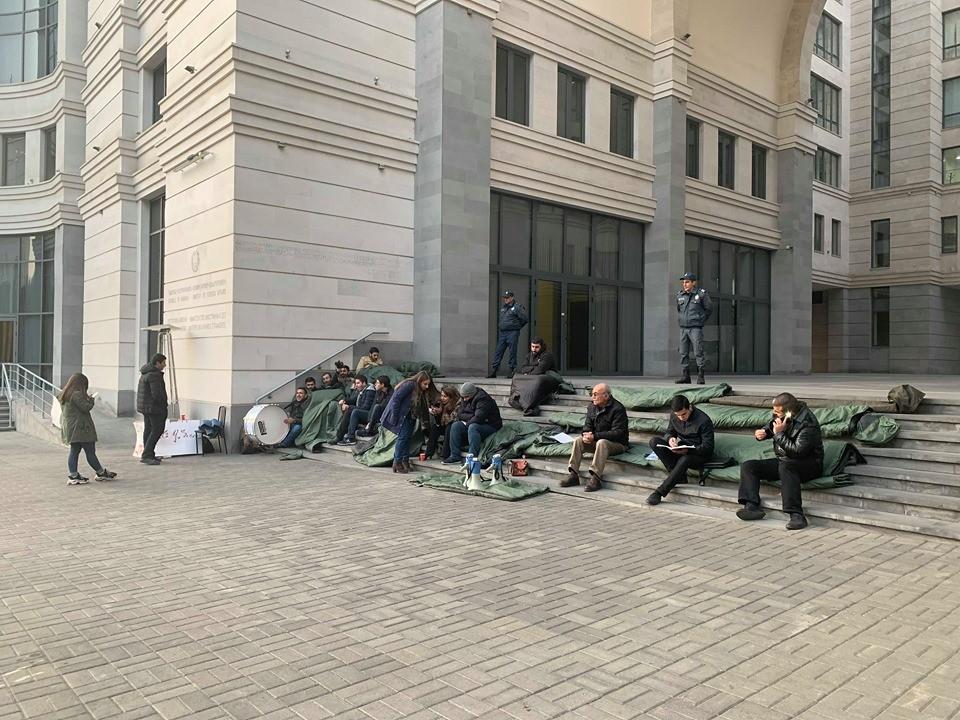 ARF Youth Union Adamant; Education Minister Must Resign
At a press conference yesterday, the Armenian Revolutionary Federation (ARF) Youth Union of Armenia announced that it has sent letters to the Prosperous Armenia and Enlightened Armenia parliamentary factions to initiate the dismissal of Armenian Minister of Education, Science, Culture and Sports Arayik Harutyunyan.
Members of the ARF youth wing have staged a sit-in protest outside the ministry for eight days and say they will continue to demand Harutyunyan's resignation.
Geghard Mutafyan, one of the protesters does not trust Harutyunyan, who has promised to meet with the students and discuss the matter publicly.
"We are ready to discuss this issue at any time, and our demand will remain unchanged. Arayik Harutyunyan has nothing to do in this field," Mutafyan said.
A group of Yerevan State University students are also demanding Harutyunyan's resignation.
Member of the ARF Youth Union Central Board Christine Vardanyan told Hetq they are demanding Harutyunyan's resignation given several lingering problems in the education sector
Vardanyan noted the lack of textbooks, inadequate funding of the education sector and the clause of the education bill that would make Armenian language and literature courses non-obligatory at colleges and universities.
"We are ready to meet and discuss the situation, and we will talk about further steps later. We are glad that this is not only the ARF's initiative. We welcome the students who joined the action," Vardanyan said.
Albert Serobyan, Elen Sargsyan
YSU Faculty of Journalism, 3rd year
If you found a typo you can notify us by selecting the text area and pressing CTRL+Enter