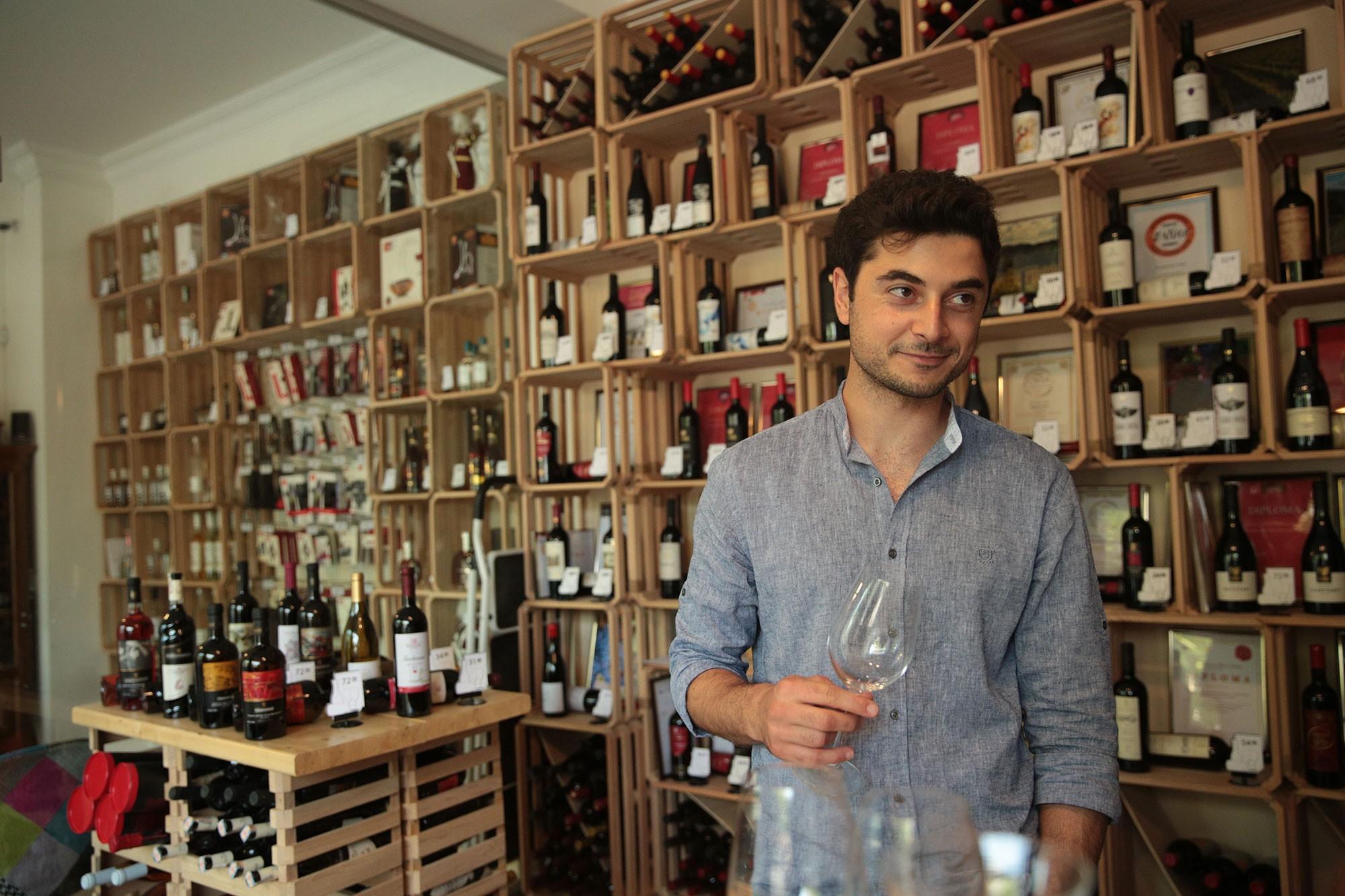 Valery Aghajanov: From Playing Football in Argentina to Becoming a Rare Wine Purveyor in Tbilisi
Our casual meeting Valery Aghajanov, a young Armenian wine merchant from Tbilisi who recently returned to Georgia, turned into a full-fledged degustation of Georgian wines.
Aghajanov enthusiastically showed us bottle after bottle of Georgian wines from his personal stock, describing the merits of each in detail.
A veritable walking encyclopedia of wine and its marriage with food, Aghajanov, surprisingly did not start out as a winemaker.
His first love was football.
"I used to say, 'If I don't play football, I won't be able to live. Now I look at it in a different way. It's a game, but it's not life for me,'" says Aghajanov, who was a player in Argentina.
Due to family circumstances, he left his football career in Argentina and returned to Georgia. "There is something more exciting going on in the world, not just football," he says.
Aghajanov then left for the United States to live, but he soon realized it wasn't for him.
He returned to Georgia last year.
Since then, his interest in wine has grown so intense that he has decided to take it seriously.
Aghajanov say the growing demand for tourism and wine in Georgia "forced" him to find a business partner and open a rare wine store where lovers of the grape can not only purchase wines, but be provided tastings and educational talks on how individual wines are made.
"There is a culture and tradition of wine. That which has reached us by tradition, has become culture," says Aghajanov.
The former footballer believes that Georgia has a wide range of tourism opportunities, and that the wine sector is particularly attractive and promising.
"I love wine. Wine has a long history in Georgia. The Georgians tell us that they are the oldest country to make wine," he says.
He hesitates when asked if he favors red or white wine. "I love red and white. I love wine. I always try different, new wines."
Aghajanov says the secret to enjoying wine is that it must have a "touch" of air to make the taste real. "When you sit down and drink the same wine, every ten minutes the wine changes its taste," he explains.
Aghajanov says Georgian white wine should be heated to a warmer temperature than Europeans. One of the secrets of Georgian wine and wine is that the winemakers leave it with the kernels.
On display in his shop are wines that are either unique or found nowhere else. All have won some type of award or special recognition. They are the finest of their type and bottles in small quantities.
Aghajanov admits that barriers to Georgian wines and restrictions imposed by Russia impact winemaking in Georgia.
He wants the Georgian wine sector to focus on the international market as a substitute for Russia.
This year, Aghajanov and his partner will also work on exporting their rare wines to the world.
The Aghajanov family has also made wine. A batch of 25 yeaqr-0old wine, made when Valery was a child, is still kept at home. The family will open it when he gets marries.
"But it's already gone bad. I'm too late," Valery says, laughing.
If you found a typo you can notify us by selecting the text area and pressing CTRL+Enter