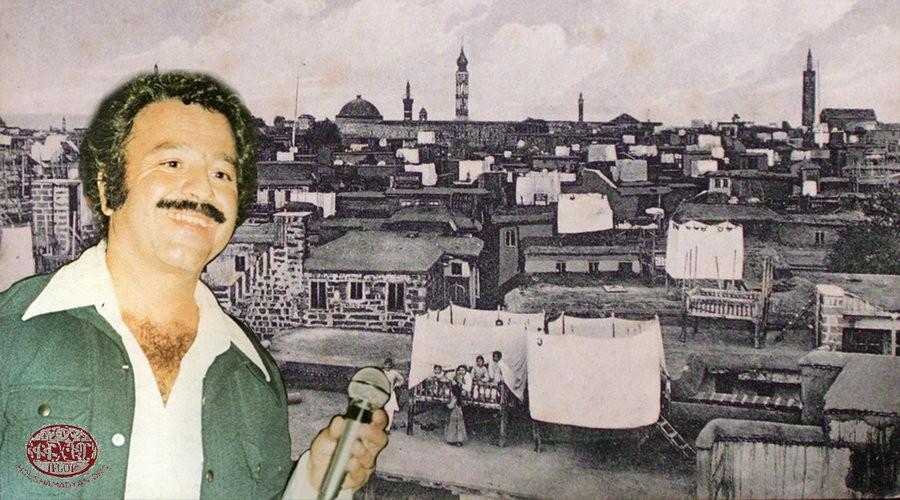 Song - Onnik Dinkjian | Diyarbekir/Dikranagerd
On this page, we present folk songs from Diarbekir/Dikranagerd performed by Onnik Dinkjian. We have also included other songs in the Diarbekir dialect or inspired by Diarbekir that appear in Onnik Dinkjian's repertoire. Our deepest gratitude to Ara Dinkjian for his assistance in preparing this page.
Onnik Dinkjian
Onnik Dinkjian was born in Paris, France in 1929. His parents, Garabed and Zora Milliyan, were born in Dikranagerd/Diyarbakir, Ottoman Empire, and died when Onnik was a young boy. He was adopted by his godparents, Nishan and Oghida Dinkjian, who were also born in Dikranagerd.
As a young man, besides French, Onnik heard and spoke Armenian, but only with the unique and colorful Dikrangerd dialect. Indeed, all of the family's acquaintances were Dikranagerdtsi, so until arriving in America, Onnik thought all Armenians spoke that way.
He found happiness and comfort in singing, initially in the Armenian Church of Paris. Upon arriving in America in the late 1940s, he began performing at secular functions and quickly became the most-loved singer of the Armenian-American community. To meet the demands of his audience, he released several recordings of Armenian folk and popular music. However, Mr. Dinkjian, an ordained deacon, never lost his great love of Armenian liturgical music, and released an entire CD ("Havadamk") of emotionally performed sacred hymns of the Armenian Church.
His fame as a great interpreter of Armenian song has brought him to concert halls throughout Europe, The United States, the Middle East, and South America. His CD release "Voice Of Armenians" was recorded at a sold-out concert in the holy city of Jerusalem.
In 2015, commemorating the 100-year anniversary of the Armenian Genocide, Onnik Dinkjian participated in memorial concerts in Diyarbakir/Dikranagerd, Istanbul, Germany, and Washington D.C.
In addition to his singing, Mr. Dinkjian has composed many songs, some of which are sung in his native (Dikranagerd) dialect.
He has passed his love and passion of Armenian music to his son, oud player and composer Ara Dinkjian. Together, they have recorded Onnik's latest CD release, "Diyarbekiri Hokin" (The Soul of Dikranagerd). Onnik and Ara are the subject of the documentary film "Garod".
In December, 2019, His Holiness Aram 1, Catholicos of the Holy See of Cilicia, bestowed upon Onnik Dinkjian the Mesrob Mashtots medal for his long-time career in Armenian traditional music.
Read more
If you found a typo you can notify us by selecting the text area and pressing CTRL+Enter