Wanderings in Sri Lanka (part 1)
Sometime in October Narek was like, "Let's go to Sri Lanka this winter. I saw my friend Nastya on Amiryan the other day and asked her about her hostel. Reminded her that she had told me that if I ever find myself around, I can crash for free and that she'll share all the insider scoop on the country."
So I, tired from all sorts of Europes, said, "Sure."
We patiently waited for winter to come to full reign and the morning the first proper snow graced Yerevan streets, we were already on our way to the airport.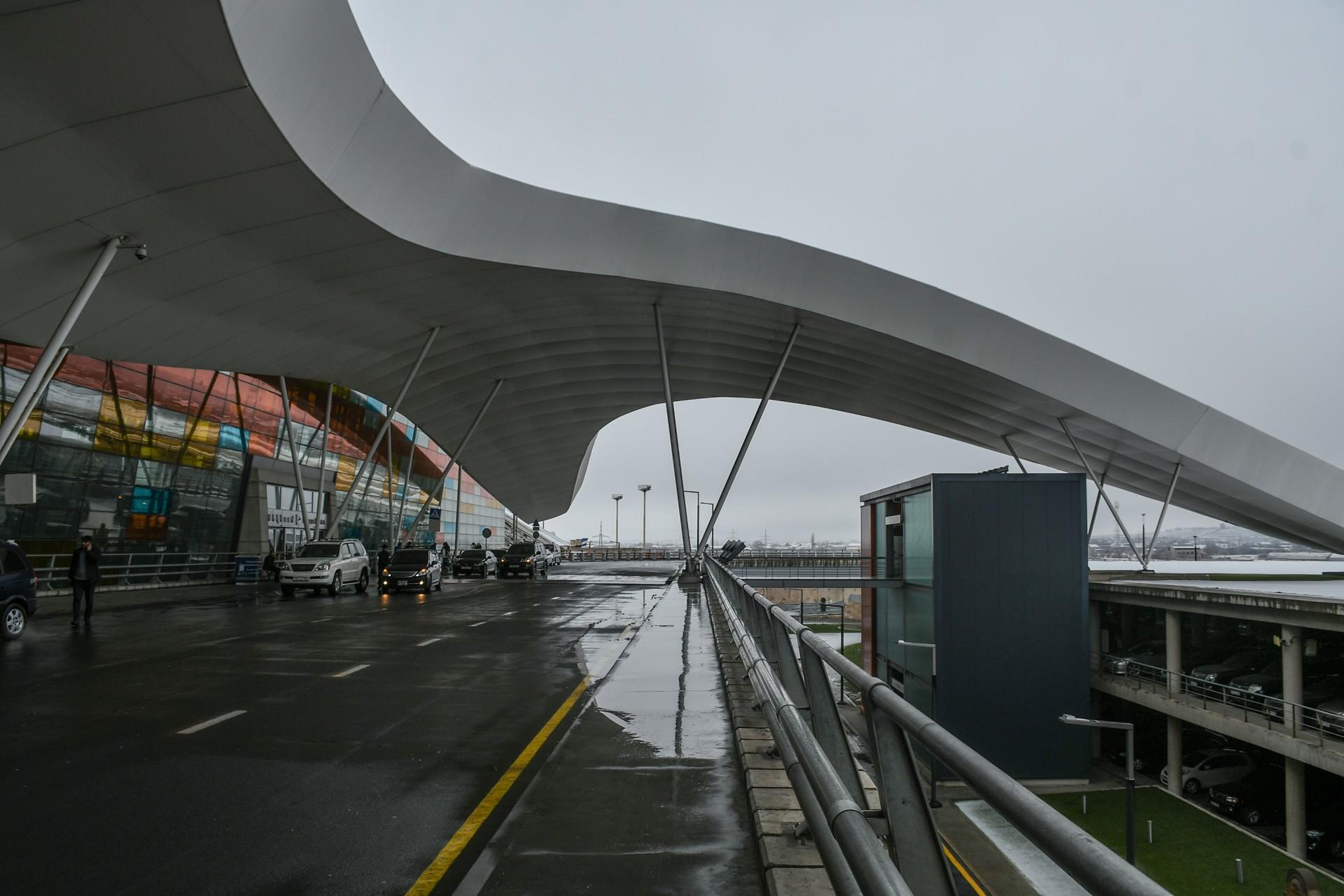 "Zvartnots" International Airport. Is this, like, "Soviet Modernism"? Hardly.
After devouring two Krispy Kremes that I had dearly missed and people watching in the misty smoking room at the airport of Sharjah (UAE), we had four more hours on the plane.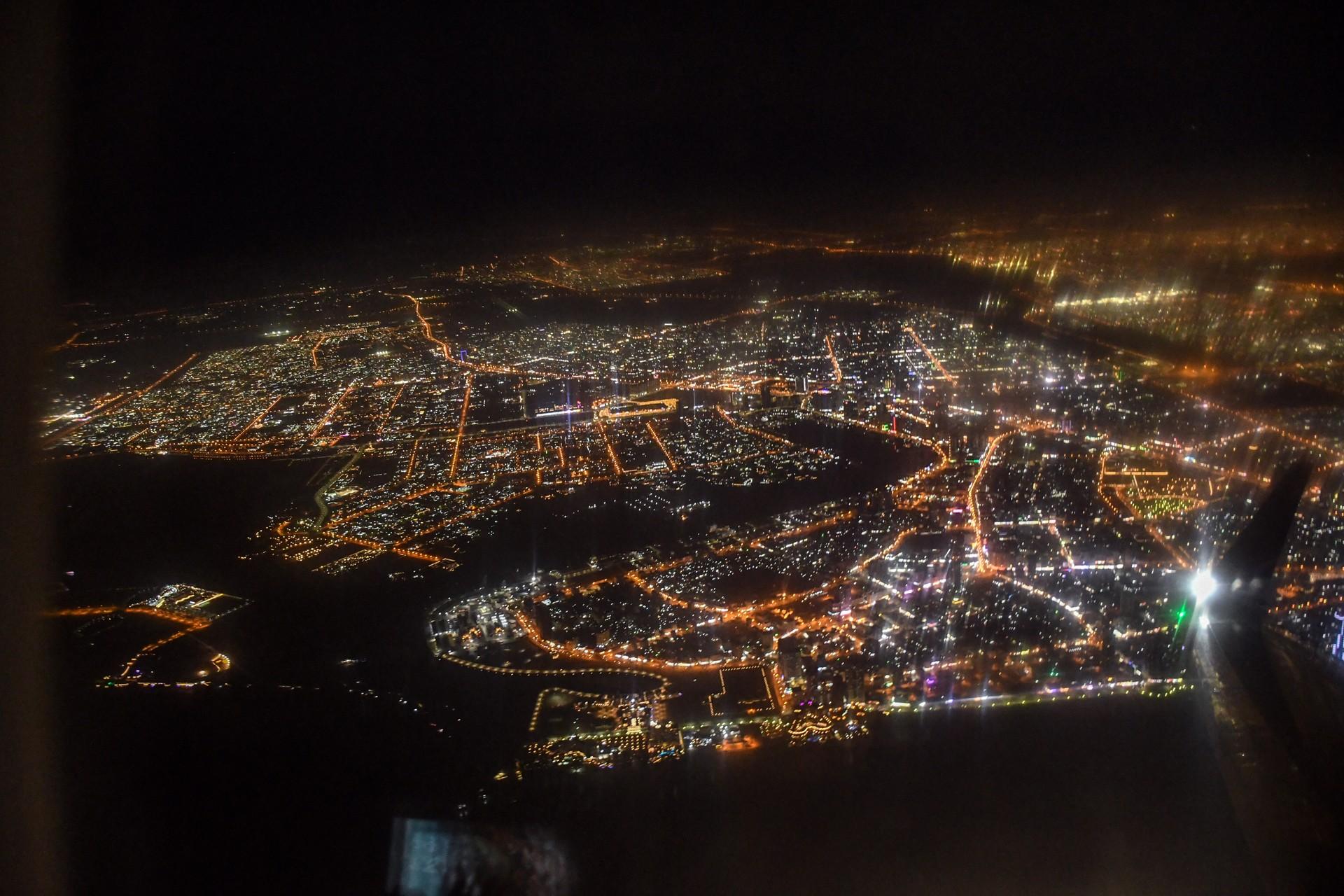 The veins of Sharjah circulating light.
Sri-Lanka greeted us with heavy tropical air. And in 10 minutes we were in Ajan's driver's car on our way to our hostel.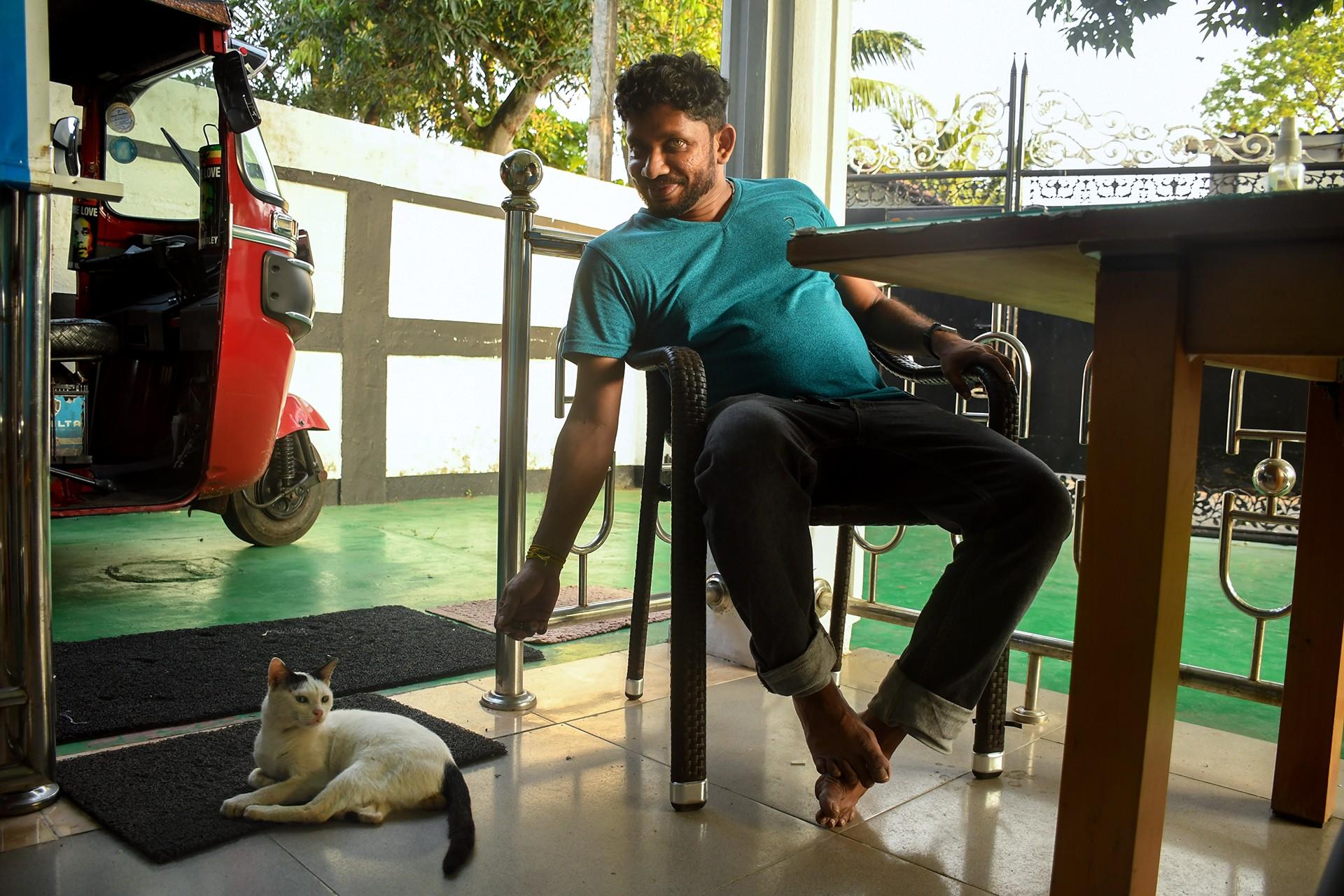 Ajan, Nastya's business partner. They've opened up "Chill Space" hostel together.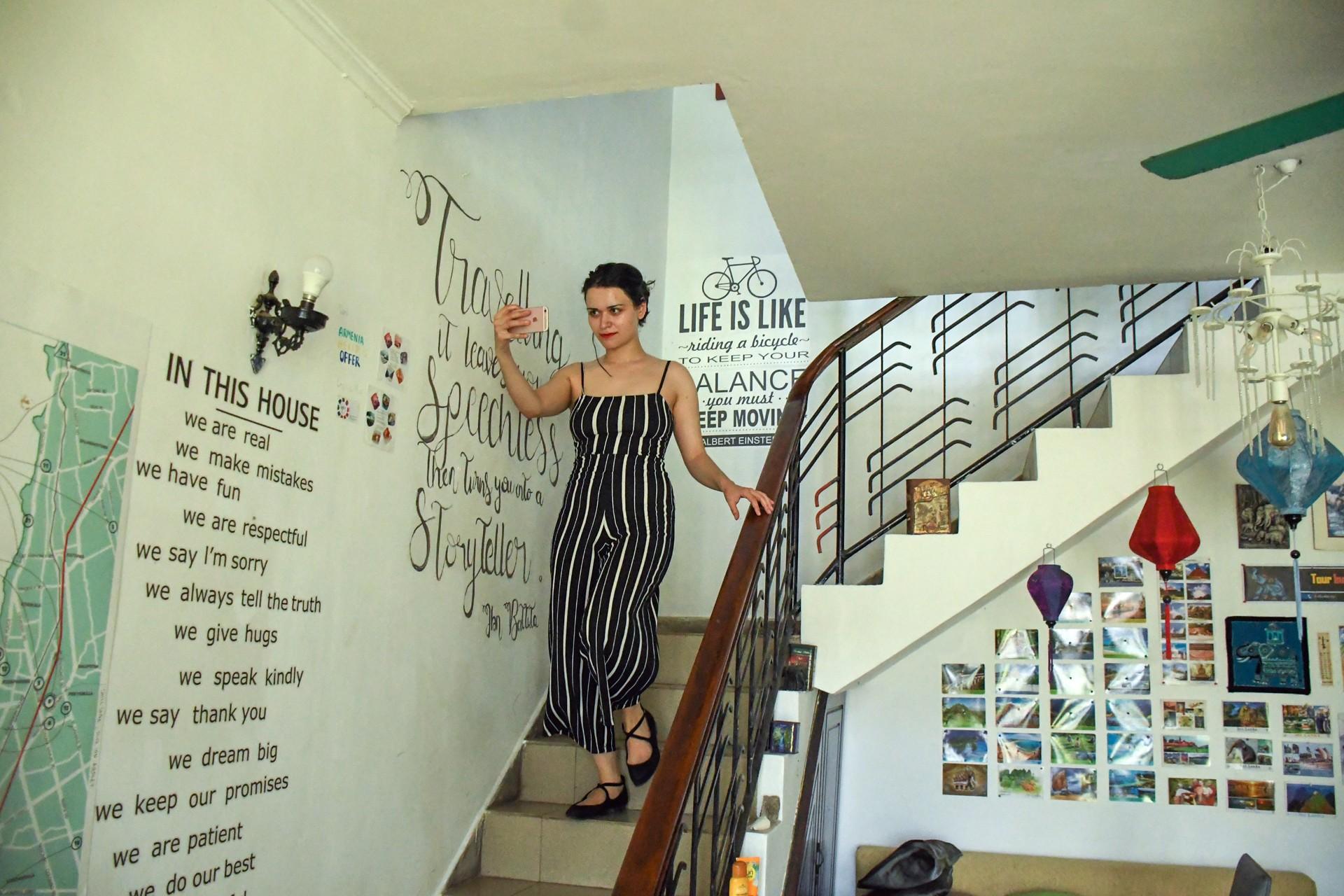 Narek is like, "Write that "Chill was a thrill," but I refuse to. "Morning" at "Chill Space" hostel.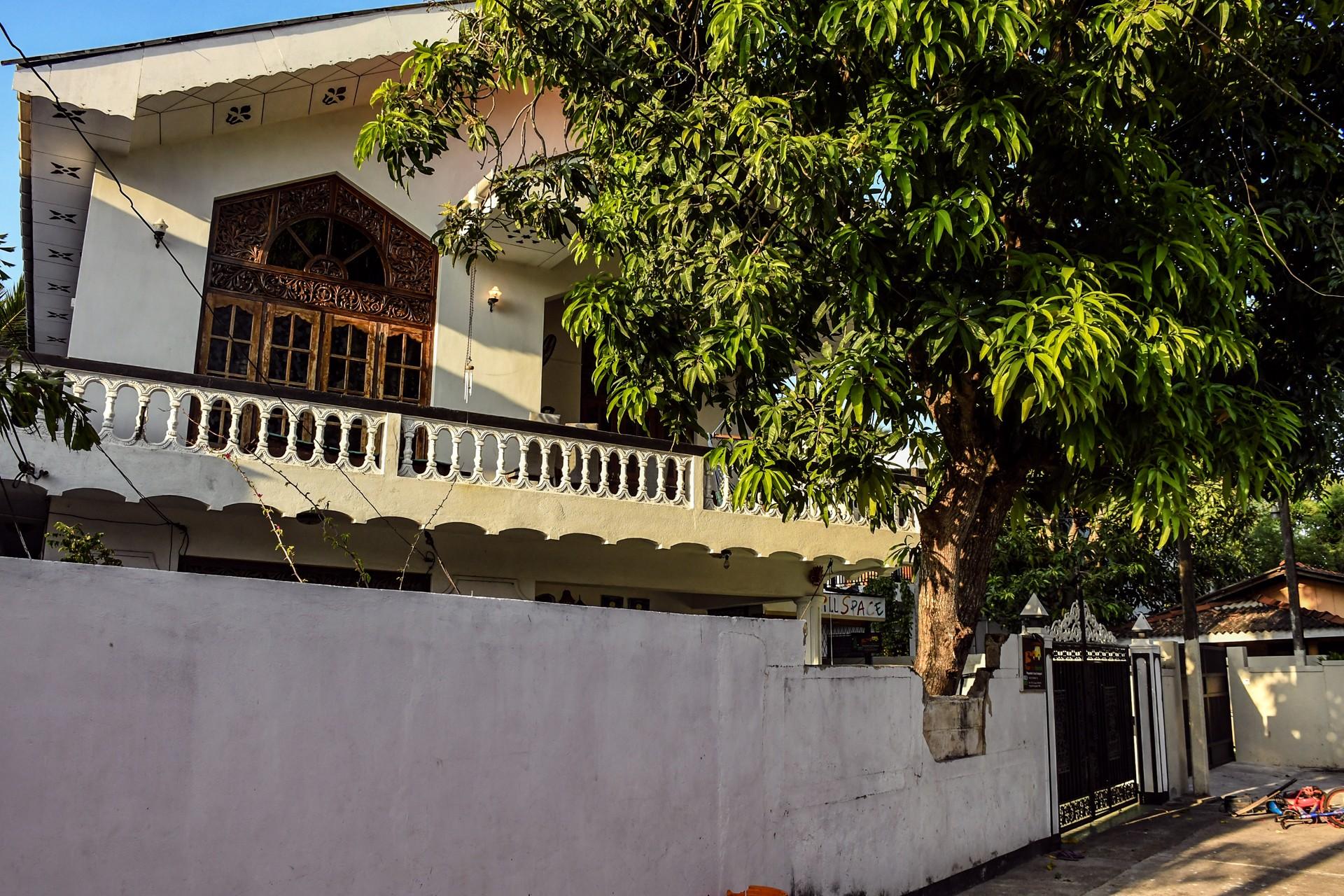 When we woke up the next day, it was already afternoon so we decided to just wander around in Negombo, as any self-respecting tourist would do. You know, "to get the vibe of the place" or whatnot.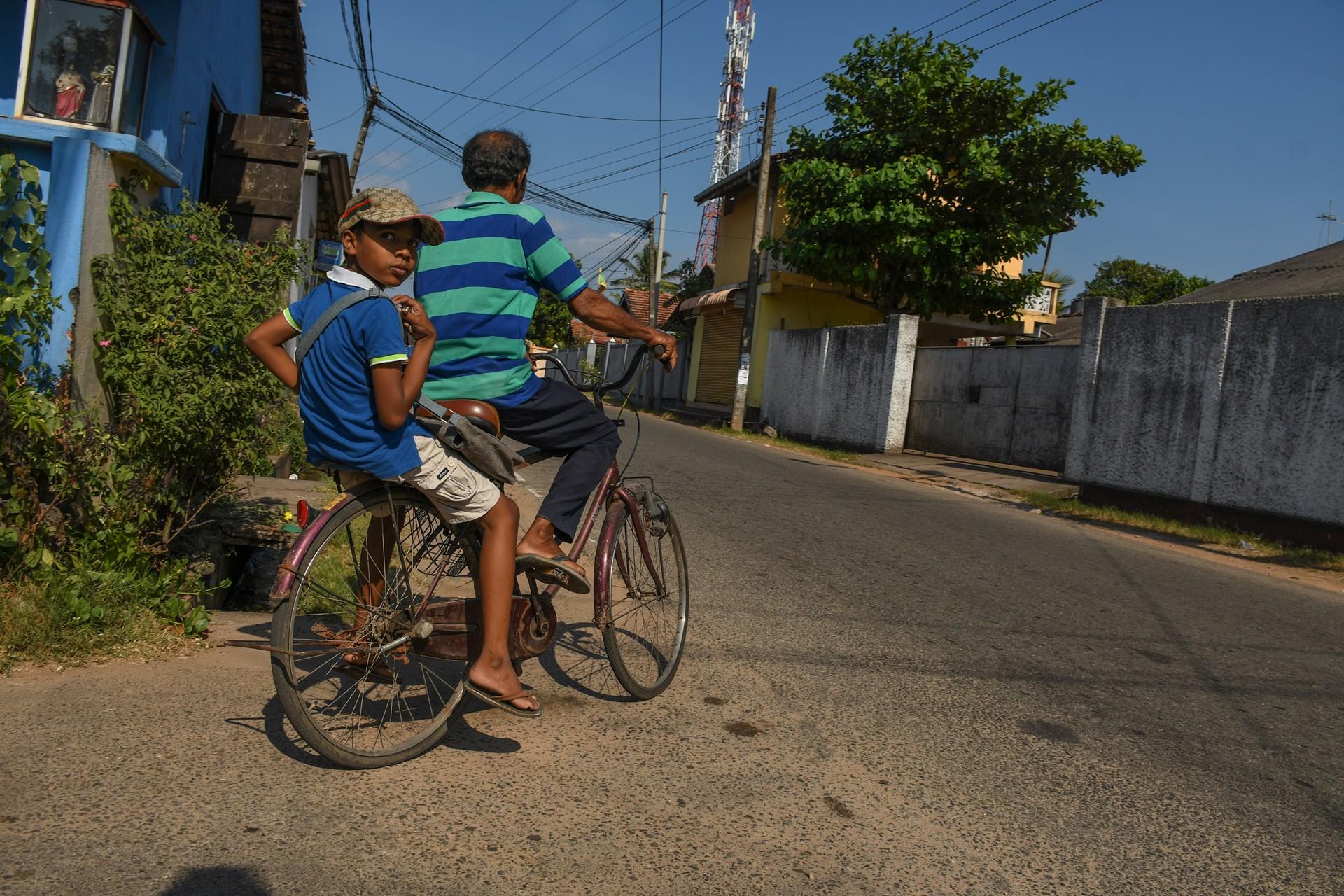 We're still in the neighborhood of the hostel. The weather reminds us of August in Yerevan.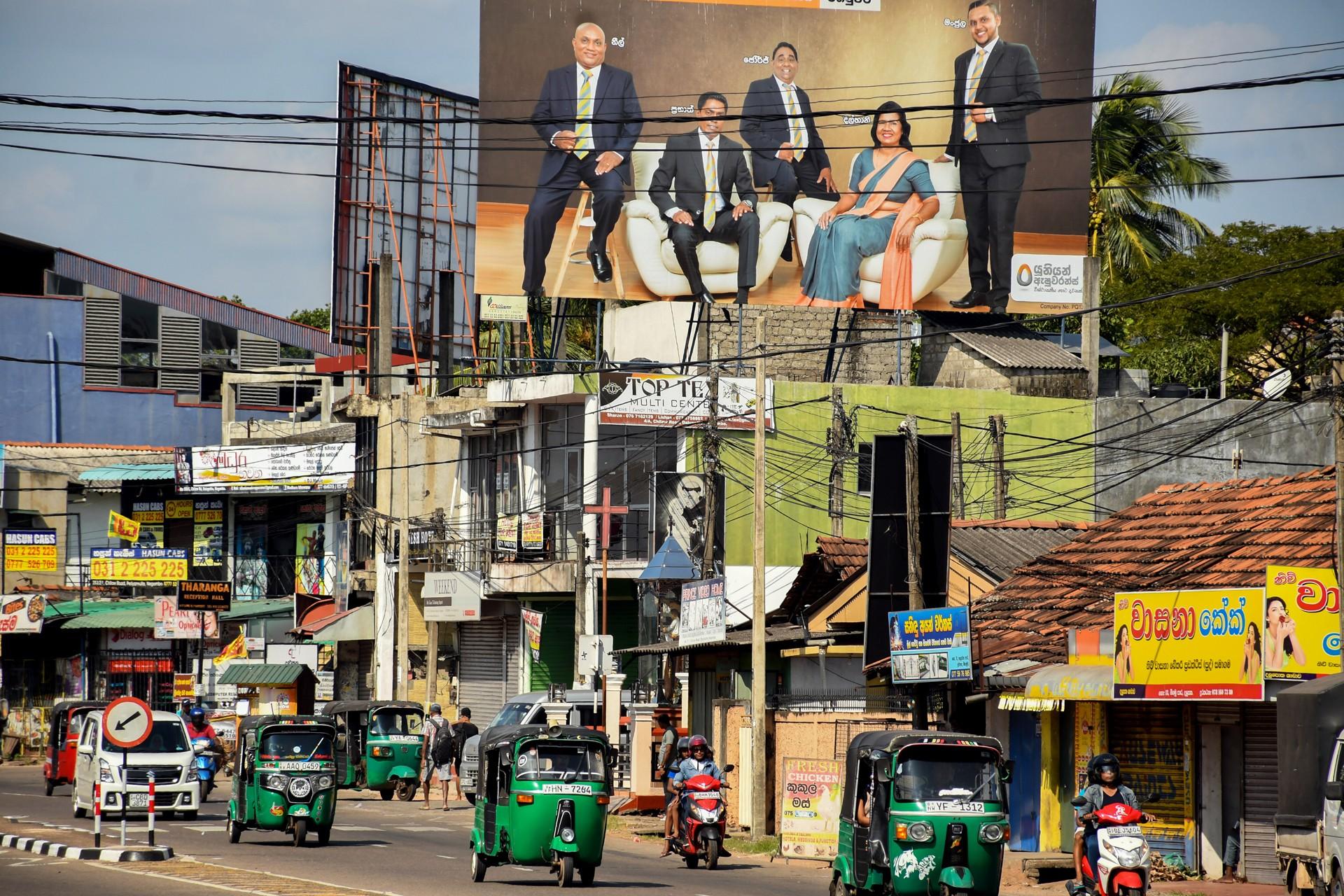 And then suddenly we're on the busy main road.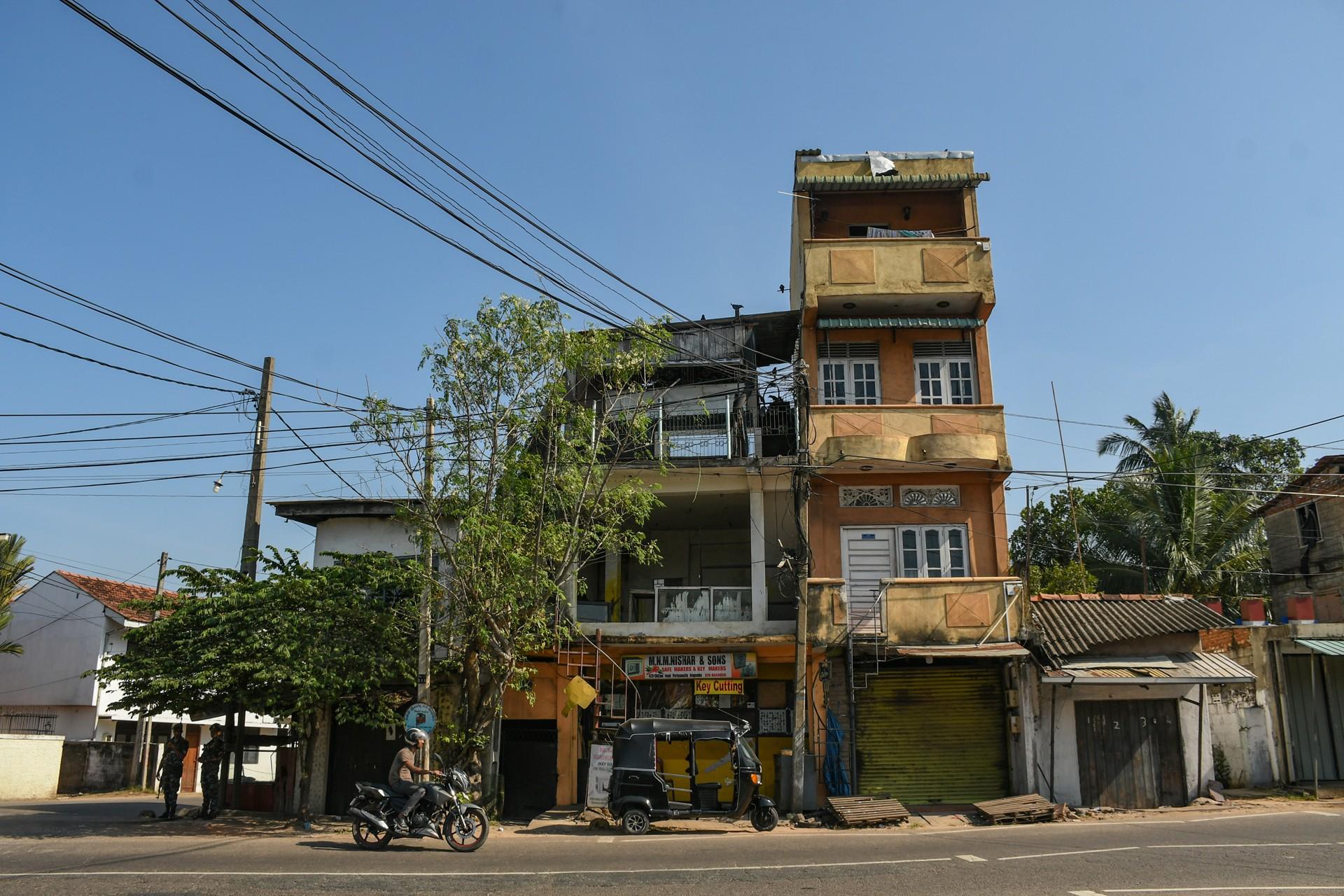 When we showed this photo to Ajan, he said that most likely it's two sisters, each living on a separate floor with their respective families.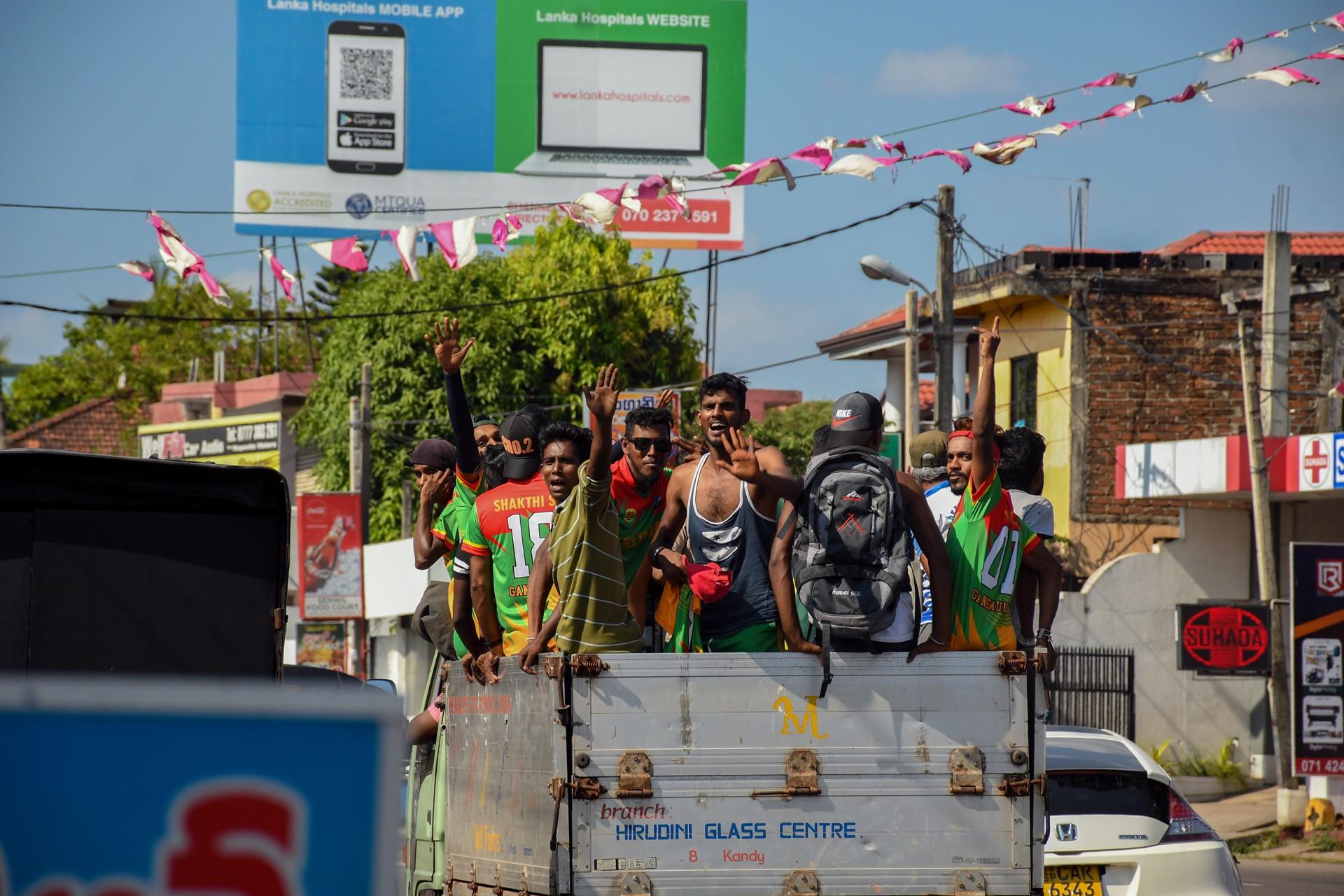 On the first day we looked around with such zeal and intensity that people were staring back, saying "Hi" at every turn, smiling, waving, and often asking where we are from.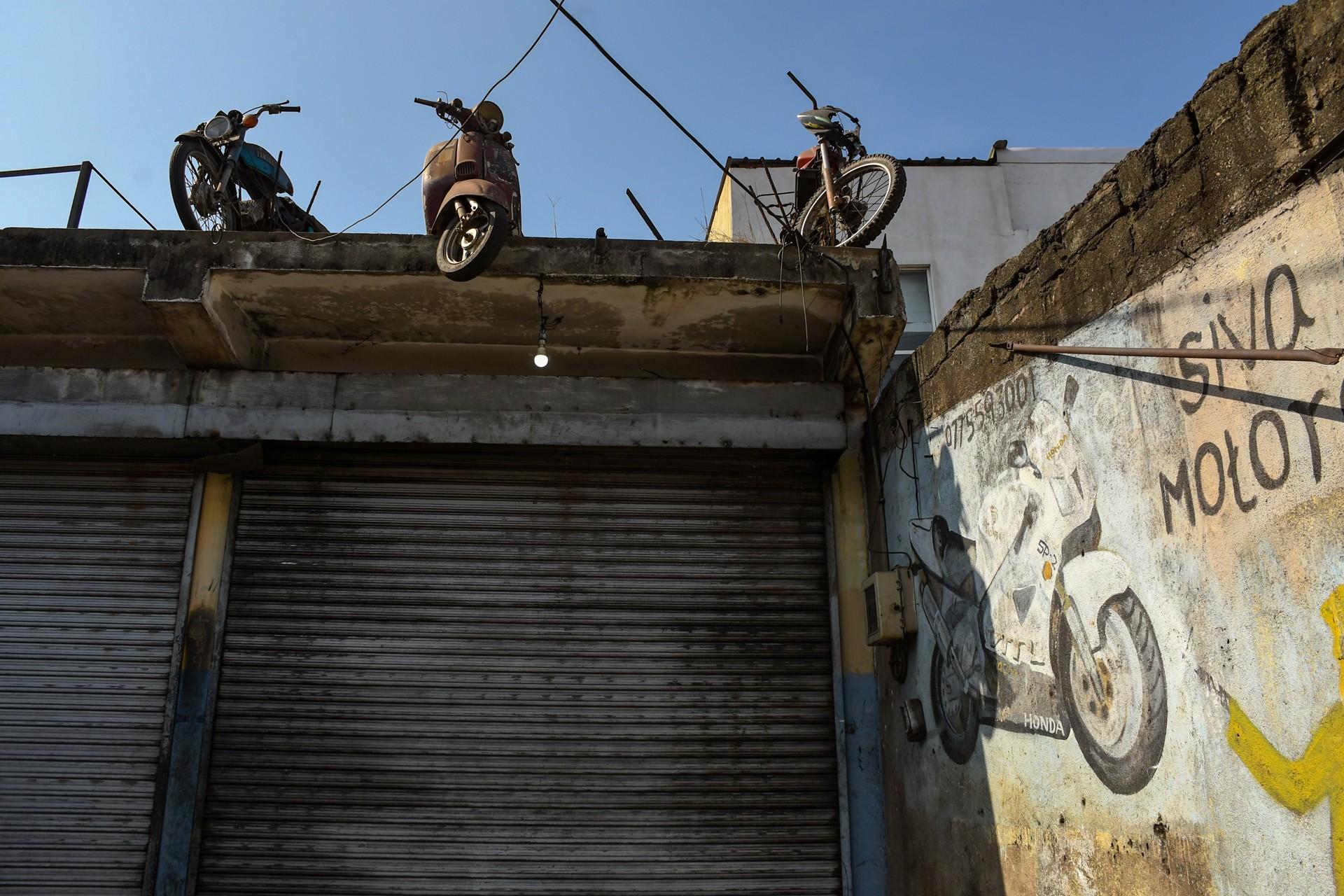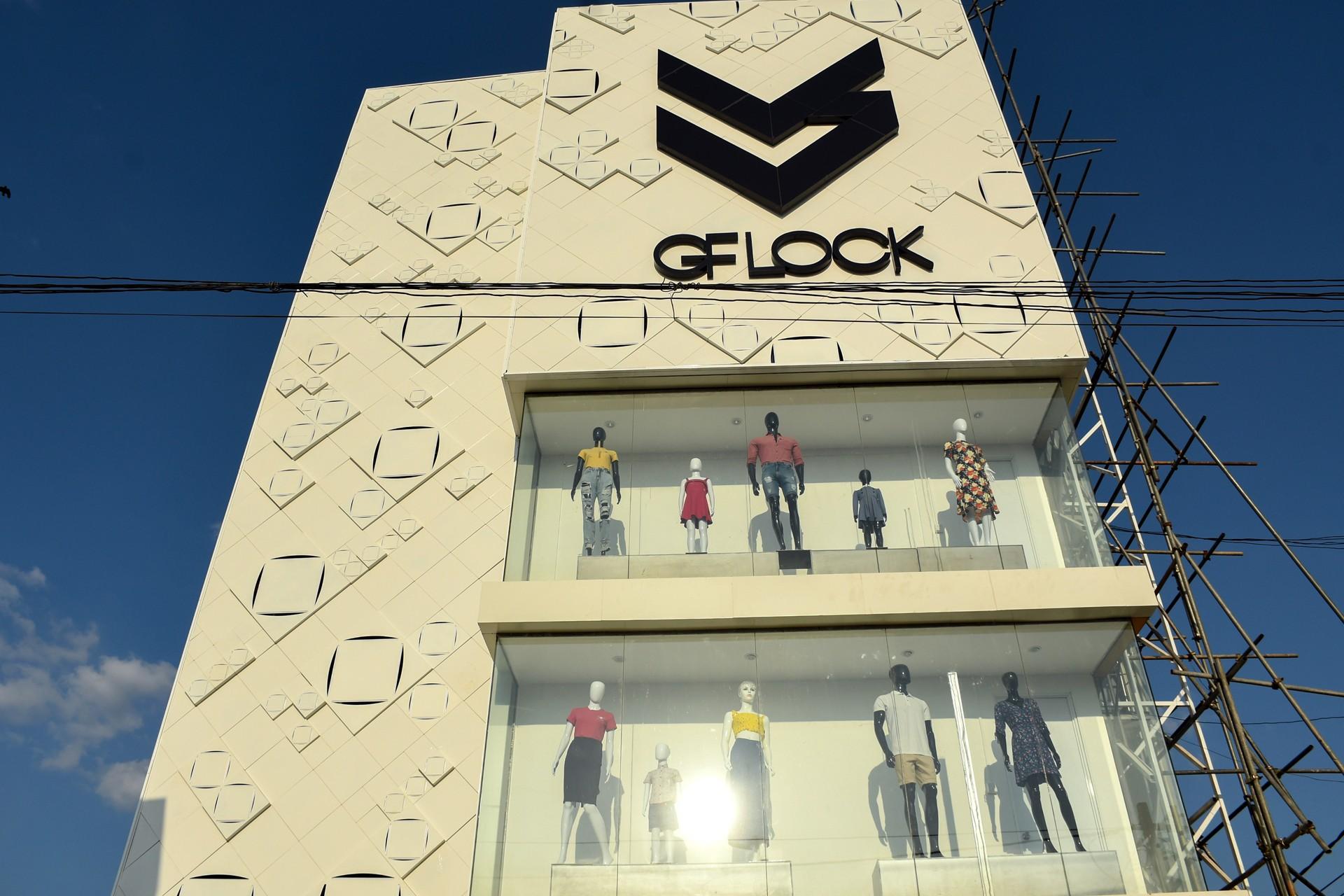 Following the sense of imaginary responsibility of an amateur documentalist, we entered a random yard.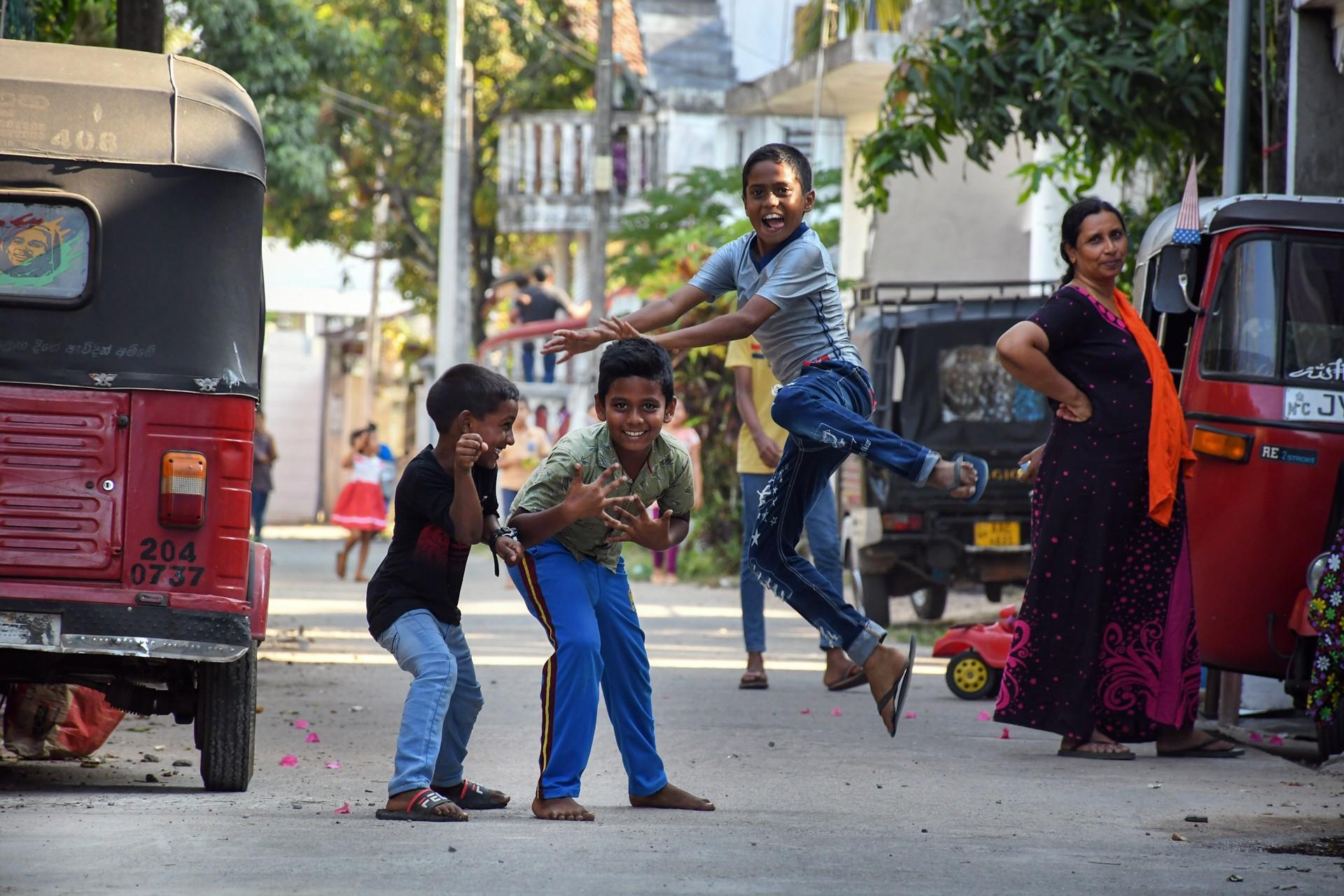 The boys, it seems, were just waiting for someone to take their pictures. They immediately began to jump around and pose like Marvel heroes.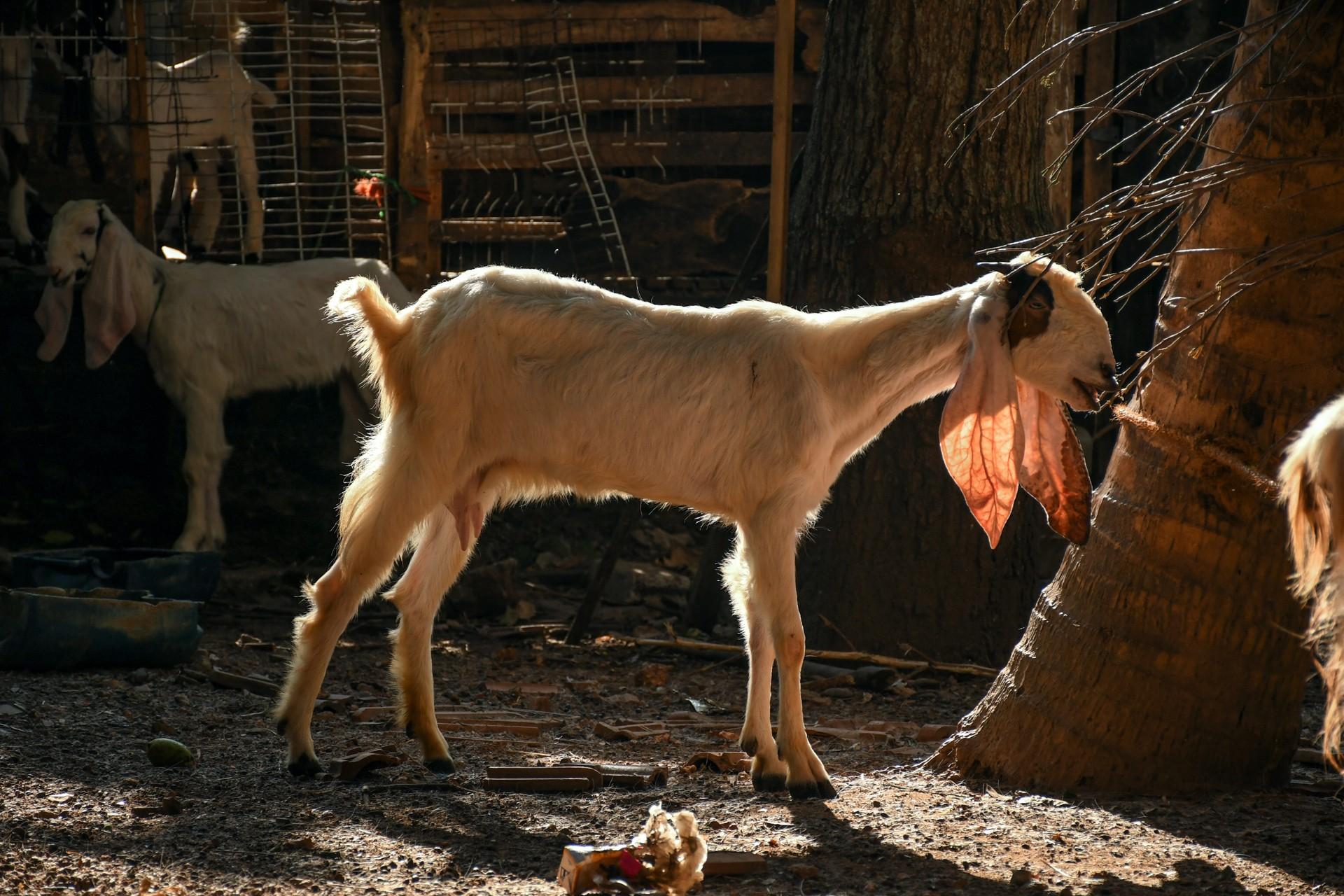 The family kept goats and hens in their yard. Here's the prettiest of them all with great translucent ears.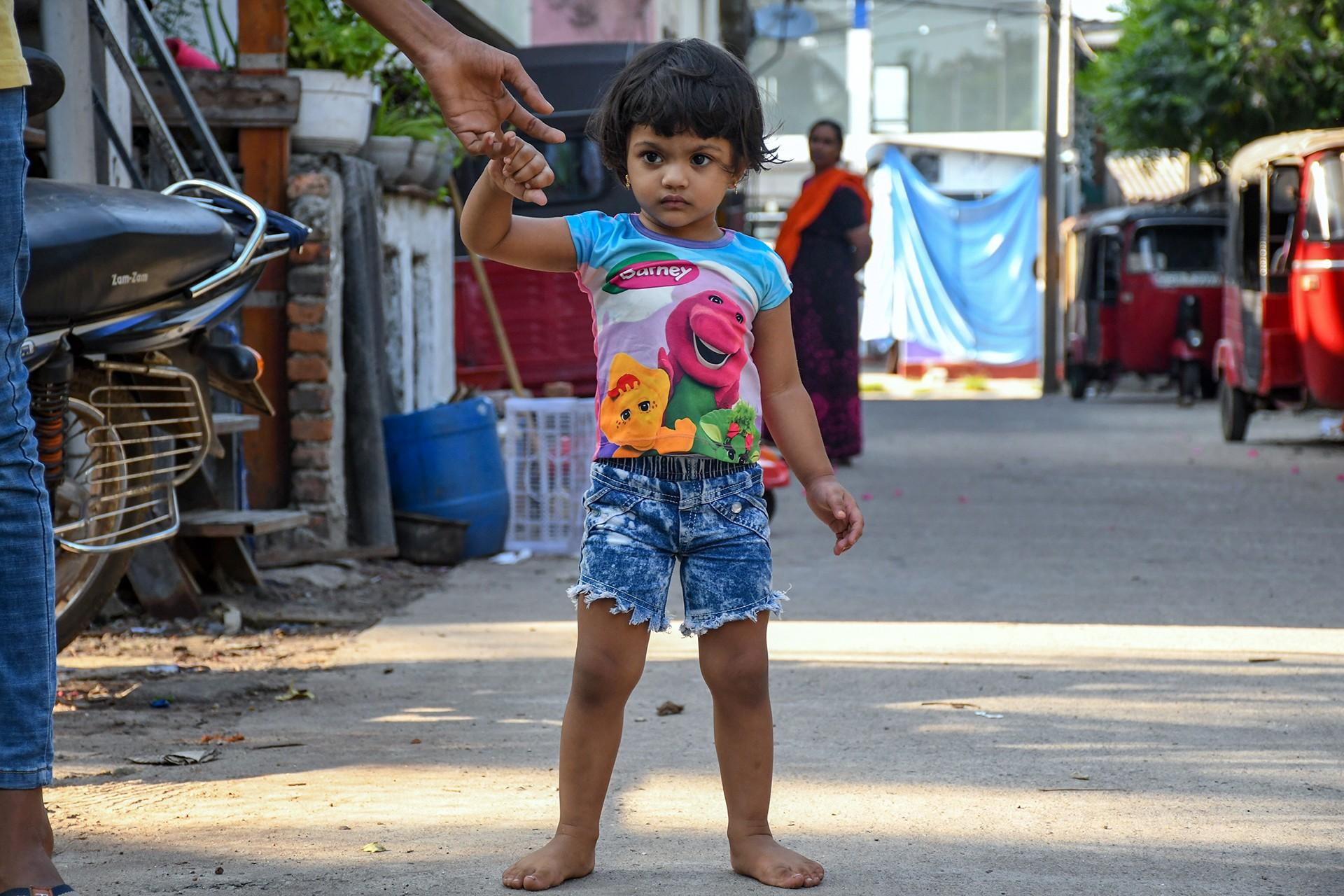 Girls are more shy in Sri Lanka, too. Socialization, no doubt.
At first we rejoiced every time we saw a tuk-tuk, but then got used to it and quit tuk-tuk sanctification.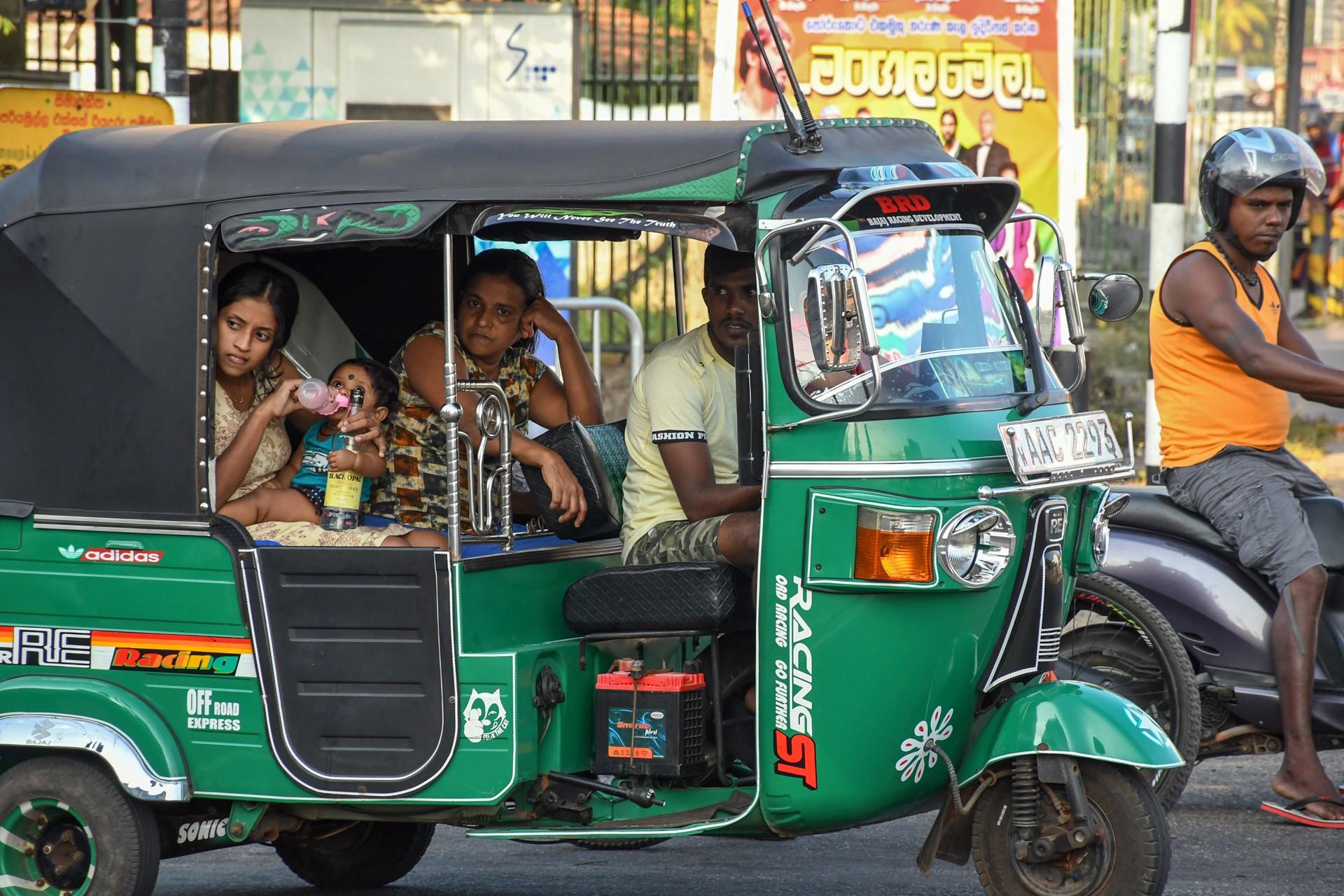 Tuk-tuks are super popular in Sri Lanka. There's even an app for getting a ride!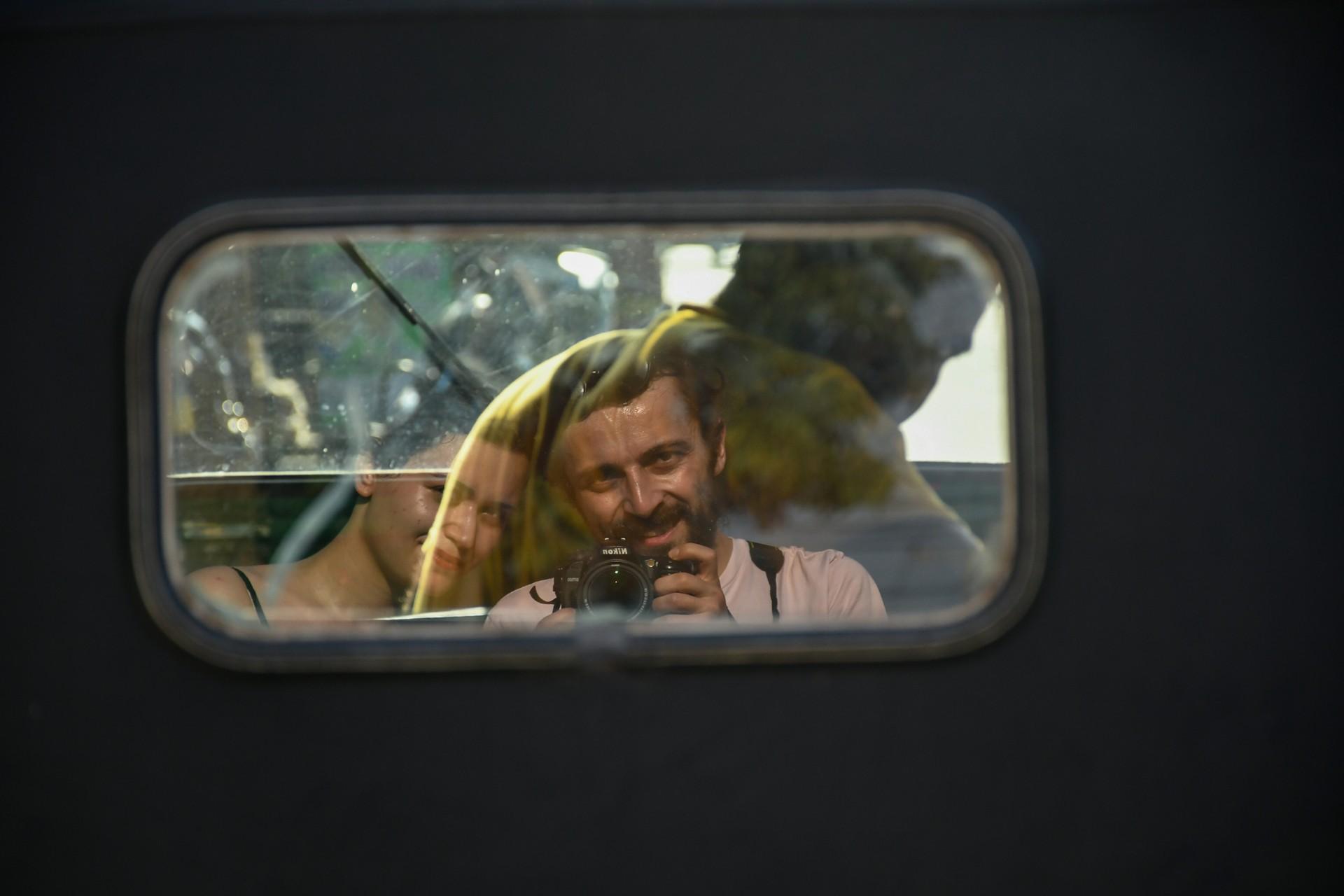 Tuk-tuk back window selfie is the new bathroom selfie.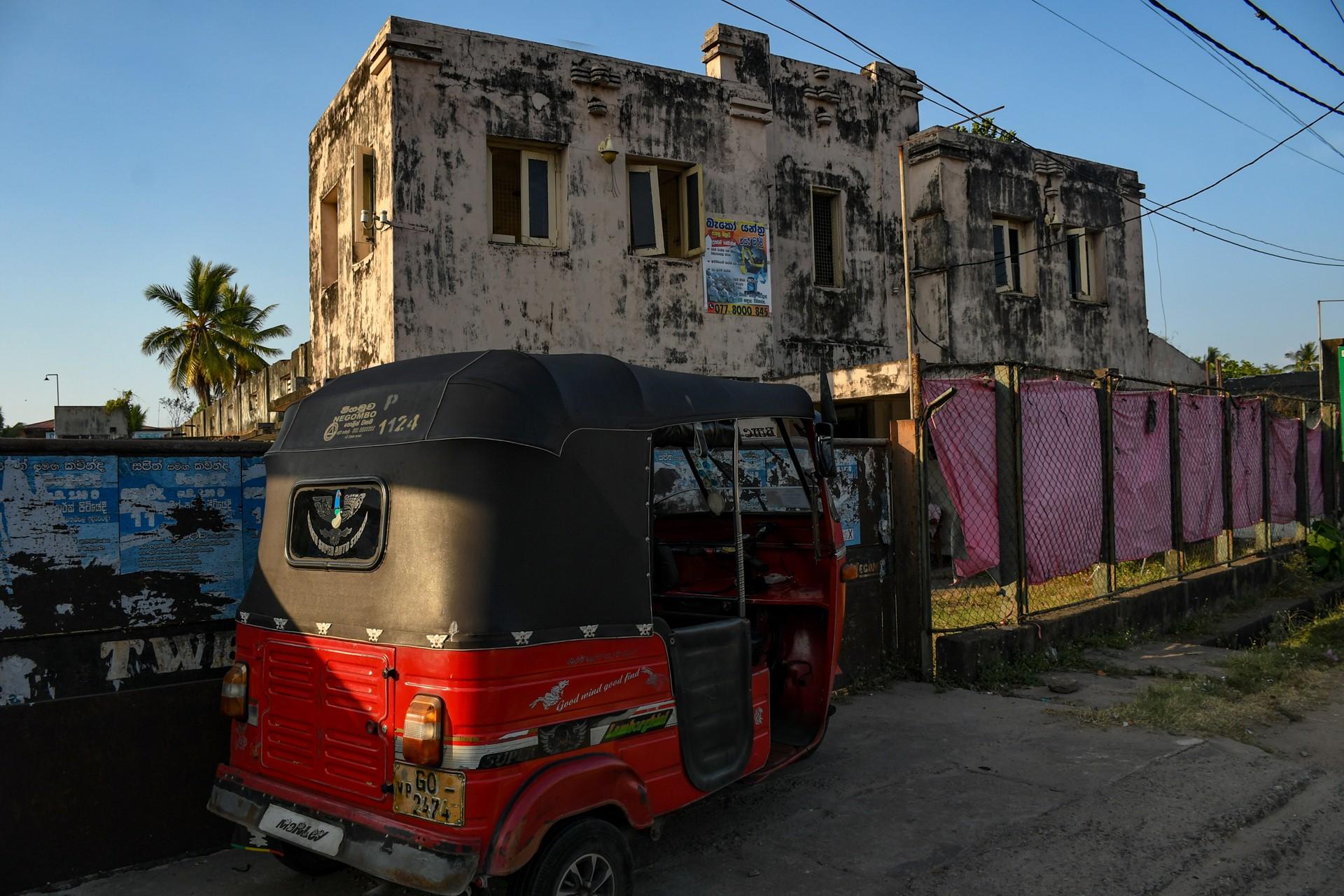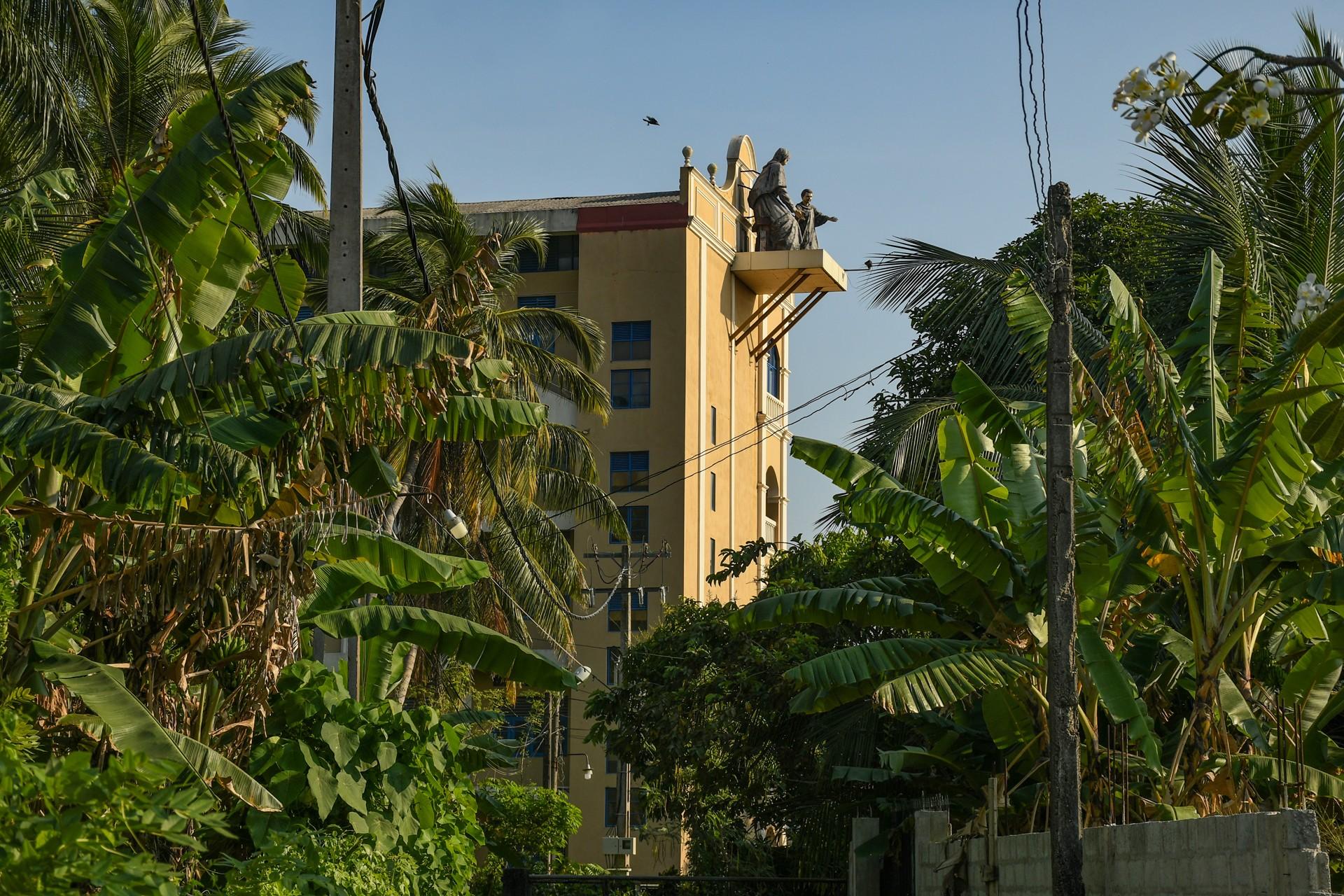 Some house's balcony serves as a pedestal for two statues.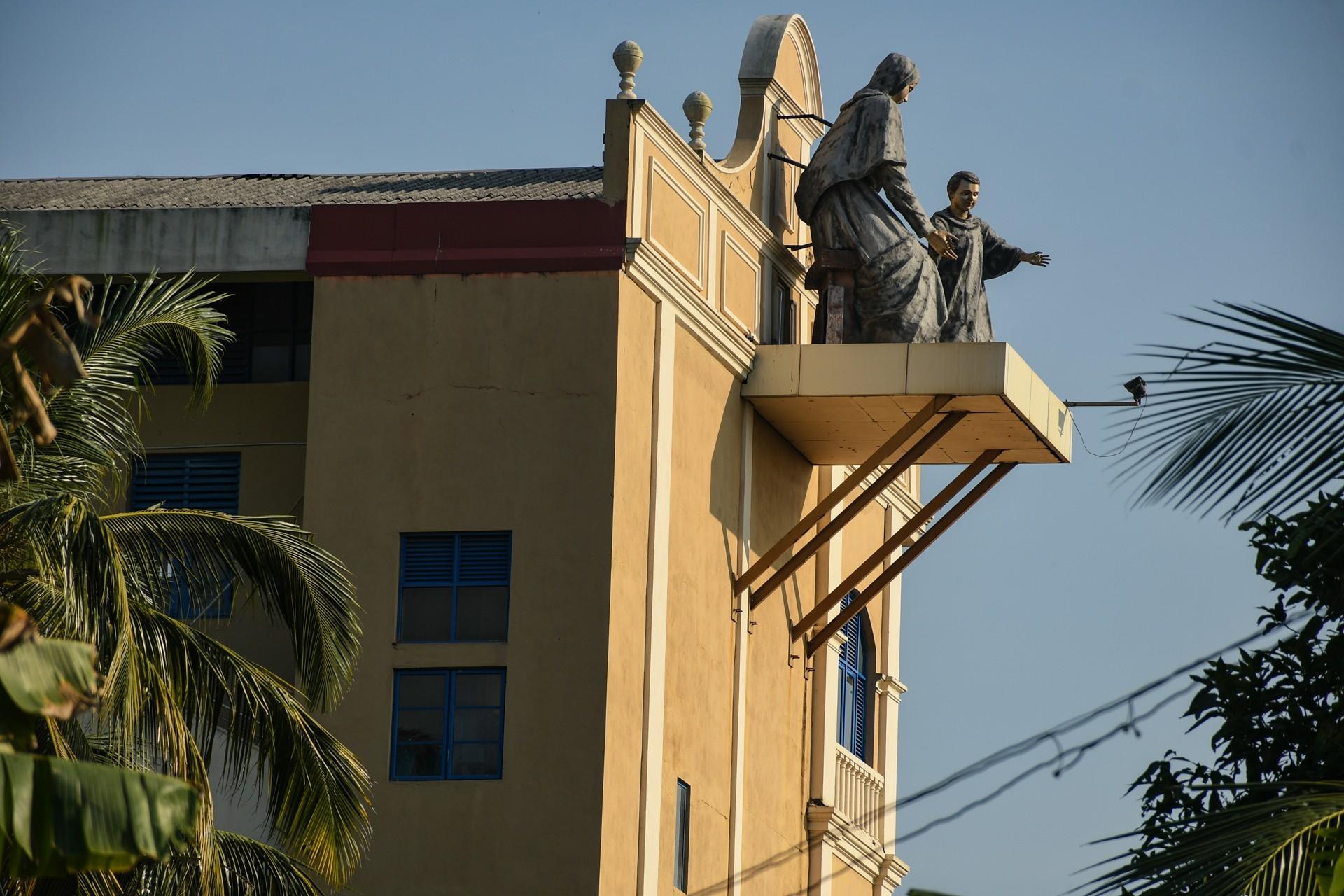 We zoomed in on the photo. Mashtots and...Koryun? Nah, false alarm, it's Mary and Jesus.
At this point we were quite hungry and ate some burger-like entities. Local street food follows a strict schedule of 6-8 am and 12-2 pm, windows we had missed and were gonna miss over and over again throughout the whole trip.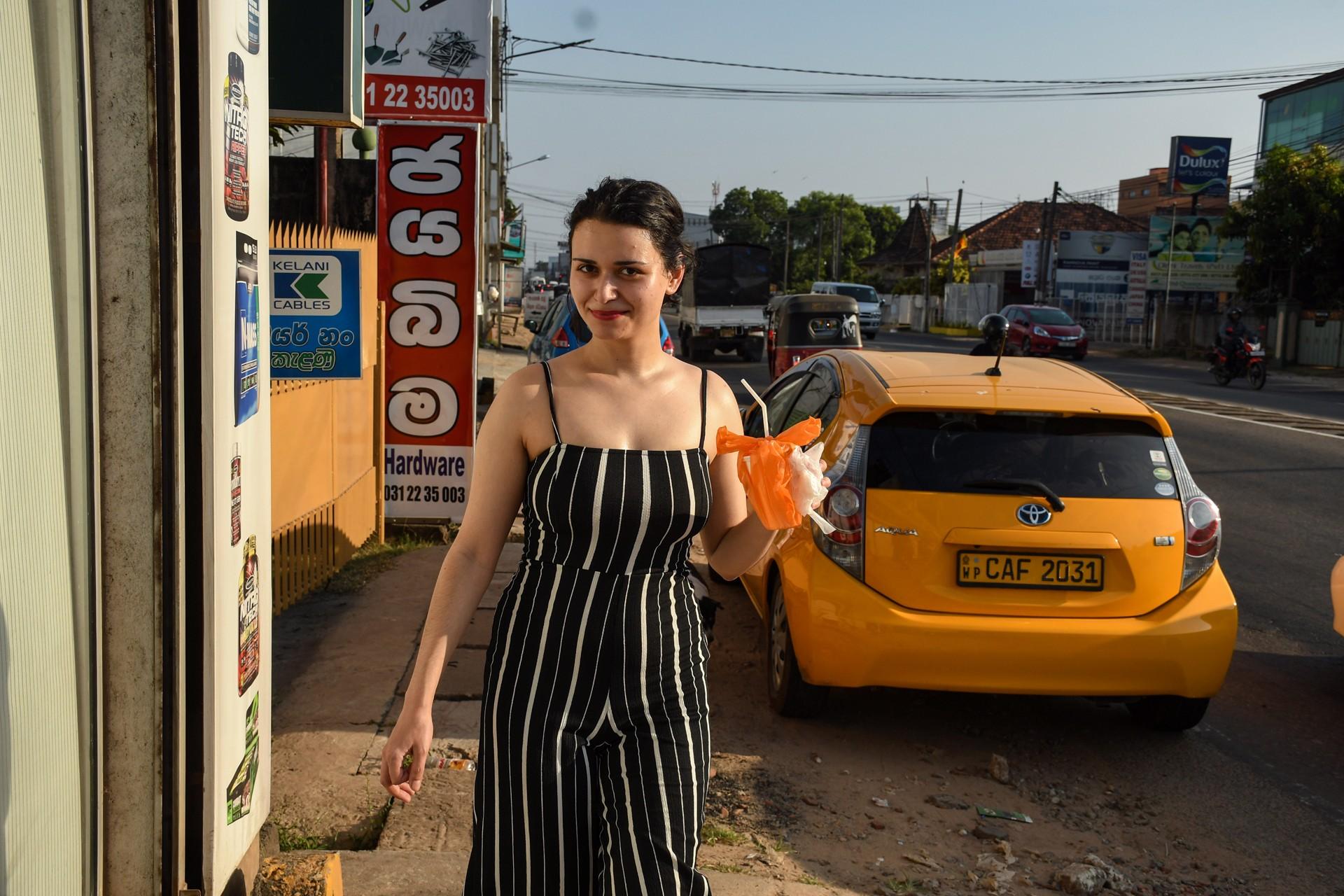 Our first tropical juice! Here mangos and pineapples are close to their Platonic ideals.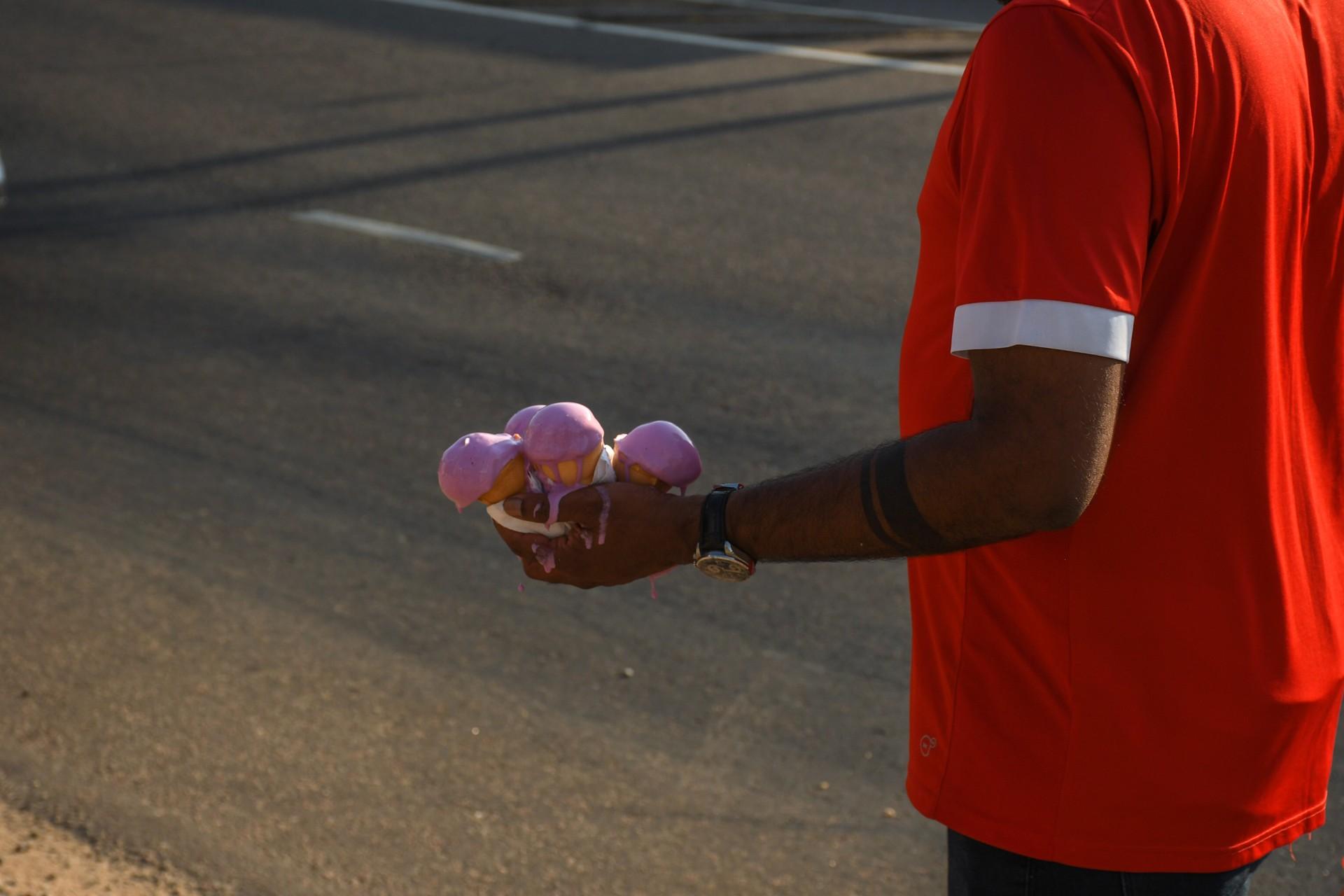 Never tried the Platonic ideal of ice-cream though.
Gentlewomen of the jury, let us not forget the truest reason why we're here and head to the beach.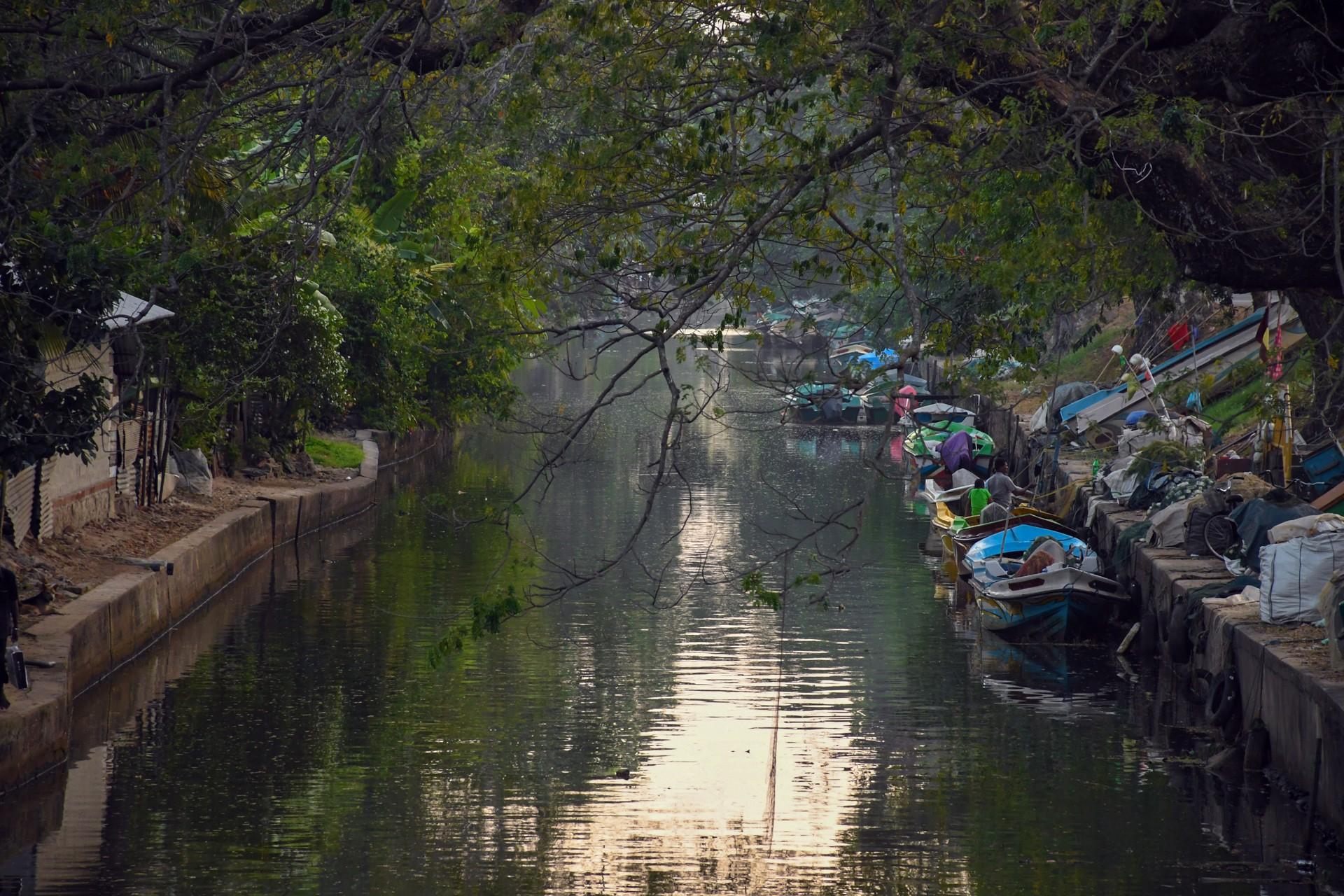 On the way from the hostel to the seaside we saw a canal built by the Brits. It's commonly known as the "Dutch Canal."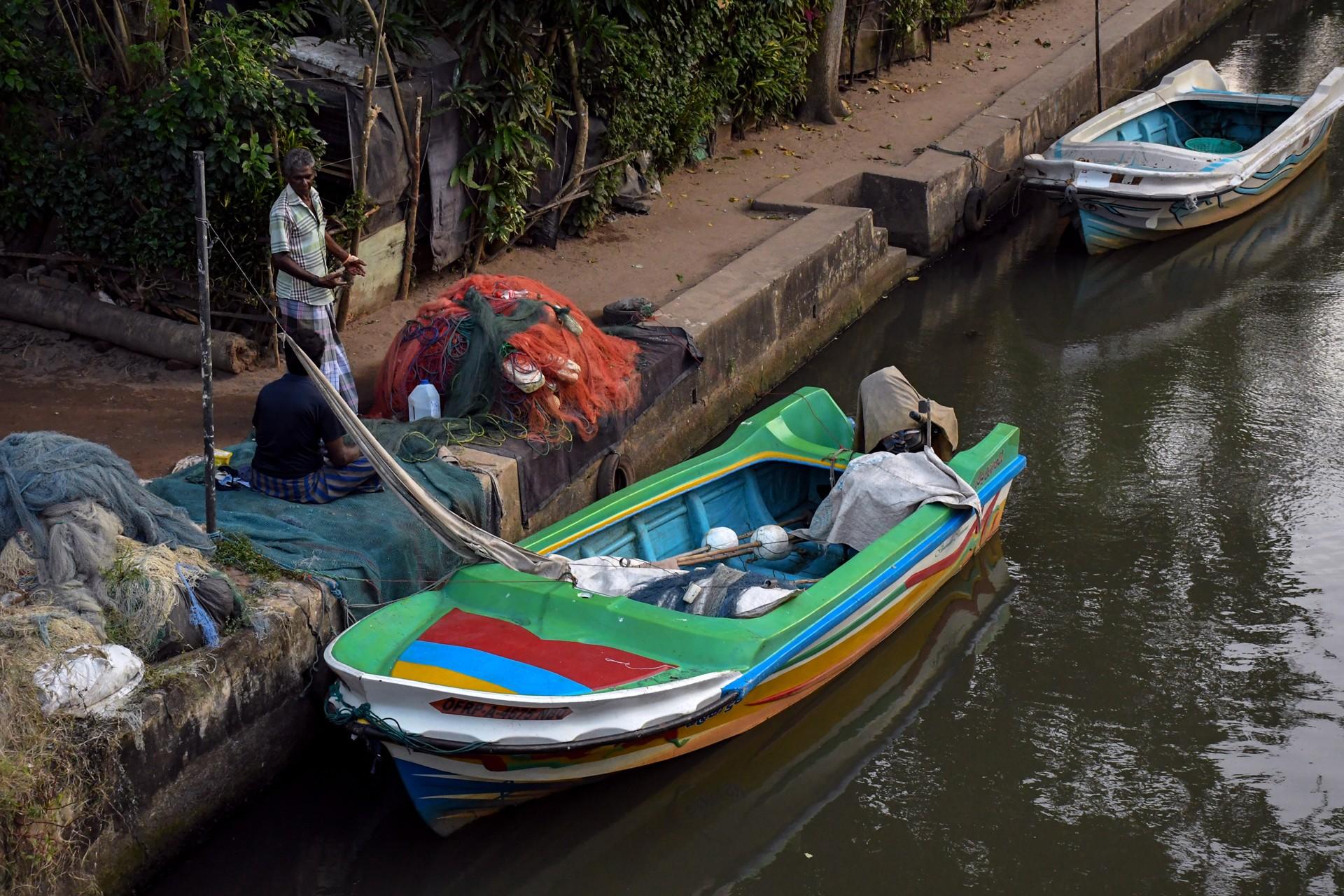 One of the boats had the Armenian flag on it. #blessed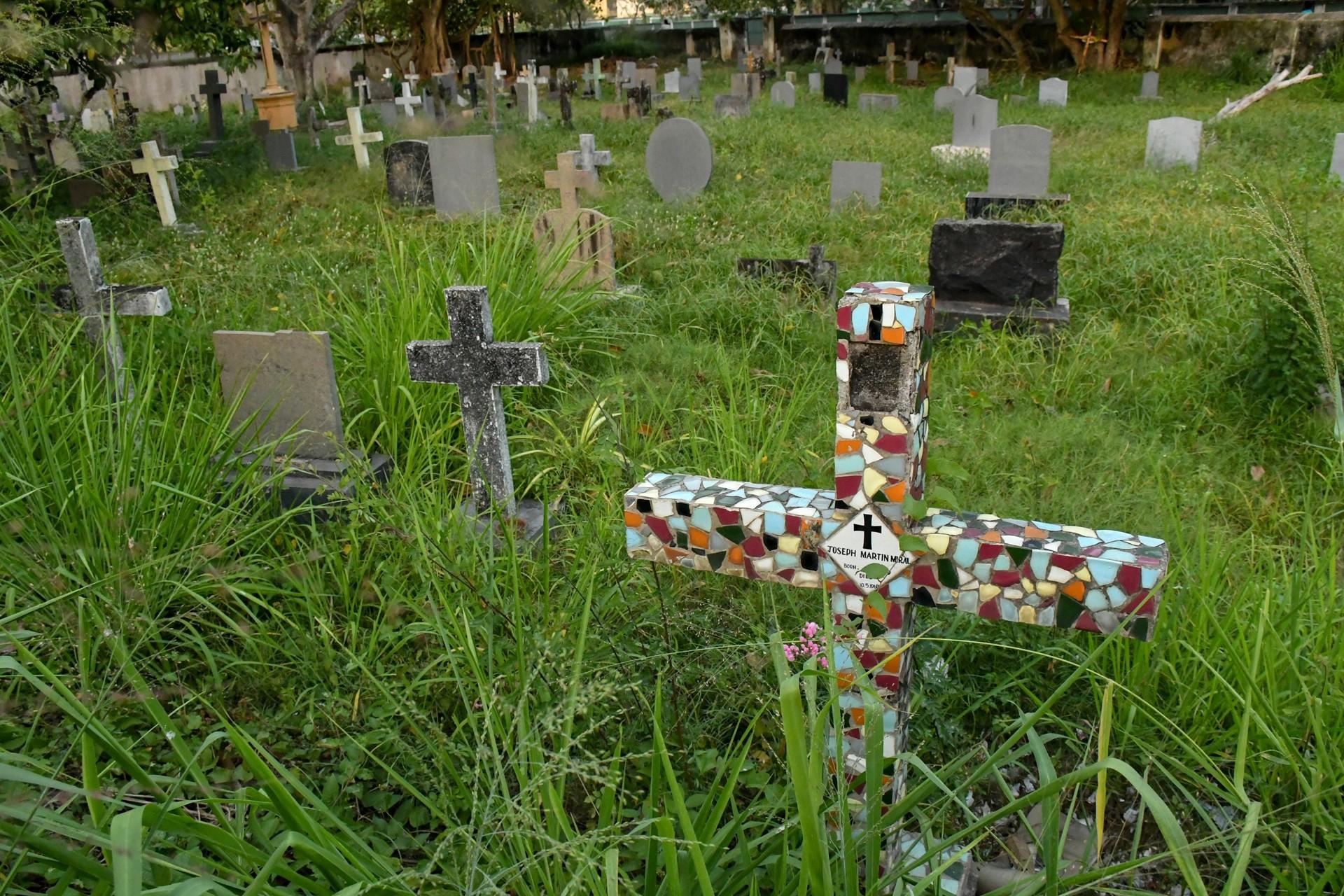 Be different.
The sea! Yay!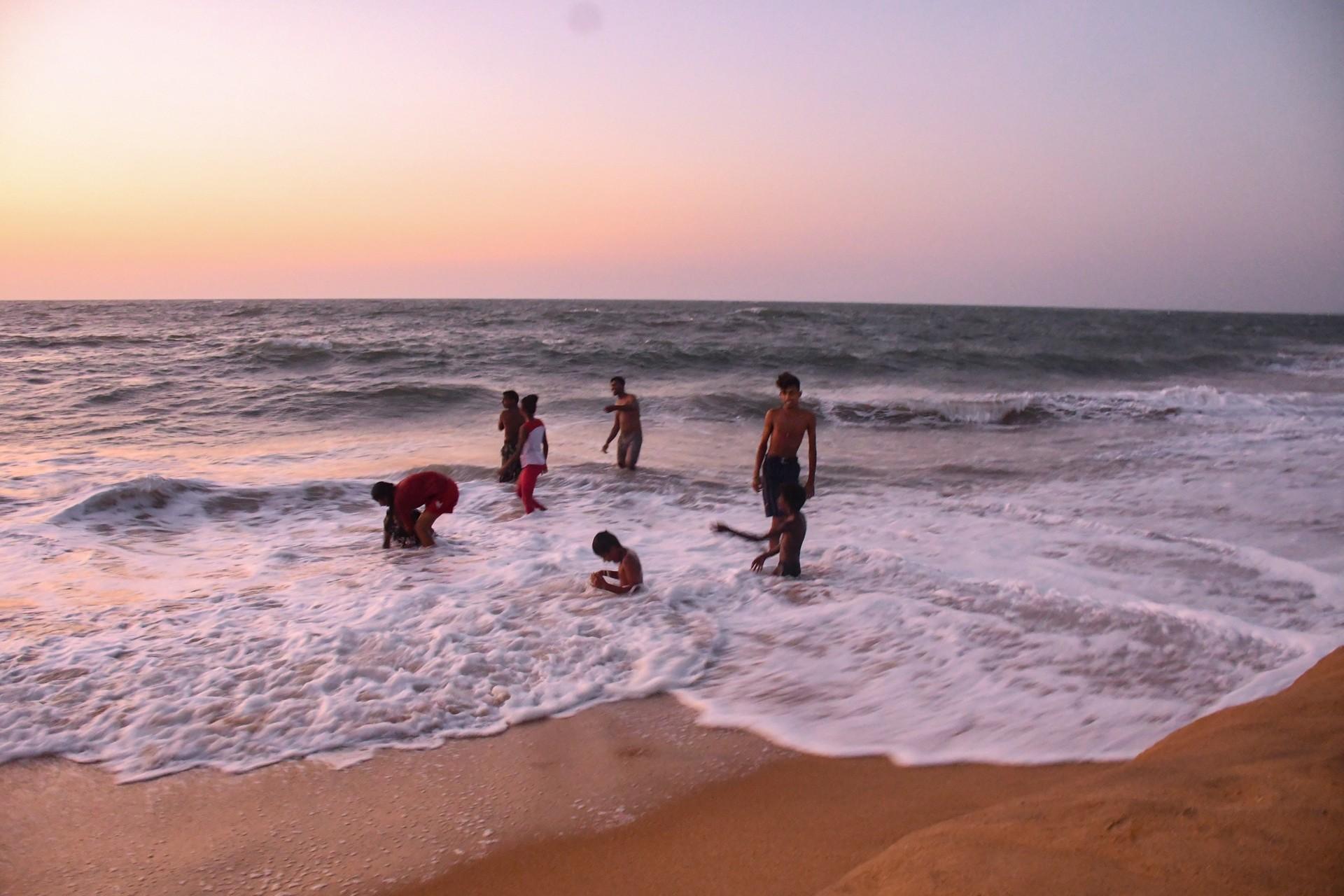 To our surprise, the locals weren't into swimming at all. Mainly they just drenched their feet near the shore.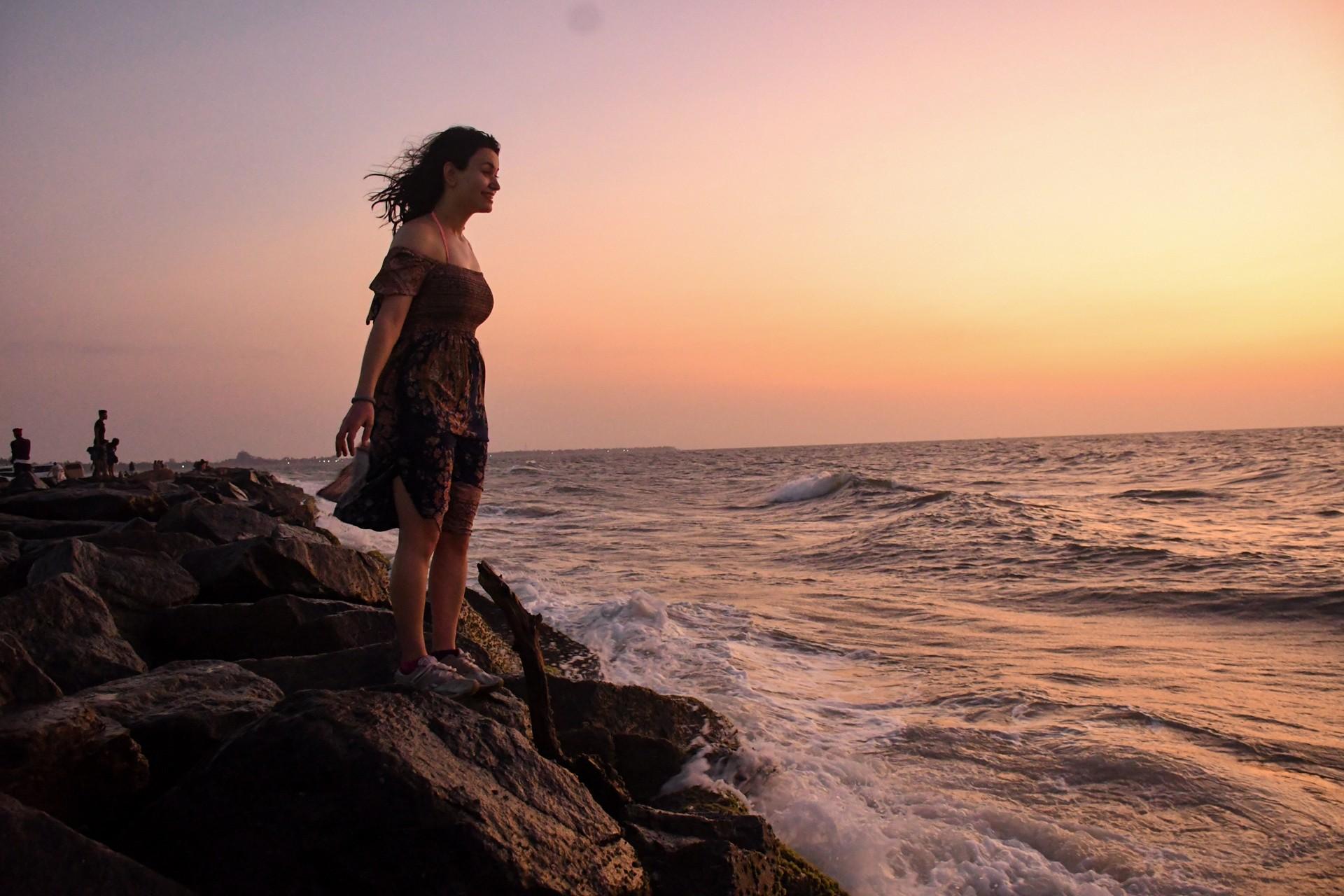 The sea, the golden sand under my bare feet, and my windblown summer dress made for a wonderful sensual experience. I felt myself a sea captain that had figured out which direction her ship bow should face, where the trip was gonna take us.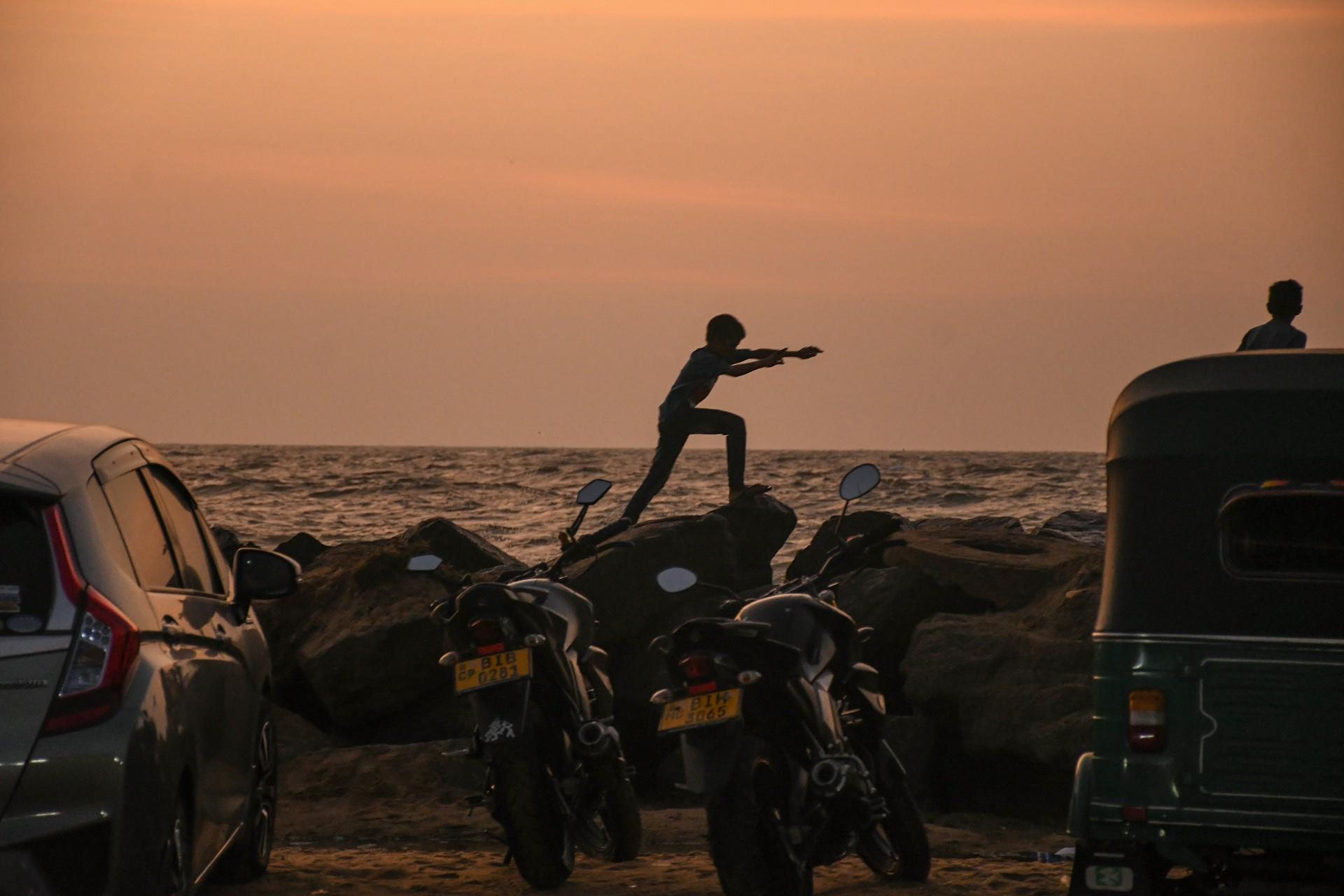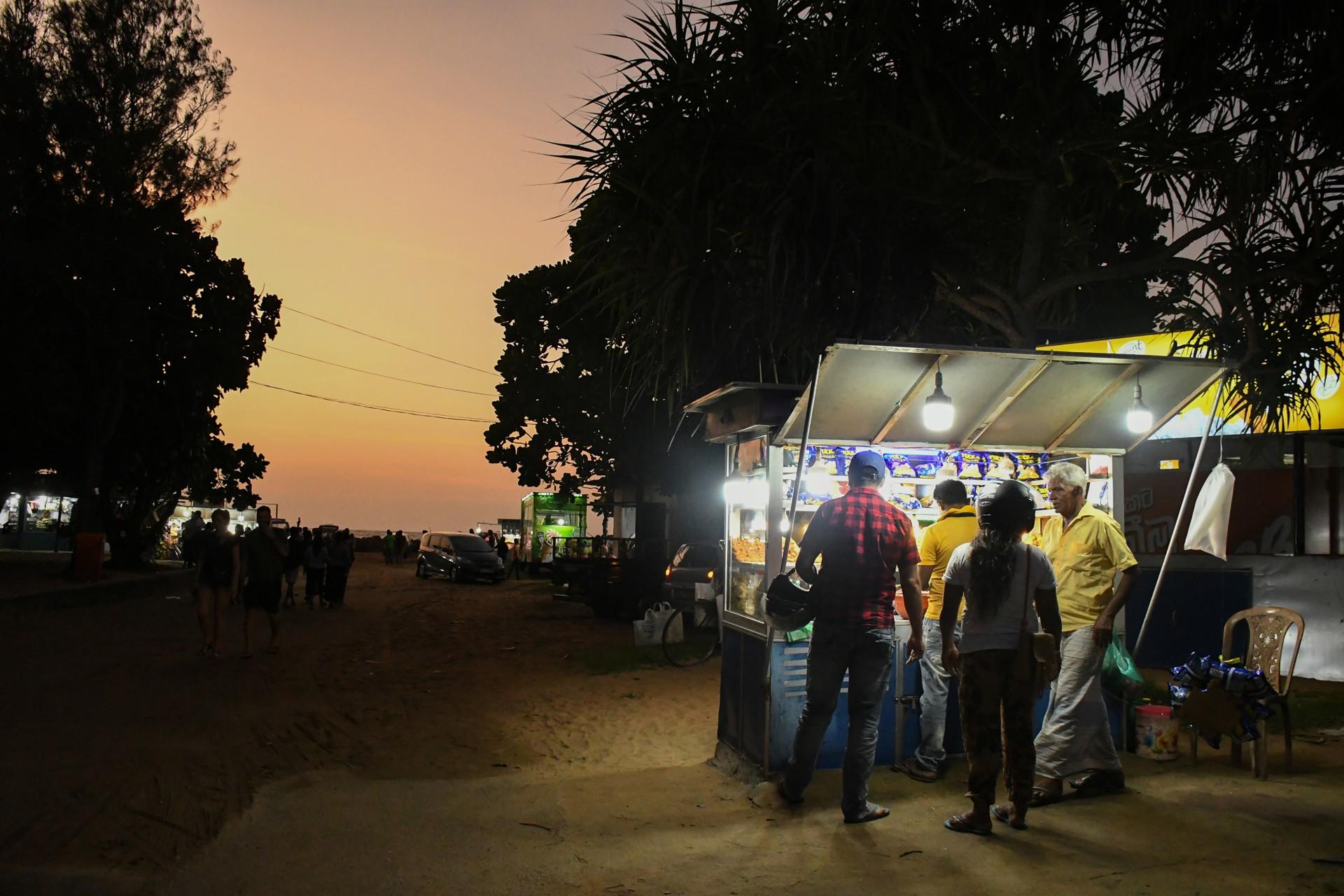 We bought some crunchy seafood from the small beachside stores. Since they were quite spicy, we concluded that we had come a step closer to real local food.
The snacks demanded beer and we headed toward the seaside bar Ajan had recommended, Rodeo.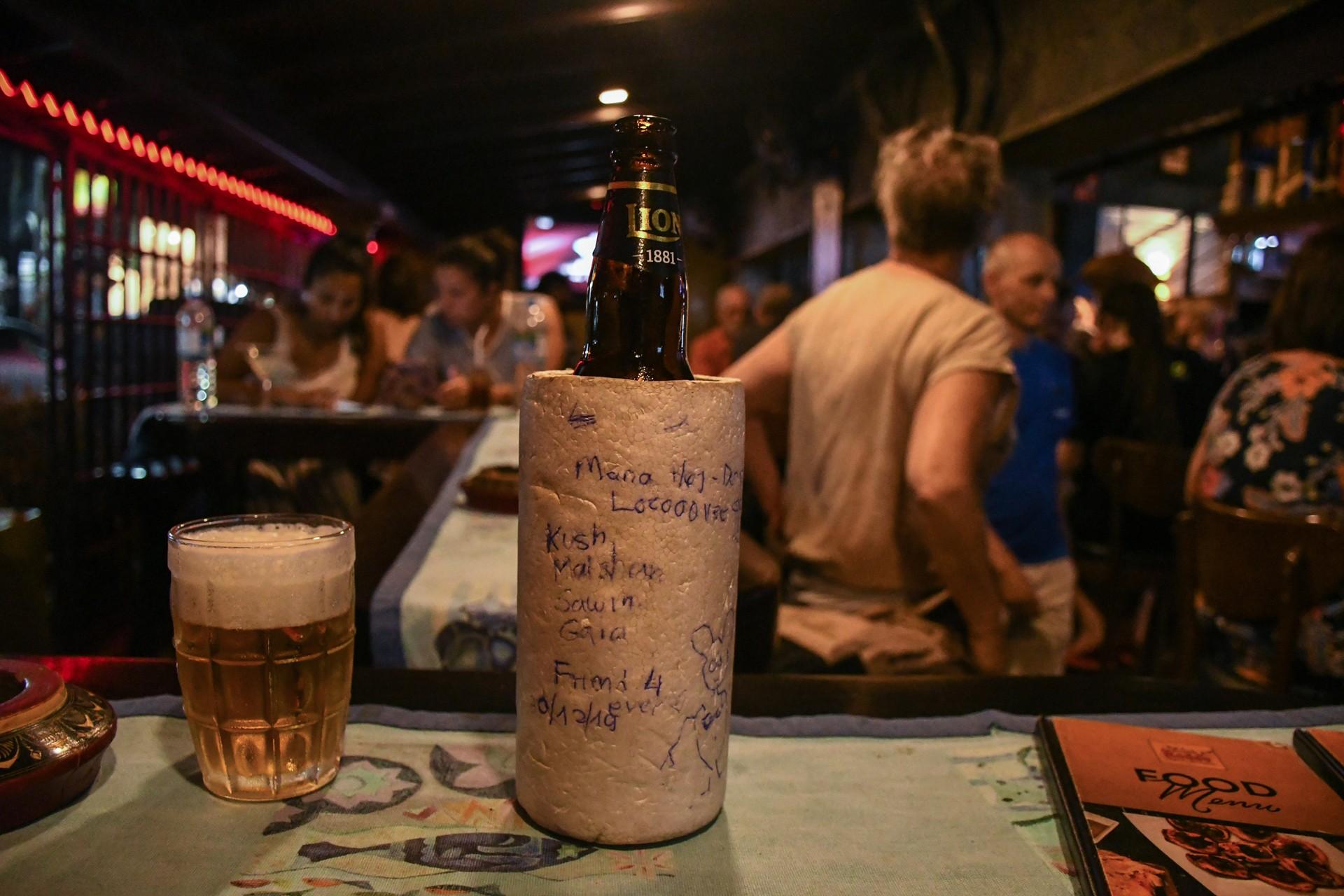 The only local beer available everywhere was "Lion," which was quite good, despite Nasya warning us otherwise. And those white thingies kept it cold for a long time.
These four spiny lobsters seduced Narek and continue seducing him even now when we're back in Armenia from the online pages of Los Angeles Times. But alas they were to stay a dream.
We exchanged a few unremarkable remarks with the Brits watching soccer at the table next to us – Lancaster this, New Castle that – and then walked back toward our hostel.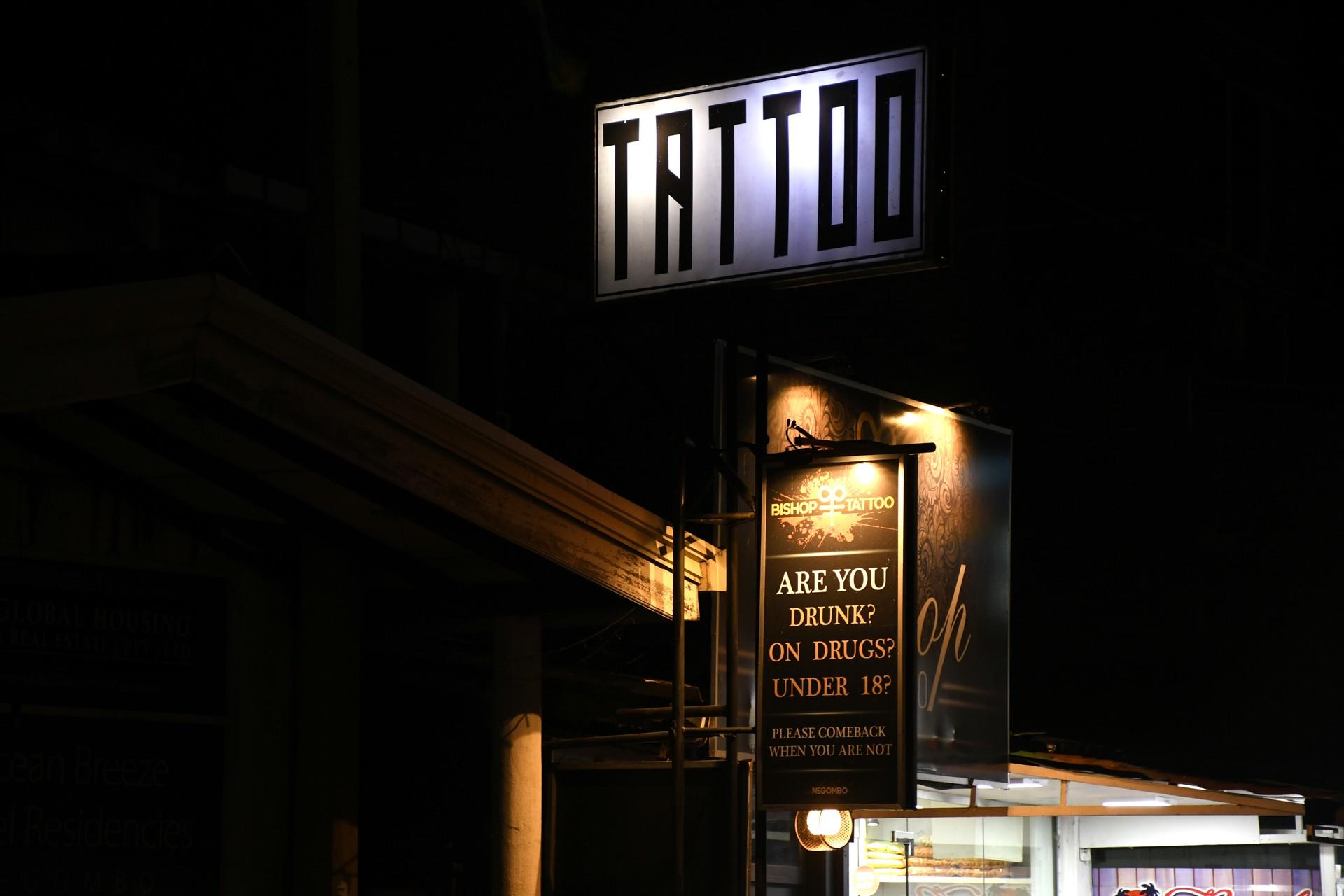 At first we didn't notice the advice below so it appears as though being drunk, on drugs or under age are sound reasons to get a tattoo.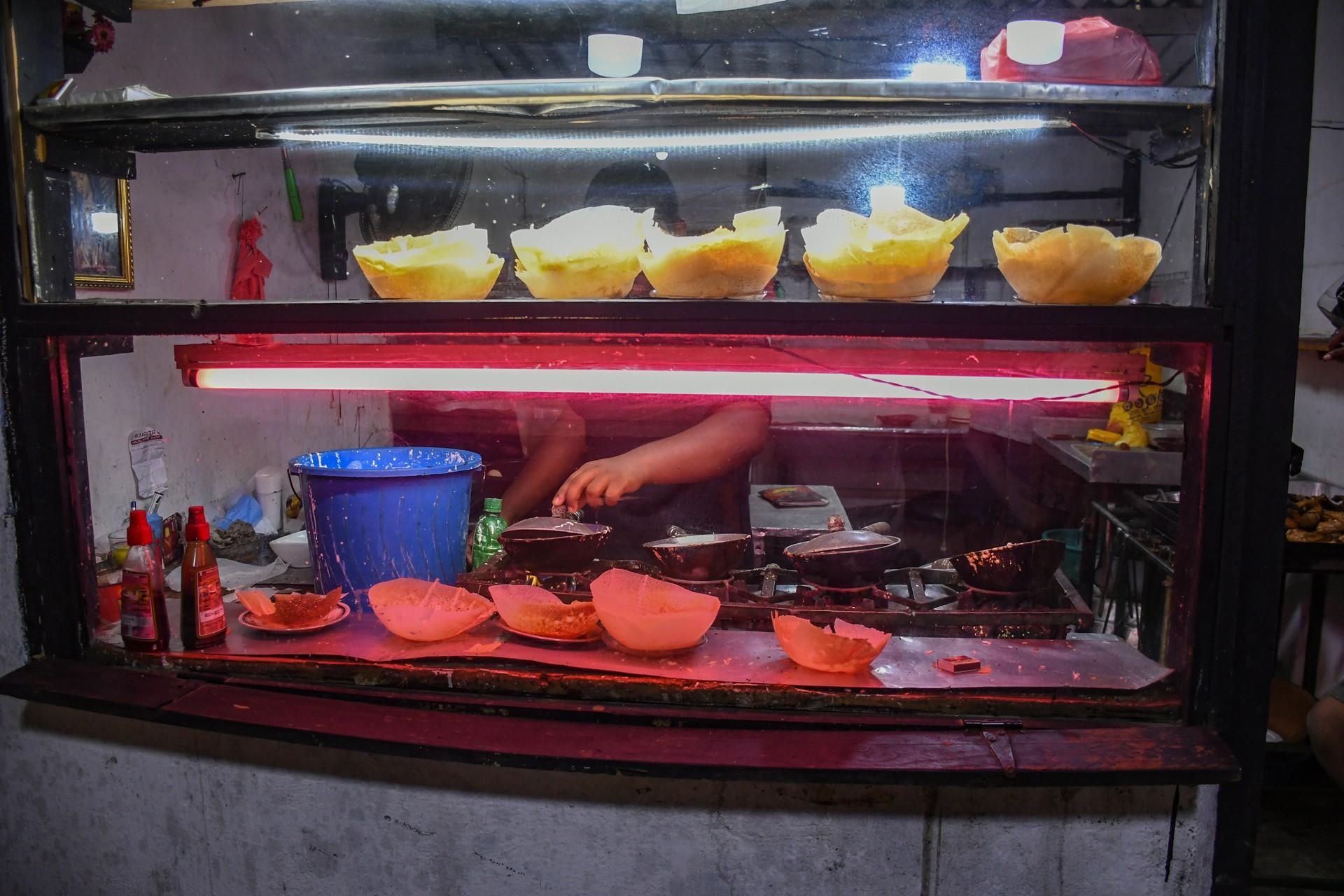 On our way back we stopped by a street vendor for dinner. They gave us egg hoppers while we waited for our food.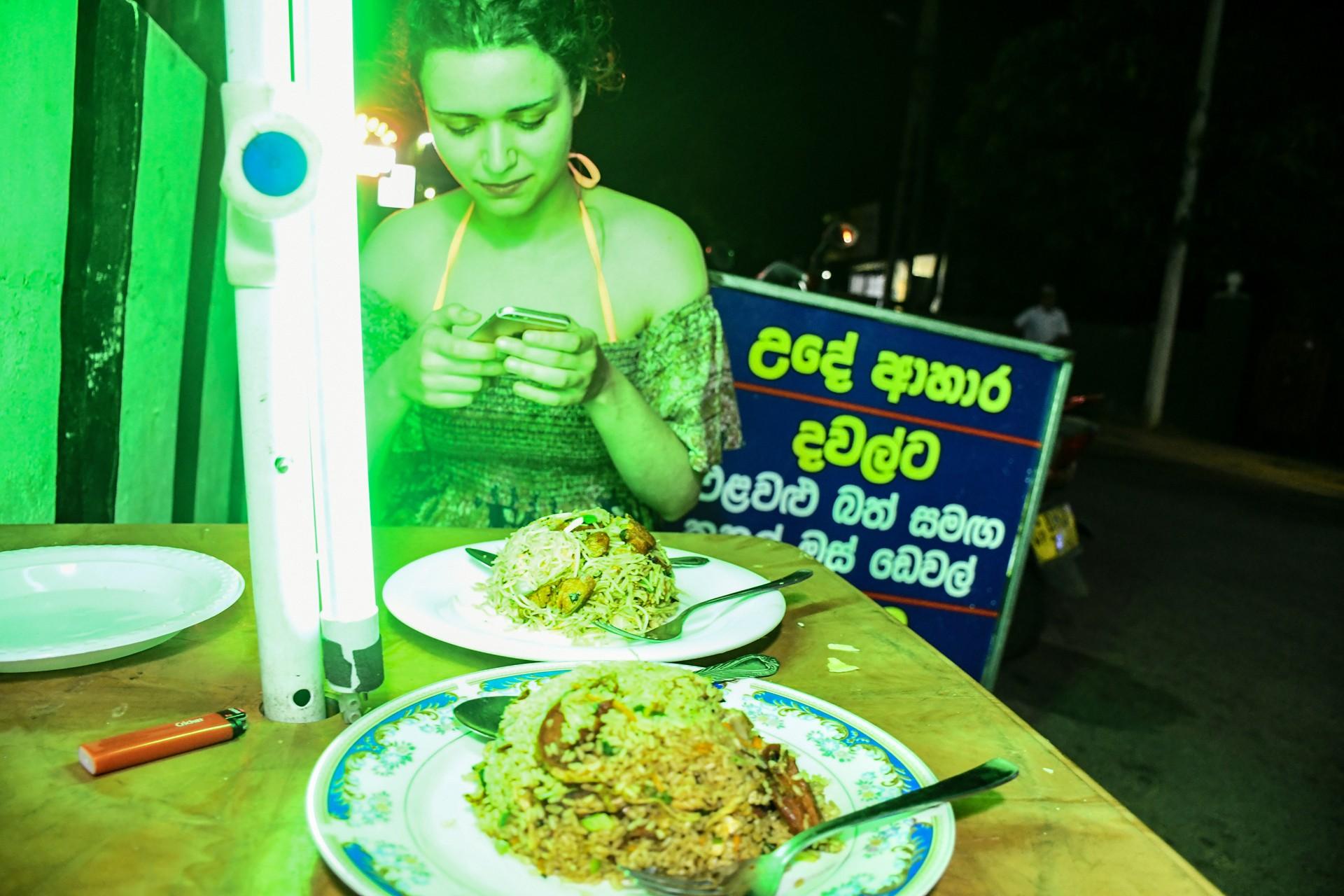 Rice or noodles with vegetables and meat. Uneventful, though rather good.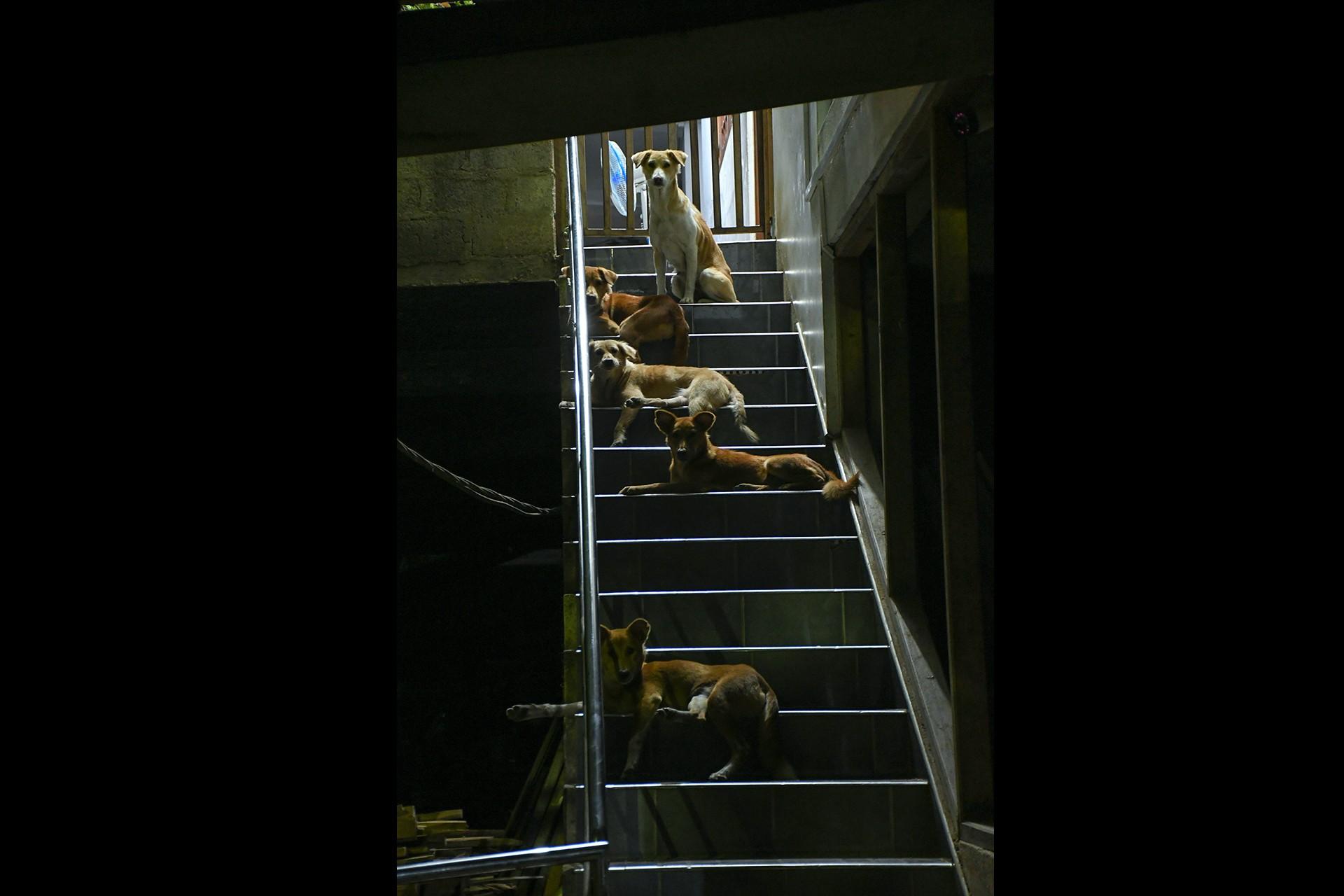 As you know, all dogs go to heaven. Which arguably makes these stairs we passed by Zep's "Stairway to Heaven."
How We Accidentally Celebrated Sri Lanka's Independence Day
One of the hostel guests told us that the following day was Sri Lanka's Independence Day. They were gonna have a big military parade at nine in Colombo, Sri Lanka's biggest city an hour away from us.
The alarms were set but snooze buttons exist, so we woke up only at 10. In any case, we decided to go check it out.
Still in Negombo, waiting for a tuk-tuk to take us to the bus station.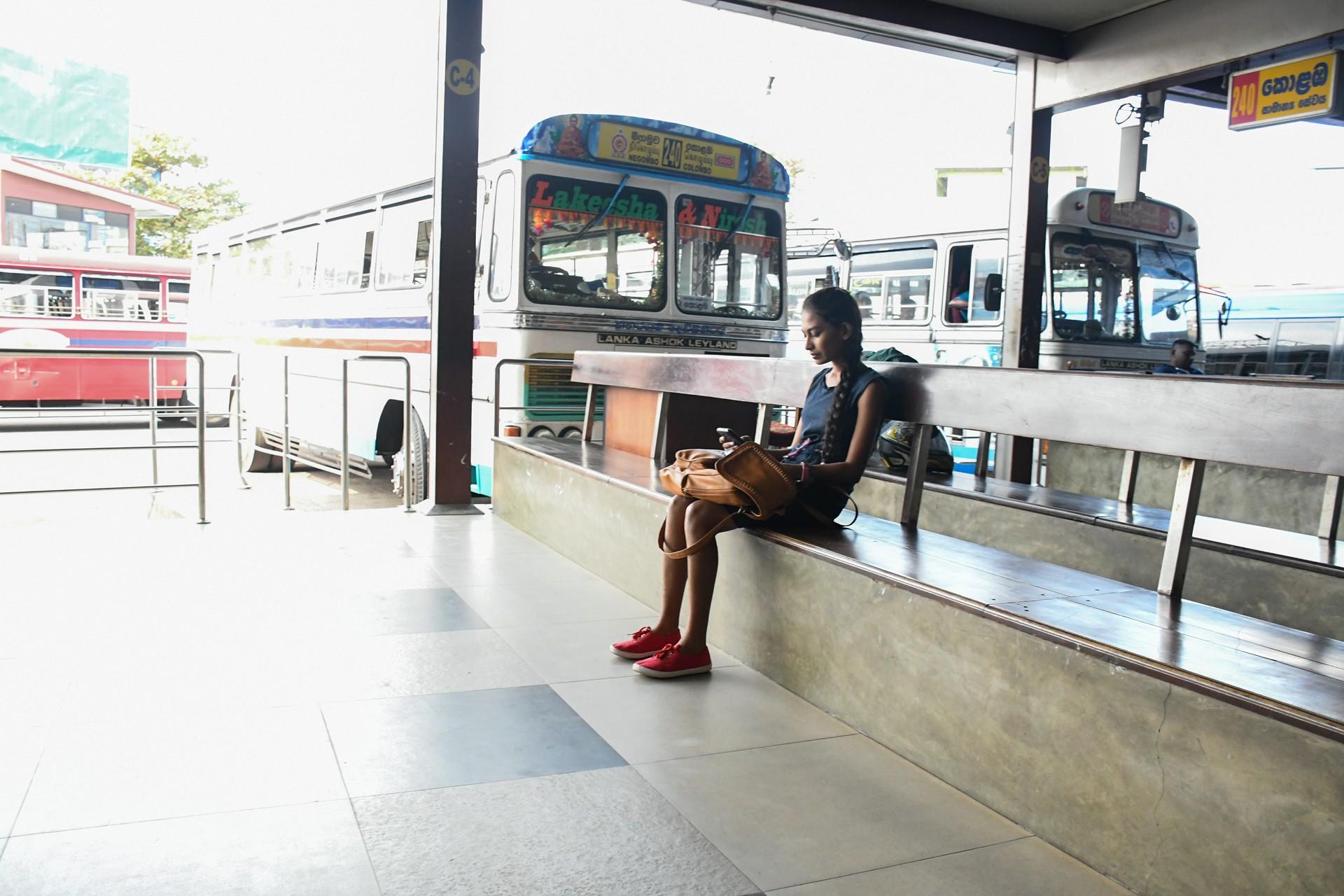 There were two types of buses: the "normal bus" was slow, cheaper, and A/C-less, the "abnormal bus" fast, with A/C, and a bit more expensive.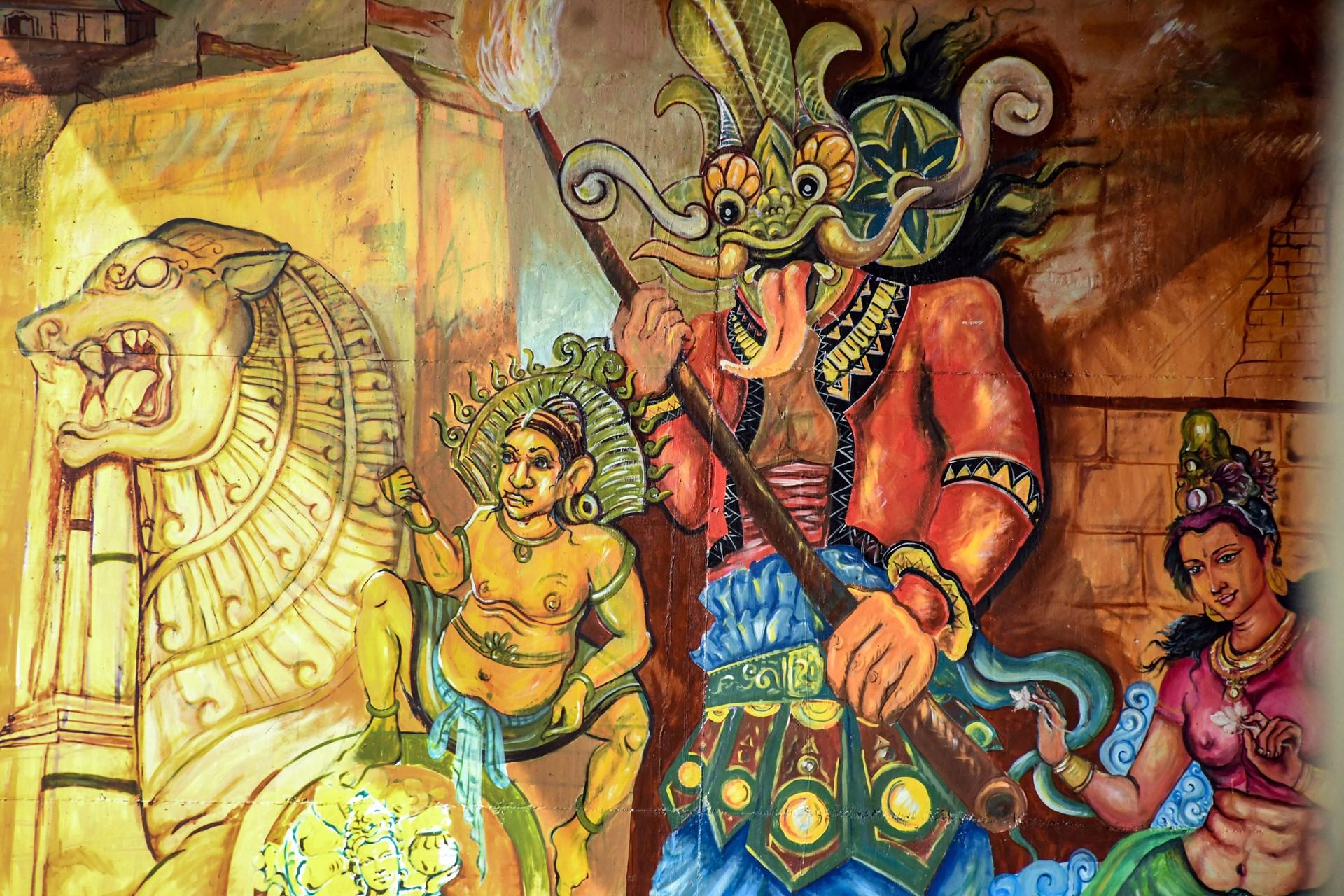 As all tourists at the beginnings of their trips, we felt kingly and decided to sacrifice a whole dollar more to local gods.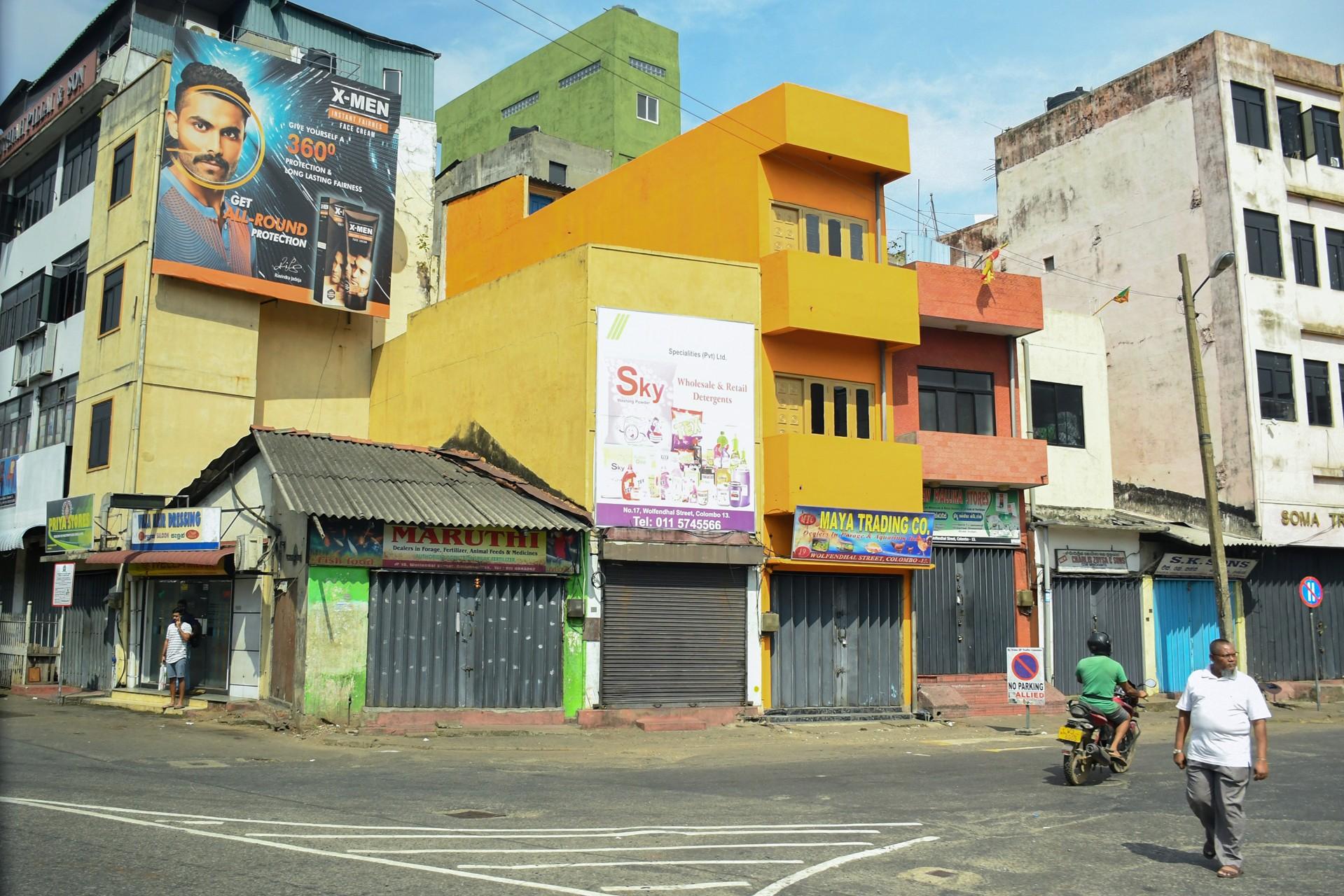 Colombo from the bus window already.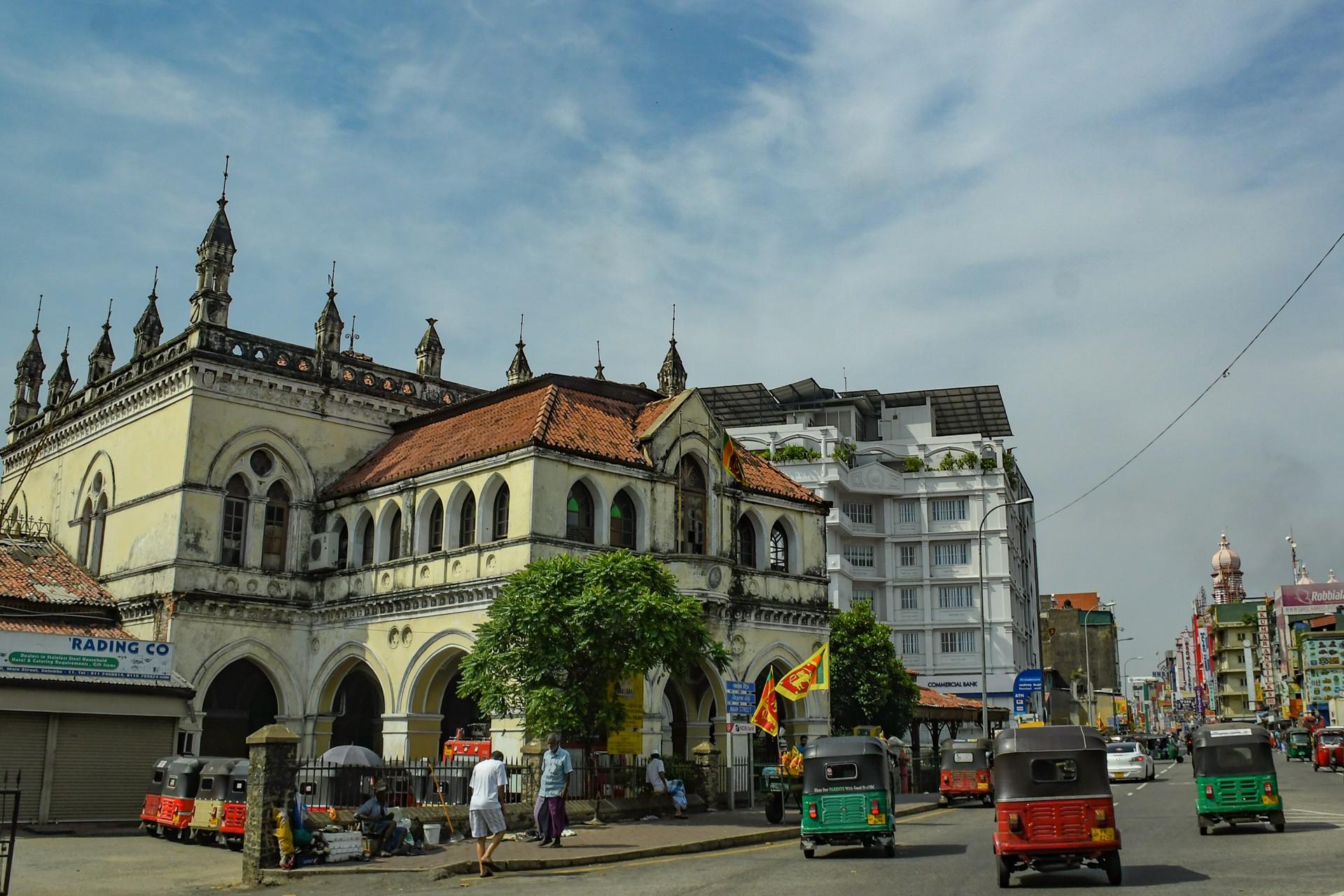 Right next to Colombo's Central Bus there was a huge noisy market. "A real Asian market," we thought to ourselves proudly. Forgive us, Edward Said.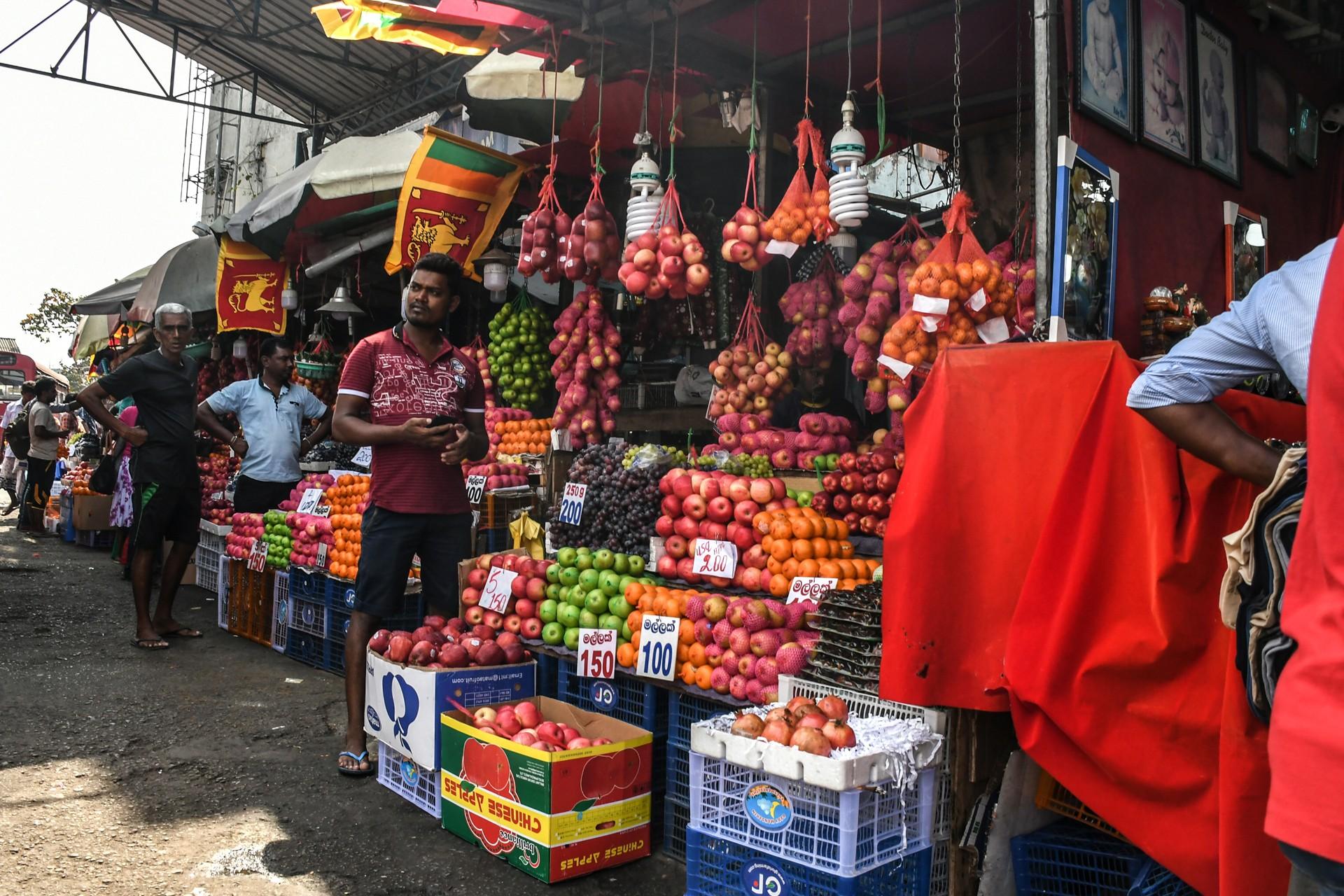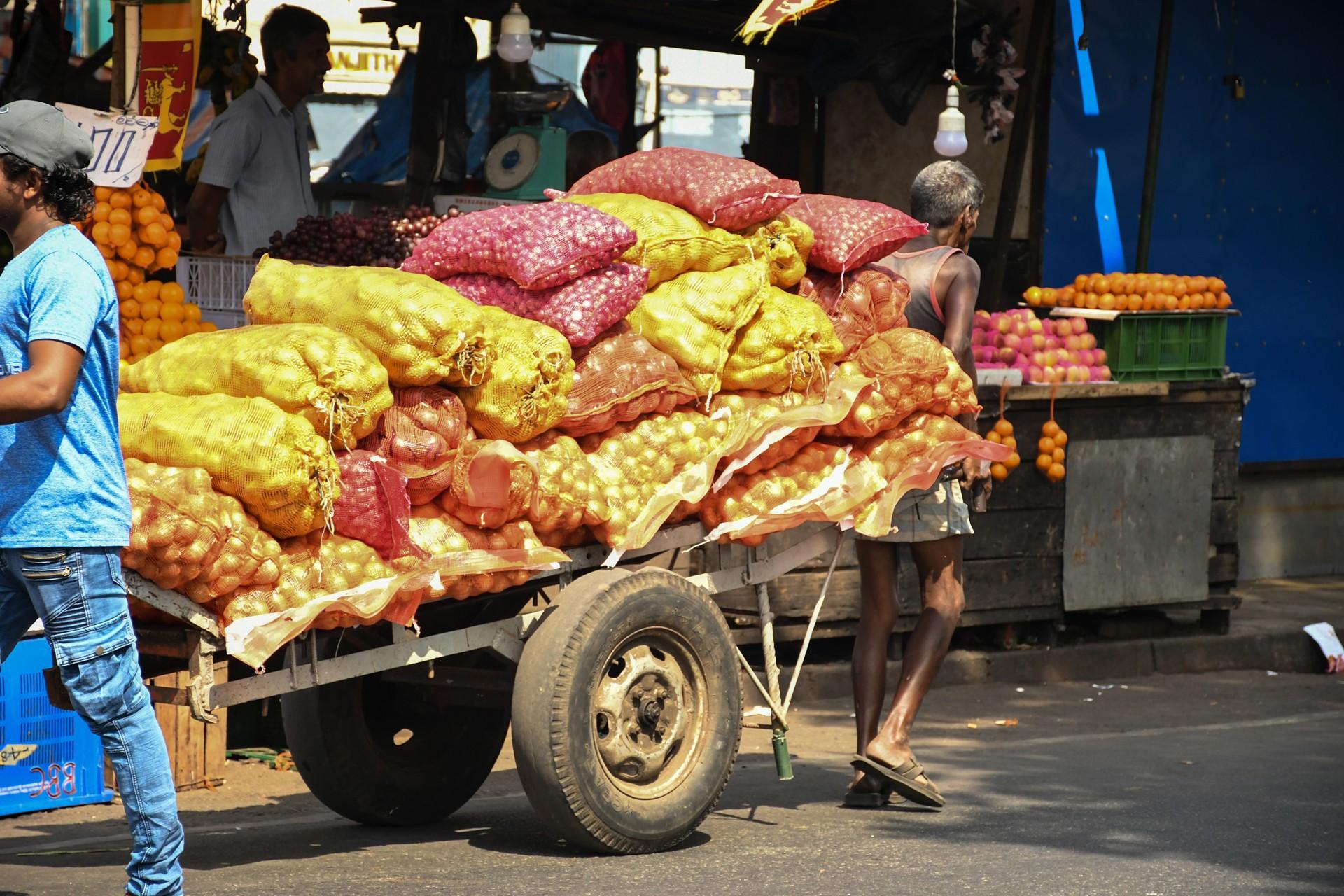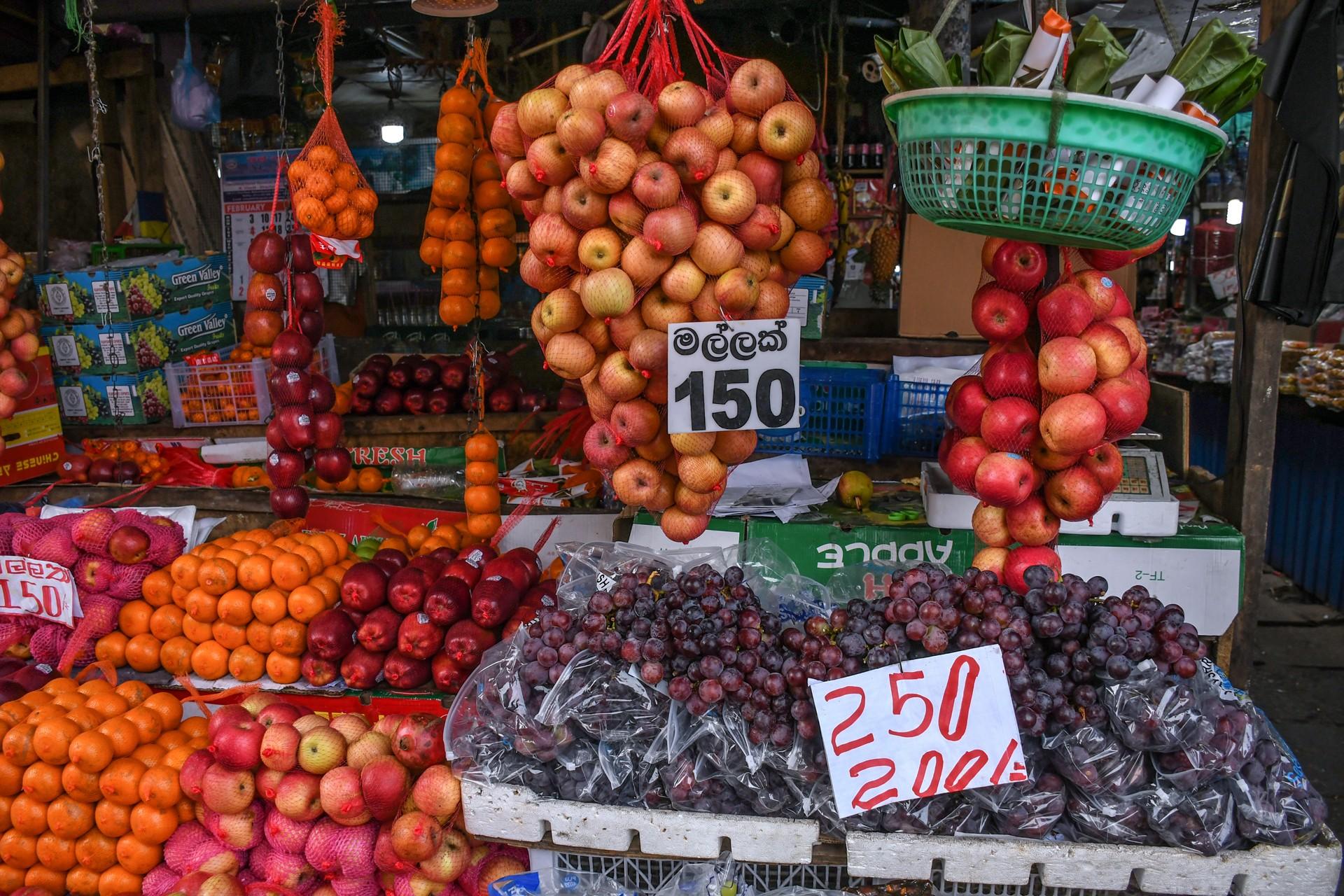 As in life, so in bargaining, you have to pretend that you're not too attached to end results. "Either two hundred rupees or we're taking the bus," we announced to the tuk-tuk driver and he obliged. And, oh joy, we are again braving the urban landscape so familiar to our city-rat selves to get to the city's central park Viharamahadevi.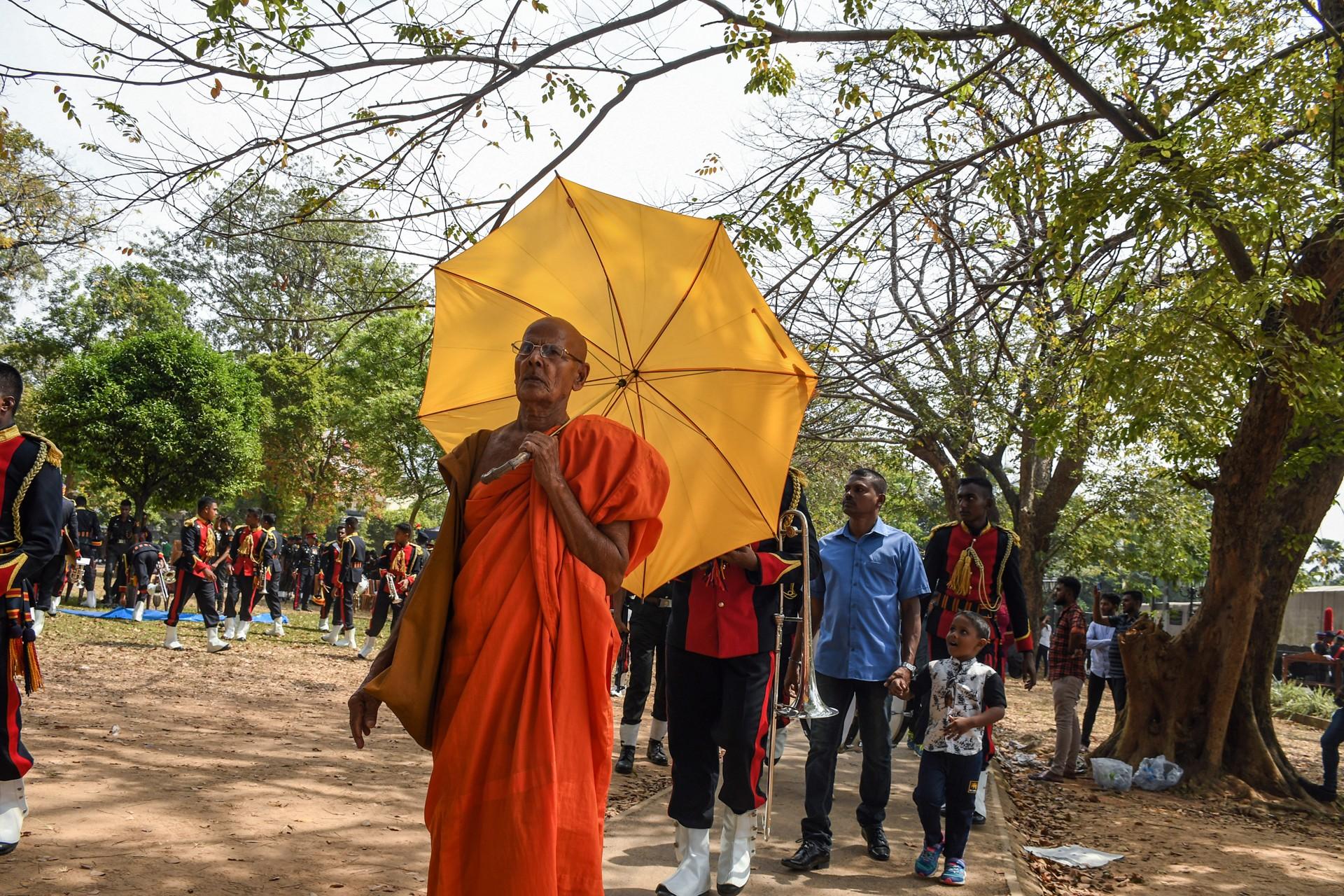 The celebratory march was already over, but we thought at first that it hadn't started yet.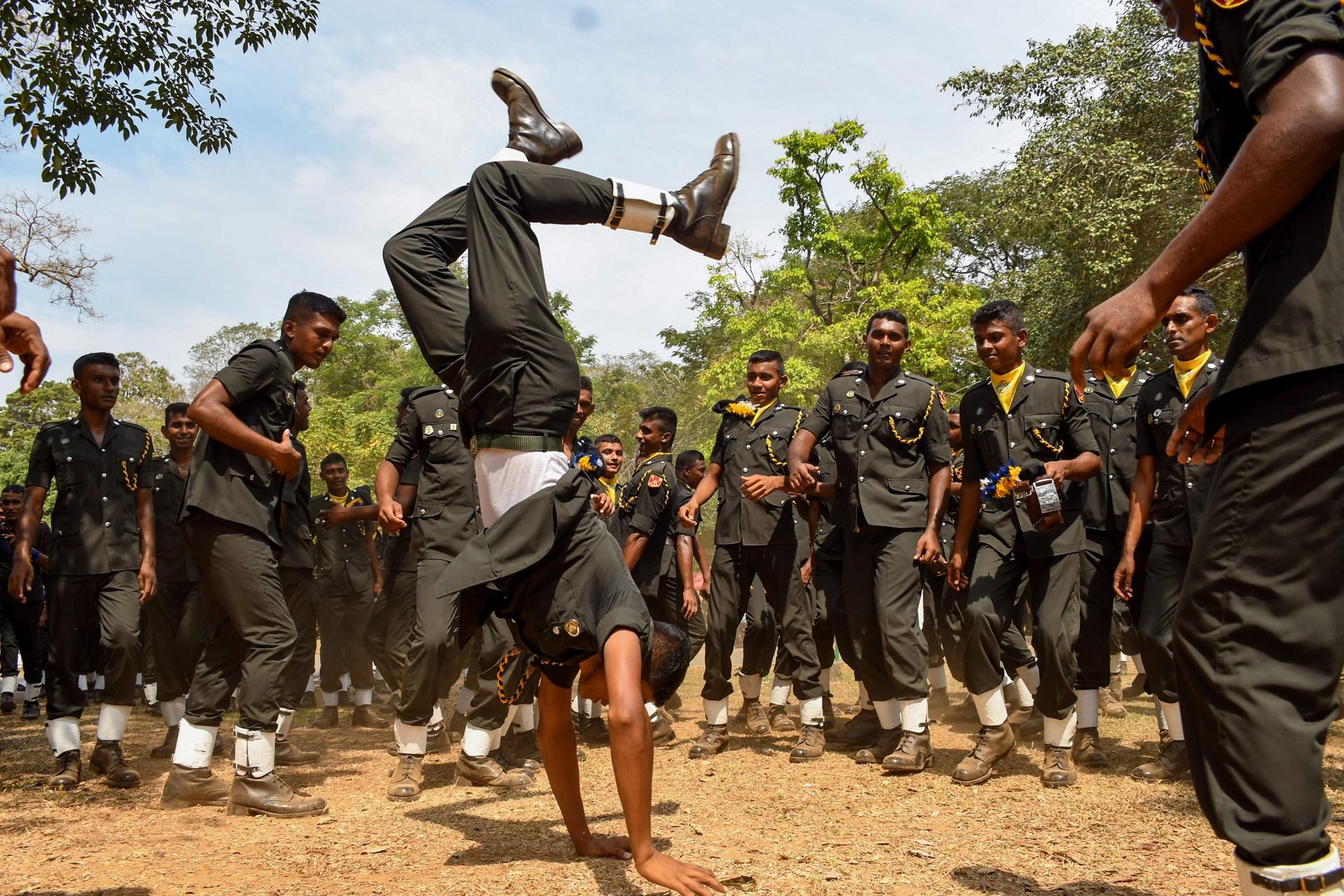 The soldiers who had participated in the march were dancing and singing all over the park. Narek joined them, because of course he did.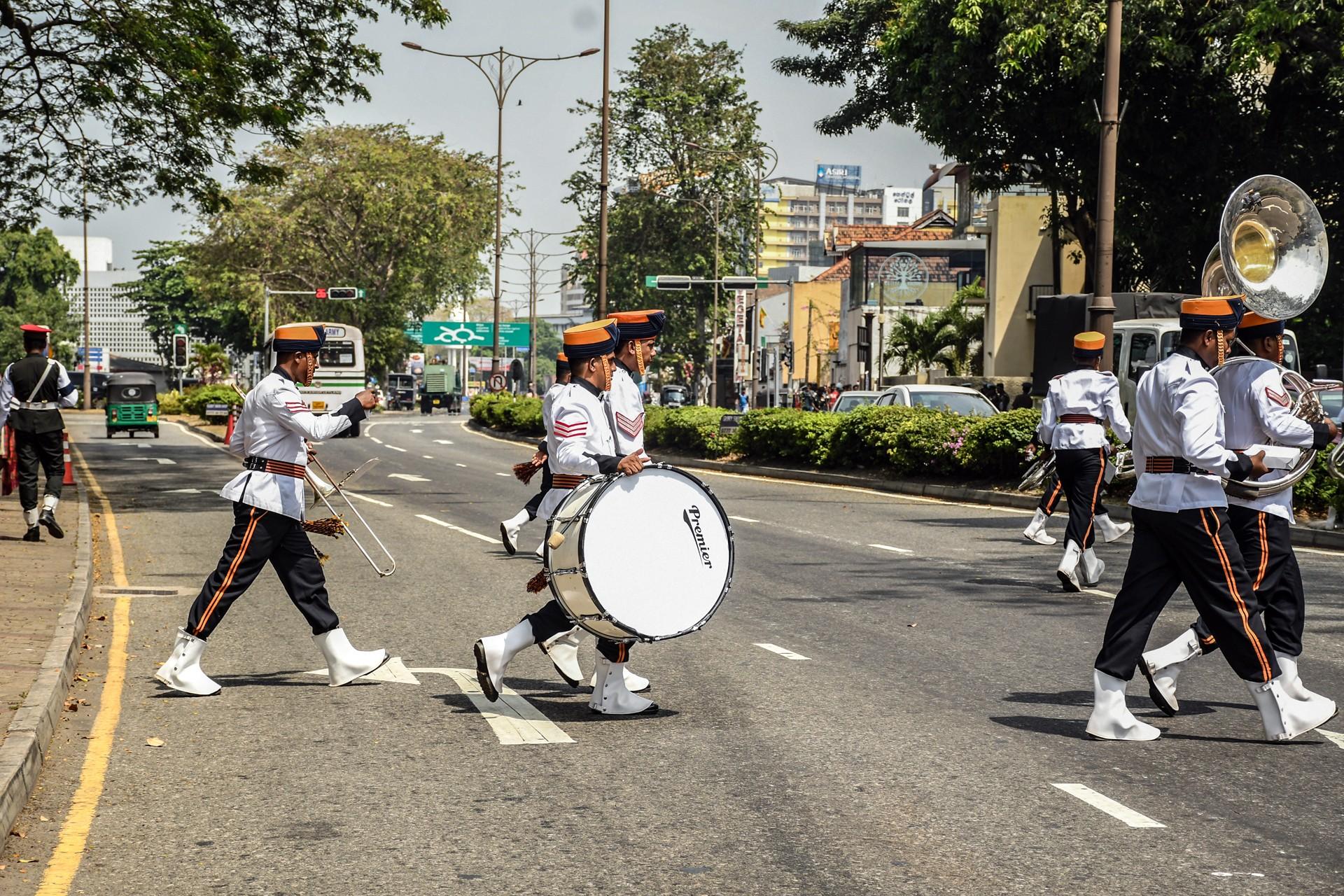 We were, as usual, proud of ourselves for only making it to the unofficial part. It was, after all, the first after-party of a military parade we had been to.
After the "parade" we decided to get something to eat in the nearby restaurant and then just walk around Colombo. We got The Most Traditional Sri Lankan Meal: rice, different sauces, including coconut sambol, a few weird leaves, potato in curry, and guava juice. Narek immediately theorized that they're testing out the degree of edibleness of various leaves from random street trees on naive tourists. And we cussed out the guave juice, too. You know, cultural-gastronomical differences.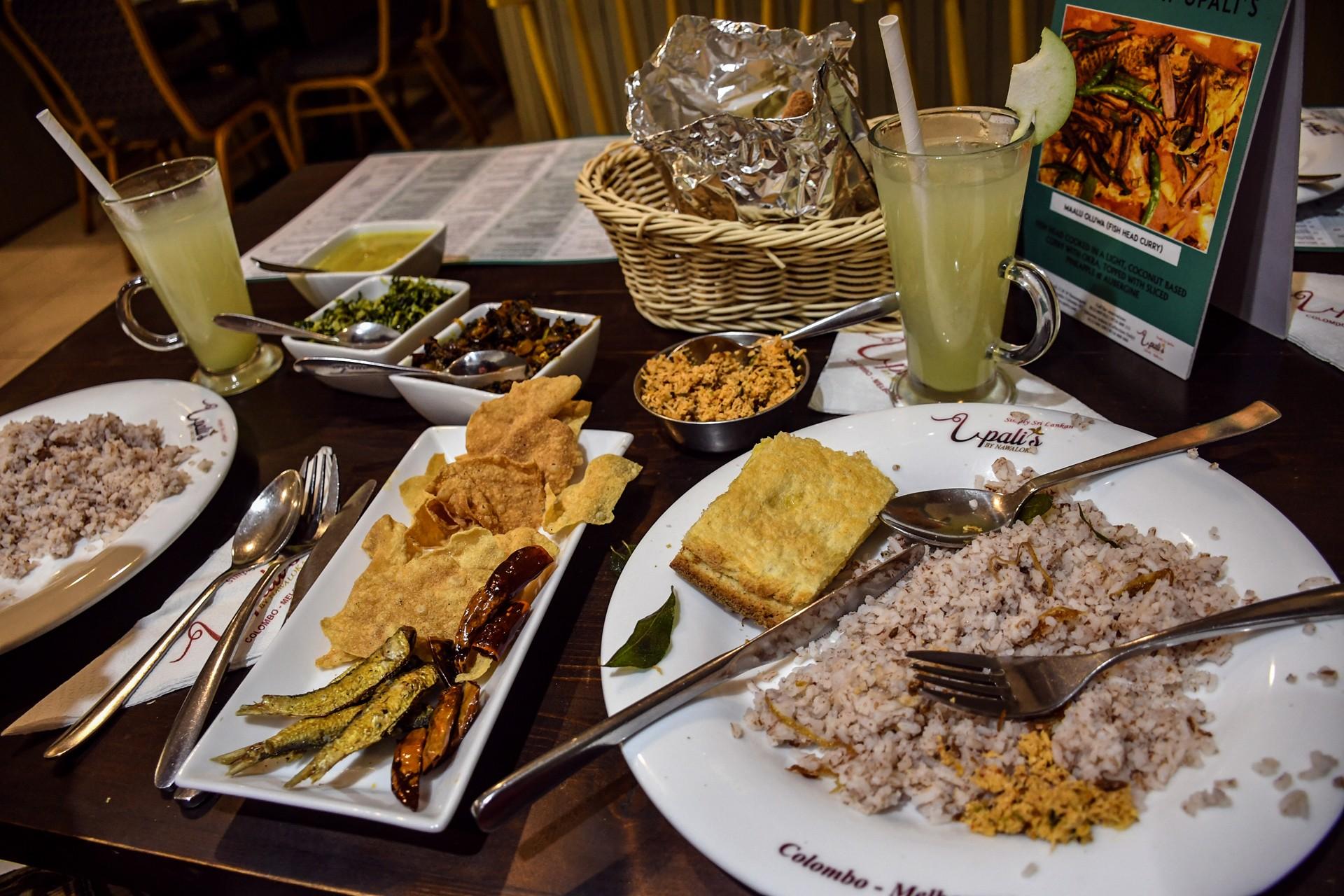 Traditional Sri Lankan Meal.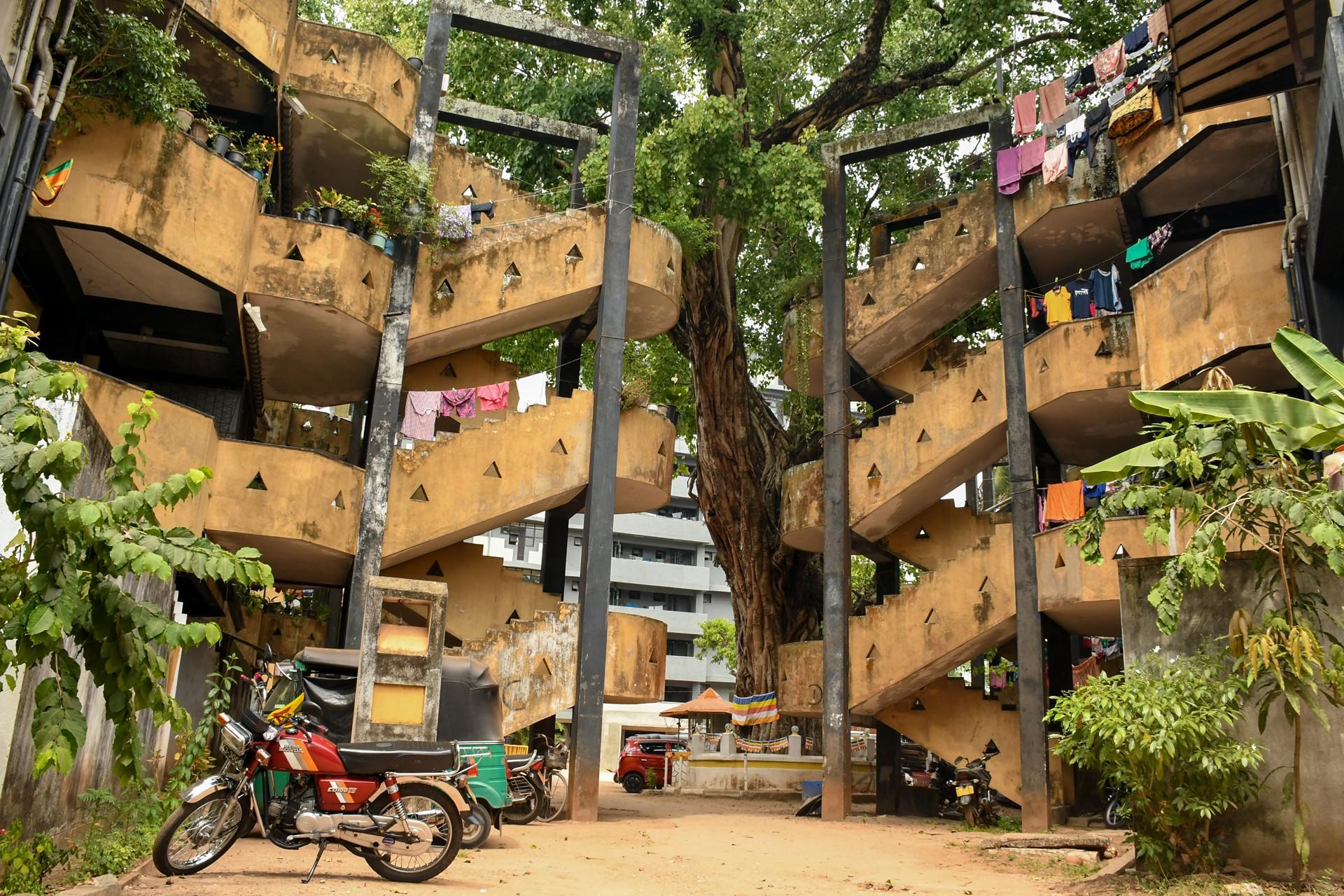 Some yard at the city center. Sri Lanka is green everywhere.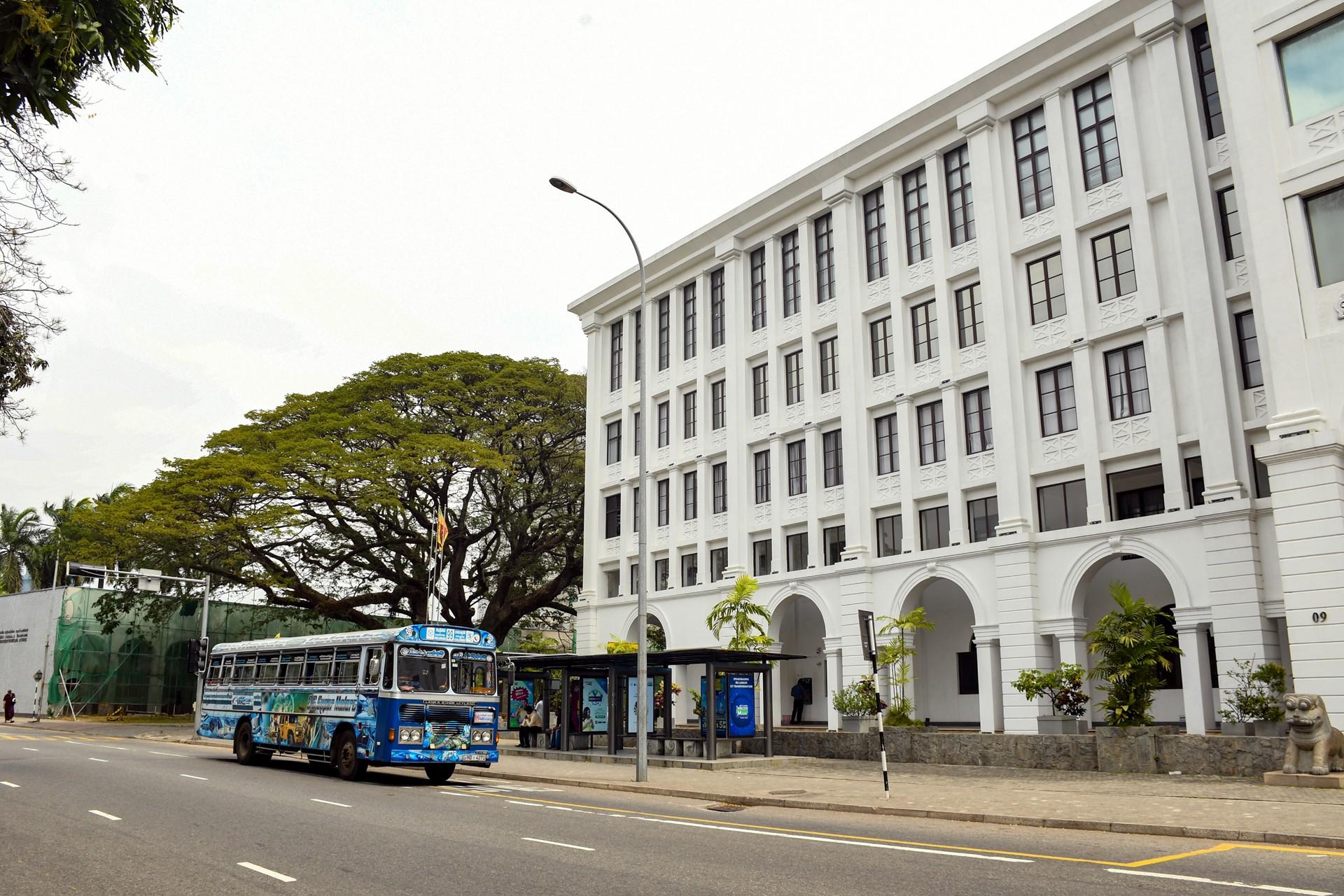 It's a holiday, so the streets are pretty empty.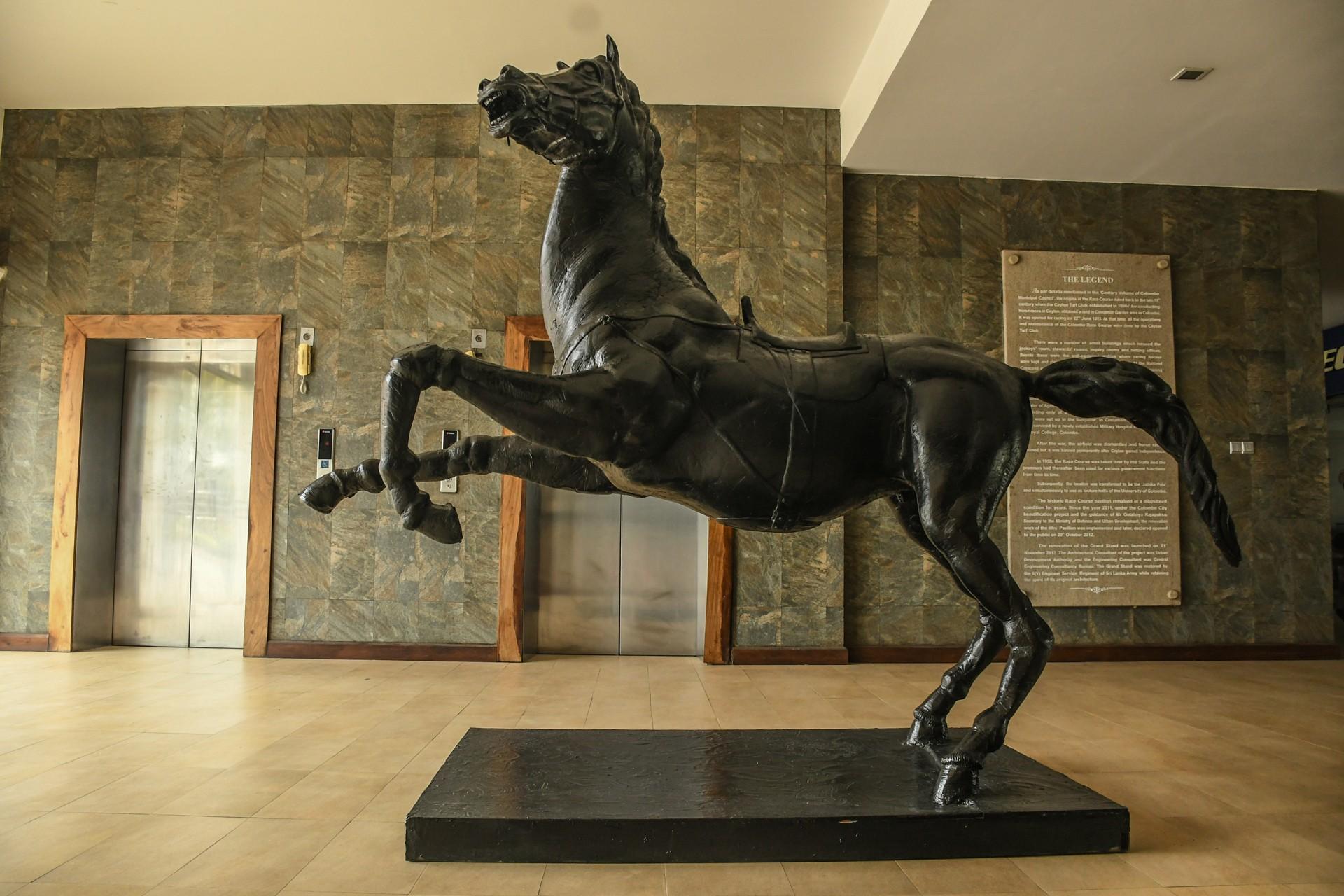 The entrance hall to the famous historical Colombo Racecourse. It has served as an airstrip, a university lecture hall, and a rugby grounds at different time periods.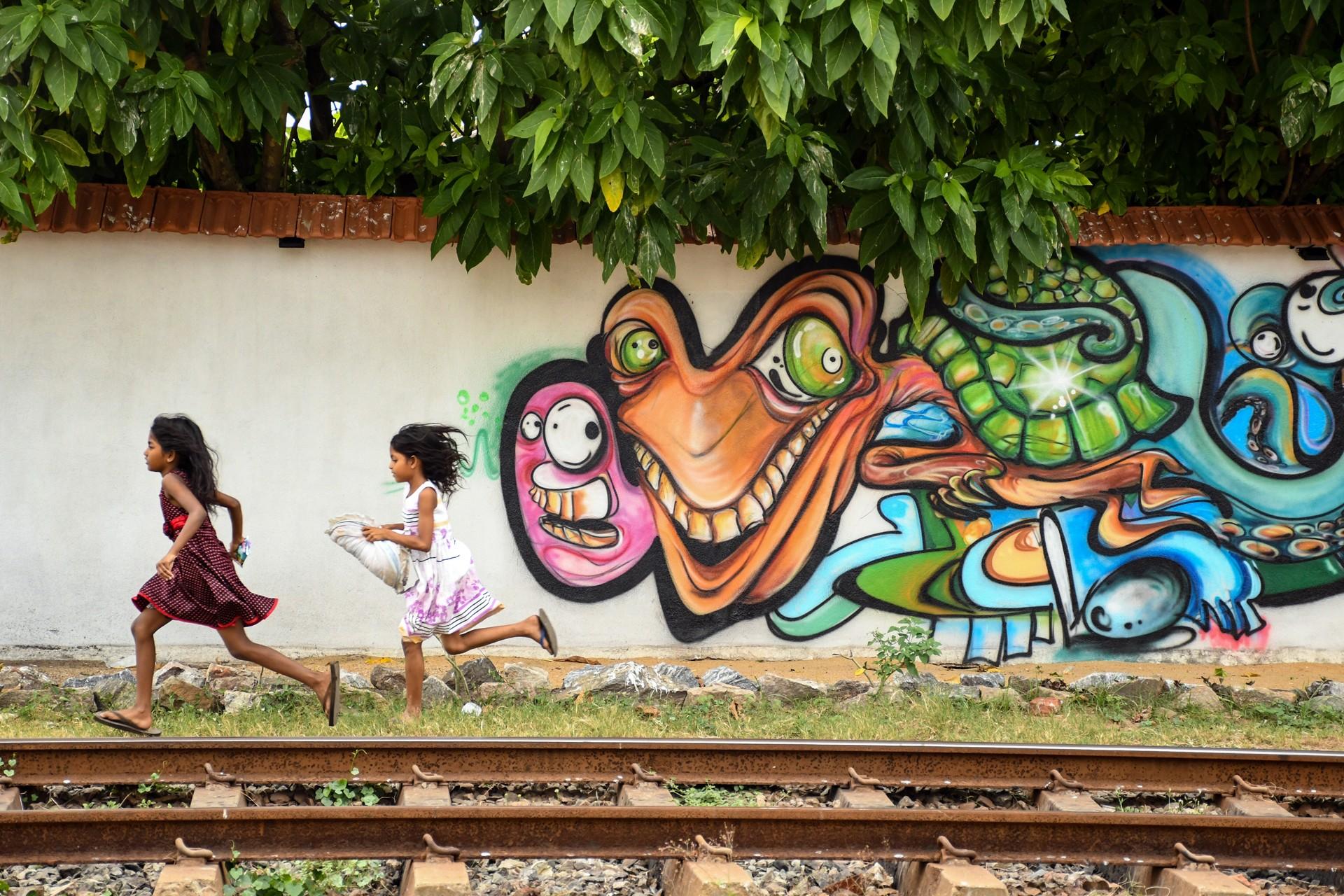 According to my fancy analysis, the girls are two Alices in Wonderland running away from the wall's tortoise, the symbol of time.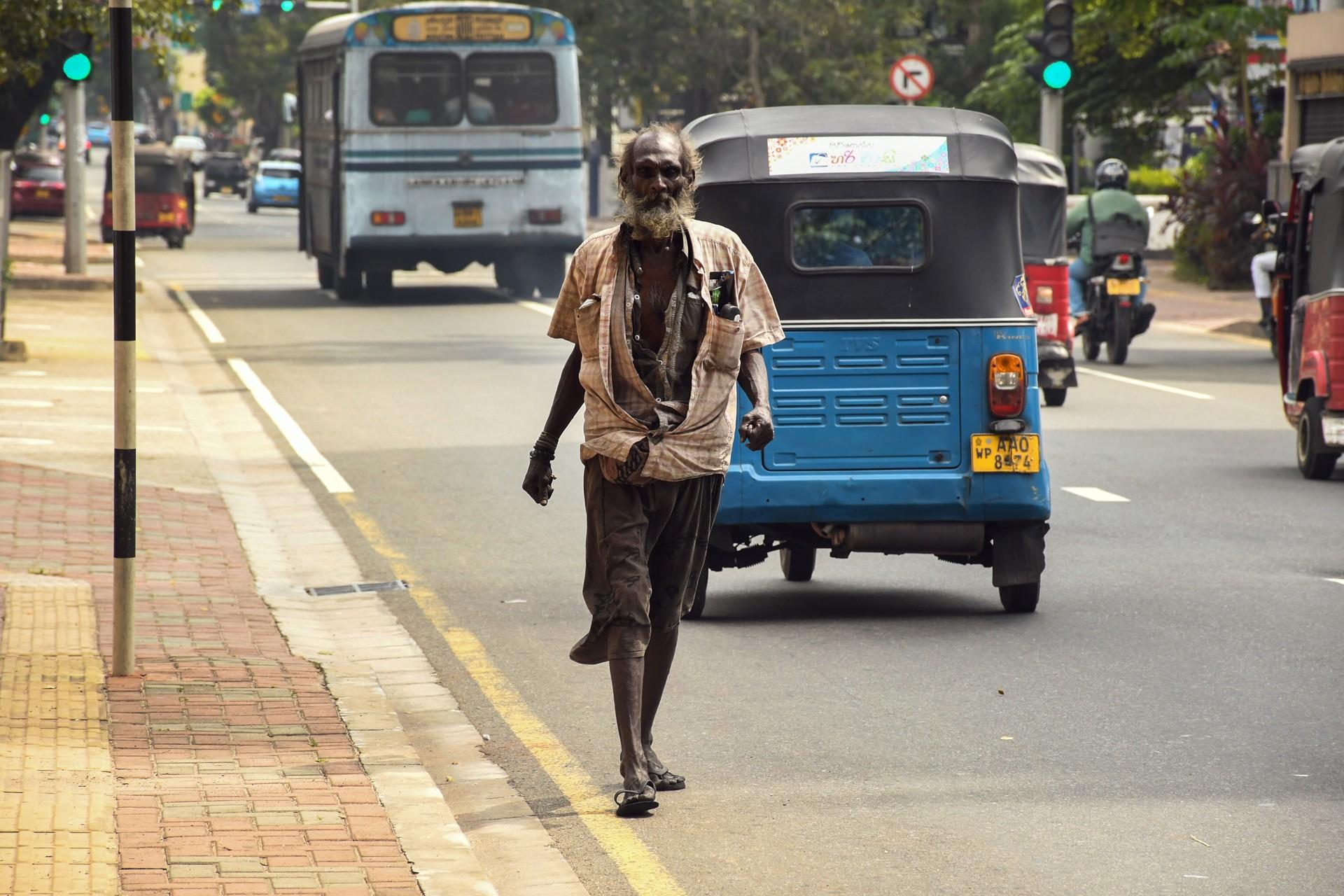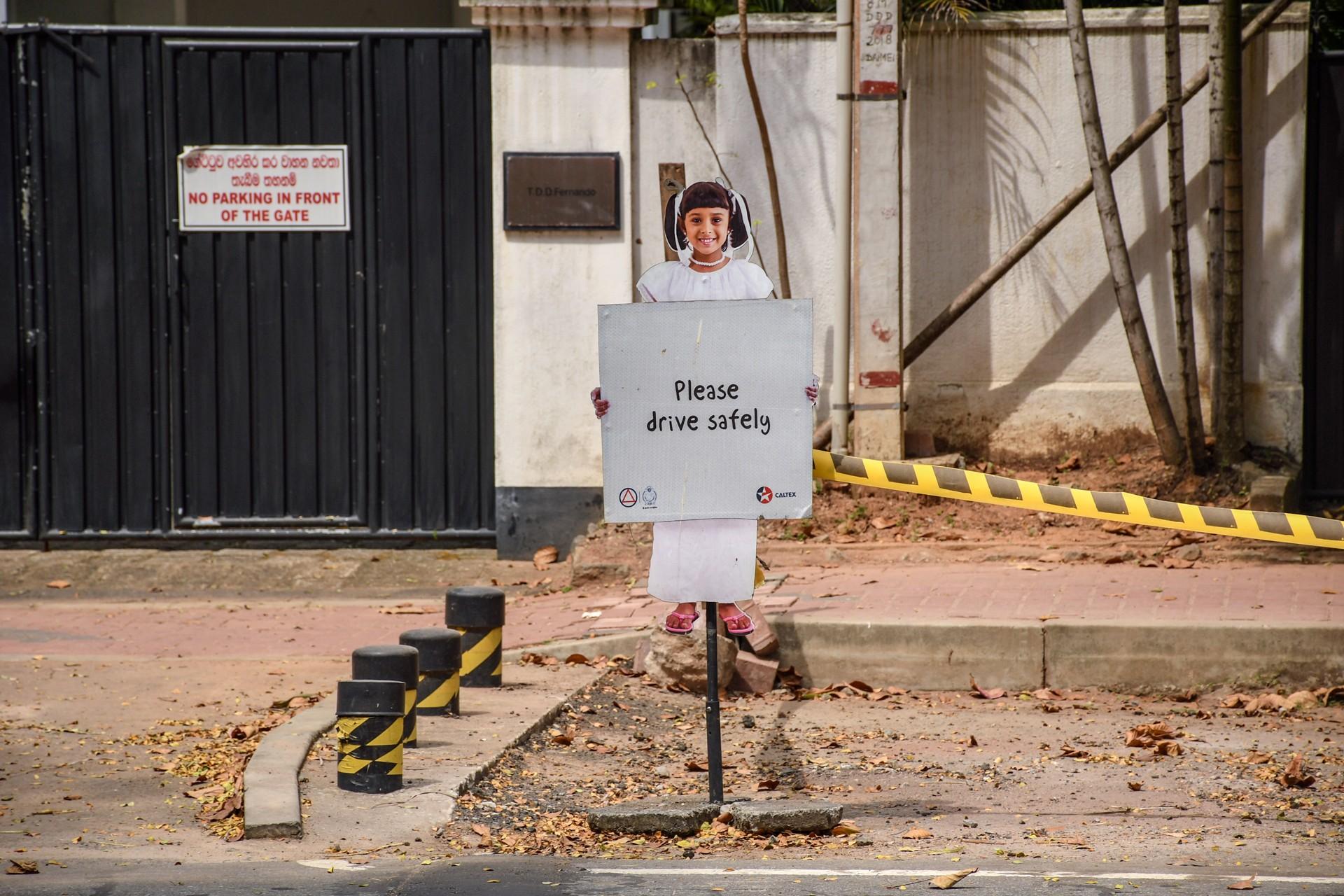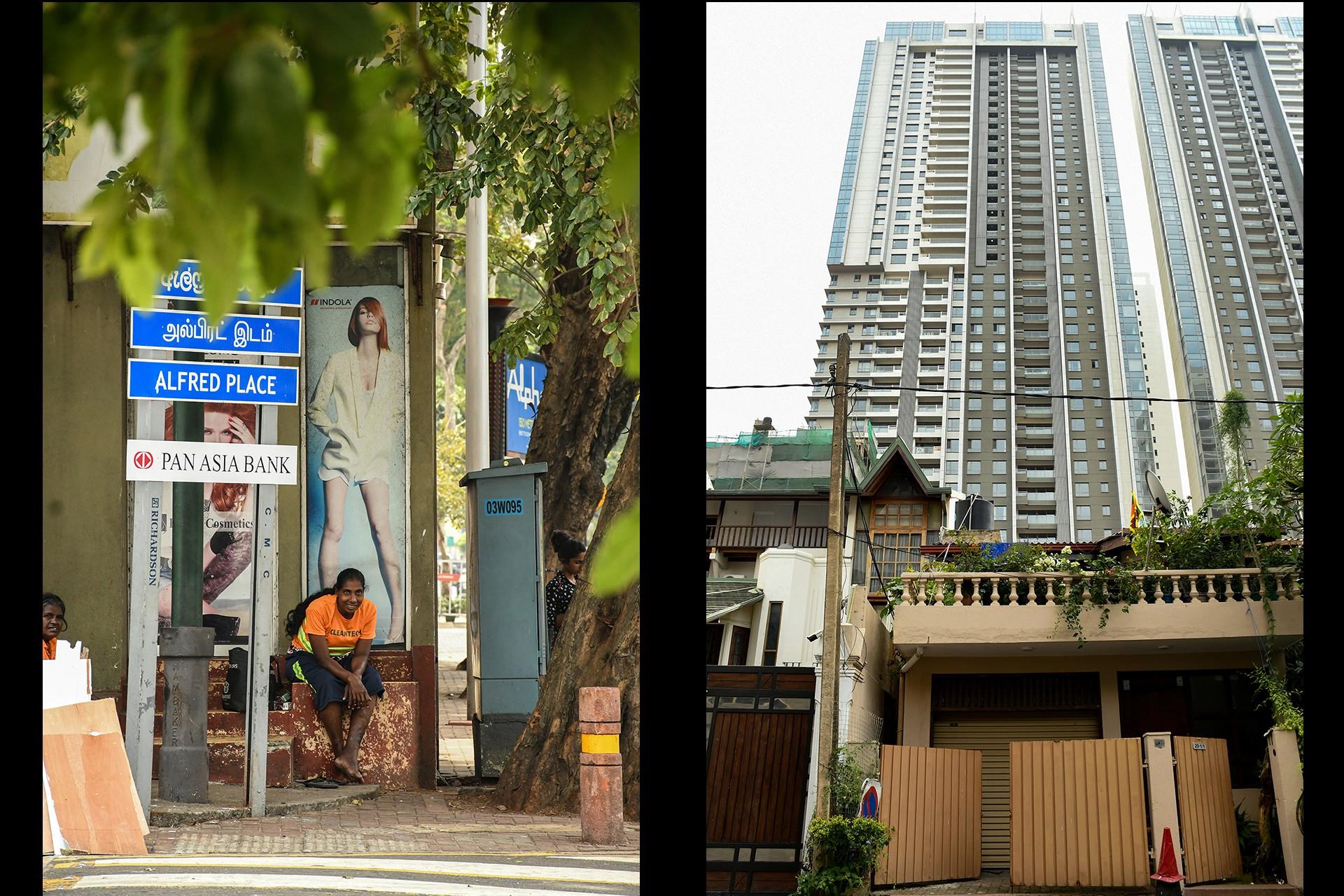 We were pretty tired from walking Colombo streets the whole day, so took a tuk-tuk to take us to the seaside.
The tuk-tuk driver offered to take us there for free if we agree to participate in the scam of the century. He took us to some jewelry shop where we feigned acute interest in blue sapphires for five minutes. In exchange, the driver got two litres of petrol. And if we had bought something, he would get 50% of the profit. But of course, we're not some petty bourgeoisie.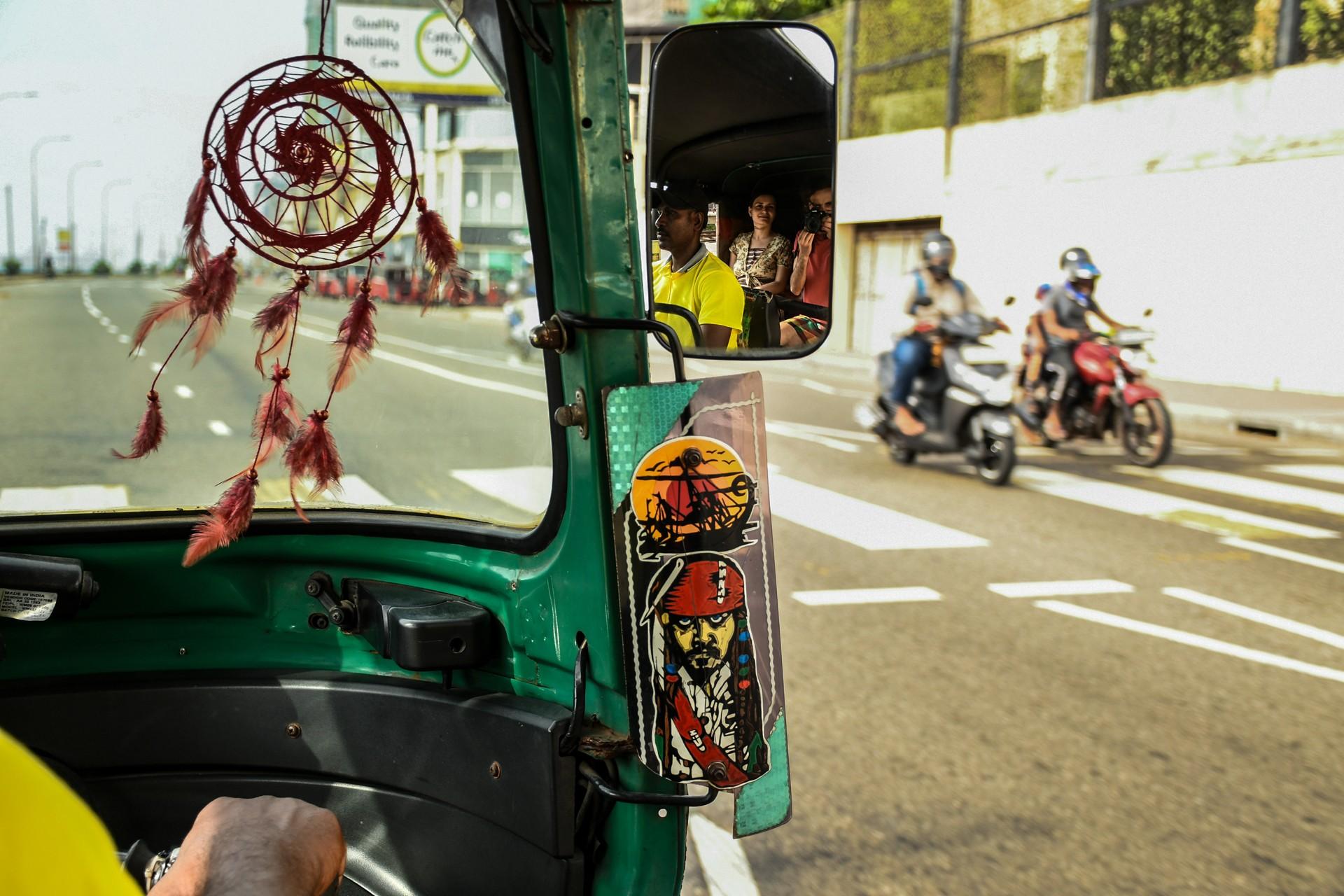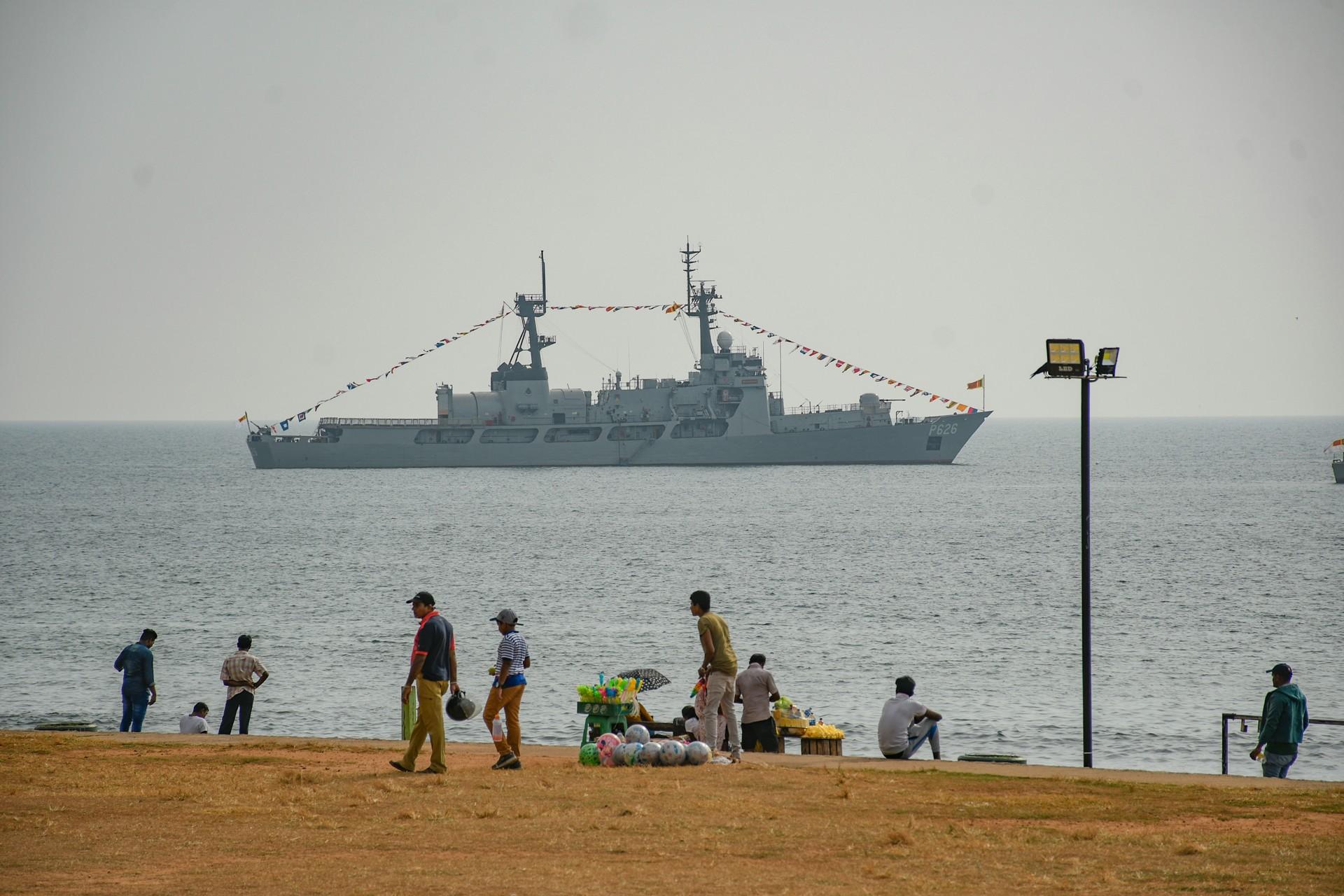 There were a few military boats covered with colorful flags sailing near the shore in honor of Independence Day.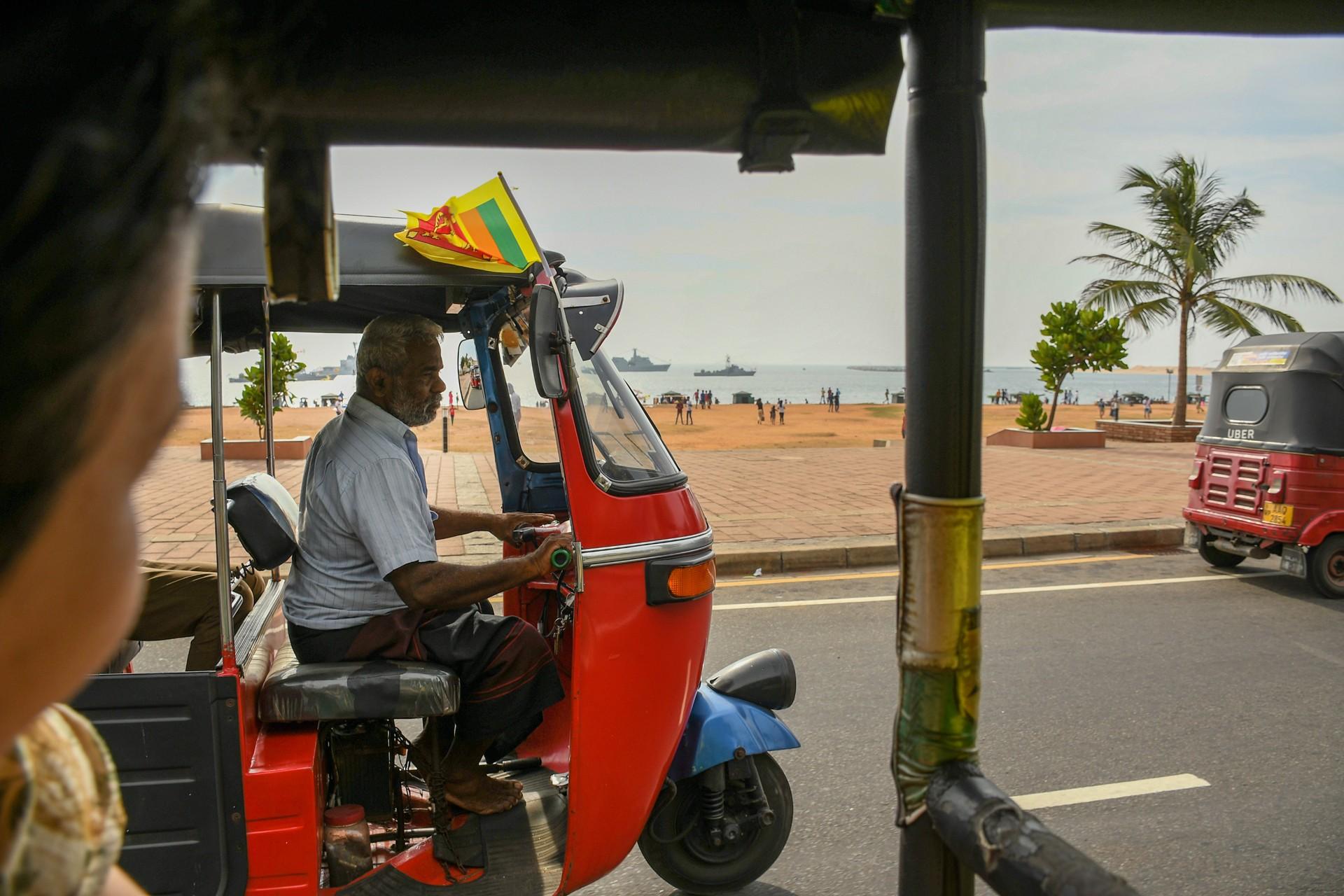 Those long roads edging the island facing the sea were our favorites the whole trip. We often used them as a sort of North star, a reference point.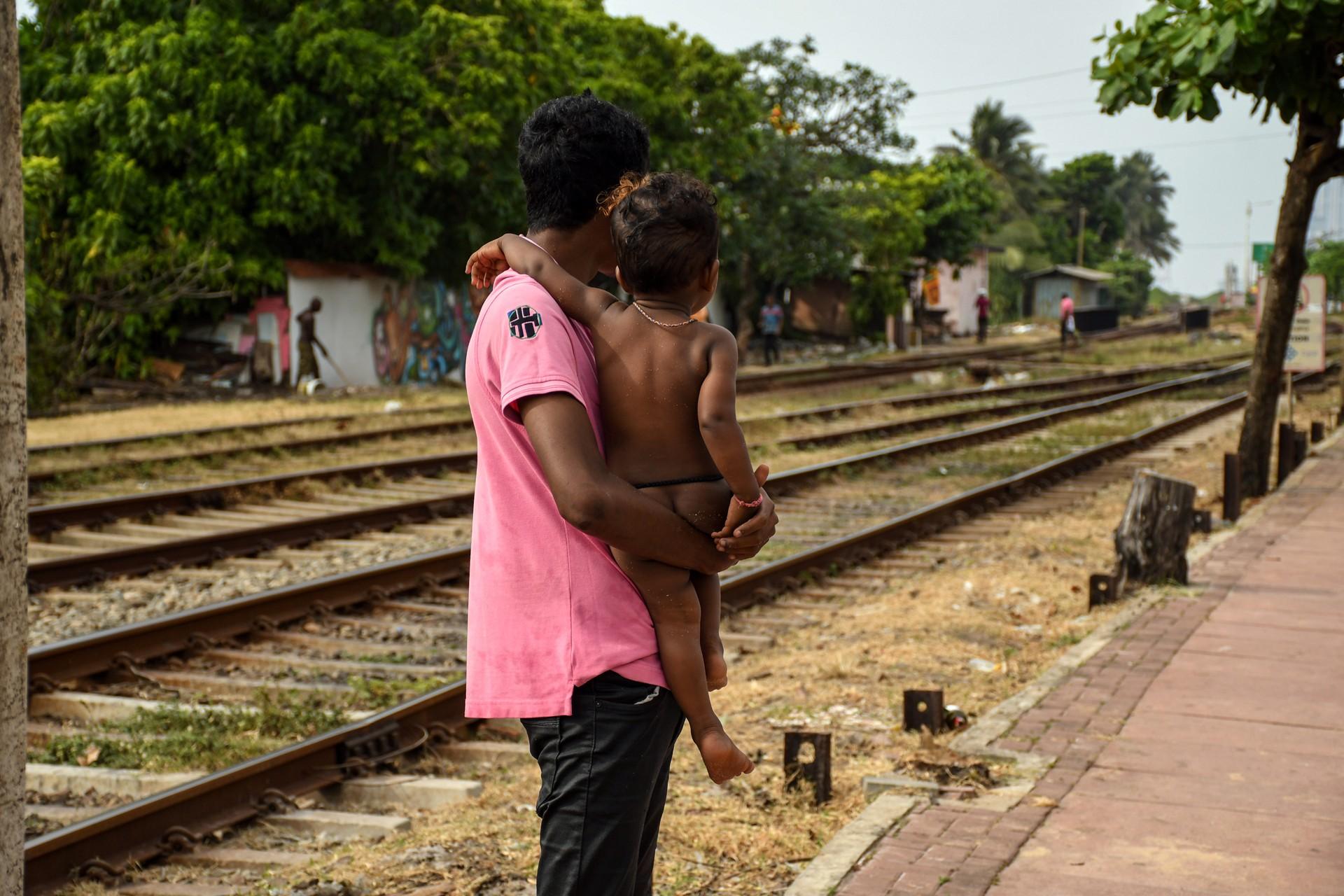 The train tracks built by the Brits cover the whole island. So do toddlers out on walks in their dads' arms. They were everywhere!
Then we decided to return to Viharamahadevi park to see what else they have going on. (Spoiler alert: Not much).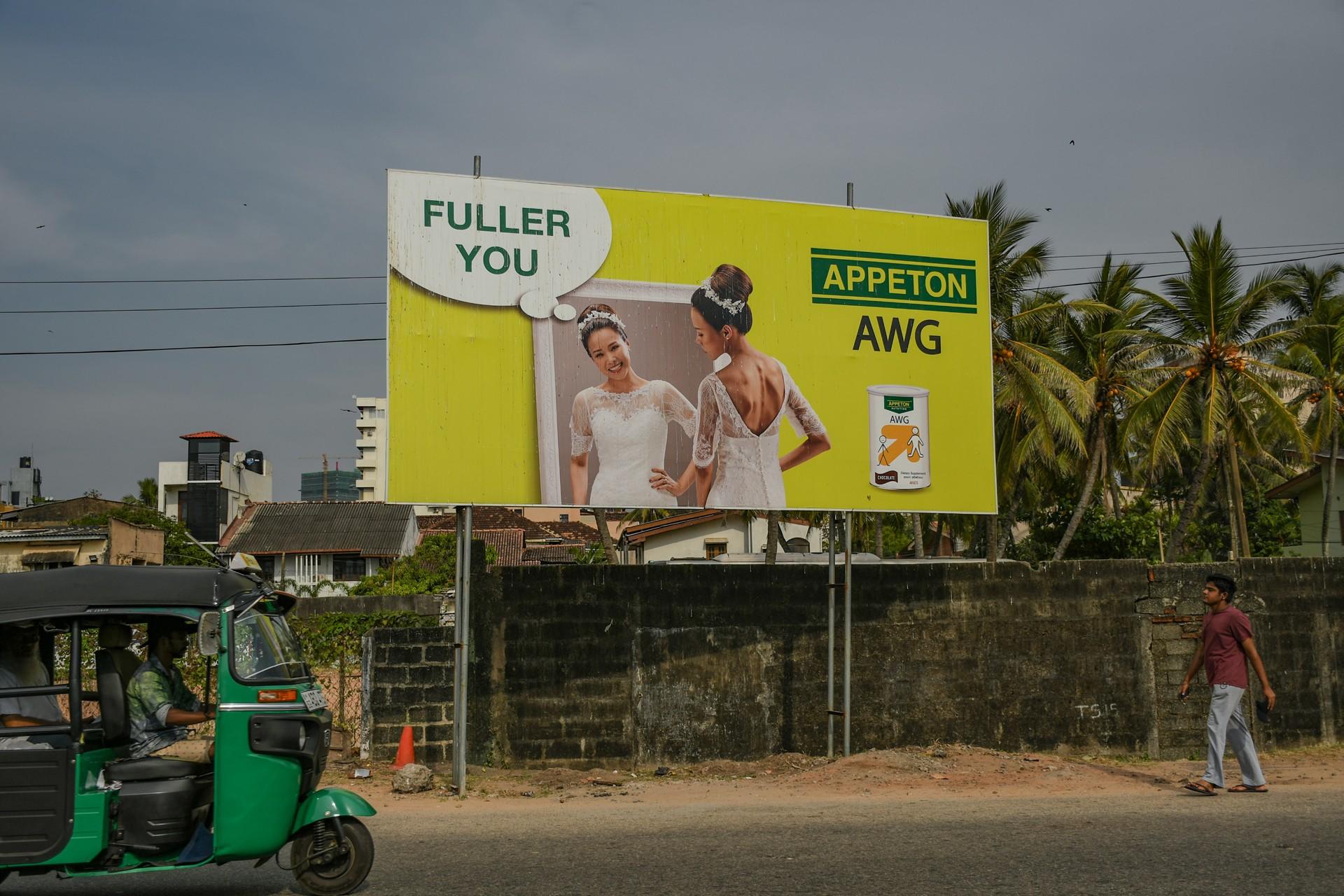 When you're in an unfamiliar society you try to make conclusions about societal trends from everything, inclusing ad banners. It seems like being thin is not fashionable here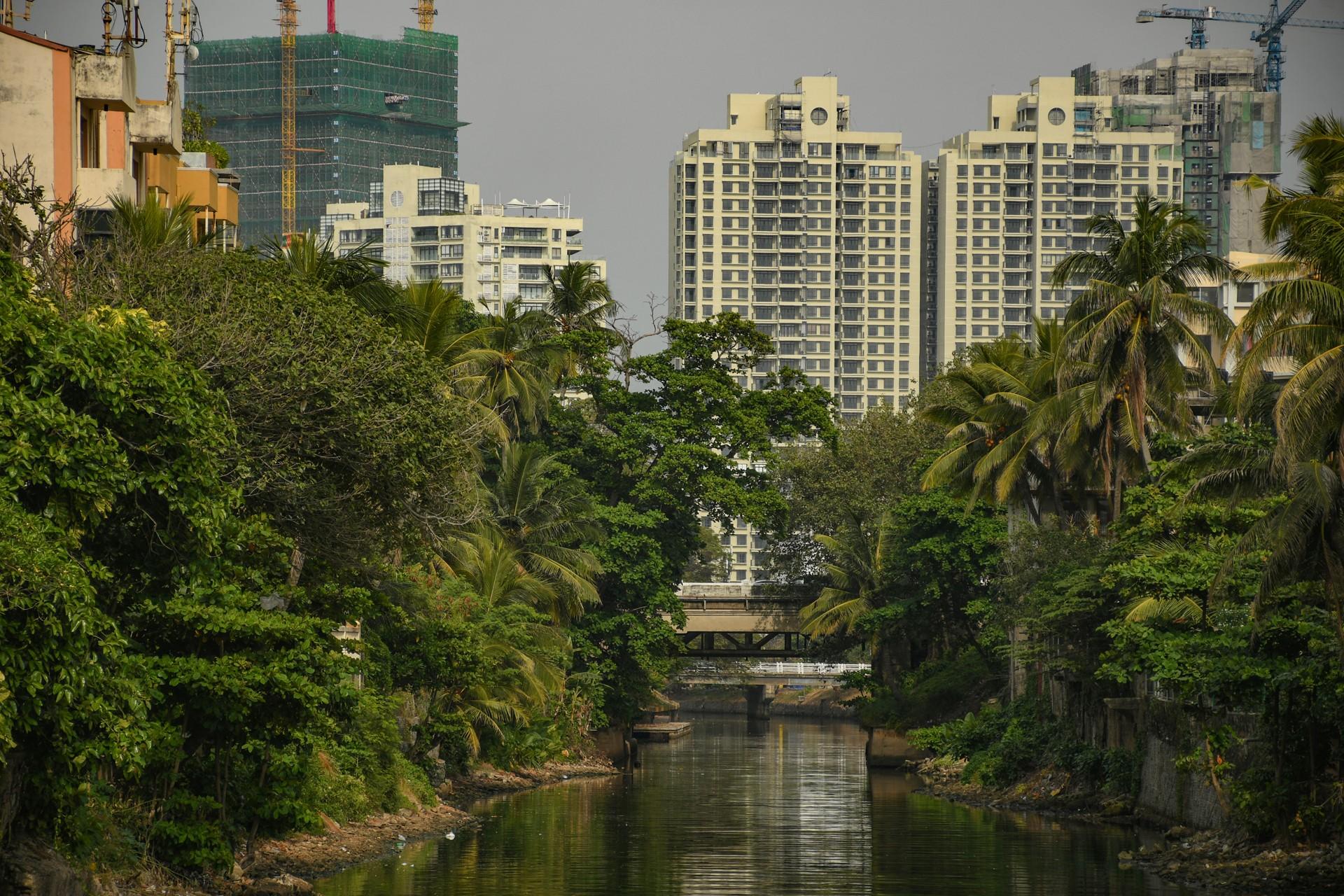 "New" Colombo.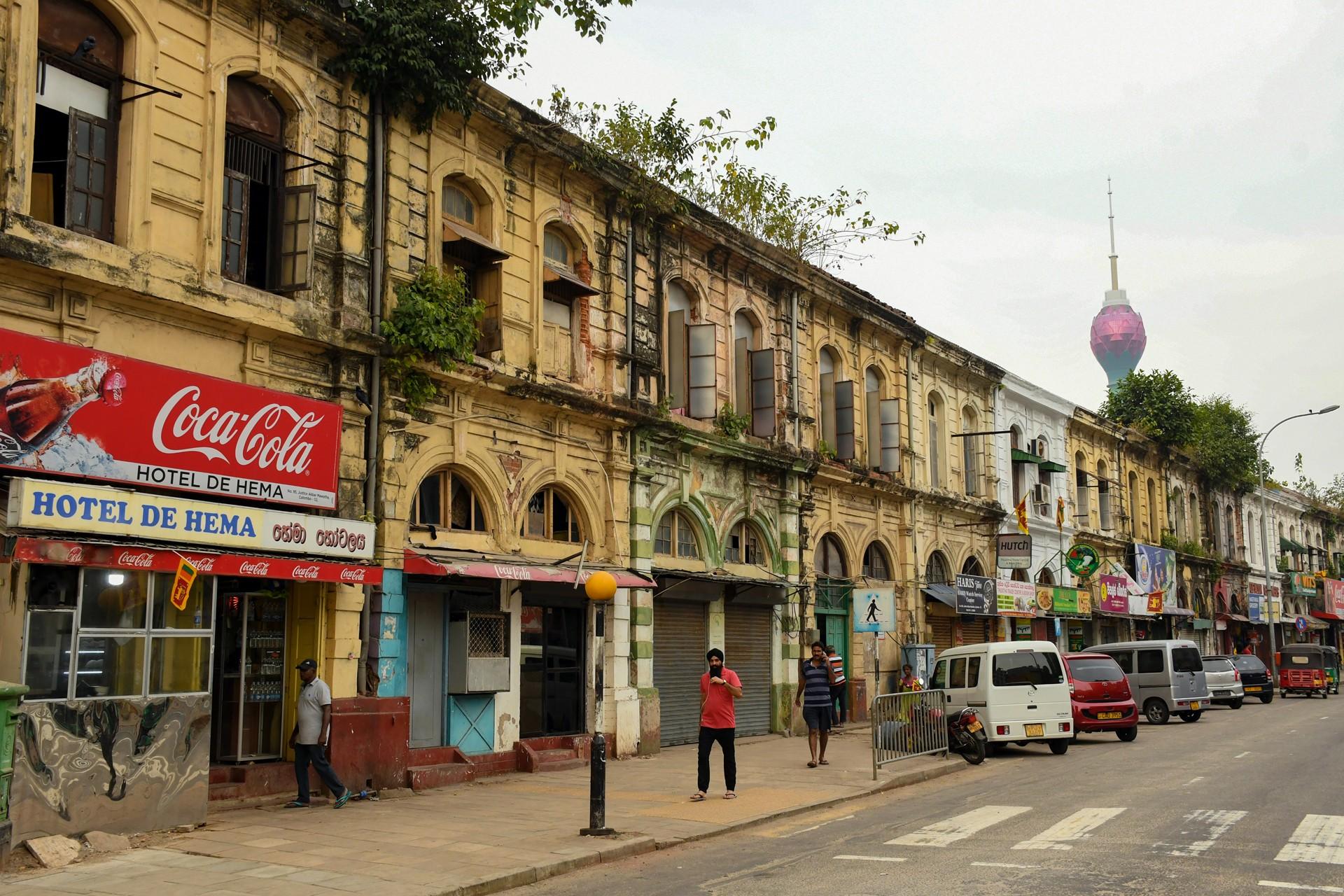 "Old" Colombo.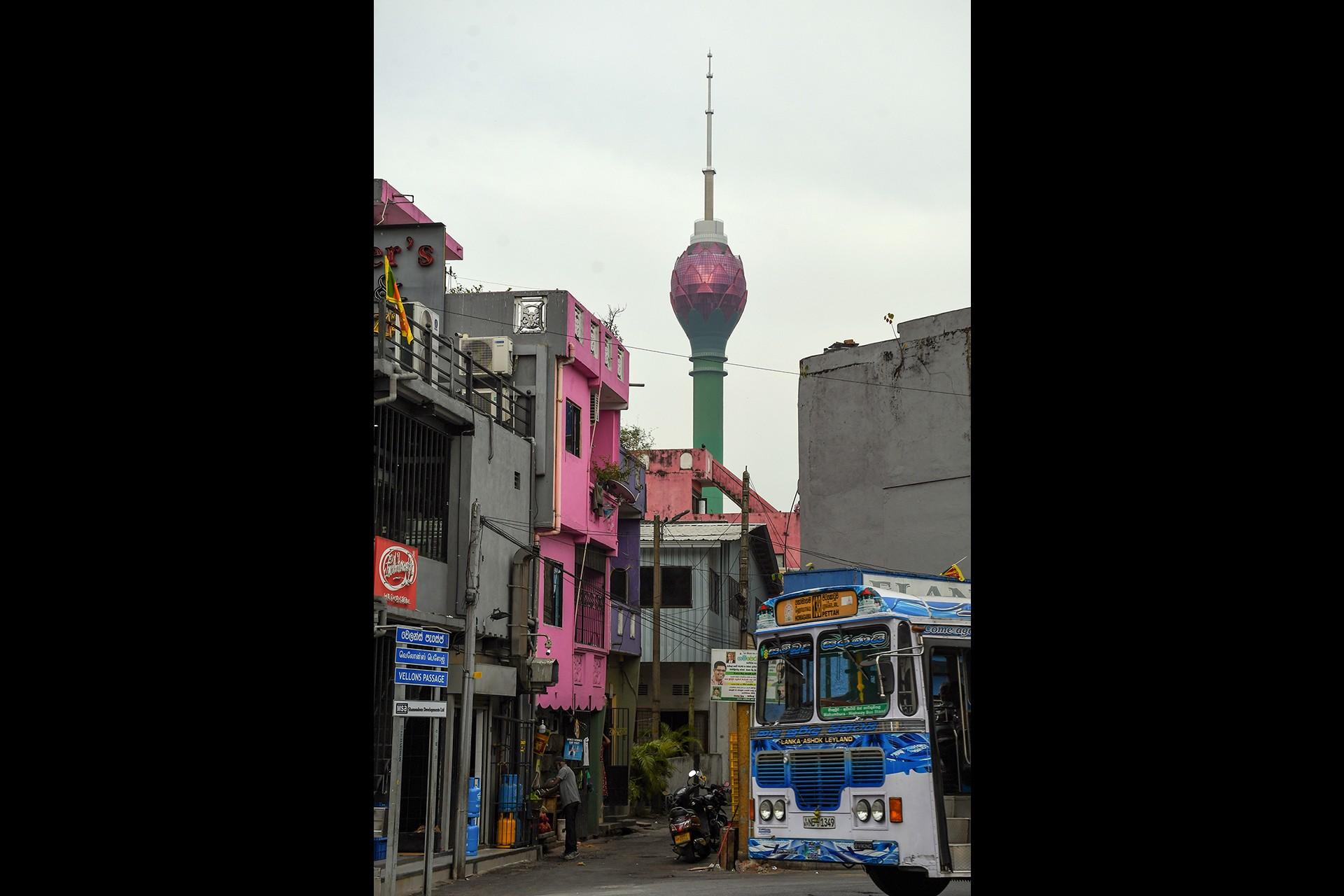 Active construction in Colombo.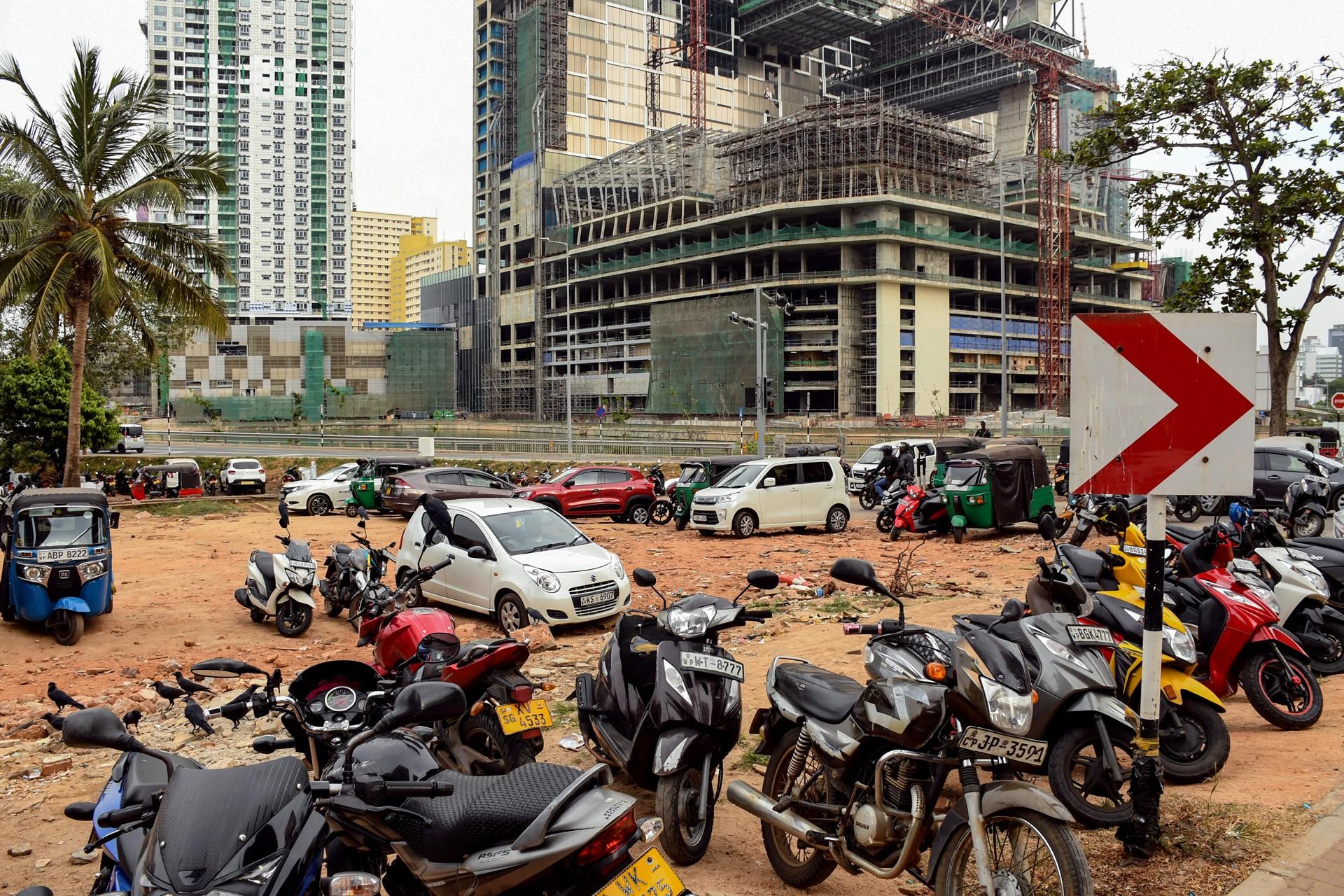 In recent years, in Sri Lanka's big cities, as everywhere probably, new skyscrapers scrape the skies. We've been told it's mainly Chinese people's doing.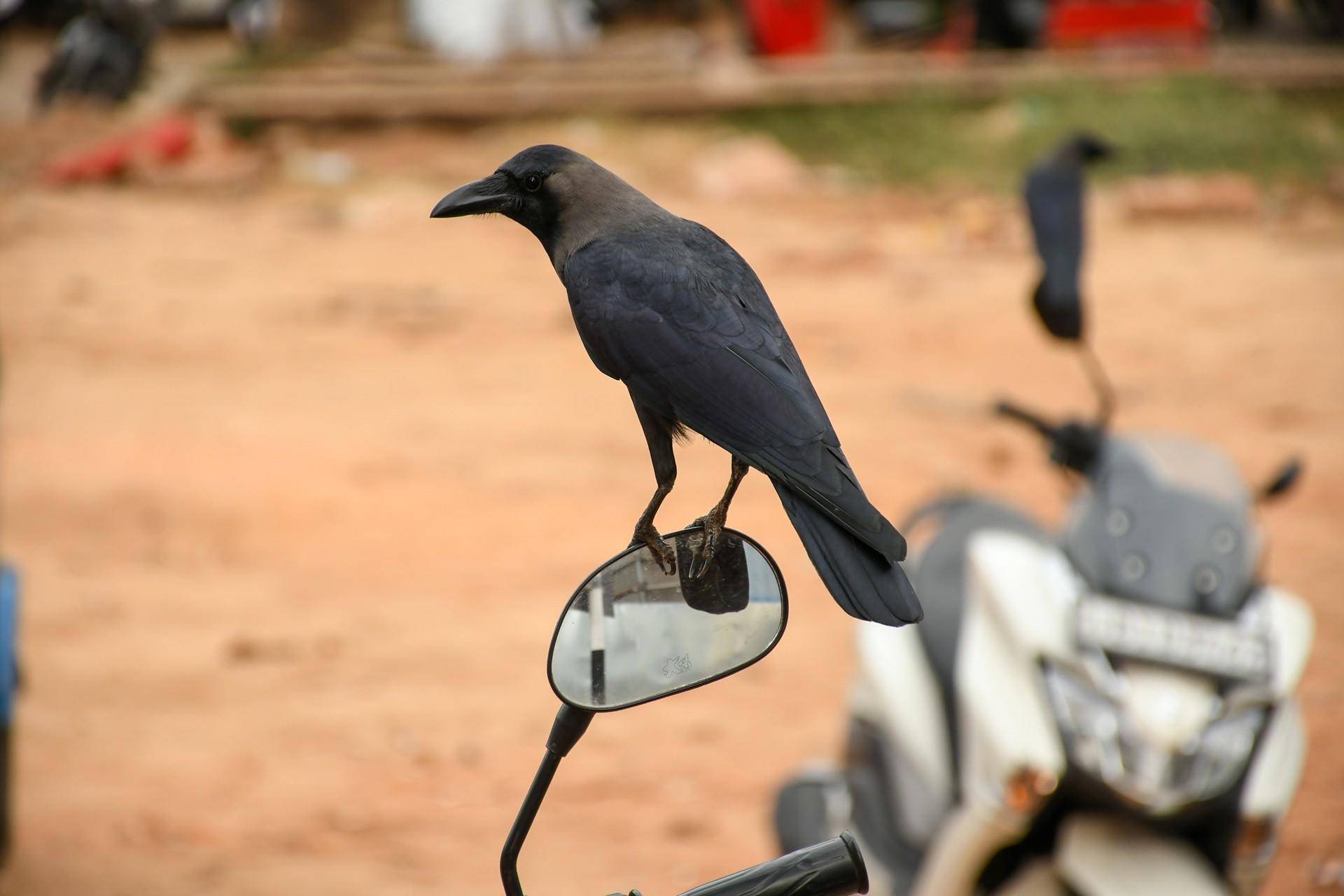 They say the souls of bikers who've passed return to their motorcycles as elegant ravens.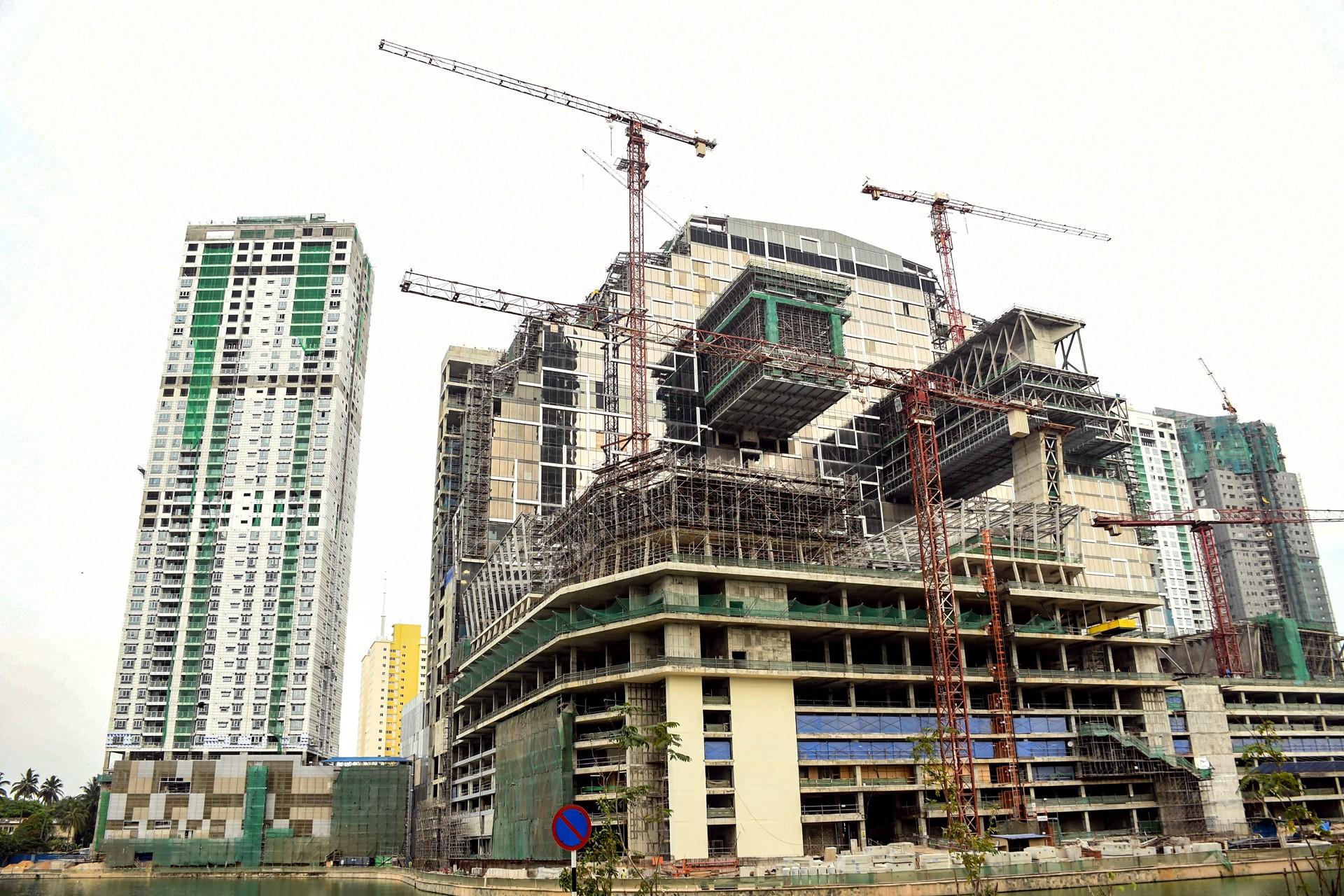 This woman we met back in our Negombo hostel was sure that the Chinese are set on turning Colombo into Malaysia's capital Kuala Lumpur.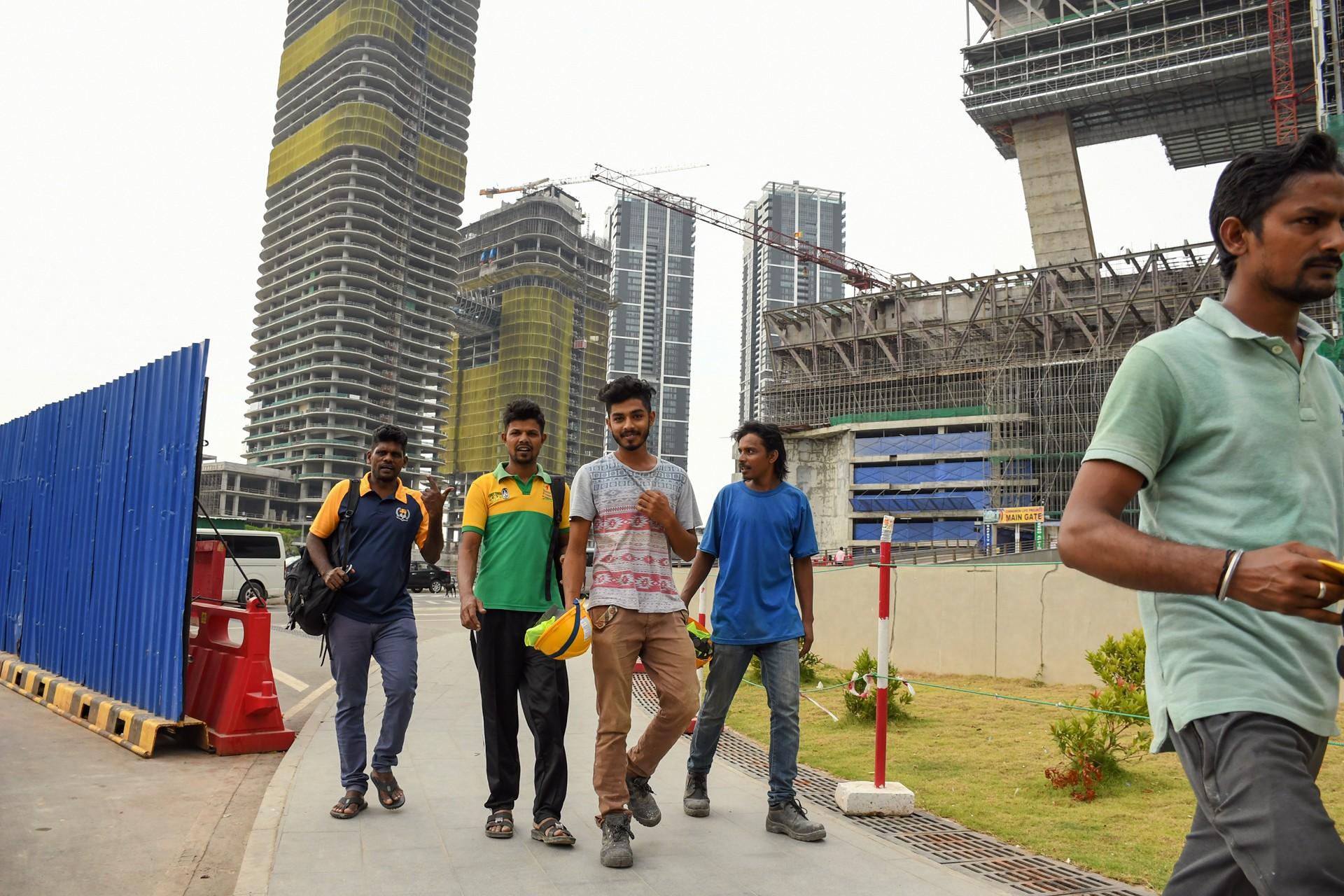 "Workers of the world, unite!"
Return to Viharamahadevi.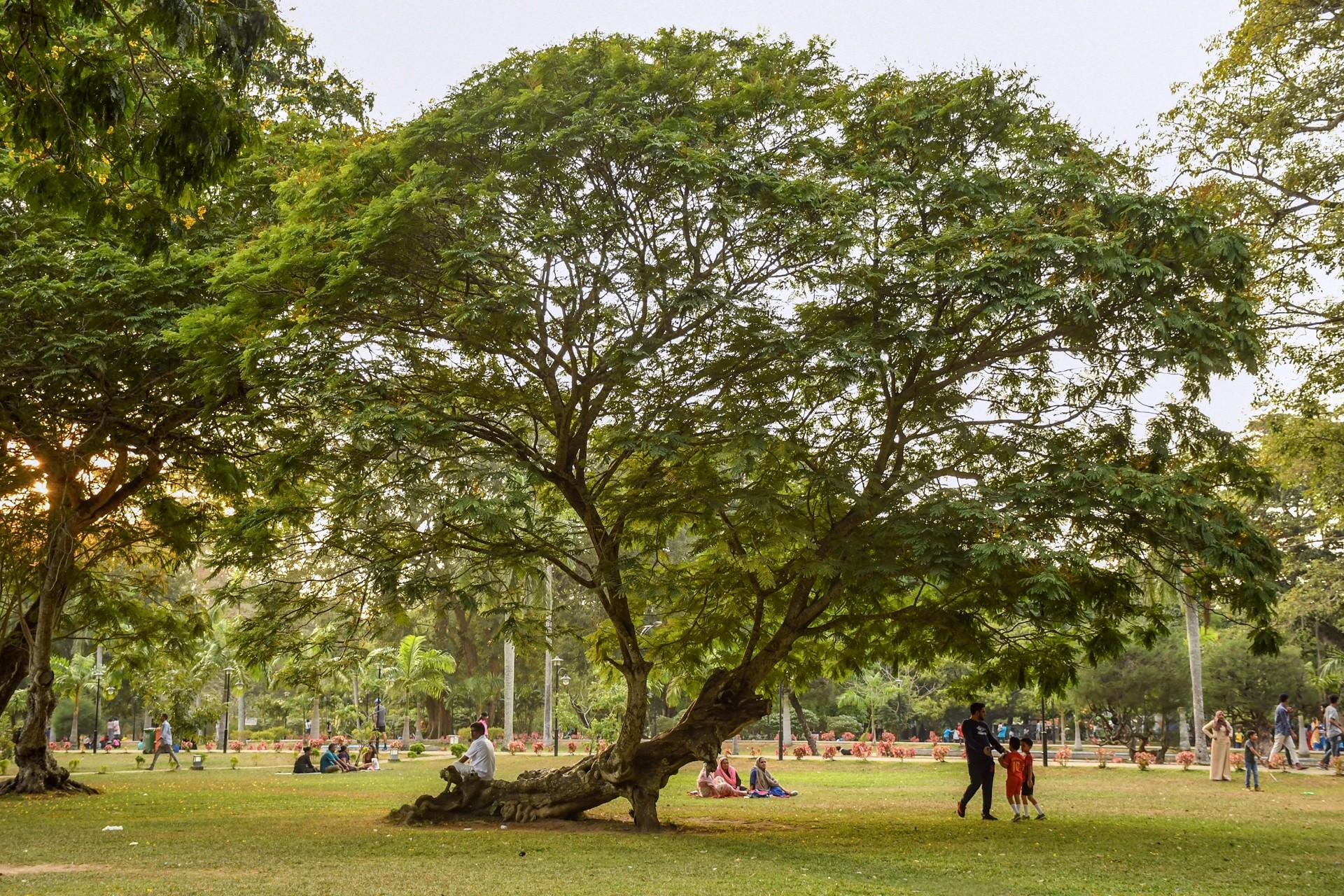 After wandering around the whole day, we were exhausted and immediately threw ourselves onto the grass.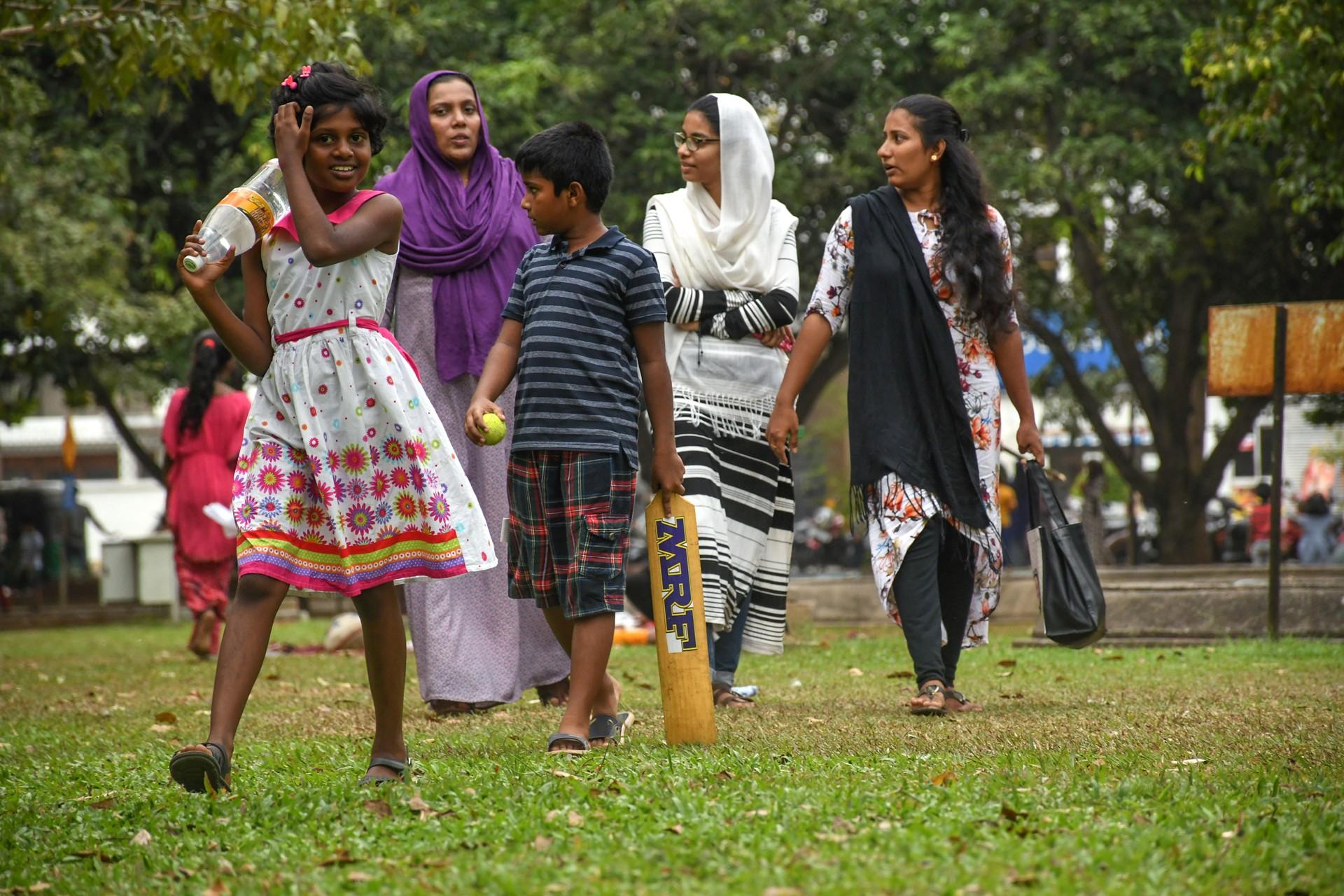 Cricket is one of the most popular Sri Lankan sports both in yards and professionally. In 1996 the team won the Cricket World Cup and then almost won it two times since then.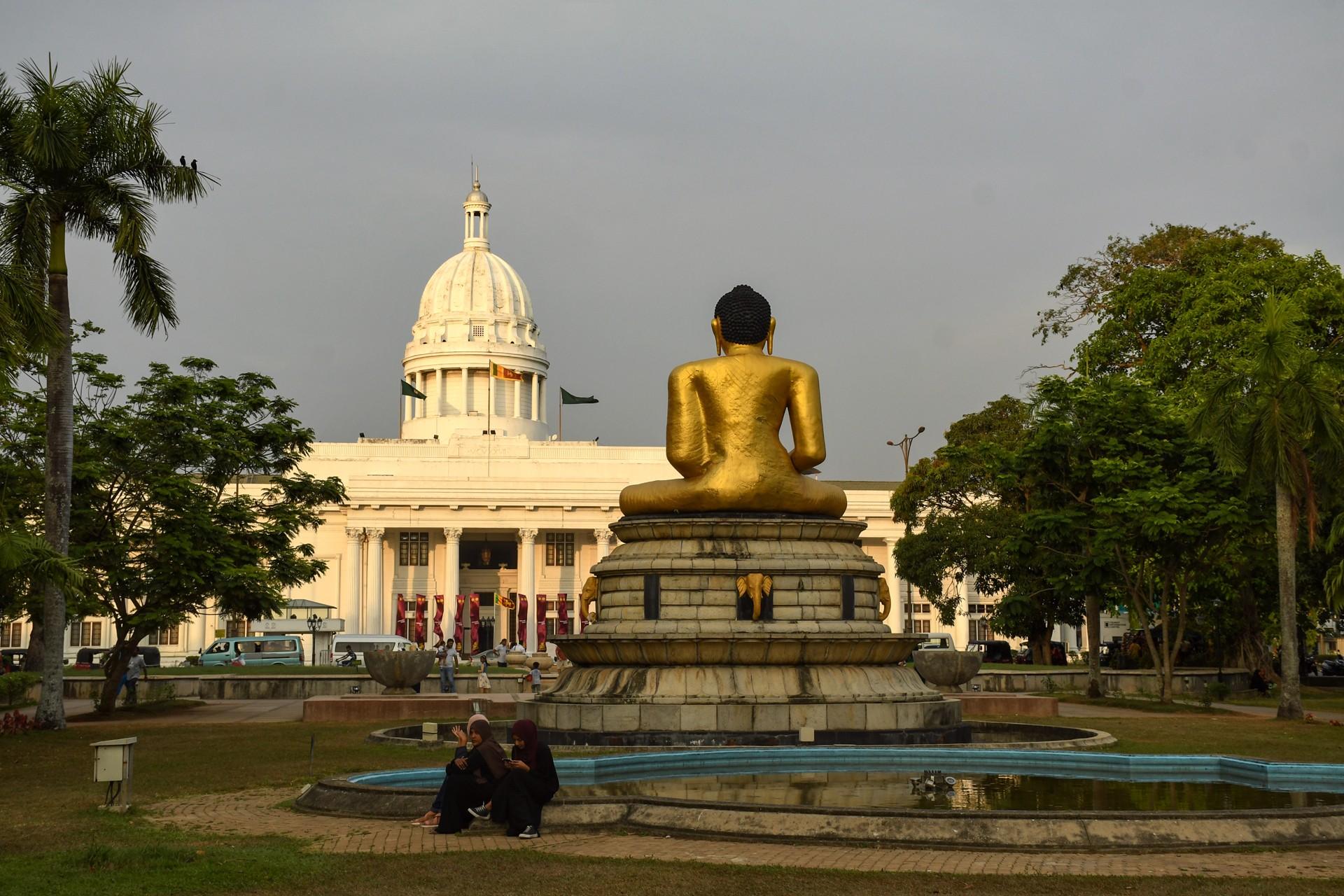 Buddha against the copy of the White House.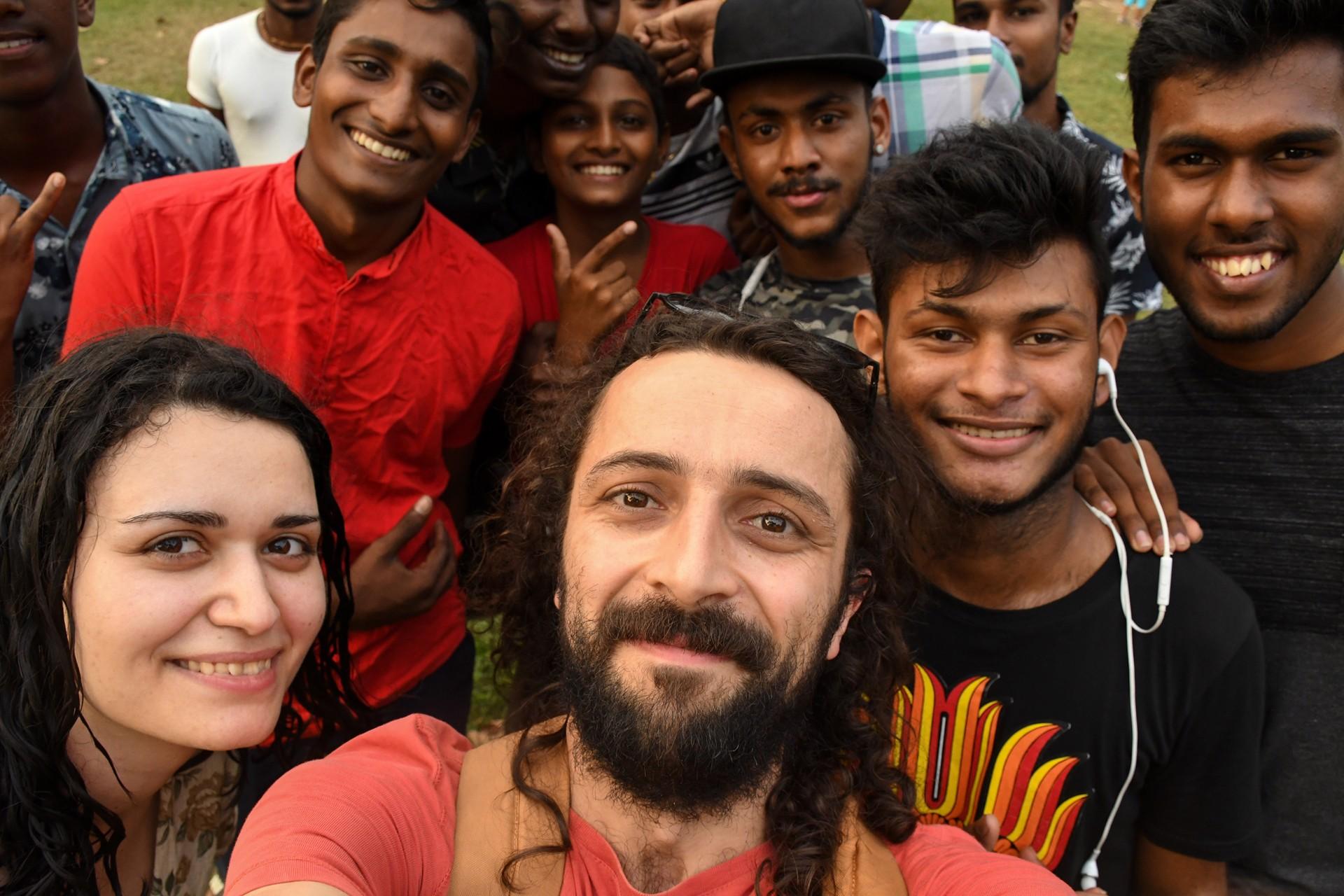 Young bikers approached us in the park for a photo, so we also took one with our camera. International relations, yo!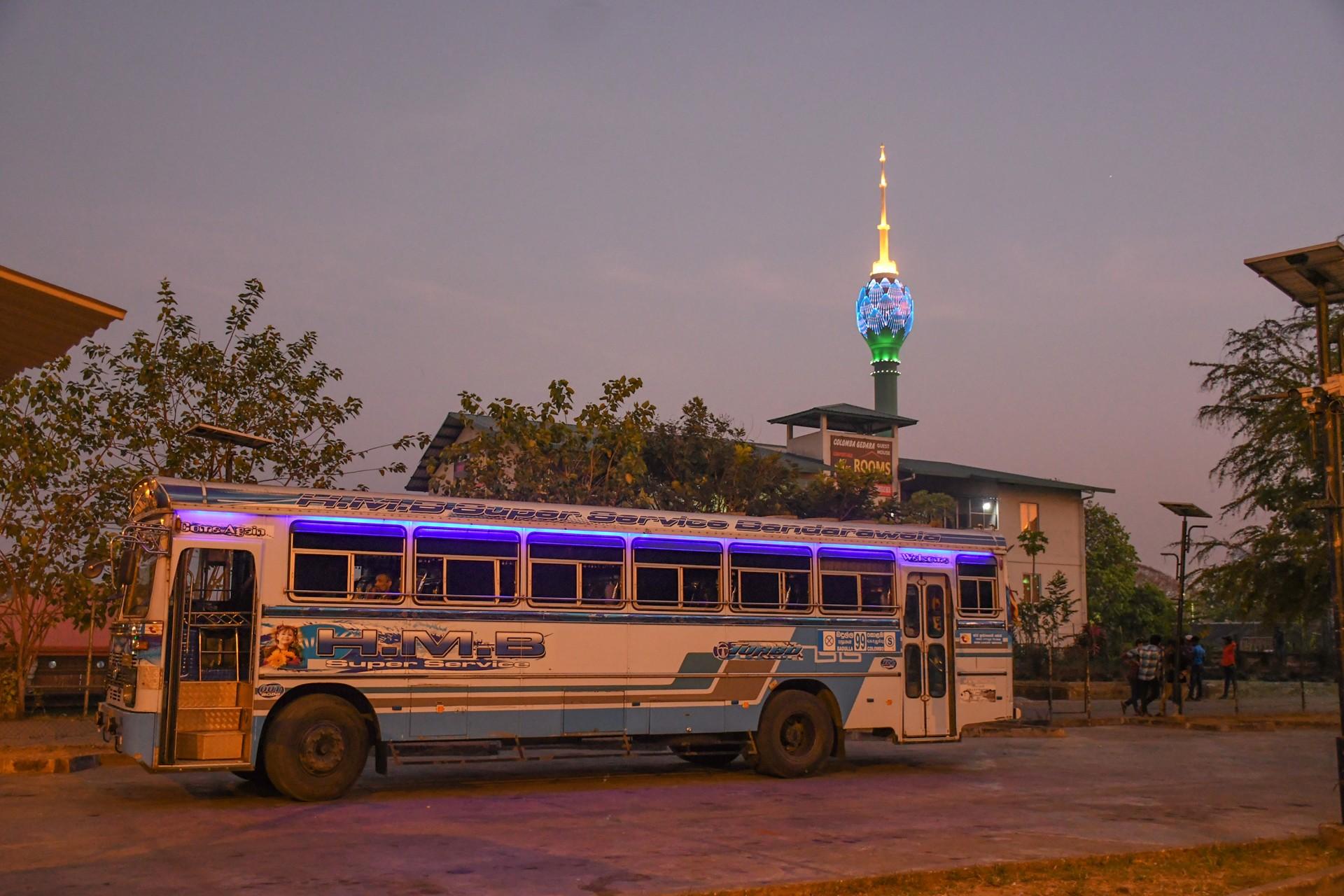 The day was crawling to its end, it was time to return to Negombo.
In the next part, we will visit other cities, fight a couple of crocodiles, take part in a Buddhist holiday, and watch the dawn at a bus station. Okay, one of these is not true, guess which one. Follow us, reader, and you shall witness bountiful wonders of the East!
Text by Nare Navasardyan
If you found a typo you can notify us by selecting the text area and pressing CTRL+Enter