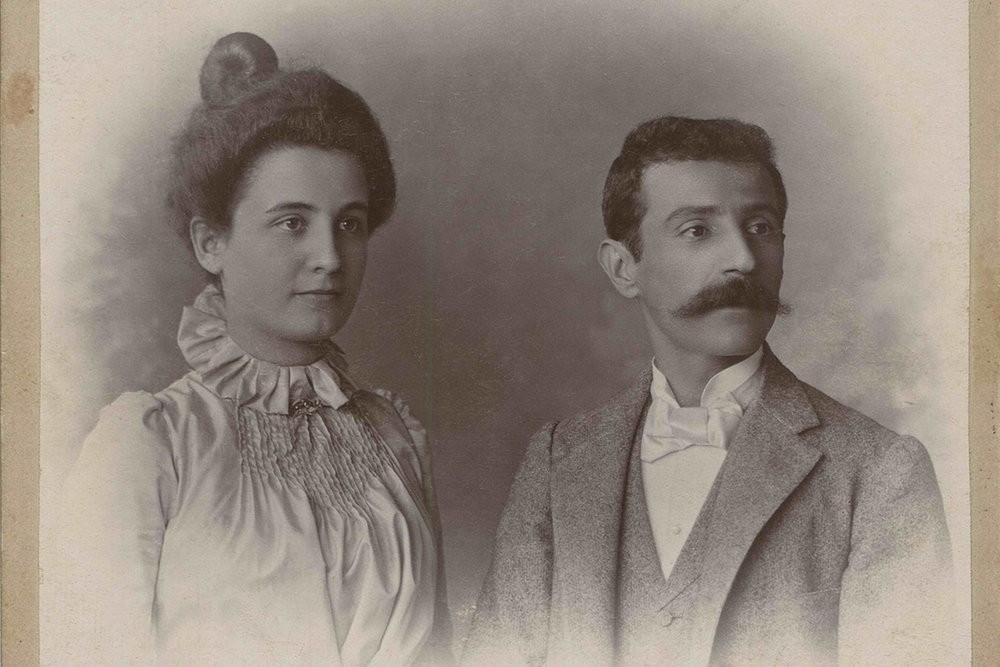 Ayntab – Photographers
Author: Mihran Minassian, Translator: Simon Beugekian
Overview
In the Ottoman Empire, Armenian photographers were pioneers in their field. They practiced their art in all corners of the country, from the famous Abdullah(ian)s and Pascal Sebah of Constantinople, to those working in the provinces: the Dildilians (Sivas/Sepasdia, Merzifon/Marzvan, Samsun/Samson, and Kastamonu/Kastemonu), the Soursourians (Harput/Kharpert), Garabed Solakian (Konya), Krikor M. Msrlian (Aleppo), Patriarch Yesayi Garabedian and Garabed Krikorian (Jerusalem), Garabed Lekegian (Cairo and Constantinople), and many others. In fact, so many Ottoman photographers were of Armenian descent that in many areas, the occupation was seen as the preserve of Armenians. Based on approximate calculations, more than 500 Armenian master photographers were active at one point or another across the Ottoman Empire, in addition to vendors of photographic equipment, retouching experts, printers and sellers of postcards, etc. After the Armenian Genocide, many of these individuals survived and continued to practice their crafts across the world, from the Middle East to various European cities, and even in the distant corners of Africa and America, where they remained unmatched in their skills.
A General Overview of Armenian Photography in Ayntab
The historic Armenian-populated city of Ayntab, on the borders of Cilicia, was famous not only for its educational institutions, art, crafts, commerce, and resourceful and prolific residents, but also for its large cohort of Armenian photographers. In a relatively short period of time, between approximately 1884 and 1921, about a score of Armenian photographers were active in the city. Many of them continued practicing their craft elsewhere after they left Ayntab, including Marash, Adana, Mersin, Aleppo, Baghdad, Haifa, the Damascus area, Beirut, the United States, etc.
The growth of photography in Ayntab, compared to other provincial Ottoman areas, was partially predicated on the relative prosperity of the Armenian community of the city, as well as the presence of foreign institutions there, with whom the locals interacted and from whom they gained knowledge and experience.
It is well-known that during the years of the Genocide, the Armenian community of Ayntab suffered fewer losses than Armenian communities elsewhere. A large number of Ayntab Armenians, alongside their property, survived. These survivors were able to take a large number of photographs with them when they emigrated. Today, countless such photographs are preserved in archives and museums across the world, as well as in private and family collections. These pictures offer us a glimpse into the past, and not only the recent past, of Ayntab Armenians; and into the work of Armenian photographs there and the high quality of their products.
Photographers in the early 20th century customarily glued their photographs to thick pieces of cardboard, which also served as frames. At the bottom, on the cardboard stretching beyond the edge of the photograph, they usually printed their own name. Sometimes, their location (city) would also be included. Similarly, the back of these cardboard frames would feature beautiful patterns, reproductions of prizes or medals won in exhibitions and competitions, as well as the photographer's name and location, often in multiple languages. Some photographers who did not have printed cardboard frames would simply hand-write their names and imprint their stamps on the front or back of their cardboard frames. These markings tell the story of the photographs, indicating location and approximate date, as well as other details.
This practice of gluing photographs to cardboard frames survived into the 1920s. It was used in later years only in rare cases, such as "official" photographs.
Unfortunately, not all photographers had their own unique cardboard frames, as it was an expensive luxury. The printing was mostly done in Constantinople or in Europe, in locations like Vienna, Paris, etc. Many of the extant photographs we have examined lack a photographer's inscription, stamp, or printer's mark. As a result, all traces of the photographers are lost, and we are unable to identify them and to give them the credit they deserve.
Today, as we examine these photographs, a whole past world comes to life before our eyes. They are living witnesses of the former glory of thousands of destroyed Armenian churches, monasteries, historic monuments, schools, and homes in Western Armenia, Cilicia, and Asia Minor. They are the visual history of Armenian traditional attire, customs, rituals, crafts, daily lifestyle, and countless relics that have been lost to time.
***
The French translation of an abridged version of this article appeared, under the title "Les photographes arméniens d'Ayntab et de la Cilicie : Bref aperçu" in the book Les Arméniens de Cilicie: habitat, mémoire et identité (Université Saint-Joseph Press, Beirut, 2012, pp. 134-167).
A Review of the Literature on the Armenian Photographers of Ayntab
It would not be an exaggeration to say that until the expulsion from Ayntab of its Armenian population, Armenians there had a complete monopoly over the profession of photography in the city. Until the year 1921, not only single non-Armenian photographer practiced in Ayntab.
Any investigation into the history of Armenian photography faces serious challenges, foremost among which is the scarcity of surviving photographs, the lack of access to those that have, and especially the scarcity of other studies into the subject, with a few notable exceptions.
Engin Özendes, a Turkish expert on the history of photography during the Ottoman era, in her seminal work, Photography in the Ottoman Empire 1839-1923 [1], provides a list of photographers who practiced in Ottoman Ayntab. The list includes seven names, all of whom are Armenian. Four of the names are from Kevork A. Sarafian's book dedicated to the history of Ayntab, which we will discuss further. The fifth name is Haroutyun Mardigian, who practiced photography in Damascus from 1890 to 1892, and in Jerusalem from 1894 to 1913. We believe that his inclusion in this list was erroneous. We also believe that the name of Krikor M. Msrlian (1853-1932) was included erroneously, as he practiced exclusively in Aleppo from 1880 until his death, and there is no evidence indicating his presence in Ayntab. As for the seventh and final Armenian photographer listed by Özendes, we will discuss him in some detail in the last section of this article.
Another important source of information on the subject is an album published by the Gaziantep (present-day Ayntab) city administration in 2007, on the occasion of a photographic exhibit organized under the title of "A Photographic Exhibit of Historic Gaziantep". The album includes 70 historical photographs, the majority taken between the 1920s and 1950s. The album does not list any Armenian or non-Armenian photographers active in the city until 1920 [2].
A third noteworthy work on the subject is the seminal book Armenian Photographers by photographer Vahan Kochar. The book provides the individual biographies of hundreds of historical and modern Armenian photographers who worked across the world, alongside examples of their works. Although this is the most comprehensive work ever published on the subject, it provides little information on the work of Ottoman-Armenian photographers, or more generally western Armenian photographers. From all of Cilicia, only the name of Hagop Terzian is mentioned, as the author of a monograph on photography. No photographers from Ayntab are mentioned [3].
Our principal sources of information on the Armenian photographers of Ayntab remain the two-volume Badmoutyun Ayntabi Hayots [History of the Armenians of Ayntab], edited and compiled by Kevork A. Sarafian [4]; as well as various issues of the periodical Hay Ayntab [Armenian Ayntab] (Nor Ayntab [New Ayntab], beginning with the 44th issue in 1971). The latter was founded in the 1960 in Arlington (Massachusetts), in the United States, and was then moved to Beirut and is still being published today [5]. The periodical was edited by Krikor Bogharian, and published several pieces indirectly pertaining to this article's subject. Some information on Armenian photographers also appears in the books dedicated to the battles fought during the siege of Ayntab, as well as the memoirs of survivors of these events.
We also gleaned some information from Dickinson Jenkins Miller's "Armenians and the Growth of Photography in the Near East (1856-1987)," a final dissertation presented to the American University of Beirut. However, this dissertation cites Sarafian's above-mentioned work for all of the information it presents.
According to one survey, throughout its existence from 1880 until its closure, the Central American College of Turkey of Ayntab had 424 graduates, approximately 2.5 percent of whom would later choose photography and photoengraving as professions. This translates into 10-11 graduates who later became photographers [6]. These probably included both natives of Ayntab and students who came from other regions, as we will see below.
The Armenian Photographers of Ayntab
We will now provide short biographies of individual Armenian photographers who were active in Ayntab, in order of chronology.
We must emphasize that this is not an exhaustive list. We are certain that there were other Armenian photographers whose works were either not preserved, or were not available to us. We must also add that in most photography studios, aside from the master, one or two apprentices also worked. Therefore, the true number of Armenian photographers in Ayntab must have been much larger than the list presented here.
Some of the facts we provide here on Ayntab's Armenian photographers may not seem particularly essential biographical information, but due to the scarcity of primary sources, we lack more comprehensive accounts of their lives. We have been forced to provide what little information we have been able to gather.
Some Armenian photographers were active in areas that neighbored Ayntab, like Aleppo or other nearby cities. It is difficult to ascertain if these individuals also practiced in Ayntab. We have still listed them here, in order to provide a more complete picture of the contributions that Armenians made to photography in the Ottoman Empire. It cannot be ruled out that these individuals practiced their craft in Ayntab, too, and we simply lack the data to confirm this.
1. Hovhannes Haroutyun Halladjian-Hovhannesian
The Halladjian family belonged to Ayntab's Armenian Evangelical community. They are also listed under the name "Hovhannesian" in the government registers and certain Armenian sources. This seems to have been the family's original surname, which was later changed to Halladjian [7].
Hovhannes Halladjian was the son of Very Reverend Haroutyun Halladjian-Hovhannesian. The reverend had founded, and had for many years operated, an orphanage/workshop in Ayntab, known as the Halladjian Orphanage-Workshop. Hovhannes' mother was Lucia Mamian-Haroutyunian.
Hovhannes was born in Ayntab on April 28, 1867. In 1877, he graduated from the local Asdvadzadour Khalfa School, after which he and his family went on a pilgrimage to Jerusalem. In the same year, he visited Beirut, to which he returned often afterwards, with a last visit in 1912 [8].
In 1883-1884, he learned photography from a renowned French master. Then he returned to his birthplace, and between the years 1884 and 1894, for 10 years, practiced photography there. For that entire decade, he was the city's only photographer. "In Ayntab, the art of photography appeared for virtually the first time in 1884…", states Very Reverend A. Halladjian, of the same family, in his small monograph about photography in Ayntab [9].
Hovhannes Halladjian was a polyglot. Through self-education, he had become fluent in several languages. He could read, speak, and write Armenian, Turkish, Arabic, Farsi, English, French, German, Greek, Italian, and Russian. He had a love for photography and thanks to his knowledge of foreign languages, he had developed his knowledge of the craft by reading journals and books published in Europe, keeping up with the latest innovations and staying abreast of the newest developments. He regularly obtained modern photographic equipment from England [10].
He worked as a photographer in Ayntab until 1894. In that same year, he left for Adana and Mersin, and in 1895 he reached Aleppo [11].
A few years later, in 1898, in Ayntab, he was replaced as a photographer by his younger brother Mihran, who had been his apprentice [12].
In the 1890s, in his capacity as a photographer, Hovhannes frequently visited Marash [13], because apparently, there was no practicing photographer in Marash at the time. One of the photographs he took in Marash in 1893 was reprinted in Very Reverend Hampartsoum H. Ashdjian's memoirs [14].
It remains unclear how he survived the Armenian Genocide and where he spent the years 1915-1918. We only know from ancillary sources that after the expulsion of the Armenian population from Cilicia and Adana, the Halladjians settled down in Aleppo, like thousands of their compatriots [15]. From there, they would later emigrate to other parts of the world.
Hovhannes Halladjian was still living in 1949, in London. From there, he wrote an autobiographical letter to a relative, which concluded with these words: "I will only say this – I never imagined that I would live in this country for so long as a refugee, after having been saved from the ravages of war by the grace of God. I have not taken any photographs for some time, even though I have a good camera. But I have neither the place nor the heart to do it…" [16].
So he had a camera in London, too, but we know nothing of his having worked as a photographer there. We can assume that he practiced photography when he first arrived in London, but that by 1949, due to his advanced age, he had retired.
The Reverend Haroutyun Halladjian, the father of photographers Hovhannes, Mihran, and James Halladjians, was born in Ayntab, in 1841. He lost his father at the young age of 20. He studied for some years at the Marash Theological Institute, and then left for the United States and continued his education at Oberlin College (Ohio). He graduated in 1875, after which he traveled to England, then back to Ayntab in 1876, where he founded the Halladjian Orphanage-Workshop.
Reverend Halladjian visited England and Scotland in 1880 to raise funds for his orphanage. He remained there until 1884, returned to Ayntab, and then traveled back to Britain in 1886. On each of his visits, as "living examples," the reverend took several of the orphans with him, so that foreigners would see them and be spurred to donate generously. Halladjian had also arranged for the orphans who accompanied him to England to learn different crafts (dentistry, leathercraft, brushmaking), so that upon their return, they could practice these crafts in Ayntab.
It is probable that Hovhannes accompanied his father on the first of these trips to England, and that in London he honed his skills as a photographer. Further evidence of this is the fact that he went to Istanbul to further study photography in 1884, and founded his studio in Ayntab in the same year – the year he returned to Ayntab from London.
Reverend Halladjian ran his orphanage singlehandedly for 28 years, after which he retired and handed it over to the three Armenian Evangelical churches in Ayntab. He died in Ayntab, in 1914 [17].
2. H. H. Hovhanness
In our collection, we have a small, old photograph, the front side of which is imprinted with the photographer's name – "Phot. H. Hovhanness." The back of the photograph has a trilingual imprint – "PHOT. H. HOVHANNESS AINTAB TURKEY," in English, Armenian, and Turkish.
We have also seen another photograph, in the possession of a friend, glued onto an identical cardboard frame, bearing the handwritten date 1886-1887.
Another extant photograph with an identical cardboard frame dates from 1887 [18].
We have not been able to confirm that an "H. Hovhanness" worked as a photographer in Ayntab. The large amount of literature on Ayntab's history, and the literature devoted to the art of photography in the city, make no mention of a person by that name.
These facts force us to conclude that "H. Hovhanness" is none other than the aforementioned Hovhannes Halladjian-Hovhannesian, whose name is provided in some documents and accounts in its abbreviated form – "H.[ovhannesian] Hovhanness." As we have already noted, the historical literature on Ayntab states explicitly that Hovhannes Hovhannesian "was the only photographer in the city for a period of 10 years" [19] from 1884 to 1894. Our theory is confirmed by the fact that the dates of the three extant photographs taken by H. Hovhanness (1886-1887) correspond to the years in which Hovhannes Hovhannesian was actively practicing photography in Ayntab (1884-1894).
Another question then arises. When Hovhannes Halladjian-Hovhannesian had his own individualized, printed, and engraved photographic frames, why would he have also use a different one? The frames were probably used at different times. Presumably, after he stopped using the name Hovhannesian, he stopped using the older frames and printed new ones bearing the name Halladjian.
3. Mihran Haroutyun Halladjian-Hovhannesian
One of the best-known photographers of Ayntab. He learned photography as an apprentice to his older brother, Hovhannes. But not satisfied with what he had learned, he traveled to England to hone his skills. He returned to Ayntab in 1898 and took over his brother's photography business, which had cased functioning in 1894 when Hovhannes had left the city.
On July 30, 1994, in Aleppo, we had the great pleasure of meeting Vahram Babigian, the well-known Aleppine doctor and Mihran Halladjian's brother-in-law, on the eve of his move to the United States. He provided us with some details regarding the life of his brother-in-law. Some years later, on August 3, 2000, we wrote a letter to the doctor, asking him for additional information on both Mihran and Hovhannes Halladjian. In his turn, the doctor replied with a letter dated September 13, 2000, sent with the late Mr. Vartan Temourian, another Aleppine Armenian. The letter provided additional details on both photographers' lives.
Here, we provide the information obtained from Dr. Babigian in the aforementioned conversation and correspondence.
Mihran Halladdjian was born in Ayntab, in 1880. He had several brothers, one of whom, Hovhannes, was a photographer. He lived in England for some time. His brother, Samuel, was a reverend and lived in the United States. He had a third brother named James. In Ayntab, his home and his store were adjacent, near the Tepe Bashi neighborhood, on Hayig Baba, near the American hospital. His studio, compared to his home, was small, while the home was large and had its own courtyard.
Mihran was married to Yeranig Babigian, a member of Ayntab's Armenian Evangelical community, born in 1891.
The couple had three children: Yervant/Eddy, Puzant/Ray, and Hermine. Hermine was born after her father's death. All three children would later marry non-Armenians in the United States, and all three still living as of 1994. Their mother, Yeranig, died in 1982.
Mihran died in Ayntab in 1920, five days after contracting influenza. After his death, thanks to the efforts of Reverend Samuel, his brother who lived in America, his wife and children were able to emigrate to the United States in 1921. The couple's oldest son was 9-10 years old at the time. He was still living as of 2000, in the United States. Hermine's daughter also lived in the United States as of that year.
The negatives of the photographs Mihran took were left behind in Ayntab, and were never recovered [20].
We have, in our possession, the two deeds of Mihran Halladjian's photography studio. The first was issued in August 1321 of the Ottoman calendar (August 14-September 13, 1905 of the Gregorian calendar), and the second on the 29th of Safar, 1324 of the Islamic calendar (April 14, 1906 of the Gregorian calendar). The documents indicate that the studio was located on Hayig Baba (Heyig) Street of Ayntab. The value of the property was estimated at 2,000 kouroush, or 20 Ottoman pounds. The previous owner was Artin (Haroutyun) Hovhannesian (Halladjian, Mihran's father), who transferred ownership to Mihran Hovhannesian (Halladjian).
Father and son were Ottoman citizens. The studio was on the main road and abutted, on its right, the store of Kapriel, son of Panoug, and that of the boyadji (painter) Mourad; on its left, the workshop of the cobbler Sarkis, son of Hagop (in the second document, listed as Hovhannes, son of Hagop); and to its rear, the store of Kevork Yedigian.
According to the 1906 deed, Mihran Hovhannesian (Halladjian)'s studio had a size of 1.5 old donums, 13 aouleks, and 78 new arshins. These measurements correspond to about 1,350 square meters (14,531 square feet).
Mihran Halladjian was an erudite, energetic, and extremely pious man. Despite being a member of the Armenian Evangelical community and the son of a reverend, he preached in both Evangelical and Apostolic churches. He was an active member of the Society of Faithful Armenians ("Chrisdosasirats") from the day of its founding in 1896. Throughout his life, he supported this society's advancement, often helping it financially.
He was one of the members of the Chrisdosasirats who, alongside a dozen other youth, took a hiatus from his work and studied in various colleges and universities, and after graduating, returned to Ayntab to once again evangelize [21].
A small booklet dedicated to the Chrisdosasirats Society in Ayntab includes the following moving lines referring to its ever-faithful member: "The Lord Jesus Christ took over his heart during meetings of the Chrisdosasirats. With his smile and his generosity, he lived as a true follower of the Good Samaritan. Form Ayntab to Ourfa/Yetesia, thousands of our compatriots heard the message of the Holy Book from his lips" [22].
These lines also show that he preached in both Ayntab and Ourfa.
The sermons he delivered during meetings of the Chrisdosasirats Society made a deep impression on his audiences [23]. He was also a member of the Ayntab scholastic society.
Mihran Halladjian was the official photographer of the Central Turkey College of Ayntab [24]. The yearly photographs of the school's graduates are presumably all his work.
We do not know how he survived the Armenian Genocide or where he spent the years 1915-1918. We only know that in 1915, he was arrested by the authorities. This is confirmed by the testimony of his cellmate, educator Sarkis Balabanian (Balaban Khodja): "[In Ayntab, in 1915] When they pushed me into the prison cell and locked the door behind me, I found Mihran Halladjian there, who had been brought in before me" [25]. This is all we know, and we have no knowledge of subsequent events. One of his relations, Very Reverend A. Halladjian, stated that Mihran was "not only the best, but also most celebrated photographer in Ayntab for almost 20 years, from 1898 to 1918" [26]. Should we imply from this timeline that he spent the years 1915-1918 in Ayntab? Was he one of the fortunate Armenians who were spared deportation because their professional skills were valued by the Turkish authorities?
4. James Haroutyun Halladjian-Hovhannesian
James was the third Halladjian brother, and he practiced photography in Mersin, Haifa, Damascus, and the areas surrounding these cities. He practiced as far as Jordan and even further south, to the northern reaches of present-day Saudi Arabia.
We have already mentioned that Hovahannes Halladjian practiced photography for some time in Mersin. He probably either worked alongside James, or replaced him.
We have been able to obtain a photograph taken by James in Mersin, probably in the early years of the 20th century. The cardboard frame bears the imprint "J. H. Halladjian MERSINE Asia Minor."
James was one of the official photographers of the Hijaz (Arabian) railway project, documenting the work. He had probably received this commission from the official authorities or the railway company. The photographs he took in 1908 of the railway and the areas it crossed have survived, featuring Damascus, Tabuk (692 kilometers south of Damascus, now in Saudi Arabia), and further south, Madaen Saleh and Al-Akhdar.
5. Kasbar Khodja Pilavdjian-Kzarian
He was the famous Kasbar Khodja of Ayntab, the father of the late Archbishop Shahe Kasbarian (1882-1935).
He was born in Ayntab. Three different sources give three different years as that of his birth – 1845, 1850, and 1855. The first seems the most logical to us, as other sources indicate that in 1886, he was a practicing teacher in his hometown, and it seems unlikely that a teenager of 11 (or 16) would be appointed to such a position.
Presumably, he was a pupil of the teachers Abraham and Mourad Mouradian.
He was well-versed in the psalms and devoted himself for an entire half-century to Armenian music and the Armenian church, as the choir master and music teacher of the local Holy Virgin Church. He had learned Armenian musical notation and playing the organ from Master Boghos Kurkdjian (from Marash) and Master Hagop (from Constantinople).
In 1892, he founded the church choir of the Holy Virgin Church of Ayntab, and over the years helped shape countless choirmasters and music teachers. In the 1880s, he served as a choirmaster in Adana [27]. He gave private church organ and violin lessons to local Armenians and Turks. Kasbar Khodja was the composer behind the Vartanian School's "Der Zoroutyants" and "Aha Asdghn Vartanian" and the Atenagan School's "Harach Sanounk!" marching songs, as well as many variations of "Der Voghormia," that were only performed in Ayntab [28]. He also composed music for many poems, mostly works of Ayntab poet Armenag Nazaretian (A. Nazar), such as "Yerk Ar Vartanyank" and others.
During the years of the Armenian Genocide, he and his family found refuge in Beredjig, where he worked at the local shipyard and was thus spared deportation into the desert. In 1919, he returned to Ayntab, and in the following year he made his way to the United States, where he also served as a choirmaster for some time.
In 1919, he received an invitation from the Prelate of the Armenian Diocese in Egypt, Archbishop Torkom Koushagian, to relocate to Cairo and serve the church there. However, he declined the offer.
Kasbar Khodja was endowed with multiple talents. While still in Ayntab, he also practiced photography. The Ayntab Chronicle confirms that "aside from his musical talents, he also practiced photography" [29].
He died in the United States, on November 24, 1936 [30].
If you found a typo you can notify us by selecting the text area and pressing CTRL+Enter