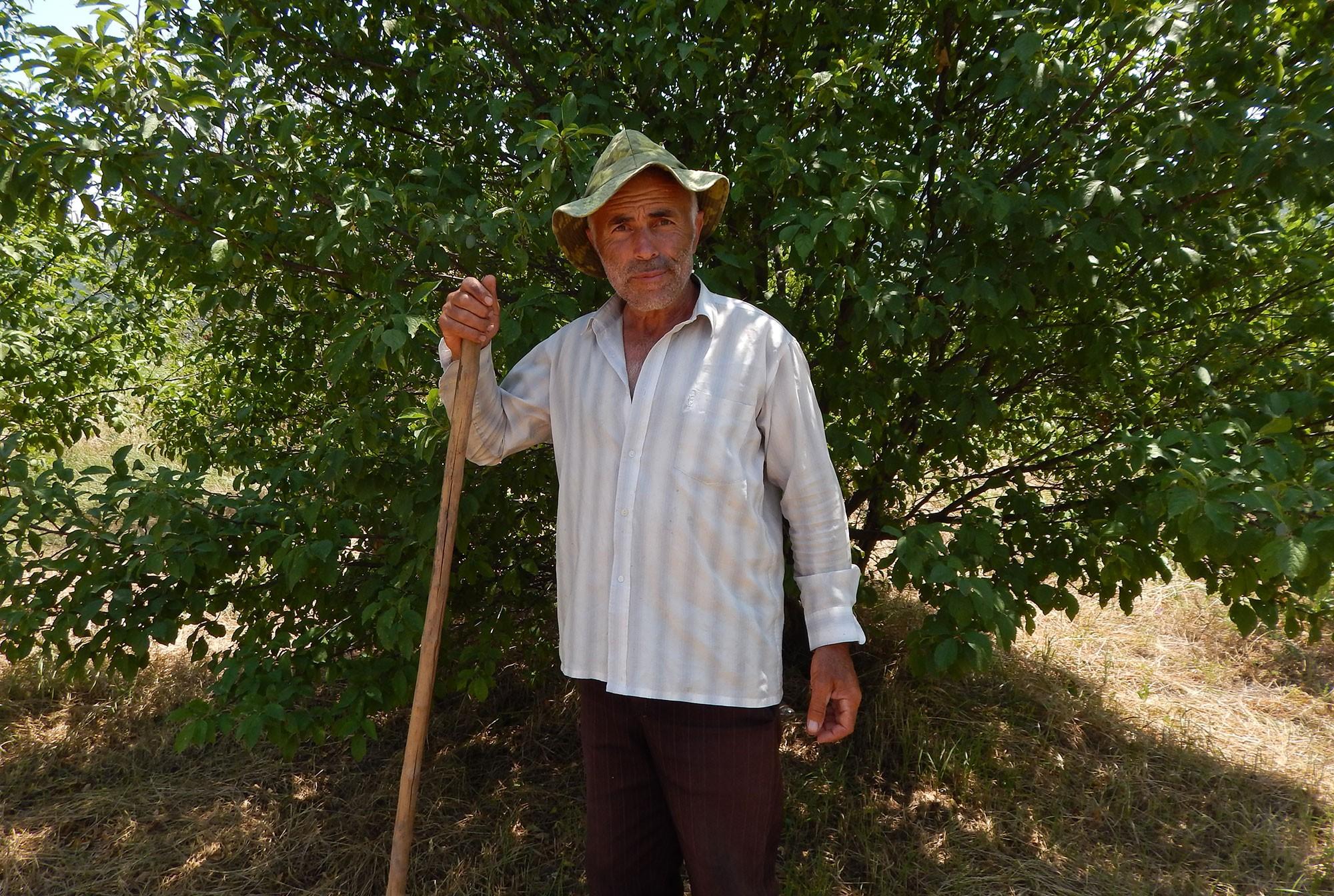 Lori Farmer Samvel Siradeghyan: Government Must Focus on Agriculture Since Pandemic Has Closed Border with Georgia
It was noon. The blazing sun high above.
I met Samvel Siradeghyan at his peach orchard in the village of Tchotchkan in Armenia's northern Lori Province.
He's watering his trees. He's one of the lucky ones that has accessible irrigation water. Some 45% of the village's arable land isn't cultivated due to a lack of water.
I ask him about the coronavirus and if it's had an impact on farming in the region. He says the virus has not yet reached Tchotchkan.
He says the economic consequences of the virus will be felt by local landowners come the winter.
"The Georgian government has waived irrigation water tax for about 42,000 farmers this year. Let Nikol Pashinyan give us free irrigation water and say, go, water the fields, grow crops. Then Armenia will see its agriculture develop," says Siradeghyan.
He has a reputation as a good farmer in Tchotchkan. He has 3,000 meters of almond and 8,000 meters of peach orchards. He planted the almond orchard eight years ago. This year will be the first that the trees will produce fruit. The red peach harvest will start in fifteen days.
Siradeghyan also grows apricots. He shook one of the trees and the apricots rained down. His son, Narek, is responsible for collecting the apricots to distill vodka.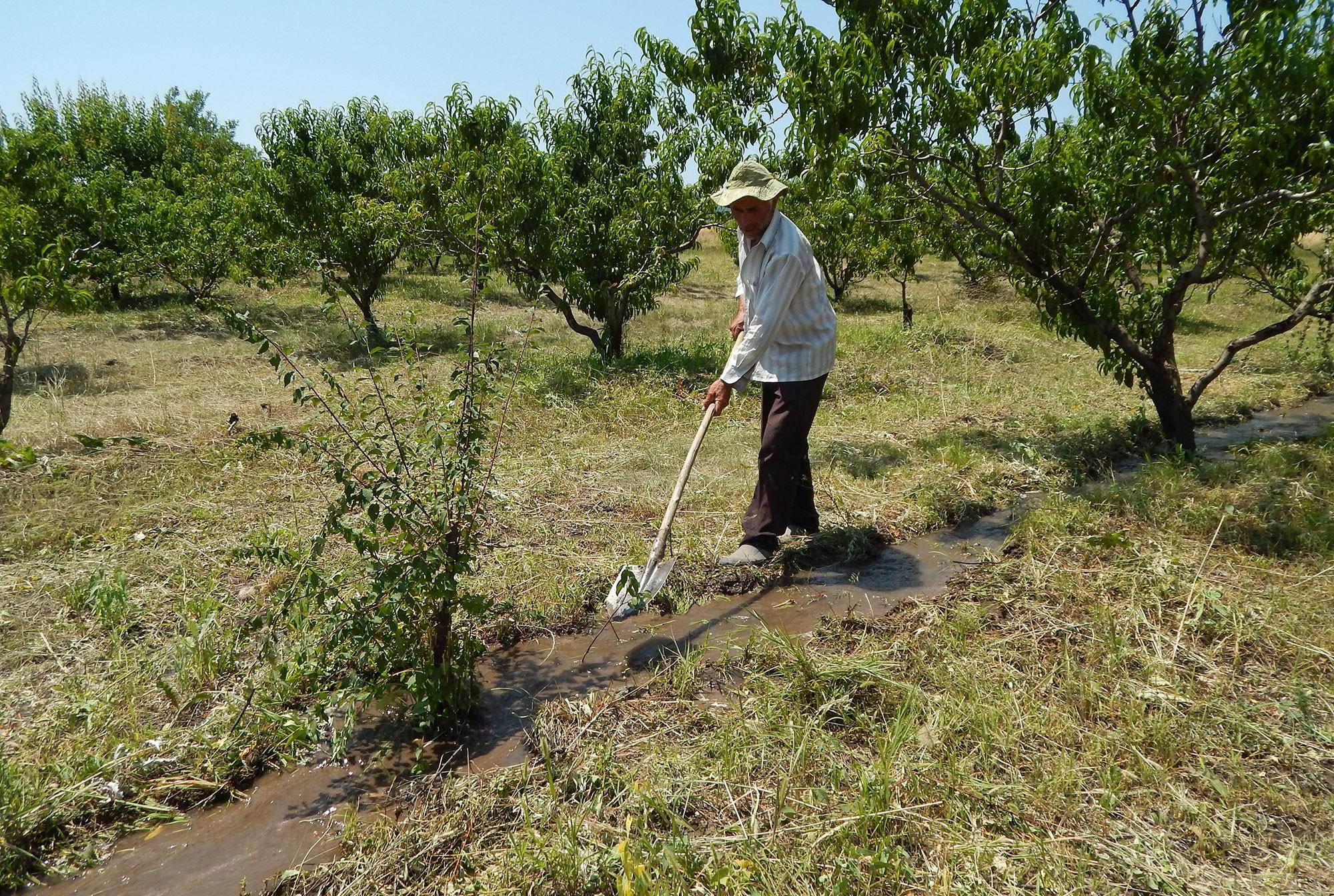 Samvel Siradeghyan watering his orchard
Narek has a teaching degree but works alongside his father in the orchard. He can earn more farming.
The family, in addition to the orchard, raise some chickens, pigs and a cow. The elder Siradeghyan has also been growing tobacco for the past twenty years.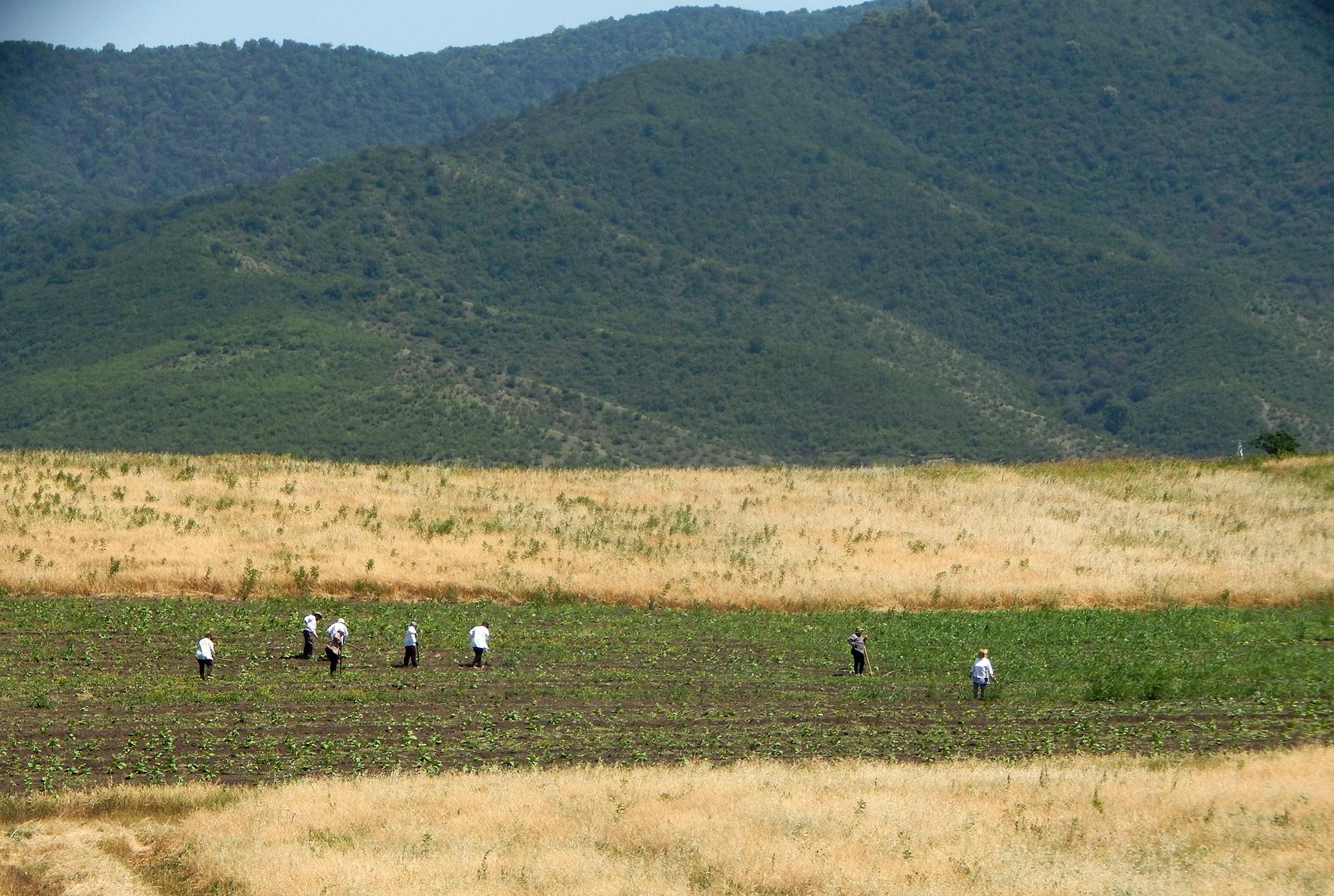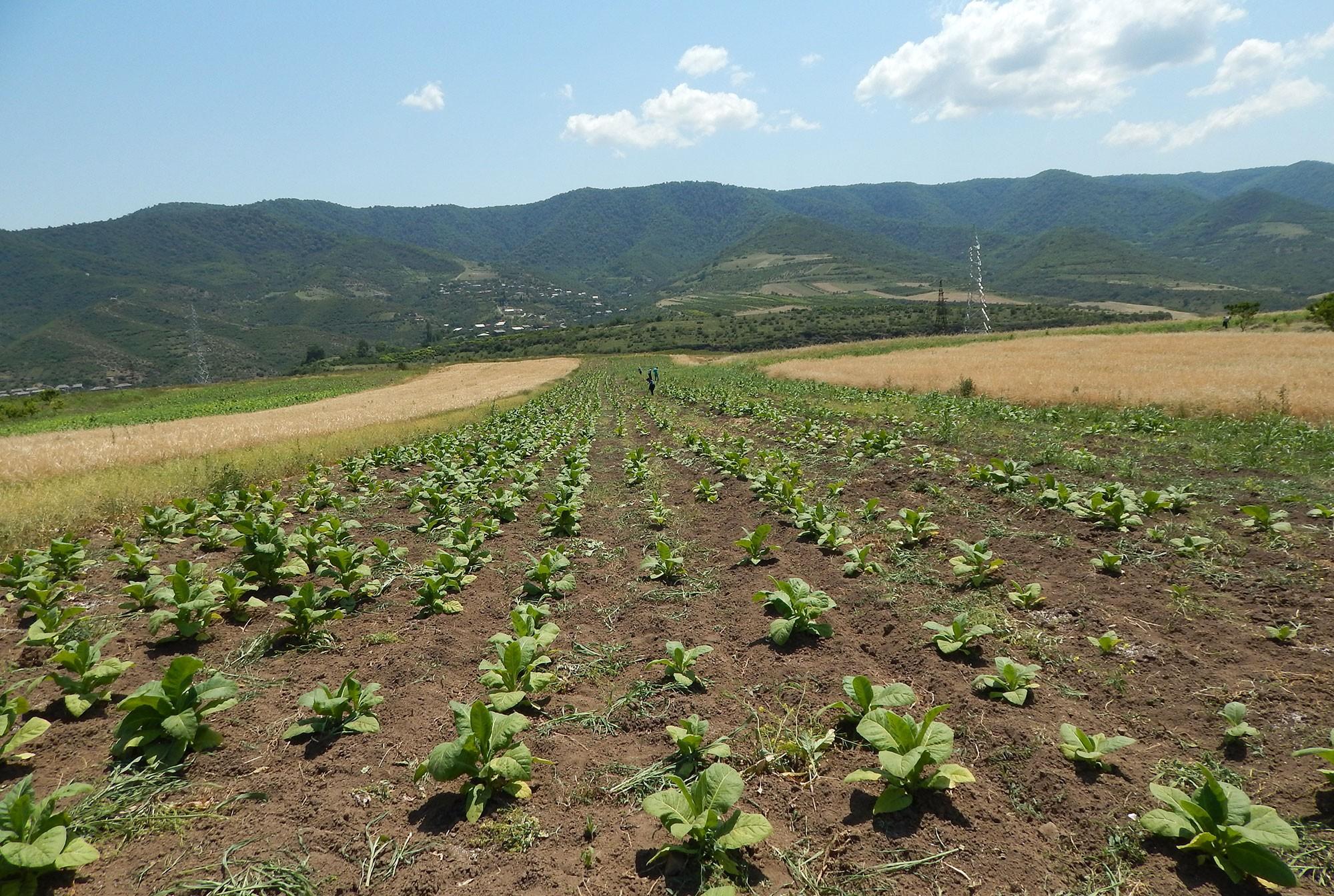 Last year, he planted three hectares of tobacco. This year, he's growing tobacco on 17 hectares leased from villagers who don't farm their lands. It's all part of an agreement struck with the International Masis Tobacco company.
Under the agreement, the company paid Samvel Siradeghyan 5 million drams in advance for sowing tobacco. He received seeds from the company, which he planted in his greenhouse. The spring seedlings were planted, by tractor, in the field. In the past, it was done by hand.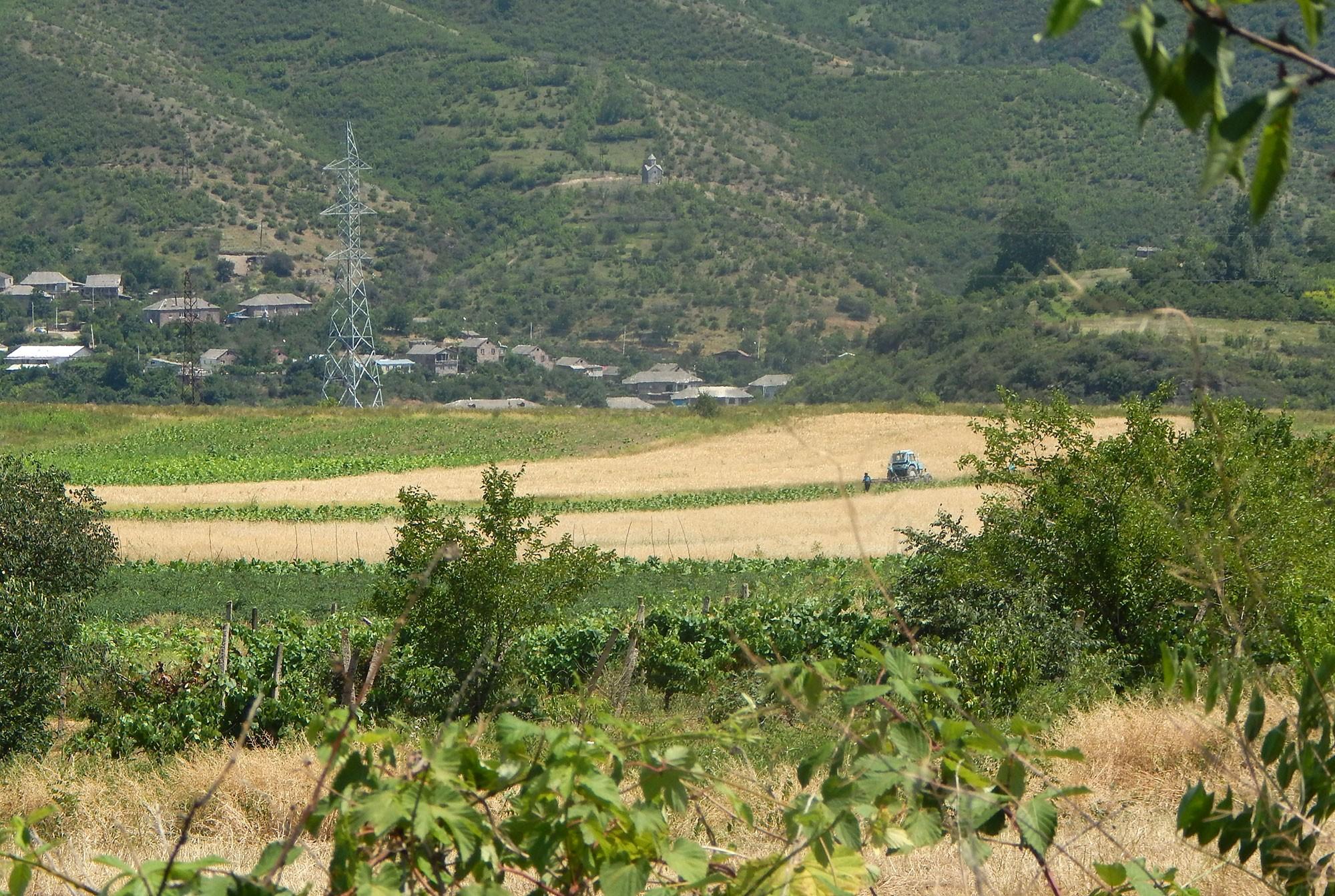 Siradeghyan says such farming technology is new for Armenia.
"We own the tractor. Masis Tobacco gave us the tiller," he says, adding that the new equipment decreases plating time by a factor of five.
Twelve workers were out in the tobacco field during this reporter's visit to the Siradeghyan farm. Eight were from Tchotchkan and the rest from the neighboring village of Ayroum.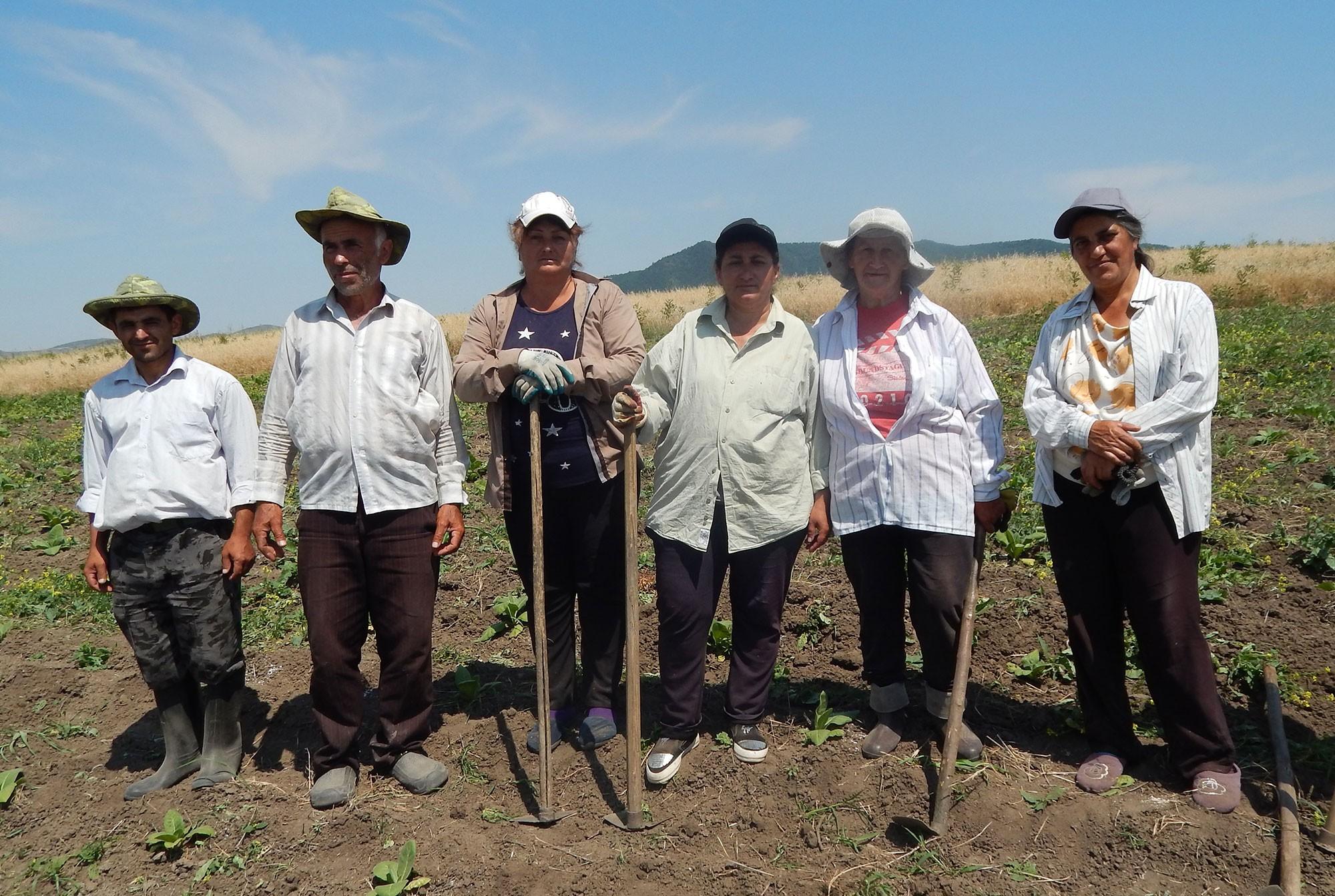 "I love farming. I feel good working collectively in the fields, even though it's hard work. I'm paid 4,000 drams a day. It's a small amount for the hard work we do, but if that's the case, we must adapt. It would be great to earn 5,00-6,000 drams for an eight-hour day," says Alvard Gigolyan.
Marietta Bazazyan, Rita Baghdasaryan and Baghdasar Baghdasaryan come from Ayrum, near Noyemberyan, to work in the Tchotchkan tobacco fields.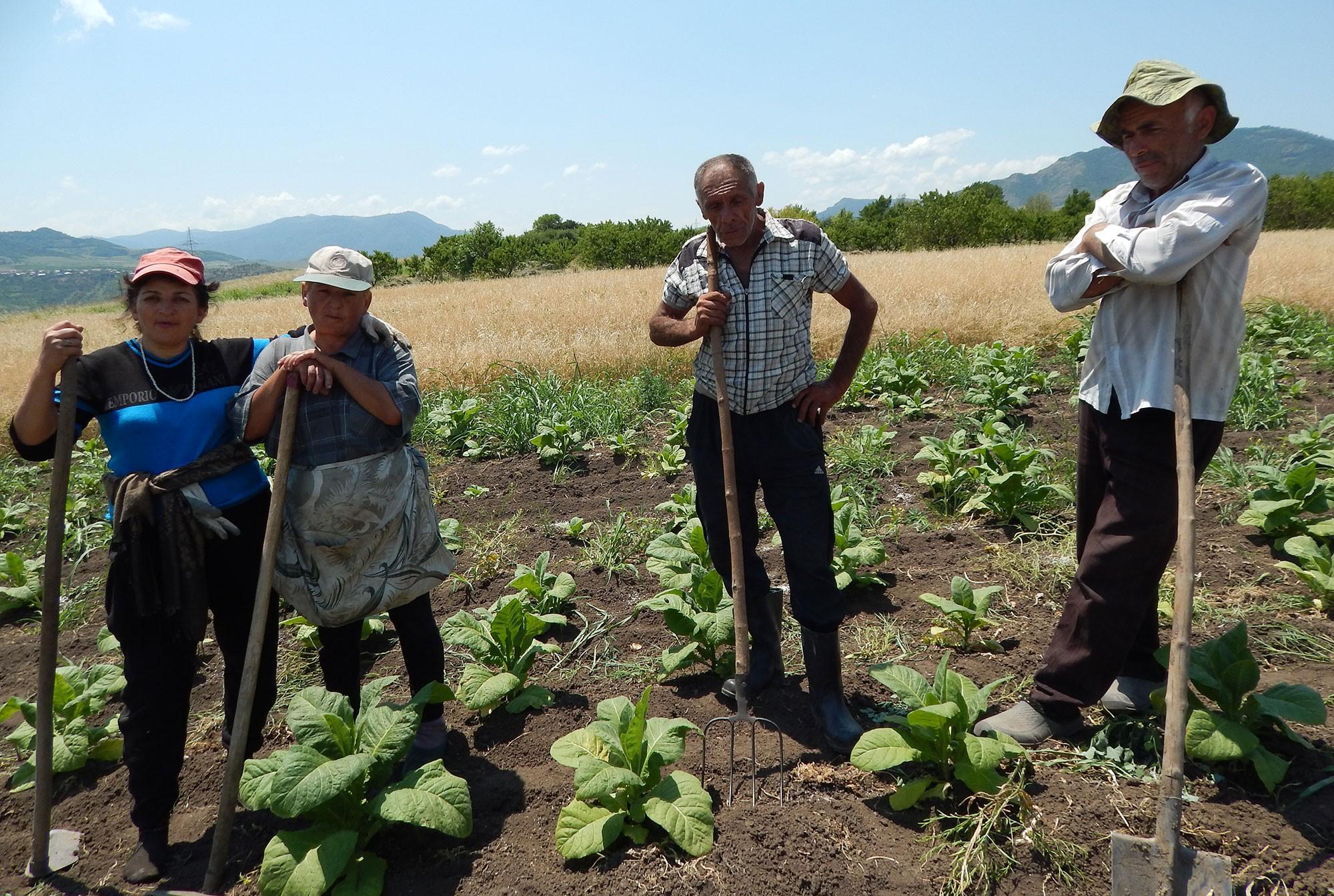 "Just let there be work. I die of idleness at home. Samvel Siradeghyan is also a good person. He pays a salary of 4,000 drams a day. I have three children. I don't have a husband. My eldest son is a contract soldier, he behaves. No, I'm incredibly happy. It's a nice job. I have raised my children with such work," says Marieta Bazazyan.
"We are experienced tobacco field hands, but we are new in this field. We have been working here for twenty days," say Rita Baghdasaryan.
Rita was working in the field with her husband and son. According to her husband, Baghdasar Baghdasaryan, they are frustrated when there is no work. They have three children. "We won't say that the work of a farmer is easy, but we are thankful that today we have a job, work and live," says Mr. Baghdasaryan.
Siradeghyan says the tobacco will be harvested in 15-20 days and the crop handed over to Masis Tobacco.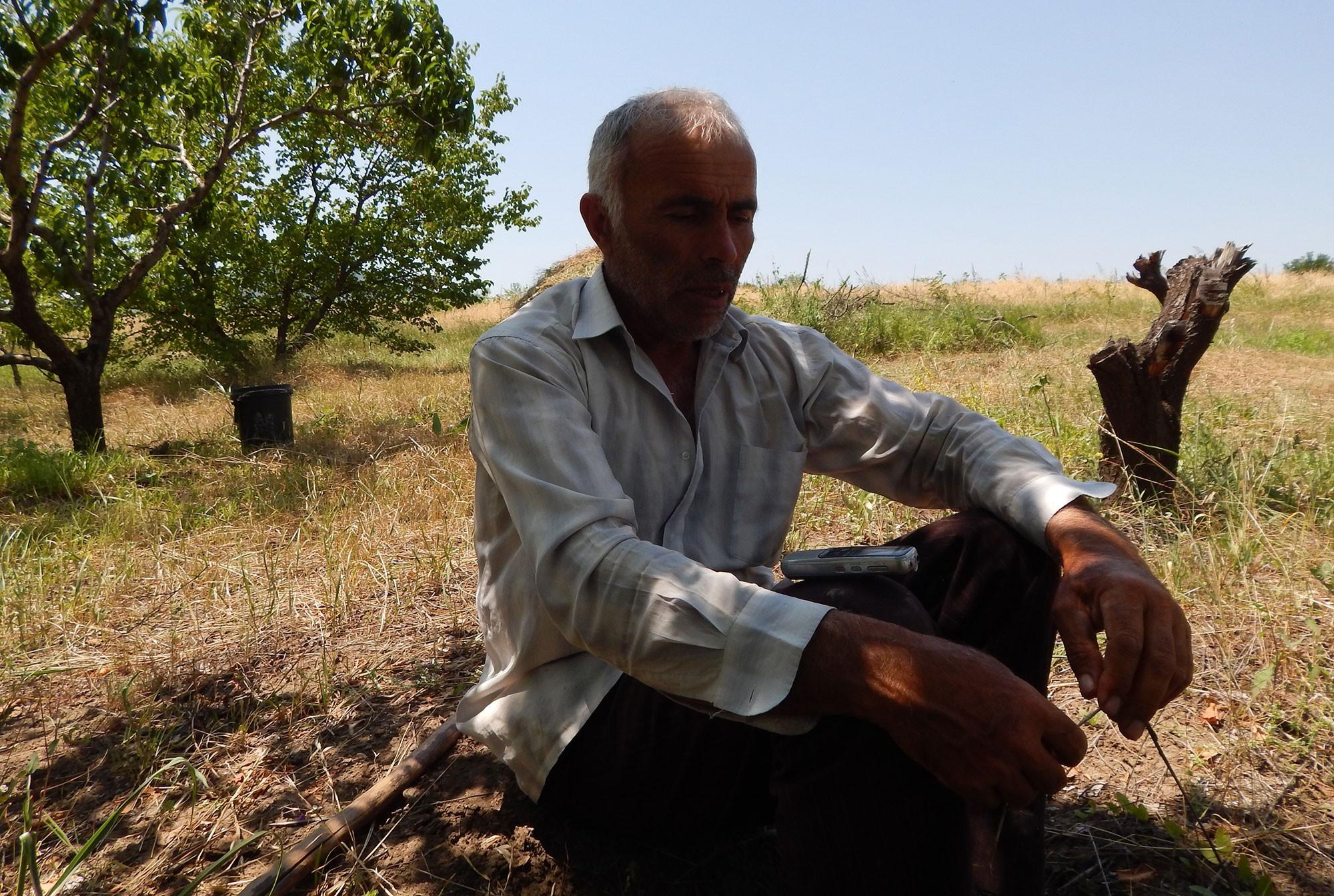 "The tobacco crop is mine. I just have to pay for the cultivation. To be more precise, I must harvest 15 tons of crop per hectare to earn an income. It's possible that I'll reach the target," says Siradeghyan, adding that he's most likely get 80-86 drams per kilo of tobacco and that the price is based on the quality of the product.
I ask him about his income from tobacco farming.
"Even if there is no income, this is a job for me. I also work as technologist for Masis Tobacco, earning 100,000 drams per month," he replies.
We also visit his tomato patch. The sight of the small, but abundant, ripening fruit on the vines makes him break out in a beam of contentment
"Georgia lies behind that mountain," he says, pointing to it. "For years, our villagers would bring tomatoes, cucumbers and fruit from Georgia to sell in our market, instead of farming themselves. The Armenian-Georgian border is now closed, and there's no way to bring produce product from Georgia. Nikol Pashinyan's government, whether it wants to or not, must turn its attention to our uncultivated lands."
If you found a typo you can notify us by selecting the text area and pressing CTRL+Enter