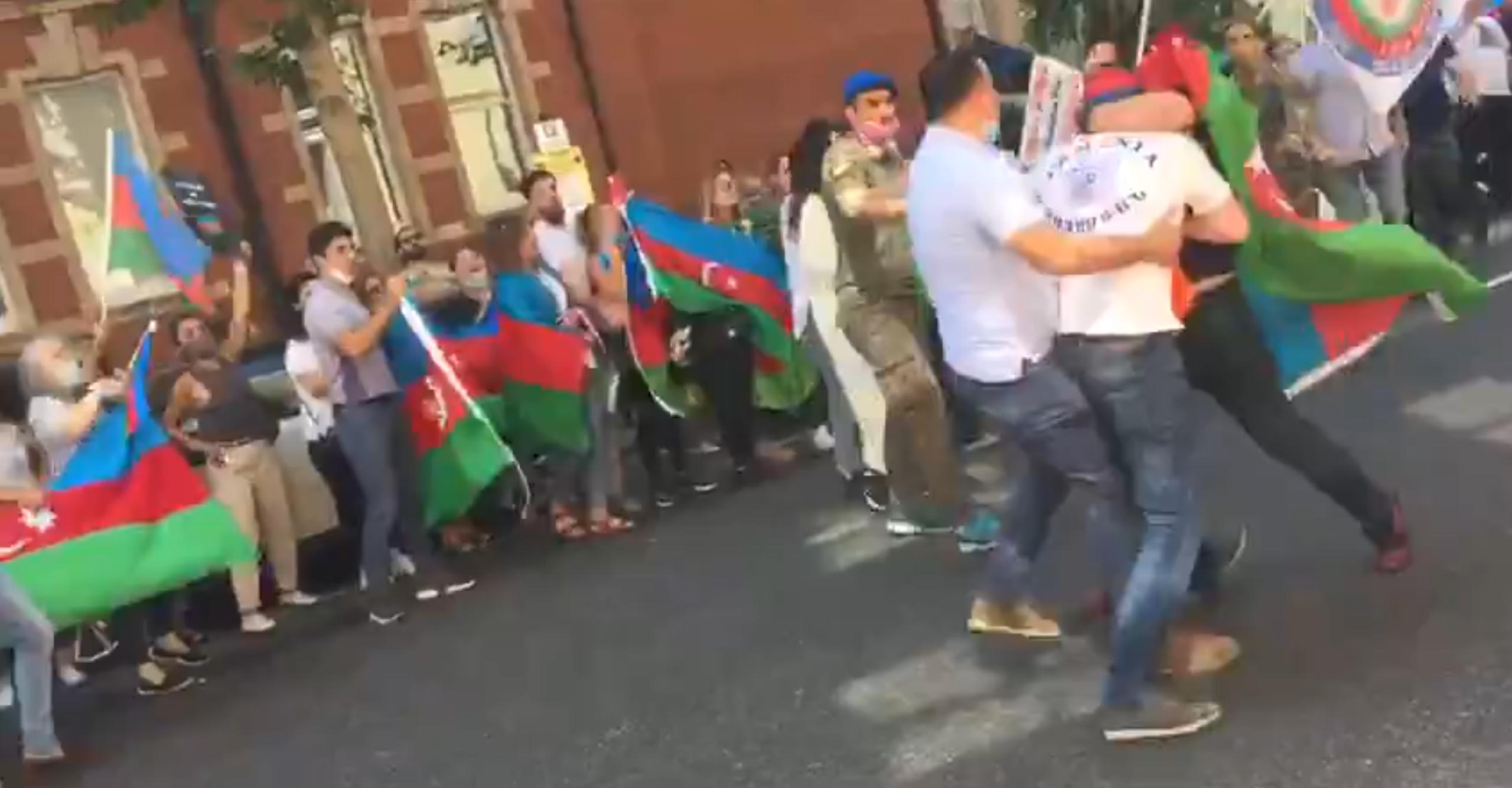 London: Armenian, Azerbaijani Demonstrators Clash
Members of the Azerbaijani community in London today, July 17, staged a "Stop Armenian Aggression" demonstration outside the Armenian Embassy.
The demo was organized by Azerbaijan Events UK Facebook page.
London area Armenians, hearing about the event, staged a counter demonstration, mostly composed of Armenian students. They were joined by embassy staffers and local Armenian clergymen.
Fisticuffs broke out as the below video shows.
THIS IS HOW VIOLENT AZERIS ARE !!!! THEY COULDNT EVEN PROTEST IN PEACE SO THEY STARTED ATTACKING ARMENIANS pic.twitter.com/mt6TvES7pE

— Elo 🇦🇲 (@Elberg16) July 17, 2020
Sipan Petrosyan, one of the Armenian demonstrators, reported to Hetq what he witnessed.
Sipan told Hetq that the first clash occurred when the Azerbaijani demonstrators, who outnumbered the Armenians, threw their placards towards the Armenians standing on the opposite sidewalk. That initial clash didn't last long.
The second encounter occurred when an Azerbaijani woman ran towards the Armenians and grabbed a poster displaying the face of Azerbaijani President Aliyev from the hands of one of the Armenians. The Armenian demonstrator attempted to snatch the placard from her. This incited the Azerbaijanis to attack the Armenians, according to Sipan.
Police on the scene intervened, separating the opposing demonstrators.
"Throughout the demonstration, the Azerbaijanis were extremely aggressive. They cursed us in Armenian. We were chanting, we want peace. They responded by yelling, you want peace, we want revenge," Sipan told Hetq by Zoom call.
Sipan said that there were no serious injuries. The police instructed the sides to disband and the demonstration ceased.
Follow Samson on Twitter - @mrtrsyns
If you found a typo you can notify us by selecting the text area and pressing CTRL+Enter