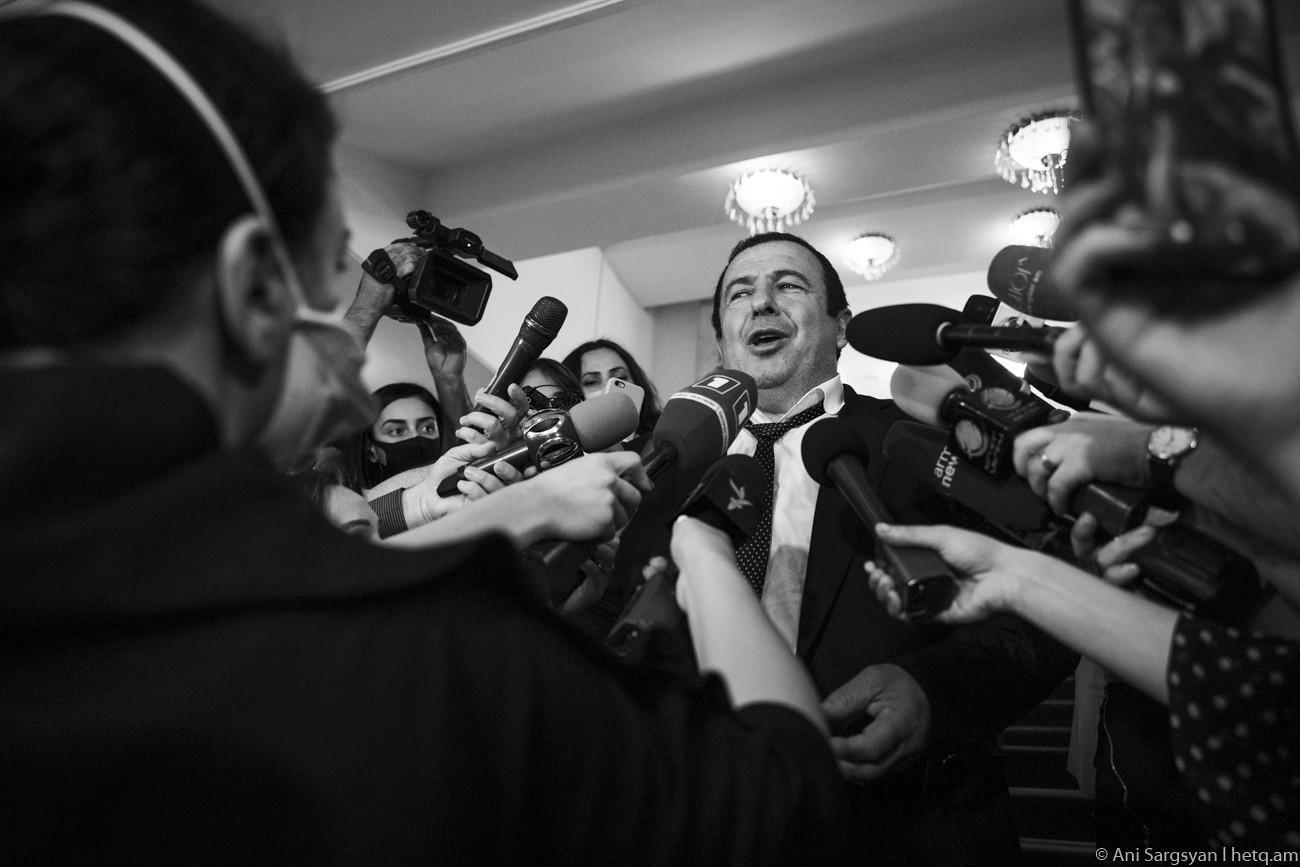 Prosperous Armenia Party Head Gagik Tsarukyan Arrested for Vote Buying
Yerevan's Court of General Jurisdiction today sustained a motion, filed by the National Security Service (NSS), to arrest Prosperous Armenia Party (BHK) leader Gagik Tsarukyan on vote buying and bribery charges.
Tsarukyan is charged under Article 154.2 of Armenia's Criminal Code - giving bribes to voters, receiving bribes, violating the ban on charity during elections or obstructing the exercise of the voter's free will.
According to the NSS, the violation was revealed during the investigation of another criminal case under investigation.
In that case, the NSS has accused Vazgen Poghosyan, Chairman of Yerjan Shin CJSC, of giving a bribe to Vahagn Vermishyan, the former Chairman of the Urban Development Committee.
During the search of Poghosyan's company, according to the NSS, documents with the title "report" were found on the activities of the Prosperous Armenia Party's pre-election headquarters during the 2017 parliamentary elections.
Prosecutor General Arthur Davtyan says that the report contained documents entitled "40% loss per 17,914 voters", which read: "On Tsarukyan's assignment, L. Abrahamyan 4.6 million drams", "amount to be paid to activists – 34,388 million drams", etc.
The NSS also conducted a search in the territories belonging to Gagik Tsaruyan.
On June 16, Armenia's National Assembly decided to deprive Gagik Tsarukyan of his parliamentary immunity.
The Court of General Jurisdiction of Yerevan had earlier rejected the motion to detain Tsarukyan, but the Court of Appeals overturned this decision and sent the case to the Court of First Instance for a new trial.
The General Prosecutor's Office and Tsarukyan's lawyers filed complaints against the Appeals Court's decision. The Court of Cassation rejected the complaints.
Tsarukyan's lawyers claim that the Court of Cassation ruled on their appeal in an unprecedented duration of just three days, when decisions on whether or not to accept proceedings are in practice made before the end of the three-month period prescribed by law.
Tsarukyan's lawyers are convinced that some officials took deliberate steps to get the Court of Cassation to reject the appeal.
Tsarukyan has denied the charges, claiming that the Pashinyan government is politically persecuting him for criticizing the government's failures.
The "Prosperous Armenia Party, the Homeland Party led by the former Director of the National Security Service Arthur Vanetsyan, and the Armenian Revolutionary Federation-Dashnaktsutyun have announced that they will convene a nationwide rally on October 8 in Yerevan's Freedom Square.
These parties argue that the Pashinyan government has miserably failed to live up to the public's expectations and that he country's development prospects are threatened.
If you found a typo you can notify us by selecting the text area and pressing CTRL+Enter