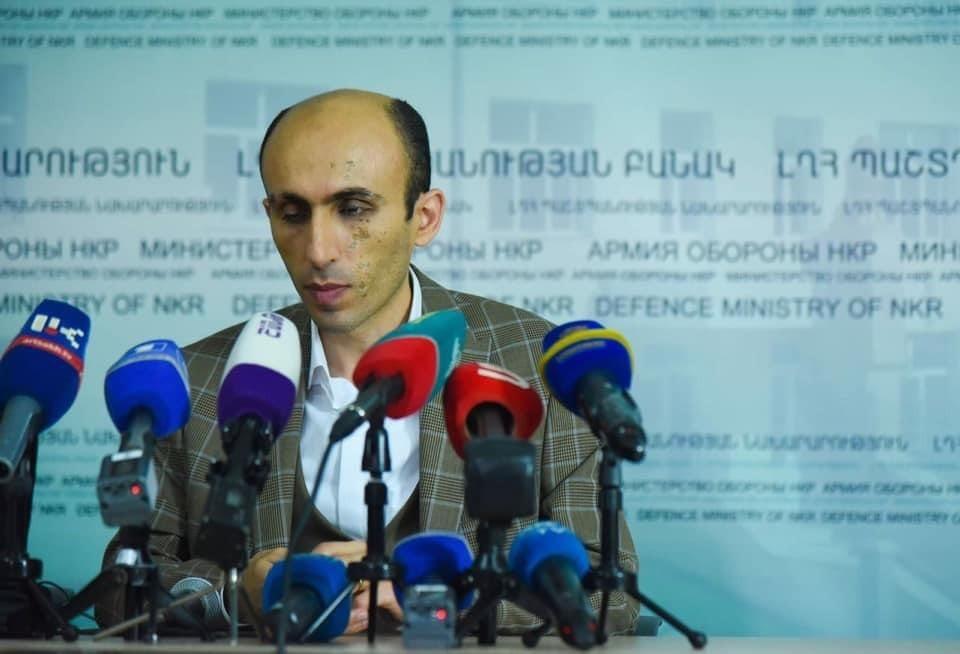 Azerbaijani Forces Physically Abused Bodies of Armenian War Dead, Says Artsakh Official
Artsakh Human Rights Defender Artak Beglaryan, presenting the findings at a Stepanakert press conference today of his second interim report on Azerbaijani war violations since the outbreak of fighting on September 27, reported that 25 civilians have been killed and at least 102 wounded.
He said that Azerbaijani forces had physically abused the bodies of Armenian war dead in their possession.
Beglaryan said that Azerbaijan has used long-range missiles and weapons against the civilian population, adding that 5,800 private properties have been damaged so far.
"They did their best to create a human catastrophe," Beglaryan said, noting that Azerbaijan targeted roads and bridges connecting Artsakh to the outside world, public facilities (schools and churches), and food supplies.
Roads and bridges were targeted to cut off the civilian population from the surrounding world, which failed. Production areas, shops, food facilities, public facilities - schools, kindergartens, as well as facilities of religious significance - were damaged. The enemy targeted food supplies. "They did their best to prevent a humanitarian catastrophe," Beglaryan said.
The official said that Azerbaijani forces had deliberately targeted journalists even though they properly displayed their press markings
"My call and demand to the international community is to fulfill their responsibility, not to be restricted by our status, and to provide as much humanitarian, political and economic support as possible," Beglaryan said.
Beglaryan stated that Azerbaijan is widely employing terrorist mercenaries and that the leaders of several countries have spoken about this fact.
He said since there is clear evidence of Azerbaijan using Israeli, Russian, Belarusian, Turkish and Ukrainian weapons, those countries are also accountable for civilian deaths and injuries in Artsakh.
Speaking about the post-ceasefire Azerbaijani subversive attack in Hadrut on October 10, Beglaryan said that the group had entered Hadrut, set fire to some houses and killed civilians.
In addition to the news reported yesterday about the shooting of a mother and her disabled son, two civilians were confirmed killed in Hadrut.
The Artsakh towns of Shushi, Martuni and Stepanakert were shelled yesterday evening and last night. A 75-year-old man was killed in Martuni, and a 65-year-old woman was injured in the village of Shosh. The rest of the details are still being clarified.
If you found a typo you can notify us by selecting the text area and pressing CTRL+Enter