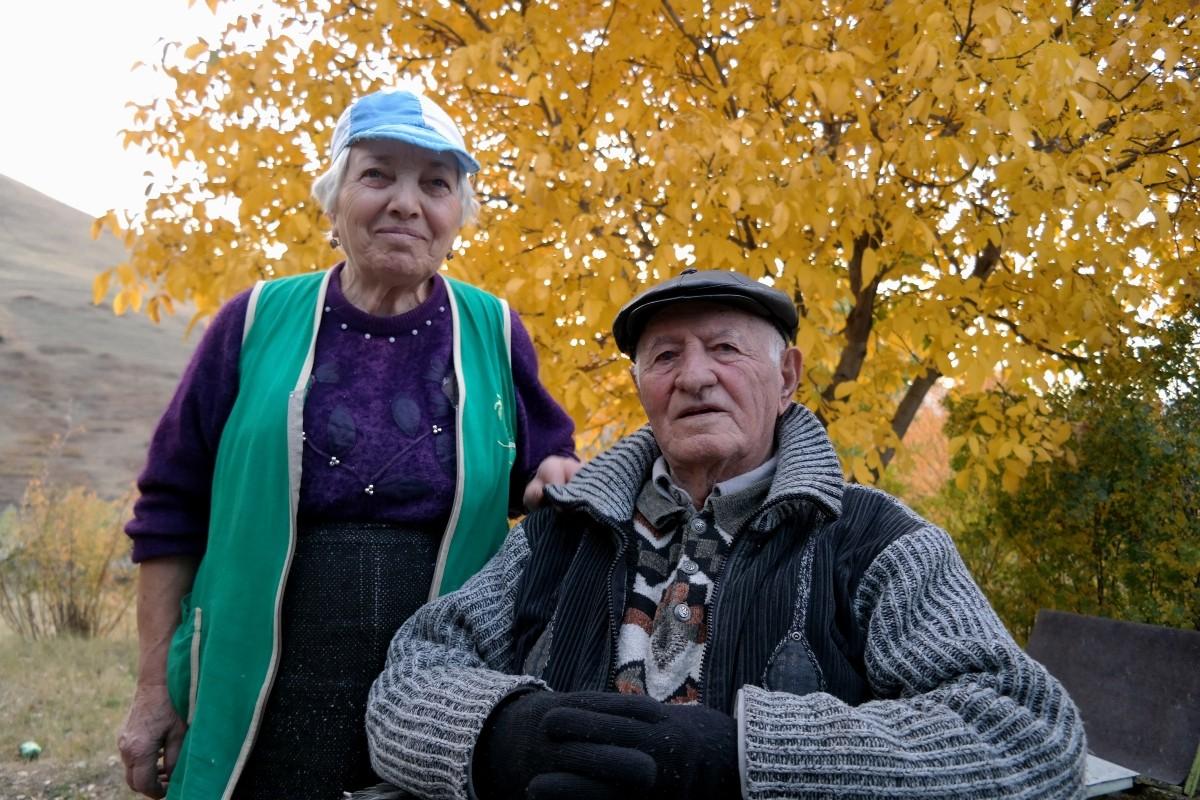 Pension Savings and Honey Sales: Shirak Couple Donate One Million Drams to Assist Artsakh
The news that Hovsep Yengoyan, an 89-year-old resident of Armenia's Arpeni village, donated one million drams ($2,030) to Hayastan All-Armenian Fund on October 17 spread like wildfire on the Internet.
"It was a million, not a billion. What's the fuss? It is a small amount of money for the salvation of the homeland," Yengoyan tells Hetq with a benevolent smile on his face, sitting on a wheelchair.
He donated the money, the couple's pension savings, to the Fund's "We Are Our Borders, All for Artsakh" program that has already collected $132.5 million in humanitarian aid.
Mr. Yengoyan's blue cabin is at the beginning of the village in Armenia's Shirak Province.
"It was our pension money and income from the honey we sell. It was our savings for a rainy day. It isn't a big deal," says 72-year-old Mrs. Asya Yengoyan.
"We heard on TV that it was a fundraiser. I immediately decided to donate, and I asked my wife how much we had saved from the pension money because we had spent some of it. She said more than 700,000. There was money in the house, and we added that to make the one million," says Mr. Yengoyan.
"We did it for the salvation of our homeland. It's not much. I'd say it's a small amount, a little drop in the ocean. We did what we could. For us, it was like making a sacrificial offering, so that our soldiers have a strong backbone, and that God stands by their side and they're victorious," says Mrs. Yengoyan. She then smiles and says they don't even have a simple washing machine.
What's important for the couple is the security of Artsakh and Armenia.
"I was ten when World War II started. My father went to war and my mother was left with four children. I was the only man in the house. I know what hunger is, hard work in the fields, the news of a relative's death," says Mr. Yengoyan.
Hovsep Yengoyan is a radio operator by profession. He did his military service in the Crimea.
After being discharged from the army, he did not stay in his native village, he moved to Sochi. He says his profession took him to the sea. He moved up the ranks from an ordinary sailor to captain.
Mr. Yengoy returned to his native village 27 years ago. The couple haver their beehives and a small garden that keep them busy. They move to their small apartment in Gyumri in the winter.
Mr. Yengoyan says he's had an interesting life and lived well. He points out, however, that this means nothing when the enemy is at the border and your soul is not at peace when you place your head on the pillow every night.
If you found a typo you can notify us by selecting the text area and pressing CTRL+Enter