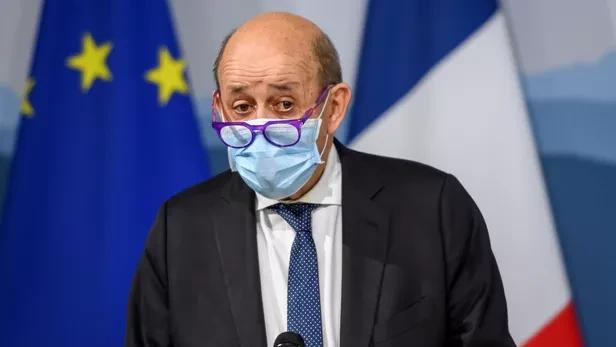 France Promises to Remain Involved in Karabakh Peace Process Via Minsk Group
On Tuesday, November 17, French Foreign Minister Jean-Yves Le Drian called on Russia to eliminate "ambiguities" over the ceasefire in Nagorno-Karabakh, particularly over Turkey's role as a foreign militant.
"This ceasefire was very important to save thousands of lives (...). But there are ambiguities," he said in the French National Assembly, referring to the ceasefire statement signed by Russia, Azerbaijan and Armenia.
"We must eliminate the ambiguities over refugees, the demarcation of the ceasefire, the presence of Turkey, the return of foreign militants, the start of negotiations on the status of Nagorno-Karabakh," Le Drian added.
He noted that these points will be discussed during the meeting of the Minsk Group (France, Russia and the US) Co-Chairs, which will take place on November 18 in Moscow.
The French daily Figaro reports that the November 9 ceasefire underscores Russia's crucial role in its former Caucasus sphere of influence, as well as the growing influence of Turkey, Baku's supporter in the region, and the decline of the West.
After arming and supporting Azerbaijan against Armenia, Turkey is involved in peacekeeping operations, and even if the shape of its role remains unclear, it will have to negotiate with Moscow, the paper writes.
France also accuses Ankara of supporting Baku by transporting pro-Turkish Islamist rebels from the Syrian conflict zone, whose fate raises questions. "The removal of foreign militants involved in this conflict is a key element in the stability of the region," a foreign ministry source told AFP.
"And where is the Minsk Group, which should have found a peaceful solution to the conflict?" MP Guy Teissier asked the French Foreign Minister in parliament, insisting that the ceasefire meant the expulsion of the West from any diplomatic process in the Caucasus.
Jean-Yves Le Drian did not accept the accusation of France's passivity in the Karabakh issue, assuring that France, through the Minsk Group, will continue to play a role in the peace process and in determining the future status of Nagorno Karabakh.
"These discussions have already begun, on the one hand, between the President of the Republic (Emanuel Macron), the President (Vladimir) Putin, and on the other hand, between US Secretary of State Mike Pompeo and me in Paris," Le Drian said in response to criticism from some French political circles that France did not sufficiently support Armenia in this conflict.
Mike Pompeo, who met with President Macron and his French counterpart in Paris on Monday, condemned Turkey's "very aggressive actions", including its support of Azerbaijan.
Photo: French Foreign Minister Jean-Yves Le Drian (Fabrice Koffrin / AFP)
If you found a typo you can notify us by selecting the text area and pressing CTRL+Enter