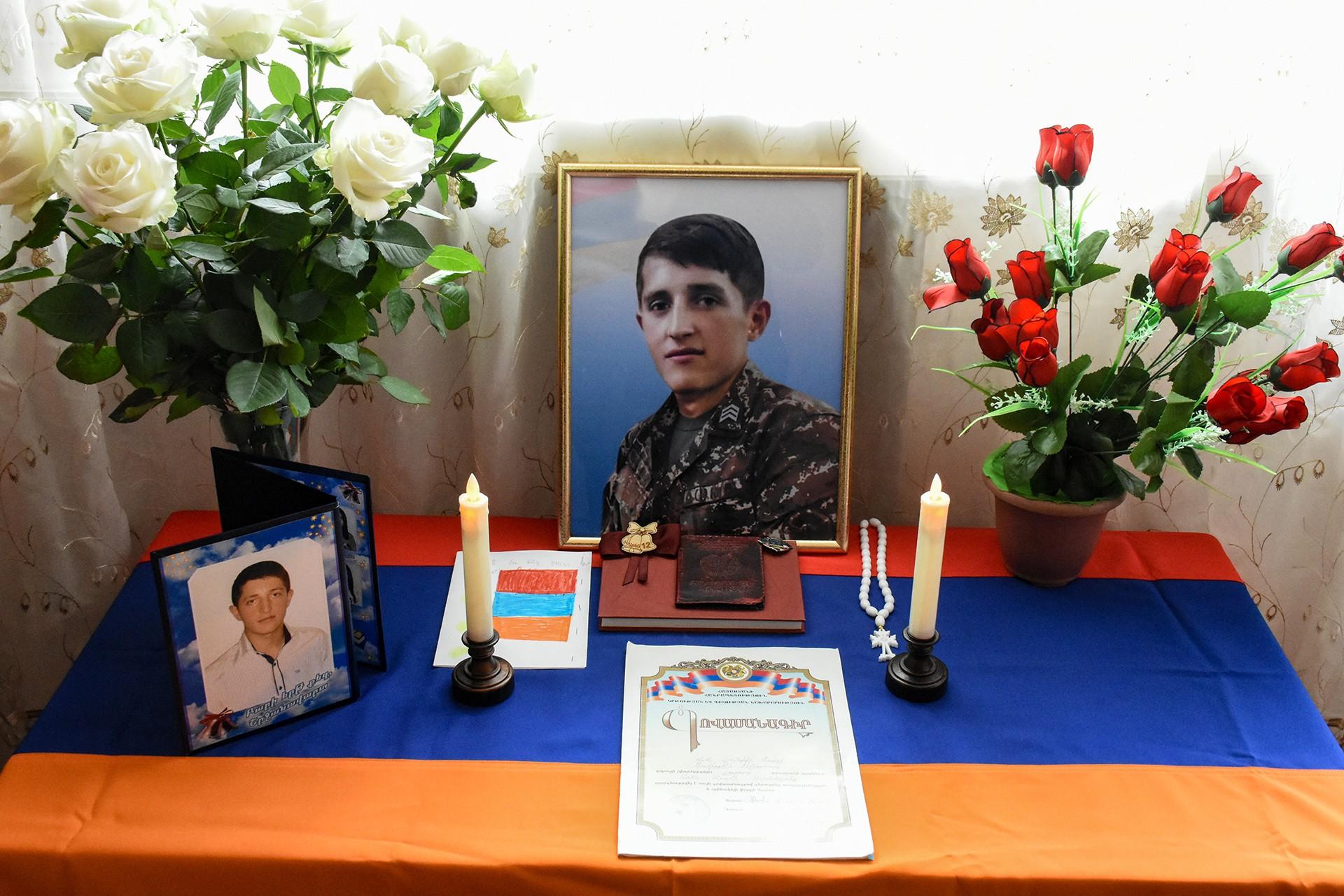 A Mother Waits for a Phone Call that Will Never Come
Armida Grigoryan is still waiting for a phone call from her son Aren.
That call will never come. Aren was killed in the recent Artsakh war.
"He always called late. That's why I'm still waiting for his call," says Mrs. Grigoryan, wiping the tears from her eyes.
She says her son was industrious from an early age. At seventeen, he grew raspberries in the family's hometown of Davit Bek, in Armenian's Syunik Province. The village was repeatedly shelled during the fighting.
He'd sell the fruit in Kapan, using the money to buy clothes and candy for a younger sister at home and food to another sister studying in Yerevan.
We meet his classmate Hayk and the teachers at the local high school.
"Aren was one of our best students. We saw Aren as an accomplished future teacher. He was admitted to the Faculty of Physics of the Pedagogical University and was to return to the village after graduation to teach here," says Davit Bek school principal Vrezh Balayan.
Armenian language teacher Anna Sargsyan points to the school desk in front of her. Aren always sat there. Sargsyan called Aren's mother every day, and her husband called his father for information about Aren. She says that it was a difficult phone call.
Russian language teacher Julieta Barseghyan says that Aren was conscientious, honest and kind, that he helped everyone. The sadness she feels is too much to bear, she goes silent.
To dispel the tense atmosphere, I start asking questions about the other students in the class. Barseghyan composes herself and continues to talk about Aren. "He was a special boy. I can't believe he's gone. Boys like him are the ones who build the nation. It's a pity!"
Davit Bek's secondary school is named after the politician and revolutionary leader Aram Manukyan.
It has 42 students. Principal Balayan says that about 160 students attended the school a few years ago and regrets that many leave their native village, moving abroad or to other cities after graduating.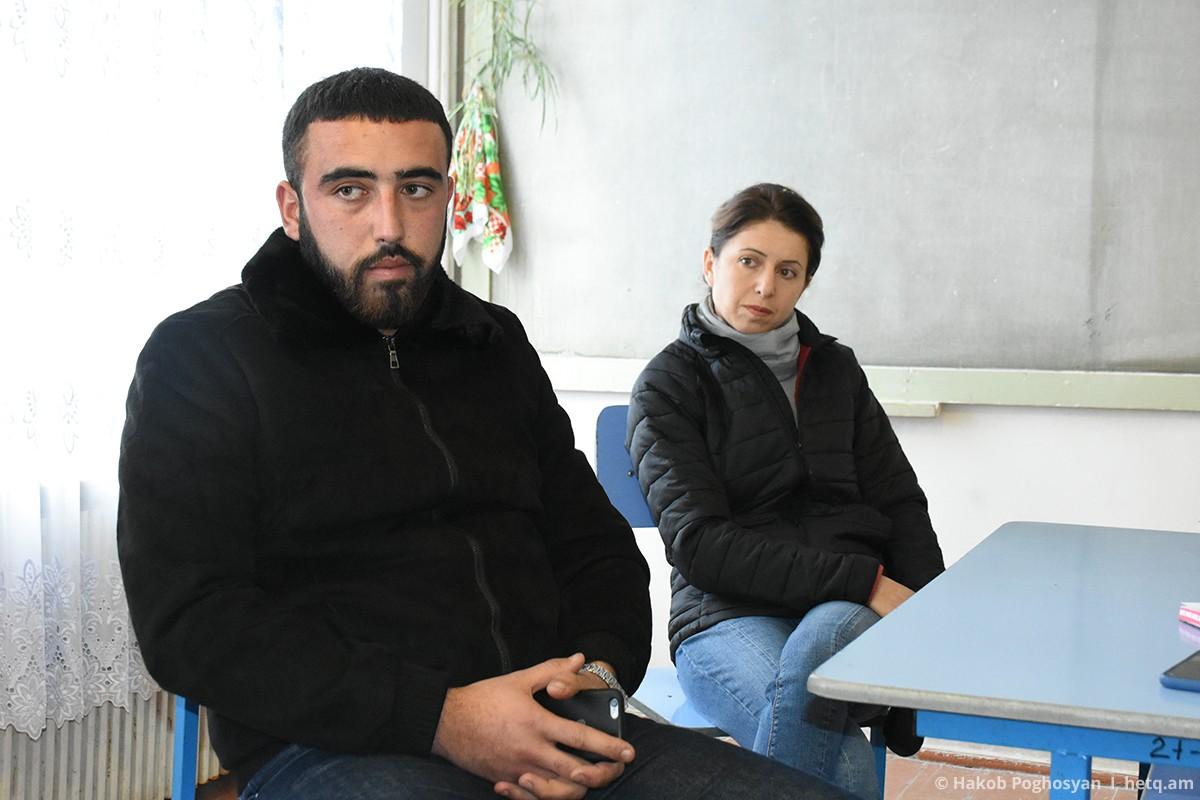 Hayk Harutyunyan and Armenian language teacher Anna Sargsyan
Hayk, Aren's former classmate, is a conscript soldier wounded in the recent fighting. He was taken to a Yerevan hospital for treatment and is now recuperating in the village.
After graduating high school, Hayk moved to Russia, returning to Armenia for military service. He served in the Kubatlu military unit and was wounded on October 13.
Hayk says he regrets losing so many friends in the war. I ask him about Aren.
"There was no one like him. Aren was very modest and calm."
Hayk does not want to talk about the war, his injuries. He only remembers being taken to Yerevan by helicopter. Some of his friends are missing in action. Others were taken prisoner. He constantly thinks about them.
Throughout our conversation, Hakob Hakobyan, the school's physical education instructor and homeroom teacher Hakob Hakobyan, remains silent.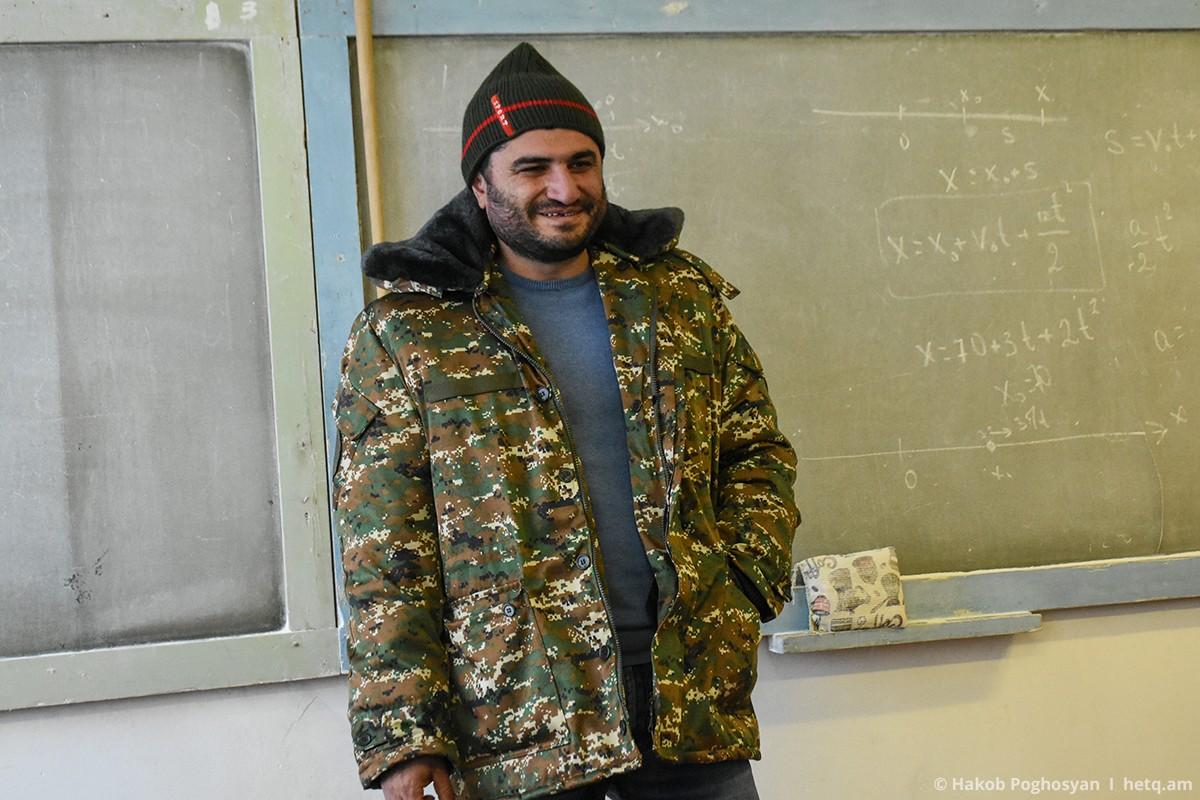 Hakobyan volunteered for the frontline. He recently returned home.
He knows best what happened on the battlefield, that's why he doesn't say anything. He only says that he met one of his former students, Hayk, in Jabrayil on October 4.
"The guys were in good spirits. We met and exchanged pleasantries, There was no need to ask how they were. You feel something different seeing one of your students, all grown up, standing beside guys my age, safeguarding the homeland. I was sent somewhere else. I then heard that Hayk had been wounded," says Hakobyan.
Mrs. Grigoryan, Aren's mother, is a baker. Aren had promised that when he returned from the army, he'd help his parents open their own bakery.
She studied physics at the Khachatur Abovyan State Pedagogical University. Aren's older sister Arineh studied geography at the same university. She now teaches geography in Kapan.
The family moved to Kapan after Aren was drafted.
Mrs. Grigoryan says that Aren wanted to return to the village after his discharge.
"He was connected to the village. I told him there was no future there. He told me he couldn't imagine creating a future life for himself elsewhere."
Aren was to be discharged in January 2021. He didn't come home on leave once during his service. His father went to see the boy serving as a sergeant.
Aren's brother Razmik is a contract soldier who was serving in Hadrut. When conscripted, Aren volunteered to go to Hadrut to be with his brother.
When the war started, Aren and his brother were dispatched to different places. The boy's father says he was more worried about Razmik, because he is a sniper and hot-tempered. Every time Aren called home, he said not to worry, Razmik's position is more dangerous than his.
Ruzanna, the younger sister, would make postcards for her brothers, putting them in the parcels her parents would send.
The last postcard she planned to send Aren now appears next to his photo, flanked by candles. It reads, "Aren, I love you very much."
(Aren was laid to rest on November 13, in Kapan.)
If you found a typo you can notify us by selecting the text area and pressing CTRL+Enter