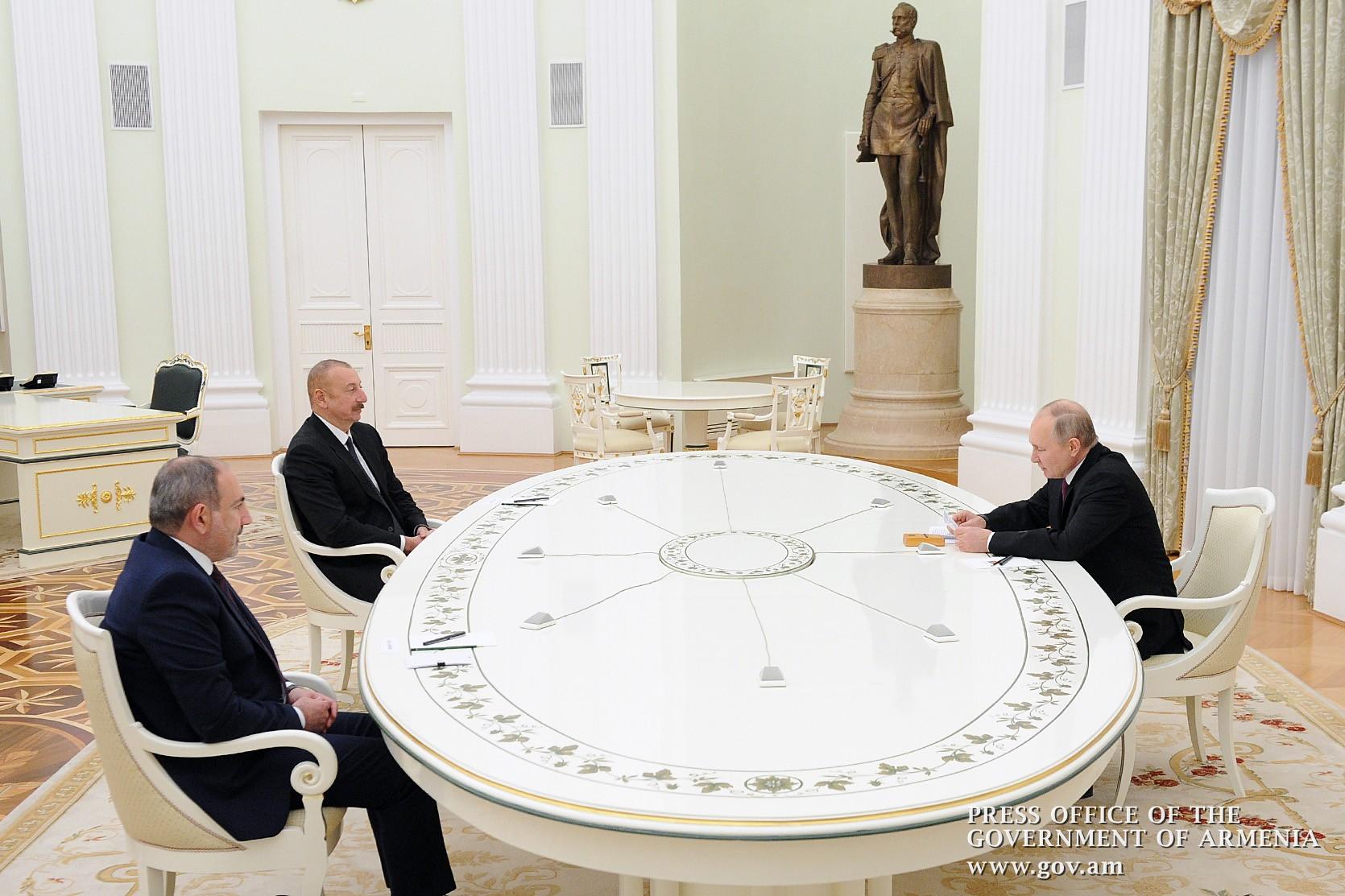 Putin, Pashinyan, Aliyev Agree to Unblock Regional Economic/Trade Links
The following is an English translation of the joint statement signed by Armenian Prime Minister Nikol Pashinyan, Russian President Vladimir Putin and Azerbaijani President Ilham Aliyev today in Moscow.
We, the President of the Republic of Azerbaijan I. Aliyev, the Prime Minister of the Republic of Armenia N. V. Pashinyan and the President of the Russian Federation V. V. Putin announce the following:
To implement the 9th point of the November 9, 2020 statement, which refers to the unblocking of all economic and transport links in the region, we support Russian Federation President V.V. Putin's proposal to create a trilateral Working Group under the joint chairmanship of the Deputy Prime Ministers of the Republic of Armenia, the Russian Federation and the Republic of Azerbaijan.
The Working Group will hold its first meeting before January 30, 2021, based on which it will list the main areas of work that are needed for the implementation of the statement's 9th point. Rail and road connections will be prioritized. Other areas agreed by the Republic of Azerbaijan, the Republic of Armenia, and the Russian Federation (hereinafter referred to as the "Parties") will be defined.
To implement the activities, the Co-Chairs of the Working Group will approve the creation of area-specific expert subgroups, which will include representatives from Parties' authorized bodies and officials from organizations. Within one month after the meeting of the Working Group, in order to implement and receive approval at the highest level by the Parties, the expert subgroups will submit a list of projects that will include the necessary resources and measures.
Before March 1, 2021, the Working Group will submit to the Parties for approval at the highest level a timetable and a list of measures to be taken for the organization, implementation, and rehabilitation and construction of new transport infrastructure facilities necessary to ensure security of international transport through the territories of the Republic of Azerbaijan and the Republic of Armenia.
(Point 9 of the November 9 ceasefire statement reads: All economic and transport links in the region are unblocked. The Republic of Armenia provides transport links between the western regions of the Republic of Azerbaijan and the Nakhichevan Autonomous Republic in order to organize the unimpeded movement of citizens, vehicles and goods in both directions. Control over transport communication is carried out by the bodies of the Border Guard Service of the FSB of Russia.)
If you found a typo you can notify us by selecting the text area and pressing CTRL+Enter