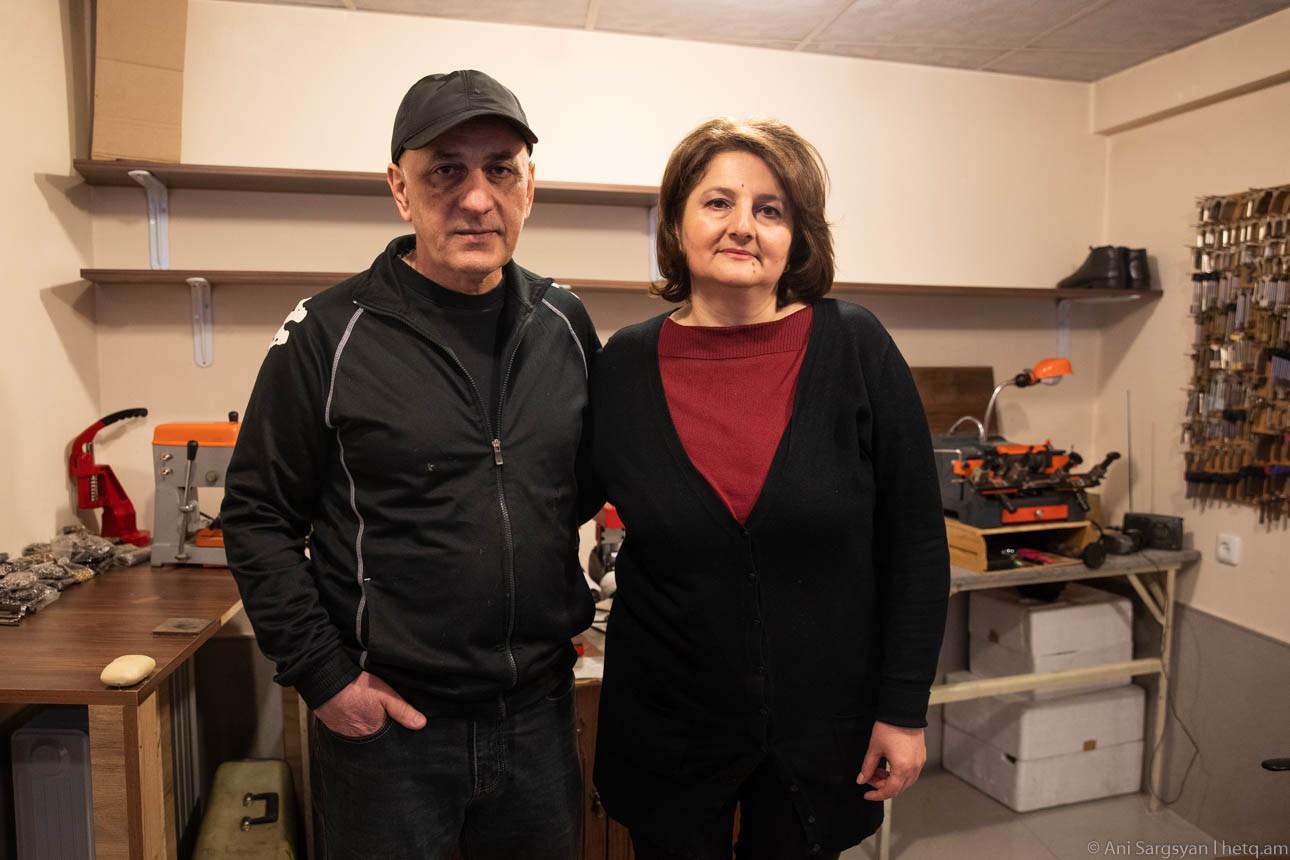 Isolation Abroad Motivates Couple to Return to Armenia and Open Business in Yerevan
Zhanna Martirosyan says that after the first Artsakh war in the 1990s, life in her native Kapan, a town in southern Armenia, grew more difficult day by day. The economic crisis in the country, unemployment and the difficult post-war reality made her think about emigrating.
"I worked as a nurse for a few months, but they did not pay me for months," recalls Zhanna.
According to her husband, Ruben Harutyunyan, there was no possibility of staying in Kapan. It became impossible to raise a family. Ruben emigrated to Russia in 1995, to St. Petersburg. Zhanna and her two daughters joined him two years later.
Twenty-five 25 after emigrating, the family returned to Armenia and started their own small business.
In Yerevan, in one of the courtyards on Nalbandyan Street, the couple opened Koshik-Moshik (Shoes and Things), a shop where they repair shoes, leather goods, make keys, and sharpen knives and scissors.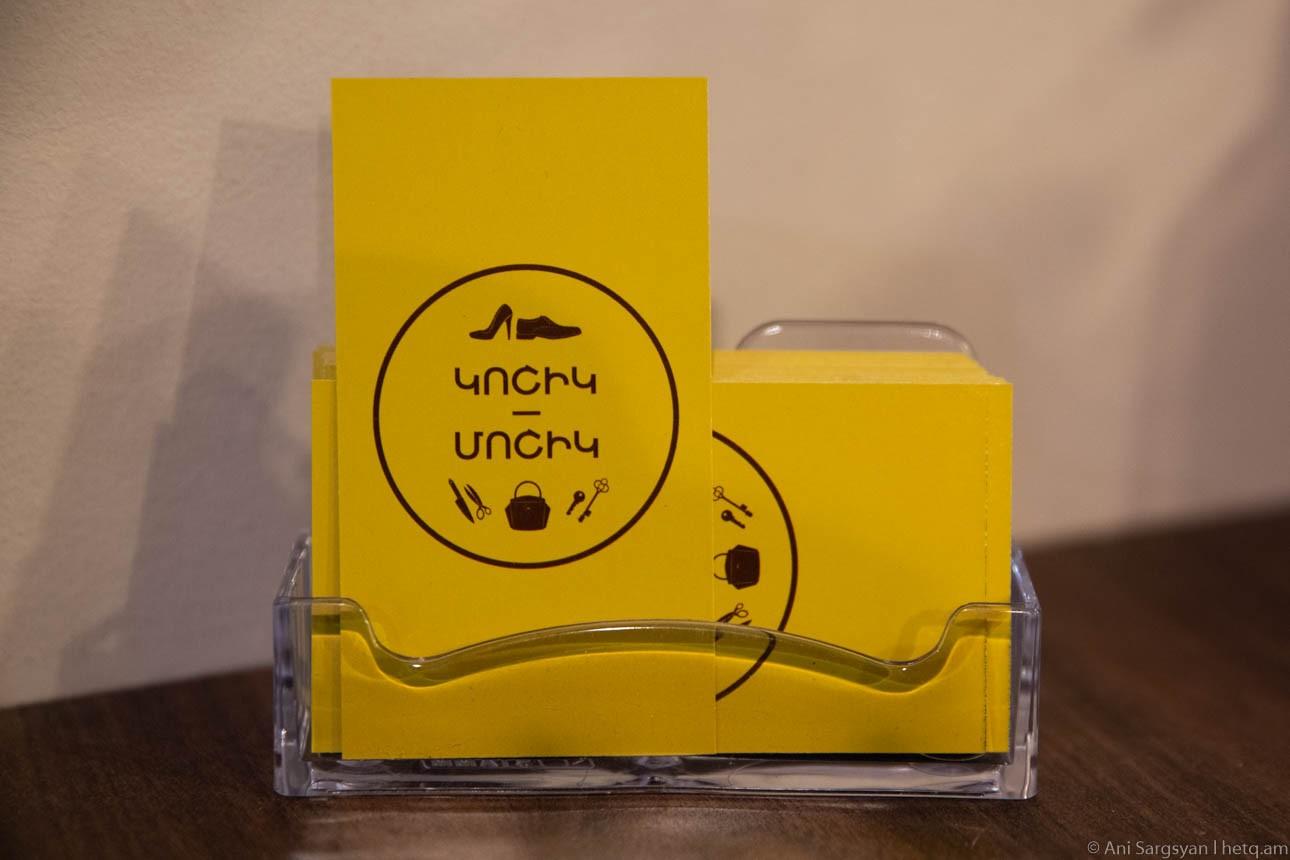 Koshik-Moshik business card
"90% of shoemakers in St. Petersburg are Armenian. When I went there, I learned the craft and joined their ranks," says Ruben. He says people in Armenia are surprised that one person can do so many things. When they patronize his shop, they soon realize he can.
Many of the couple's friends in St. Petersburg asked them if they were afraid to move to Armenia, especially after the war. Zhanna says they felt isolated and powerless so far from the homeland. In Armenia they feel safer.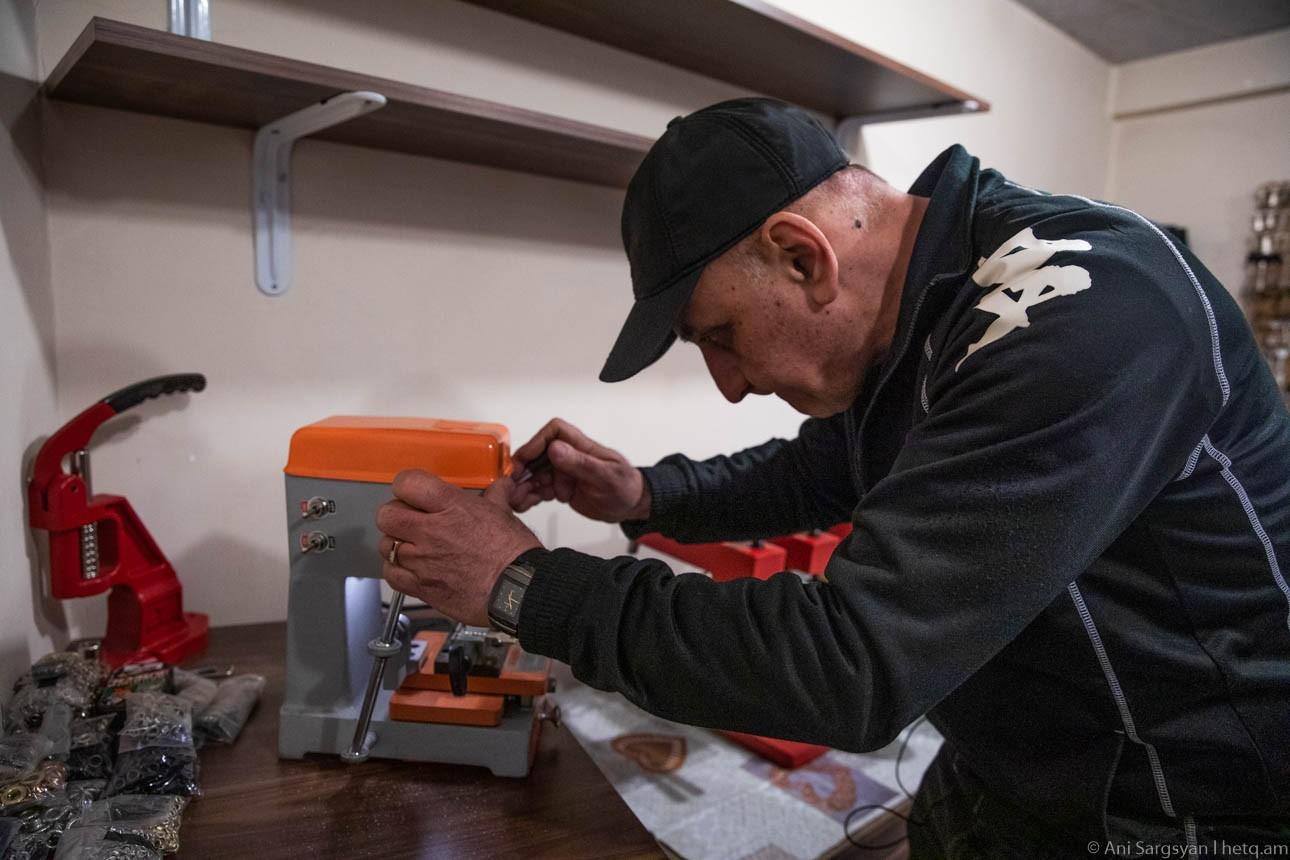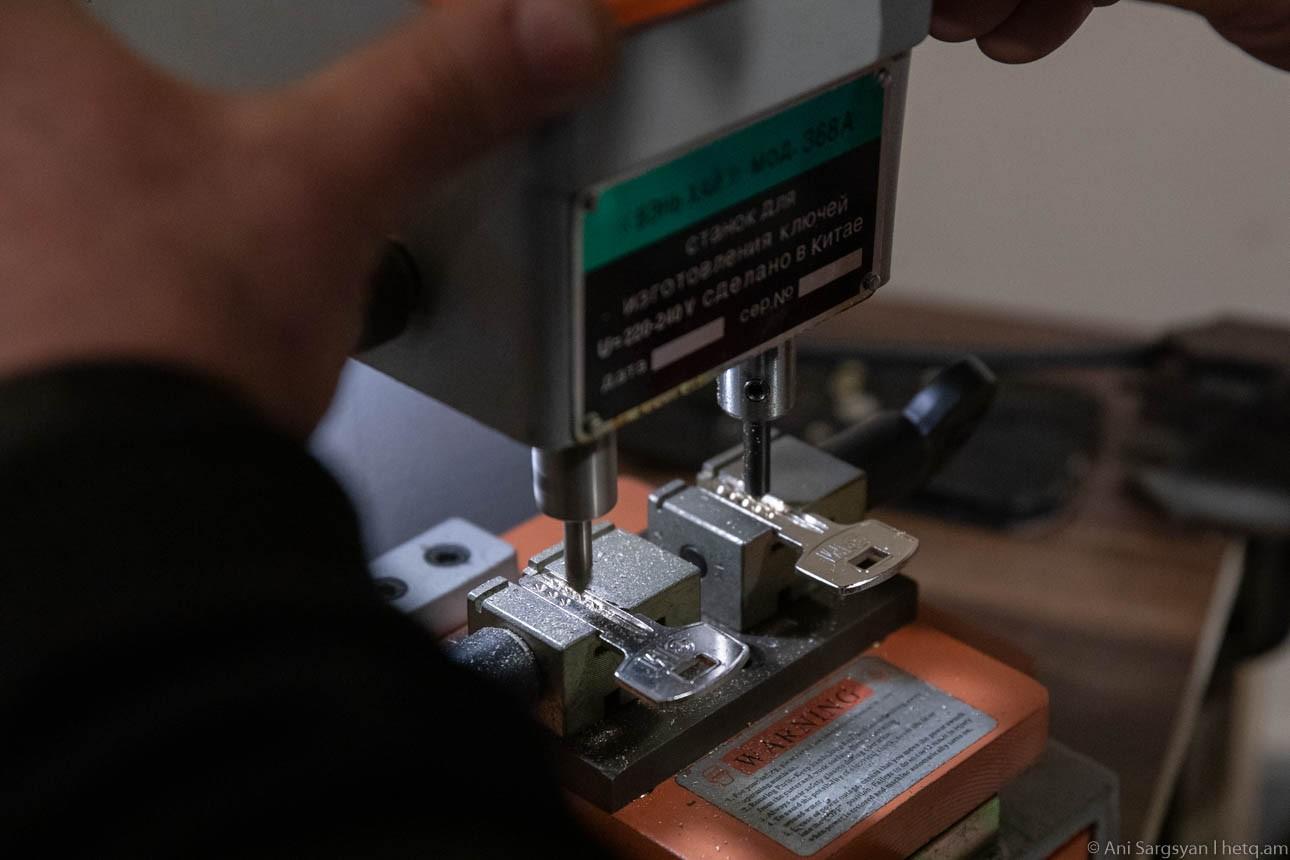 The family started thinking about returning to Armenia last year. Their two daughters graduated from university in Yerevan and decided to stay in Armenia. Last September, when the war in Artsakh started, they acted on their thoughts. As soon as the borders opened, they shipped all of Ruben's tools by car to Armenia. They soon made the journey.
Ruben says that the first Artsakh war forced them to emigrate and the recent one, to return.
The daughter, Zara, says that the day her parents returned was the happiest day of her life. She is glad that her parents are not idle in Armenia, that they can do their favorite thing.
The idea to call the workshop Koshik-Moshik was hatched by Zara's husband Narek Kruzyan. He moved to Armenia from Beirut.
"The koshik part of the name refers to the shoes. The moshik refers to the rest of the services the couple provides. The shop differs from the others. First, the shop isn't a stall. The area is clean and neat. There's a place for customers to wait. It's located in the center of Yerevan," says Zara.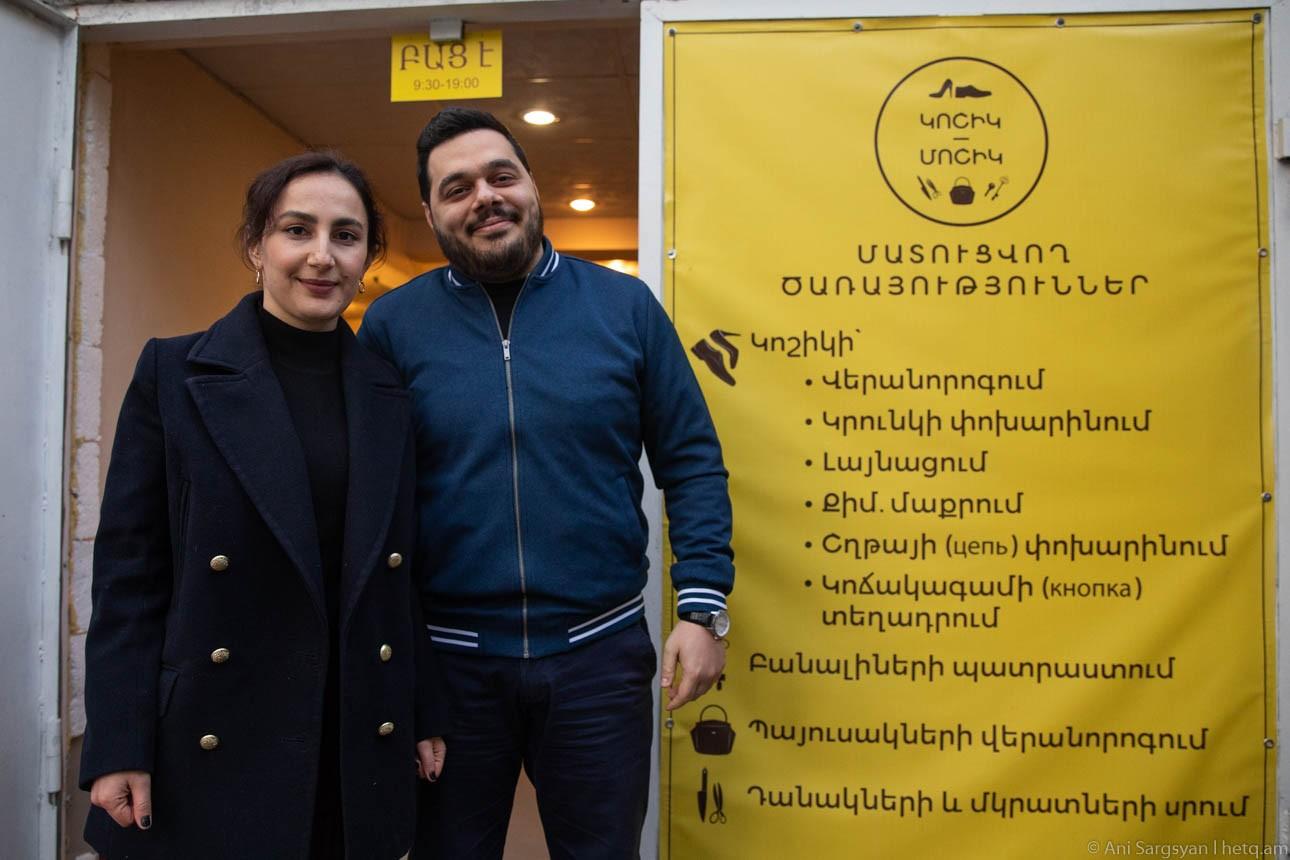 Zara and Narek outside the shop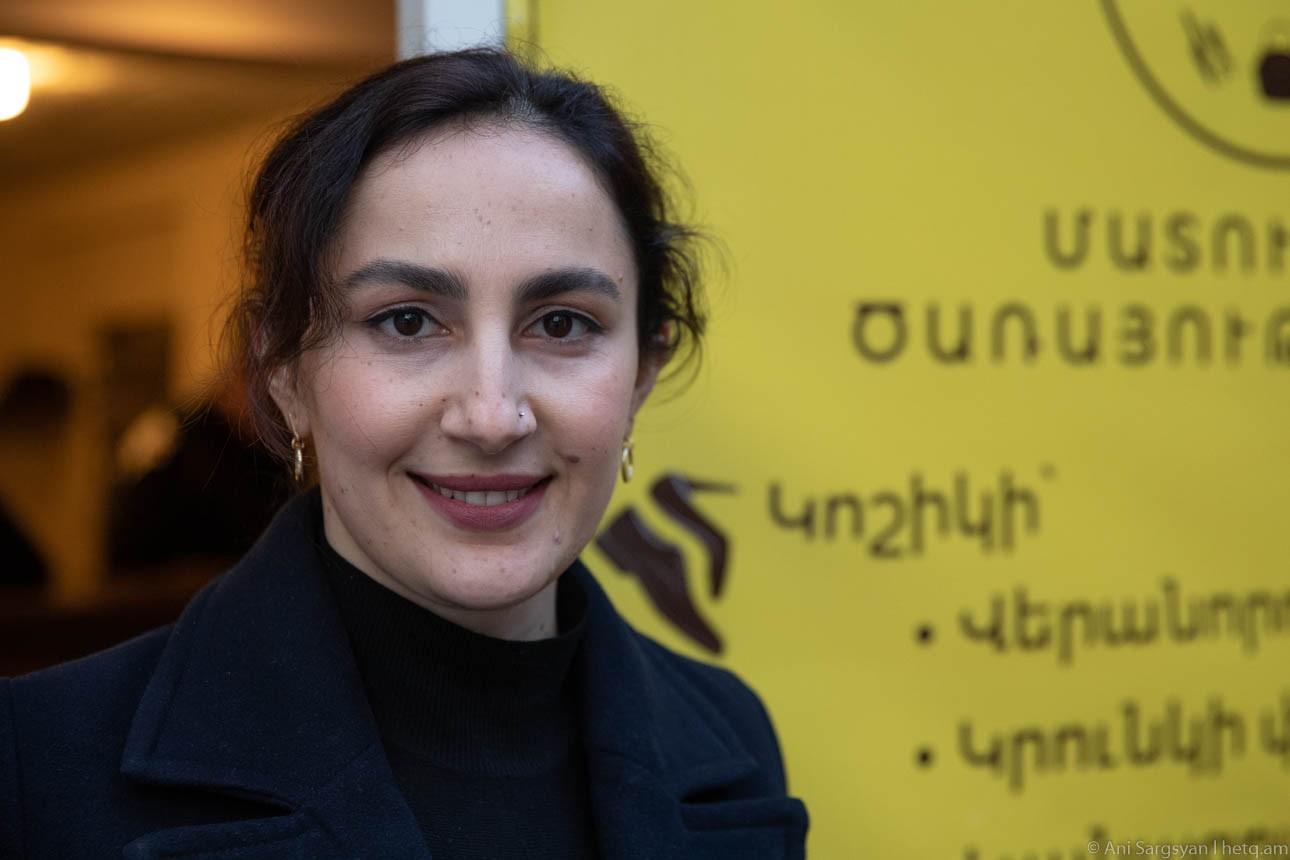 Zhanna encourages all those thinking of returning to Armenia to do so
"If they're thinking about it, they should definitely return. They won't regret it," she says.
If you found a typo you can notify us by selecting the text area and pressing CTRL+Enter