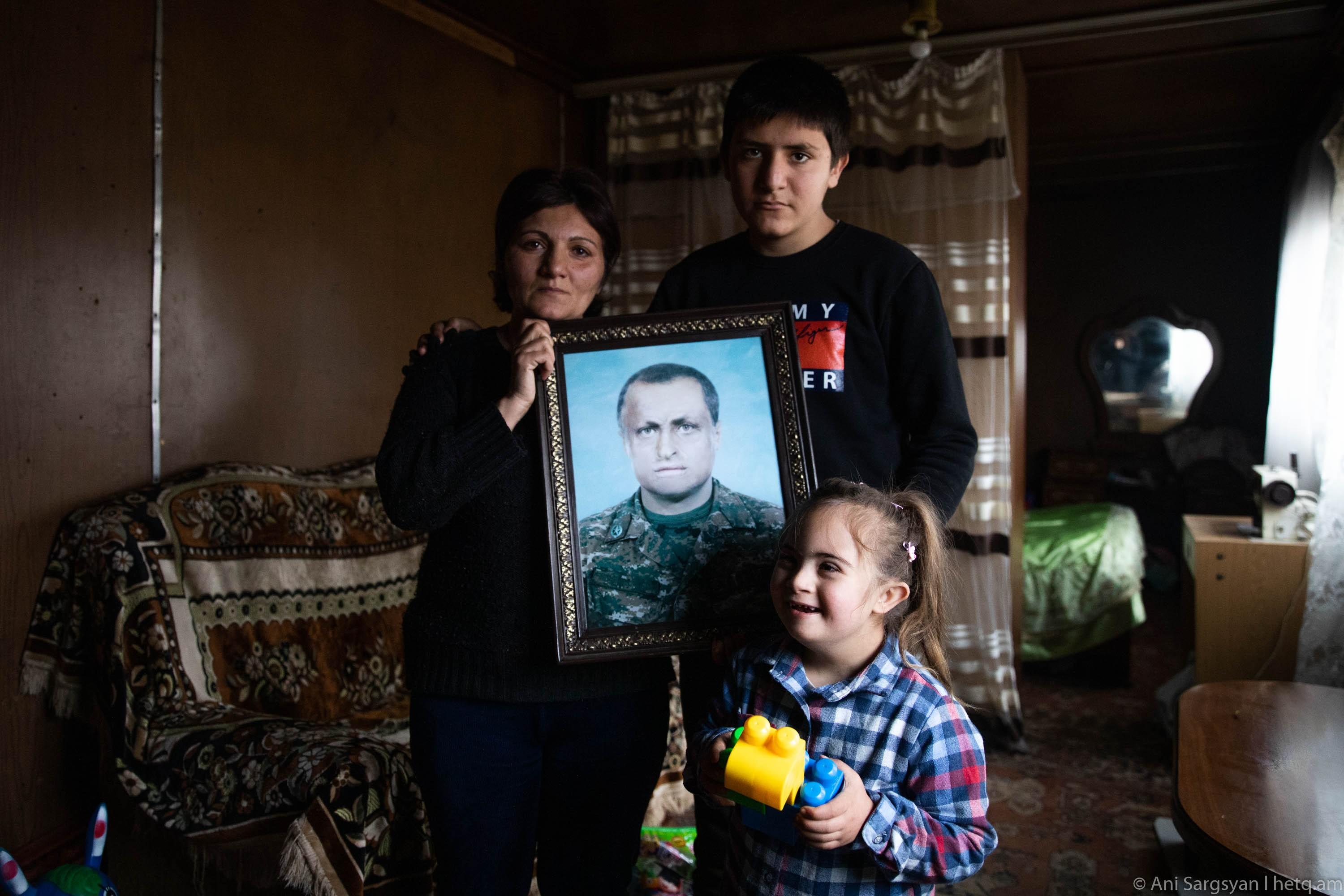 On Her Own: Tehmineh Harutyunyan Faces Uncertain Future After Death of Husband in Artsakh War
Fourteen-year-old Artur hurriedly greets us and sits next to the driver. The black-haired boy points the way to his house. We arrive five minutes later. On the edge of the ruined road, on a hill, the rusting hut seems to be specifically isolated from other houses in the community.
We have difficulty breathing inside. Tehmineh Harutyunyan explains that due to the strong wind, the smoke from the stove pours inside. Heating the house is almost impossible. Tehmineh's daughter, seven-year-old Angelina, is sitting on the sofa. As soon as the child sees us, she smiles and approaches.
Mrs. Harutyunyan lives with her two children in a semi-dilapidated cabin in Aramus, a village in Armenia's Kotayk Province. The family future changed dramatically last October.
"Emptiness, uncertainty, nothing good," she says describing her present plight.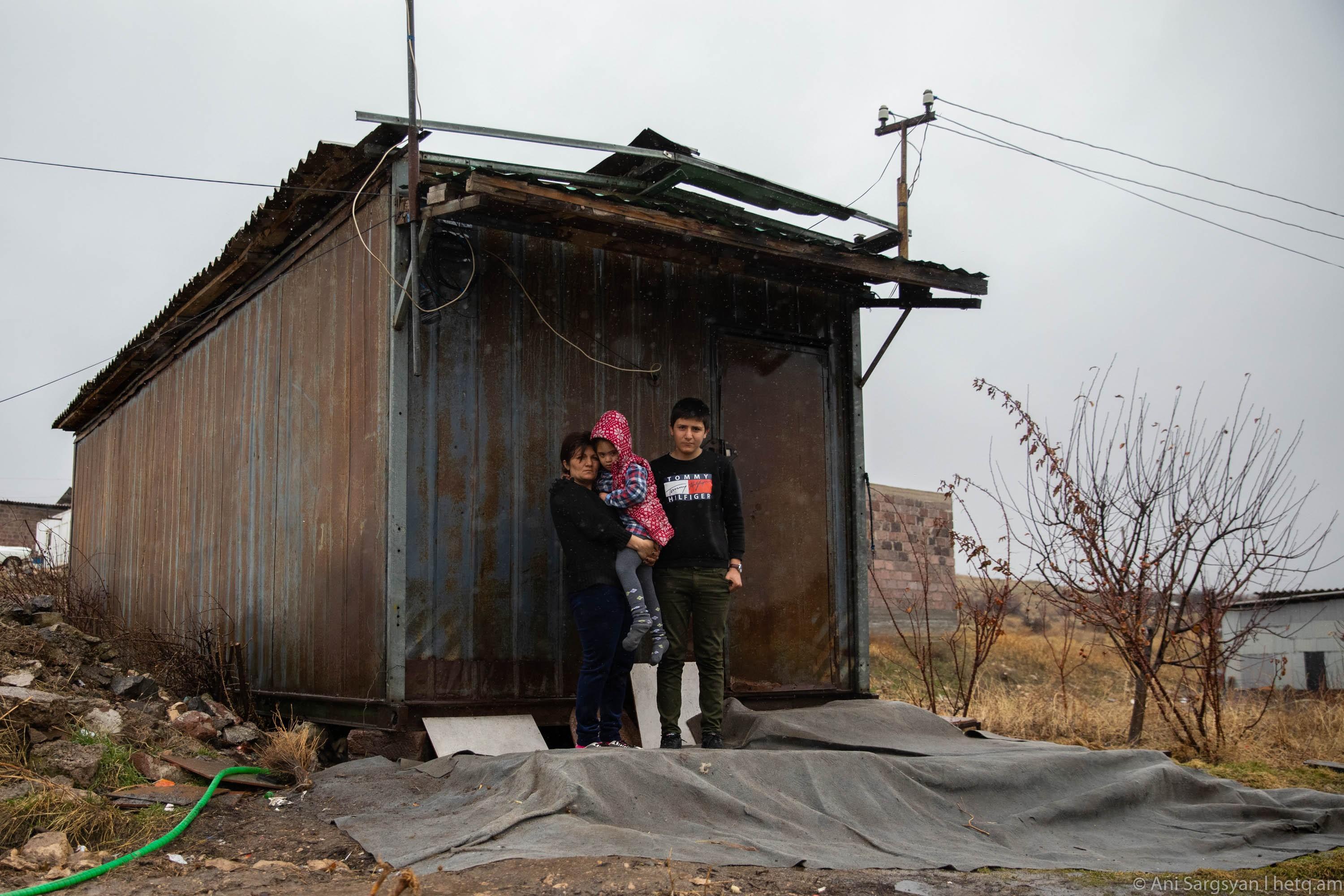 Tehmineh, Angelina and Artur in front of their home
On October 10, during a military operation in Artsakh, a truck transporting Yerkrapah volunteers rolled into a gorge. There were forty in the truck. Twenty died on the spot. Among them was Tehmineh's husband, 54-year-old Artur Grigoryan. A veteran of the first Artsakh War, Grigoryan had left for Artsakh to fight in last year's war.
"He would tell me not to worry. That he'll go and return. That we'll build a house. not be upset," says Tehmineh.
On the day of her husband's departure to the front, there was an argument in the house. Tehmineh did not want her husband to leave. It is difficult to keep a daughter with a disability on her own. When one worked, the other cared for the children.
Before leaving, Mr. Grigoryan told his daughter that he was going to bring her a toy.
"I cannot tell her where her father is. The child goes, stands next to her father's photo, and asks me where he is. It's as if she's waiting for him to return and bring that toy," says Tehmineh.
In one of the two rooms of the house, the mother and the children have fashioned a small corner dedicated to her dead husband. They've spread the Armenia tricolor on the table, placing Artur's photos and service commendations on top.
Tehmineh says her husband was close to his father, often visiting his grave.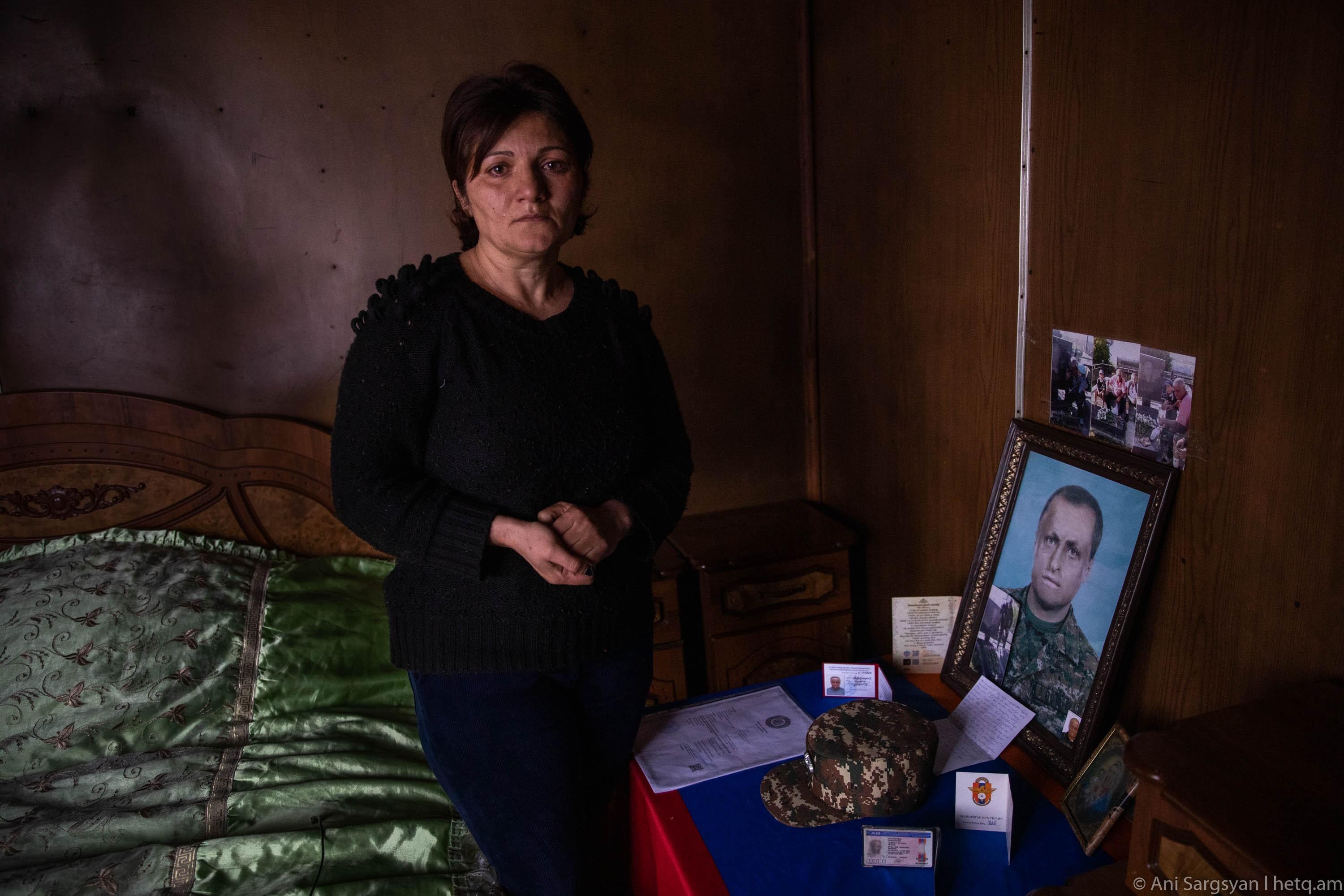 Tehmineh has no job and no source of income. She has not yet received the lump sum for families of soldiers killed in the war.
Only little Angelina will receive a share of the money since the couple never officially registered their marriage. Artur Grigoryan has two children from his first marriage.
The cabin lacks most necessities. The homemade toilet is outside. One room of the hut serves as a living room and a kitchen. Water drips from the roof. The winter wind blows through the windows. The cabin is always cold in winter.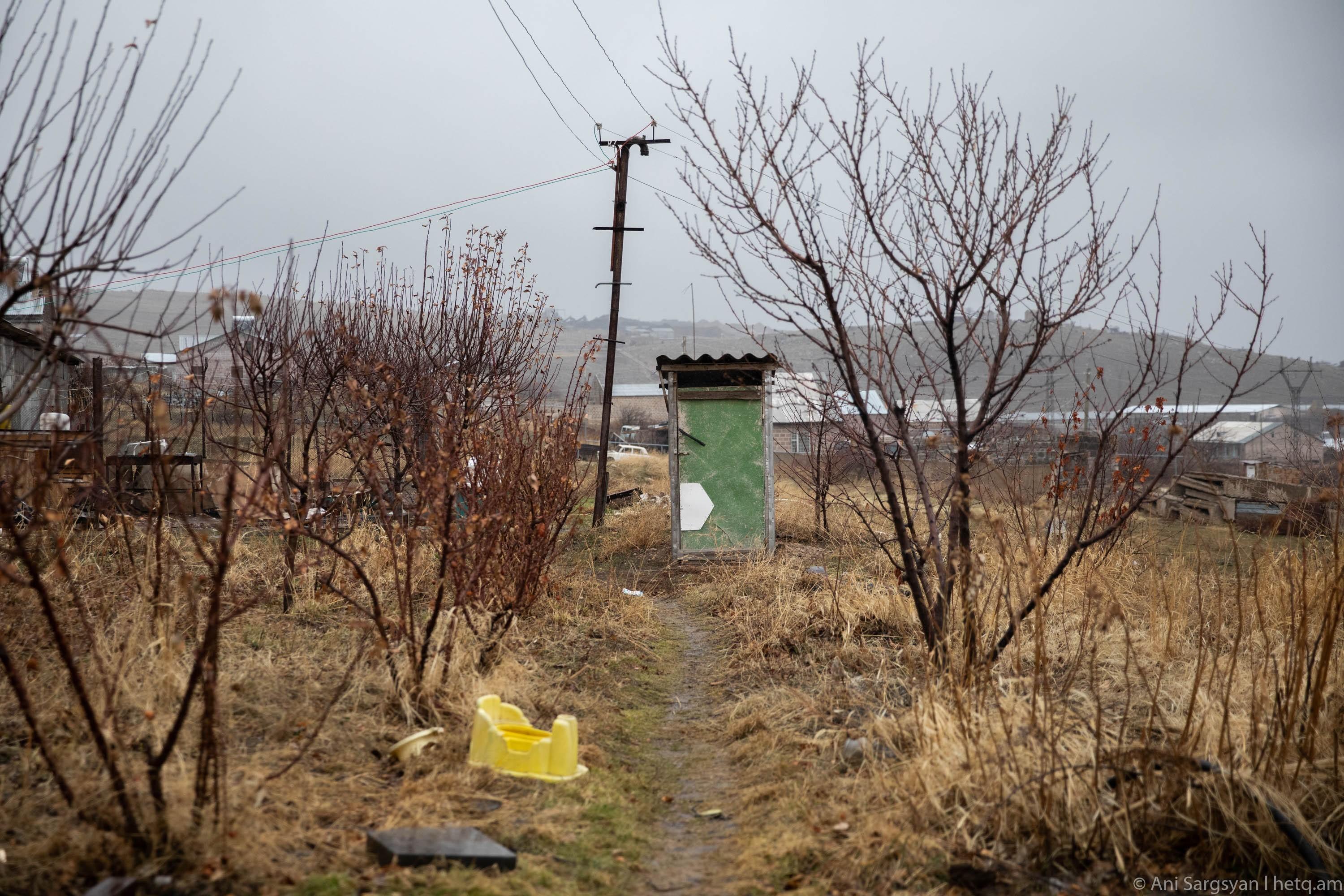 With the death of her husband, the burden on Tehmineh's shoulders doubled. There is almost no contact with other members of the family. The woman is on her own.
After living in a cabin for thirteen years, she has one dream - to live with her children in a stone building. She says one room in a decent building would suffice.
"We have to be strong, to be with our children. I'm a bit weak, but we endure. We have to be strong," says Tehmineh.
If you found a typo you can notify us by selecting the text area and pressing CTRL+Enter