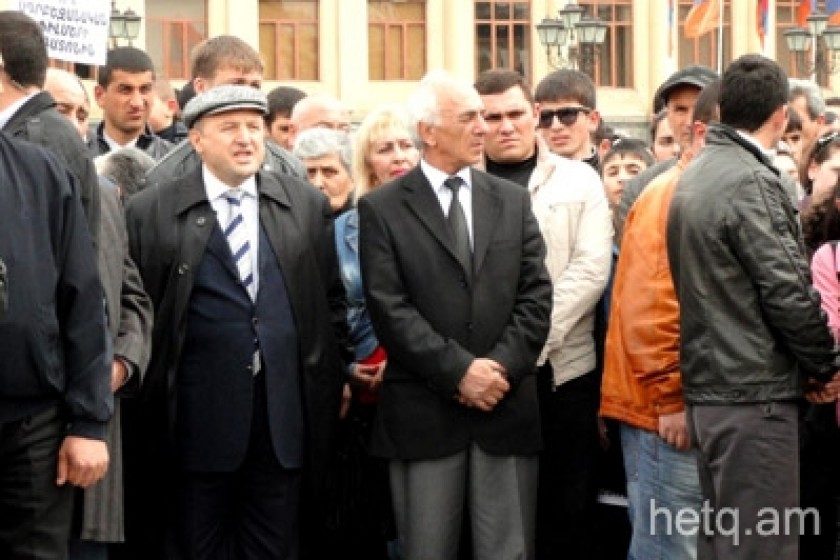 Gyumri Mayor Permits Anti-Azerbaijani Film Protest; Bans Local Environmentalists
Scores of people were on hand today in the central square of Gyumri, Armenia's second largest city, to protest an Azerbaijani film festival called "Stop" scheduled to start tomorrow.
The festival of Azerbaijani short films, organized by the Caucasus Center of Peace-Making Initiatives and the U.S. Embassy, had been effectively blocked in Yerevan due to popular opposition.
Arman Sahakyan, a candidate running for a parliamentary seat from the 34th Election District, was also present at the protest
"This is a spontaneous rally and as parliamentary candidate I felt it was my duty to show up here given that the issue is hotly debated. Personally, I think the initiative to show Azerbaijani films is a bad idea, especially in Gyumri. I urges people to protest but I am not the organizer," Sahakyan told Hetq.
The Gyumri mayor (man wearing cap and stripped tie) and municipal workers were also at the protest.
Local environmental activists were barred from handing out flyers calling for a "Green and clean Gyumri" and "Clean Streets".
According to the Shirak civic association, when the activists approached the crowd, the mayor's press spokesman and another municipal official rushed out and tore the unfurled banners away from them.
The Shirak statement also claims that the activists were called "traitors to the nation" and other expletives.