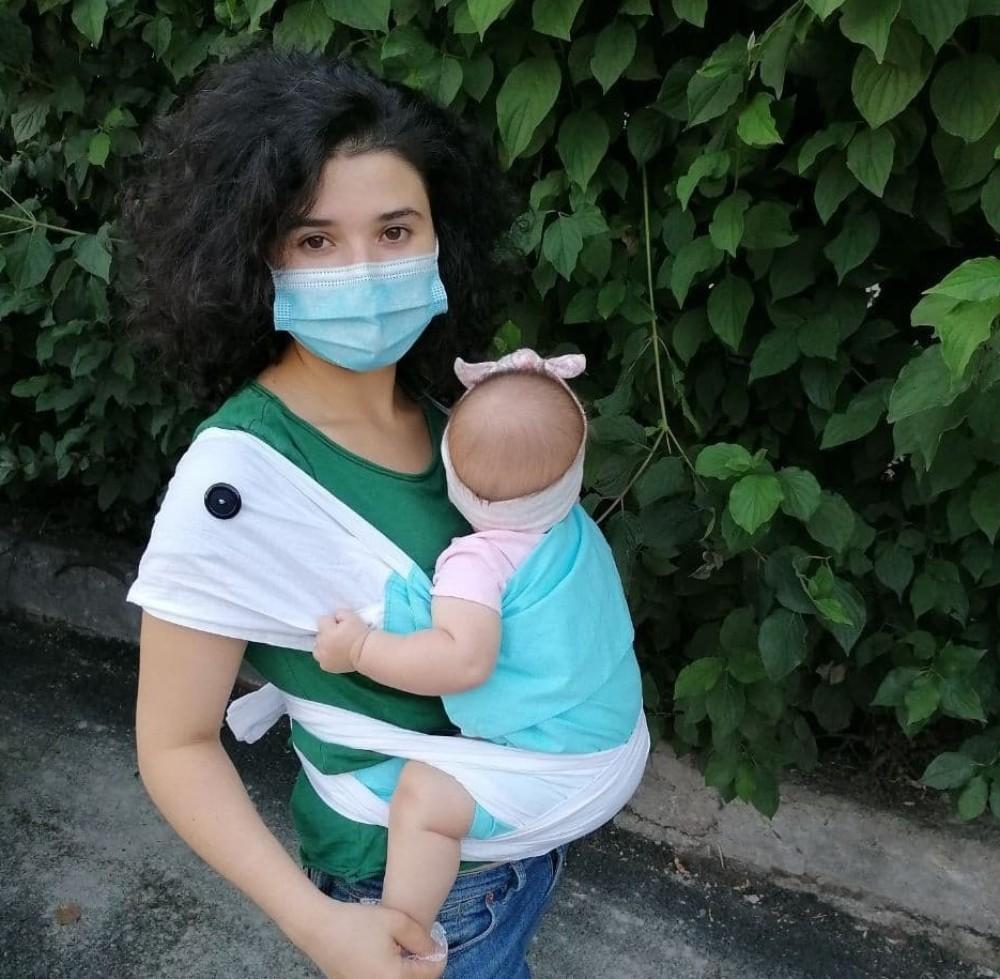 Young Moms in Armenia: "They toast us and then violate our rights"
Anoush did her homework for the upcoming job interview.
The young woman researched the company, listing the possible questions her potential employer would ask. She dressed modestly, with little make-up.
Anoush was surprised when the employer asked her if she planned to have children. "If you're going to have a baby, tell me now. Let's not waste my time," the employer said.
The young woman says she left the interview with numbed hands. "It always happens, my hands freeze and go numb from the strong emotions."
She nods when asked if she's aware that the employer's question was a violation of the employment law. Anoush says her family, especially her husband and father-in-law, wouldn't have supported her if she complained.
This incident took place in September 2019, just a month after Armenian PM Nikol Pashinyan announced that his government wanted to increase the country's population to five million by 2050.
Pashinyan is not the first Armenian leader to announce such ambitious demographic goals. In 2017, then Armenian President Serzh Sargsyan declared that Armenia's population needed to reach four million by 2040. U.N. forecasts are much less optimistic. One U.N. report claims that the country's population may drop from the current three million to 1.7 million by 2100.
Population growth depends on several factors, one of which is the birth rate. While 2020 saw the highest recent birth rate in Armenia (36,533), it is undeniable that Armenians now have fewer children than before.
Here, we study this phenomenon from the perspective of young mothers. We talked to two dozen mothers and experts to understand what changes motherhood has undergone in Armenia and what difficulties young mothers face in terms of the labor law.
When asked if women in Armenia prefer to have fewer children today, researcher Astghik Karapetyan said that women want to have more but dread the verbal abuse of maternity health workers and the risk of losing their jobs.
There was a time when the extended family raised a child
Over time, the modern Armenian family has come to resemble the nuclear Western family. We talked to ethnographer Gohar Vardumyan about the transformations of the family and mothers. She says that in ancient times, several generations lived together in patriarchal families, and clan size could include 50-70 people.
"In these conditions, the new mother, usually not older than twenty, was surrounded by counselors and helpers. The young mother was not on her own. The entire extended family raised the child," says Vardumyan.
Vardumyan says that in Armenia, women have been idolized, put on a pedestal, because they can give birth. This is evidenced by the "mother goddesses" in ancient Armenian mythology. The image of the mother as a "housewife" underwent a transformation during the Soviet era when the rights of men and women were declared equal, and the Armenian woman became a working woman.
"The role of the mother in the Soviet-Armenian family was especially important. While ancient traditions were preserved, the mother was no longer restricted to a purely domestic status. She could work, receive a salary, and attain economic independence. The state supported the mother in every way, starting with childbirth. If a mother with a newborn wanted to return to work, she could leave the child at a nursery and go to work," says Vardumyan.
"Under a magnifying glass": Mothers in Armenia today
Lida, 26, is a mother of two. The young family doesn't live with the husband's parents.
Although Lida now longer puts in fifty hours a week at an office job, she says that rearing kids on her own is more tiring than before.
"It seems that it has become the norm for a woman, a mother, to look her best, to look well-groomed and beautiful. After having kids, she's expected to resume her career, to read what the experts say and rear the children using modern methods. You must give them healthy food, iron their clothes, keep the house tidy. In addition, the woman must look attractive for her husband," Lida says, asking how her peers manage to "play this game".
Another mother, 28-year-old Karineh, says that in the modern world, motherhood seems to be "under a magnifying glass" via the influence of digital technology.
Karineh says she continues to participate in "mother group" social network discussions despite the risk of being ridiculed by more "experienced moms." This phenomenon is known among Western researchers as "Mom Shaming". We don't know how widespread the phenomenon is outside the virtual domain in Armenia as there is no relevant research. Researchers at the University of Michigan found that two-thirds of young mothers with children under the age of five, get comments, criticism or inappropriate advice from their peers about their approaches to caring for and raising their own children. The 475 American women who took part in the study said that children's behavior and eating habits were the most common targets of such outside advice.
"Motherhood has many faces: some happy, some less so"
We talked about modern motherhood with prenatal psychologist Sona Burnazyan, who has worked with many current and future mothers.
Burnazyan says a gulf separates the idolized notions of motherhood from the reality. She says that the romanticization of motherhood arose in ancient times when people had no knowledge of reproduction. The role of fathers was thus neglected, and mothers assumed a supernatural, divine image.
Burnazyan says that moms are ordinary people, and that motherhood can cause happiness and depression. She says that mothers who strive for perfection often feel guilty for coming up short.
The obsession with conforming to the ideal can be quite damaging. "Instead of enjoying motherhood with its joy and challenges, its pros and cons, many women live in tension. They are ashamed of it and that is why they are not able to voice their problems. They can't get support from relatives or professionals," says Burnazyan.
Why families don't plan for a third child
A 2016 Friedrich-Ebert-Stiftung Foundation revealed that while more than 80% of the young people surveyed wanted to have two or three children, the vast majority had one or two.
Most all the mothers who spoke to us said the main reason for having less than three children was socio-economic
Mary, who has one daughter, told us she wants to give her child everything possible, new clothes, shoes, care, recreation, and that having more kids would be a burden.
"We don't want to raise children that we can't properly provide for, who will go wanting," she says.
Satenik has one child and is postponing a second pregnancy. "It took us one year to get this house in order. We took a five-year break to improve our social conditions. I don't want to think about how I'll get diapers for a second child," she says.
Having a home of one's own is also a key factor in modern family planning
Larisa, a journalist, is a mother of two who can't imagine having a third in their two-room apartment.
"Our house is small even for two children. The epidemic made the problem worse since none of us have our own space. This leads to useless arguments. The government has to address this in their housing programs for young families," says Larisa.
Health system inadequacies also cited
The young mothers we spoke to also cited shortcomings in the health care system as reasons for having fewer children.
Half of the women said their first child was born by caesarean section. This delays any second or subsequent pregnancy given the time the body needs to recover.
"Social and organizational issues are solvable. The only thing that keeps me from having a third child is health problems. We really wanted one more baby when my younger son was born, but I couldn't get pregnant so soon after the caesarean. Now, I'm worried about my age. It will be my third operation and I'm approaching a risky age," says 38-year-old Karineh, a mother of two.
The lack of nutrition specialists in maternity hospitals is also a serious obstacle for young mothers.
"I have always dreamed of having four children, two of each sex. But my daughters and I suffered. The problems started in the maternity hospital. We were instructed to buy milk. Then I tried to breastfeed. We had serious problems and I'm not ready to go through all that again. If there had been a breastfeeding specialist in the maternity ward, I'm sure my children and I would not have suffered so much."
One-third of mothers surveyed cite a lack of public amenities for having few children.
Nareh has one daughter and says that Yerevan is quite problematic for raising a child.
"There's a lack of parks, playgrounds, inappropriate disability ramps or their absence, sidewalks full of cars. You can't walk or travel in a wheelchair on the sidewalks. Taxis don't have car-seats, and I'll never put a child in a car because of the road fatalities."
Stella, who lives in one of the small communities in Armenia's northern Lori Province, says that the modern world is incredibly competitive. Everyone wants their child to attend good schools and clubs to get ahead.
"Here, we don't have the conditions for this," she says.
The most pressing issue for mothers in our post-war interviews is the lack of security and stability in Armenia. Some women, however, decided to have a third child after losing a loved one in last year's Artsakh war.
Rights of pregnant women and those with young children not on government agenda
Astghik Karapetyan, President of the "Ket 33" NGO and head of the "Advocacy for Women's Labor Rights in Early Maternity" program, says that maternity protection laws in Armenia are often not enforced.
She says that employers must provide adequate conditions for women to breastfeed their child but seldom do.
While women are aware of their rights, they often do not defend them given their perceived vulnerability. Karapetyan says she found herself in this position at the maternity hospital when her life and that of her child were in the hands of others.
"I had to tolerate the vulgar remarks and inadequate behavior," she says.
Karapetyan believes that maternity protection laws must be drafted and enforced to raise the birth rate in Armenia. She cites laws in Europe that create a cushion between family life and the workplace.
Employers in Armenia still believe they can call on employees whenever they want, demanding their input on this or that matter, or that they work additional hours for the "team".
Karapetyan noted that in France, as of January 2017, employees have a legal right to "disconnect" from the job and that they can simply disregard any work-related messages during non-working hours.
Anoush, the young mom mentioned at the beginning of this article, says greater monitoring of the laws is necessary, otherwise there will always be employers who will discriminate against young mothers, nursing mothers and pregnant women.
"I am convinced that Armenian mothers are praised only in toasts, and later, when convenient, they violate our rights," she says․
If you found a typo you can notify us by selecting the text area and pressing CTRL+Enter