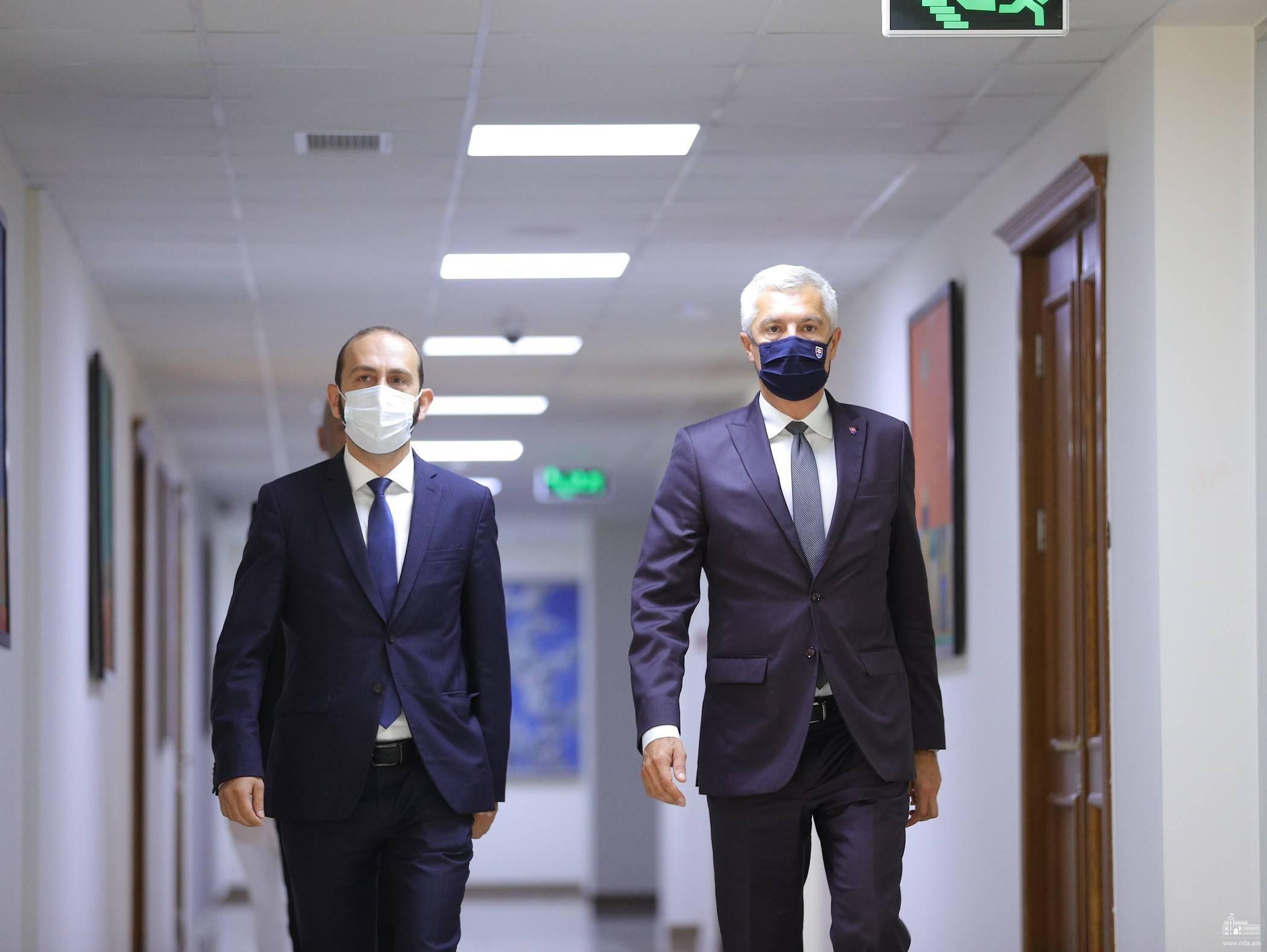 Slovak Arms Sales to Azerbaijan: Armenian Foreign Ministry Refuses to Comment
The Armenian Foreign Ministry, citing a state secrecy clause, is refusing to answer a Hetq inquiry as to whether the foreign minister of Armenia and Slovakia discussed Slovakia arms sales to Azerbaijan when the two met in Yerevan on September 14.
An official statement released by both ministries following the meeting mentioned nothing on the matter.
In July 2018, Vladimir Schnidl, a reporter with the Slovak Dennik N newspaper, wrote that Azerbaijan purchased DANA self-propelled howitzers and RM-70 multiple rocket launchers from Slovakia. The Slovak government had issued a license for the export of howitzers and missile systems. The equipment was transported via Israel to Azerbaijan.
At that time, Armenian Ambassador to Slovakia Tigran Seyranyan publicly criticized Slovakia's action.
"These weapons are really dangerous. Their export is a serious problem that can undermine not only the security of my country, the Nagorno Karabakh Republic, but also the quality of our friendly relations with Slovakia," Seyranyan said.
MSM, a Slovak company owned by the Czechoslovak Group of the influential Czech gunsmith Jaroslav Strnad, was behind the arms export. The Slovak Ministry of Economy had licensed the company to export upgraded RM-70 rocket launchers and upgraded Dana howitzers to Israel. Czech journalists obtained evidence that Israel was merely a transit station and that the real buyer of the weapons was Azerbaijan. The purchased weapons were publicly displayed during Azerbaijani military exercises.
The Slovak government, however, has denied any responsibility for exporting military equipment to Azerbaijan, claiming it only agreed to export the arms to Israel, and not to Azerbaijan, a country that has been under an arms embargo since the 1990s.
In a joint statement to the press on September 14, Armenian Foreign Minister Ararat Mirzoyan thanked Slovakia for its assistance to Armenia during the coronavirus epidemic.
Hetq asked the ministry what type of aid was provided.
The ministry noted that in November 2020, Slovakia, the Czech Republic and Poland, in cooperation with the Visegrad Fund, provided the Slovak government with humanitarian assistance to Armenia separately in the form of medical equipment (X-ray equipment, medicines, medicines, masks, etc.) to combat the coronavirus in Armenia.
In addition, within the framework of the Slovak Government's development programs targeting the Eastern Partnership member states, the Slovak Government, in cooperation with the EU and the Visegrad Group (V4), it is planned to provide a total of €2 million, of which $50,000 can be provided to Armenia annually, for a total of five projects. These projects are of a humanitarian nature, including combatting COVID-19 epidemic.
(The International Visegrad Fund is a donor organization promoting closer cooperation among the Visegrad Group (V4) countries—the Czech Republic, Hungary, Poland and Slovakia.)
Photo: Armenia's Ministry of Foreign Affairs
If you found a typo you can notify us by selecting the text area and pressing CTRL+Enter