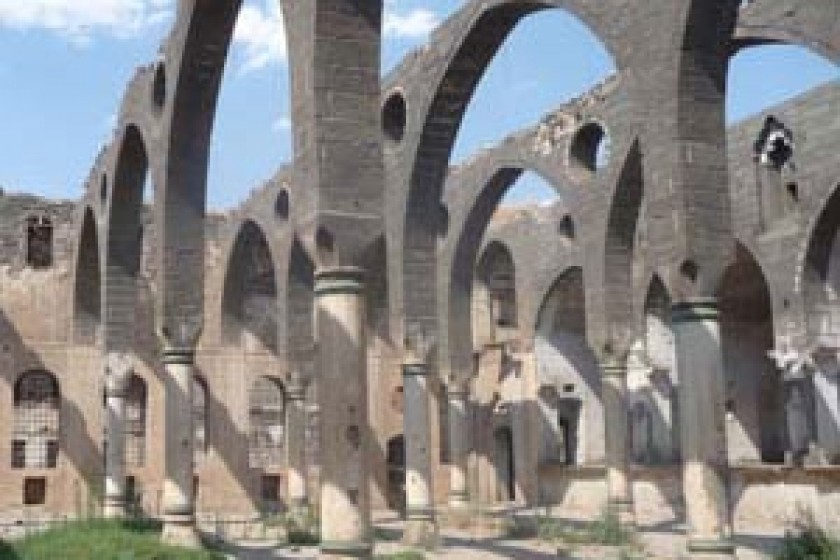 Renovation of Armenian Churches in Turkey Can Spark National Reawakening
St. Giragos Armenian Church in Diyarbekir Now Undergoing Renovation
In November, 2009, the St. Gregory Armenian Apostolic Church in Kayseri was reopened and re-consecrated after being renovated. At present, renovation work is being carried out on the Armenian Church in Malatya and the St. Giragos Church in Diyarbekir.
According to historian Ashot Hayrouni, who spoke at a press conference today in Yerevan, St. Giragos is the largest Armenian Church in the eastern provinces of Turkey and is large enough to accommodate upwards of 2,000. It originally had seven altars. It is being restored under the auspices of the Armenian Church Patriarchate in Istanbul through the Foundation Board of the church, made up of Armenians who formerly resided in the city.
Inscriptions found on the church walls attest to the fact that the first church was built in 1515-1518 and then repaired in 1722 by Armenian Patriarch Bedros Vartabed. In 1729, it was rebuilt with an enlarged plan by three Armenian architects Shahin, Sarukhan and Yarem.
After the genocide in 1915, it was used as a military depot and then again as a church. Its roof collapsed in the 1980s. Yet its delicate structure withstood the elements as well as repeated instances of looting.
According to Mr.Hayrouni, the church was returned to the dwindling Armenian community in the 1960's but has rarely been used for church services. It was only in 2009, when the Armenian singer Armen Tigran, much beloved by the Kurdish people passed away, that his remains were buried at the church at the request of his Kurdish fans.
Mr. Hayrouni stated that St. Giragos is one of the seven churches in the south-eastern provinces of Turkey that today belong to the Istanbul Armenian Patriarchate.
He stated that the renovation of these and other churches in the eastern provinces of Turkey could lead to more Armenians there, once having converted to Islam, to return to the Christian church and a reawakening of their Armenian identity. The historian noted that Archbishop Aram Ateshian, the current Locum Tenens of the Istanbul Patriarchate was born in Diyarbekir.
Mr. Hayrouni noted that this was the case at Akhtamar on September 19, when "converted" Armenians from Moush and elsewhere in eastern Turkey made the pilgrimage to Van. In fact they probably outnumbered those travelling from the RoA.