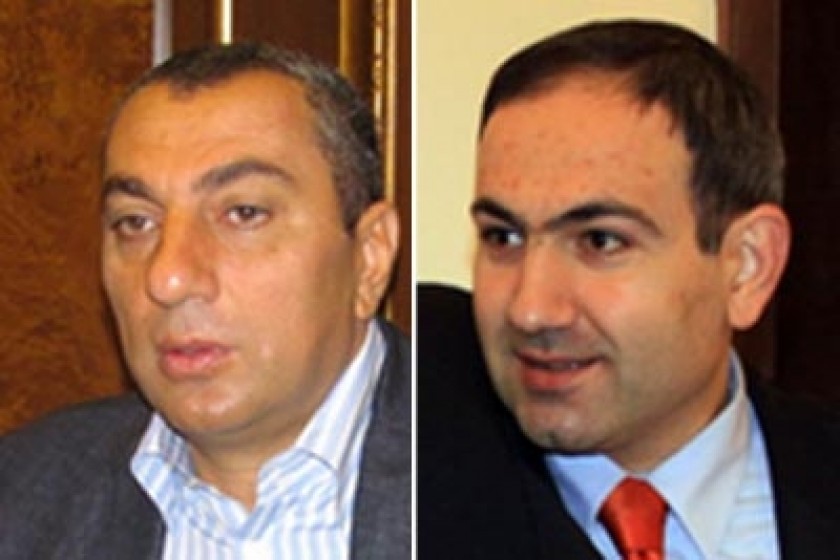 Aleksanyan - $9.9 Million in Cash; Pashinyan - $49.75
Samvel Aleksanyan (left) is a businessman/MP running for re-election in Election District #7.
His main challenger is Nikol Pashinyan, an Armenian National Congress activist who went underground after the March 2008 public unrest and later turned himself in. He was subsequently jailed for several months.
When the race got underway, Aleksanyan feigned poverty and said he was in need of campaign contributions. The businessman even opened a special bank account. But a look at his financial disclosure reports presents a different picture.
Samvel Aleksanyan – This Republican Party MP claims he isn't a businessman even though he enjoys a monopoly on the importation of several foodstuffs into Armenia.
This past year, Aleksanyan reported his 3,025,750 AMD salary as income and stock dividends of 14.5 million from other companies. The disclosures fail to detail the percentage share he owns in these companies.
As of March 1, Aleksanyan claims 380 million AMD and $9.9 million in cash assets.
Nikol Pashinyan – The editor of Haykakan Zhamanak claims no apartment or car.
His salary at the paper is just over 3 million AMD. He reports additional revenue of 759,000 AMD from the paper, and another 182,000 for work-related junkets.
As of March 1, Pashinyan reports 148,900 AMD and $50 in cash holdings.
Vardan Vardanyan – This self-declared candidate is employed at Yerevan's Malatya-Sebastia District Administration. He reports that his 2 million AMD salary is his only income but disclosed 200 million AMD and $200,000 in cash assets as of March 1.
Tigran Grigoryan – This self-declared candidate is unemployed. He owns an apartment in Vanadzor.
This year, Grigoryan received a $2,600 educational scholarship from the Davidyan Foundation and $787 from the Russian-Armenian Cooperation Council.
As of March 1, he reported 1.250 million AMD in cash holdings.
If you found a typo you can notify us by selecting the text area and pressing CTRL+Enter