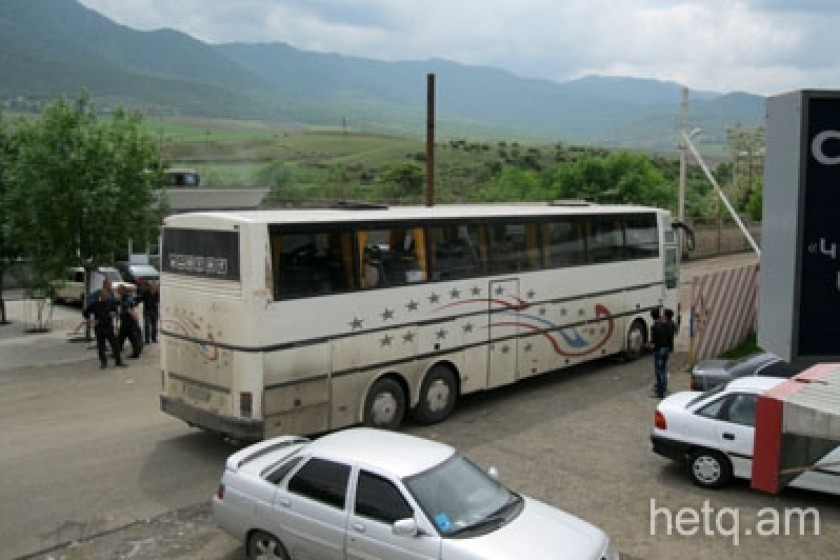 Bagratashen: Long Lines a Constant Complaint at Armenian Border Crossing
Bagratashen is the northern Armenian border crossing into Georgia. Residents of Alaverdi who take agricultural and other goods into Georgia to trade have constantly complained of the long lines that await them, especially on the weekends.
Alaverdi resident Anahit Matosyan told me that last Sunday she had to wait on the Armenian side of the border from 5pm to 9pm before getting across.
All the Armenians I met there said that once they reach Georgian customs, they are processed and away in a matter of minutes.
Hetq tried to talk to Armenian customs officials about the long lines. Despite the fact that the Armenian customs house was open to all RA citizens on May 6, when I visited the border crossing, the door was shut in my face.
After a long bout of cajoling with Armenian officials, I was directed to the office of Karen Grigoryan, the head honcho at the border crossing.
He appeared highly defensive when I asked about the long wait on the Armenian side.
"Look, we do many things well on our side that the Georgians do poorly. Stop comparing us to them," was Grigoryan's answer.
He then went into a spiel about how the government had drafted an extensive program to improve conditions at Armenia's border crossings.
The border official assured me that the government would be ploughing huge amounts of money into the program.
"Let's see what the Georgians will say after we finish the program," he boasted.
He had to concede, however, that long lines of cars and passengers have plagued the border crossing under his supervision.
"Sure, such problems exist. It's natural. But the back-ups aren't a problem of customs. It's due to the border guards. They let 10 lanes of people through that are channelled into just one lane. It's like opening a water valve into a big pipe that narrows down. Don't you think that will create back-ups?"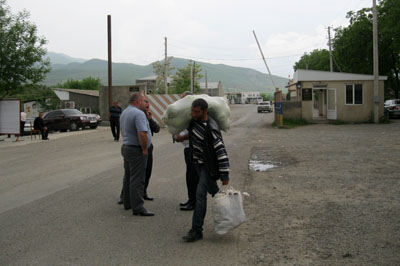 A trader carrying a 70 kilo bag of cabbages on his shoulder told Hetq, "You have to pay them something or else you can't get through. I had to shell out 1,000 AMD for this load."
When I asked the man if customs had given him a receipt for the 1,000 AMD, he replied, "What do I know?" He didn't want to give his name.
I crossed over into Georgia and made my way to customs. All was organized and calm. A Georgian customs official expressed his willingness to help this reporter in whatever way possible. I then returned to the Bagratashen crossing.
There were around 50 cars on the Armenian side of the bridge waiting for their customs documents to be processed.