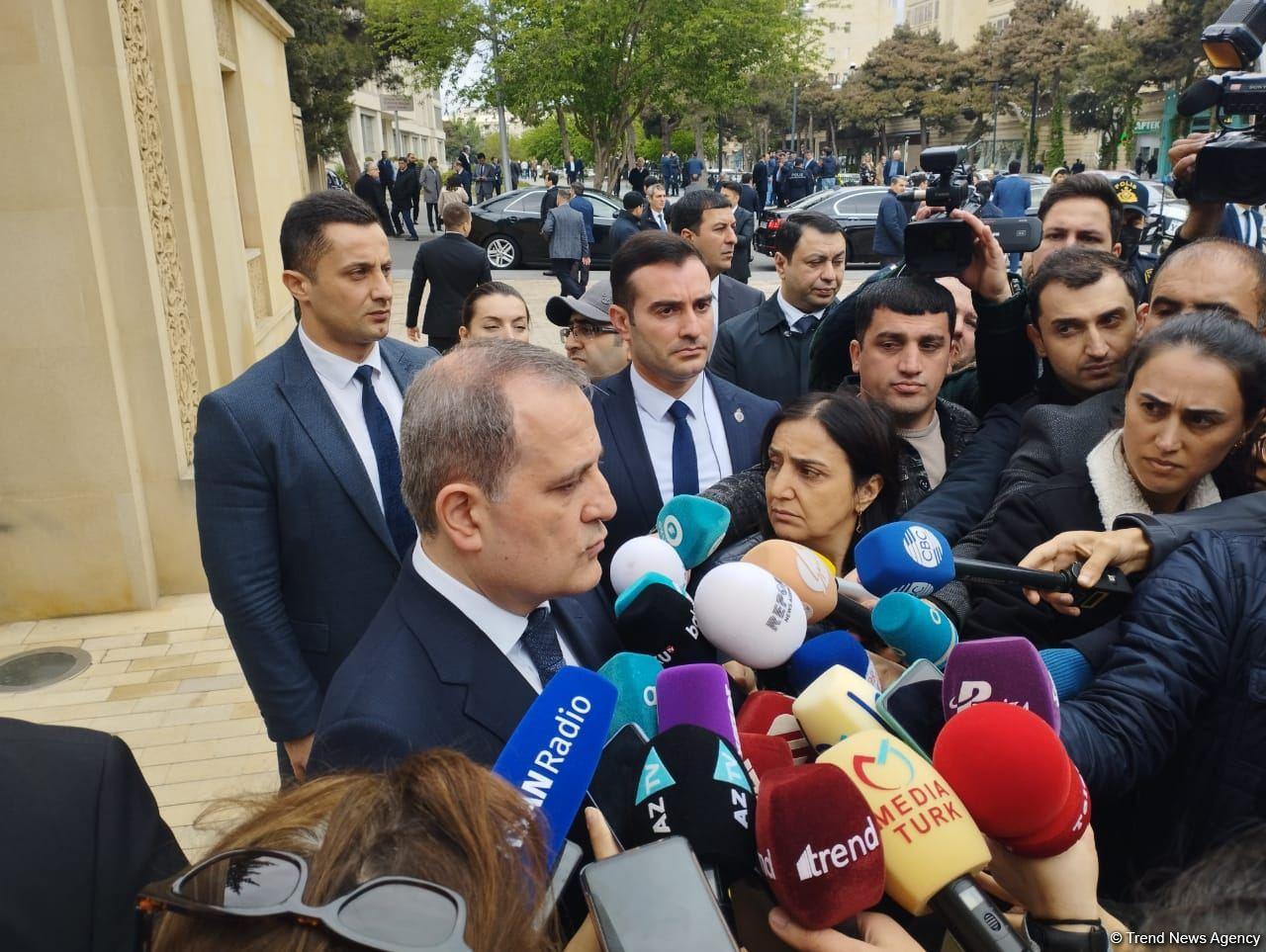 Azerbaijani Foreign Minister Says Anti-Government Protesters in Armenia are "Delusional"
Azerbaijani Foreign Minister Jeyhun Bayramov today said that Armenia, despite announcing that Azerbaijan's five principles for a peace agreement are generally acceptable, has made a counteroffer of six points.
"But the interesting point is that everyone has seen the document presented by Armenia. Looking at the document, it seems that these cannot be called proposals. The document of the Armenian side was a reaction to Azerbaijan's proposals. I can list some of the reactions consisting of 6 clauses, and you may conclude to what extent they can be called proposals," Bayramov told APA.
Bayramov noted that one of the points mentioned is the Azerbaijanan should submit basic proposals to Armenia between February 21 to March.
"Azerbaijan has stated from the first day that the basic proposals were submitted through mediators. The mediators should be asked about that. The next point is that Armenia has no territorial claims on Azerbaijan. Back in 1992, the two countries, being members of the CIS, recognized each other's territorial integrity. And this is, to some extent, a repetition of the basic principle of Azerbaijan," Bayramov said.
According to Bayramov, one of the agreements reached during a meeting between the President of Azerbaijan, the Prime Minister of Armenia and the President of the European Council in Brussels on April 6 was the establishment of a border demarcation commission.
He noted that the first sitting was planned to be held by the end of April.
"I can mention that before the meeting, two telephone conversations took place between me and the Armenian foreign minister, during which Azerbaijan presented its proposals on the composition of the commission. Azerbaijan's proposal was that the commission should be formed with a different dimension. That is, the person who should head the commission should be at the level of deputy prime minister," Bayramov said.
Commenting on the protests organized by opposition political forces in Armenia, demanding the resignation of Prime Minister Nikol Pashinyan, Bayramov said the protesters live in a world of illusions and that their numbers are a few thousand.
"Naturally, we are following those developments. I should mention that it is not about broad public support for the demonstrations. The number of people who participate doesn't exceed 6-7 thousand people. This again proves that Armenian society is tired of those false promises and illusions," Bayramov said.
If you found a typo you can notify us by selecting the text area and pressing CTRL+Enter