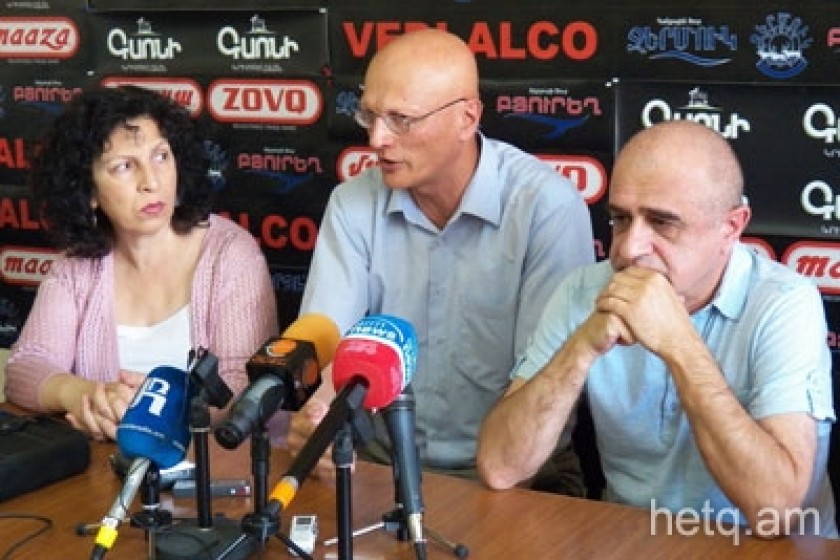 Armenia's "Intellectuals" Speak Out on Harsnakar Beating
Rouben Baboyan: Art Director of the Hovhannes Toumanyan Puppet Theater
Going to eat at a killing field isn't acceptable. One doesn't have to kill someone to be called a criminal. One only has to justify murder to be a criminal. This is not the first or last incident. The reason is because violence is at the center of our moral system. It's permeated all levels and is justifies at each turn. Teachers beat students in the school and parents beat their kids at home.
Violence in the army is a common occurrence. Those who perpetrated violence at the Harsnakar Restaurant were bodyguards and waiters for whom violence is the only way to resolve issues. I saw faces at the candlelight vigil for Vahe Avetyan that were really exceptional. They were the faces of decent people who no longer want to live in such a system of morality.
Lilit Biboyan: Composer, Singer
Harsnakar aand similar establishments remind me of feudal estates where a set of separate laws dominate.
In this instance, it is the obligation of the government to quickly punish the guilty. Intellectuals must consider the underlying causes of what happened and average citizens must react by boycotting the products marketed by the owner of the restaurant and the restaurant; at least for the time being.
Samvel Karapetyan: Specialist of Armenian Historic Architecture
If we take a look back at our recent roots, we will see that almost all of us have grandparents or parents that are the only members of their families who survived various wars and the Genocide.
We are a nation that has barely survived and do not have the right to kill members of this current generation. If this trend continues, we will not last for long, another 100 years maximum.