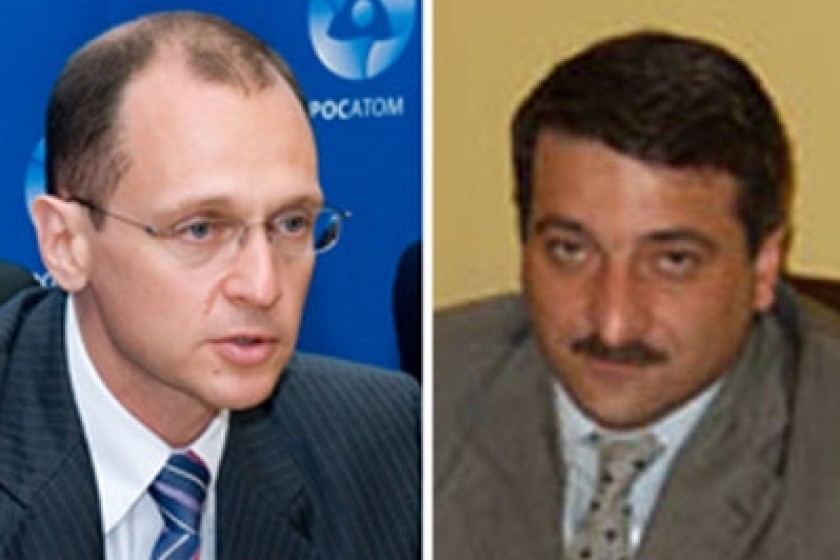 Is a Former Russian Prime Minister Backing a Major Armenian Player in the Gasoline Market?
Hetq has recently obtained some interesting information about Kagh Petrol Service, a major importer of gasoline to Armenia, and its president Ashot Salazaryan (photo right).
Salazaryan also founded City Petrol Group, a company who enjoys a 41.7% share of the gasoline market and a 40.8% share of the diesel fuel market in Armenia. In terms of market share, City Petrol comes in second place to Barsegh Beglaryan's company "Flesh".
Press reports in Armenia have linked Salazaryan to Russian business interests seeking a toehold in Armenia.
Hetq sources point to former Russian Prime Minister Sergei Kiriyenko (photo left) or his close circle as backing Salazaryan.
According to the RA State registry, Kagh Petrol was founded in 1989. Hetq has uncovered that the original name of the company was "Vorak".
According to the Kagh Petrol website, the company signed contract with Russia, Bulgaria and Romania in 1992 to import gasoline and diesel fuel. The company began to cooperate with Turkmenistan in 1994 regarding diesel fuel.
That same year, the company started to build a network of gasoline filling stations in Armenia and in 1995 the company was registered.
The company consolidated its position in the fuel market during the tenure of Robert Kocharyan as Armenian president; i.e. after 1998.
Not surprisingly, Kiriyenko served as the Prime Minister of Russia from 23 March to 23 August 1998 under President Boris Yeltsin.
Also of note is that from November 1997 to March 1998, when Kocharyan was Armenia's Prime Minister, Kiriyenko served as the Russian Minister of Fuels and Energy.
Kiriyenko currently is the head of Rosatom, a Russian state corporation that is the regulatory body of the nuclear sector. He was appointed to the post in November 2005.
If you found a typo you can notify us by selecting the text area and pressing CTRL+Enter