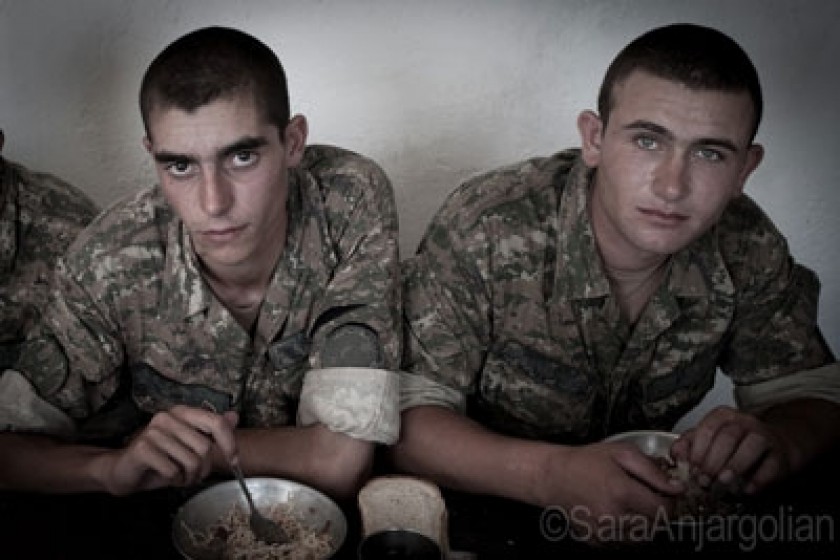 "I want to look into the eyes of our frontline soldiers..."
After Hetq published an article and photo-story about soldiers on the Artsakh frontlines, I received a letter from a young woman.
She was fired from her job based on an administrative violation and visited the Hetq offices to explain what had happened. Here are two lines from her letter.
"I would like to look into the eyes of our frontline soldiers. I want to bring them candy or whatever else I can."
The woman who wrote these lines has been out of work for several months and is in a tough situation. Her phone service has been disconnected.
The letter jolted me 20 years into the past.
It was February, 1992, and I was in a 17 man unit along with Monte. After liberating Veysalou on February 22, we struck out for the Gevorgavan wine factory to dig in. It was a difficult day since we hadn't slept the previous night. One of the guys from Martouni had been killed. It was cold and our spirits were sagging. That same day Movses Hakobyan, now the Artsakh minister of Defense, had been wounded. The armoured car he was in struck a land mine in a vineyard close to Gevorgavan. Our forward advance had come to a halt.
It was freezing, forcing us to constantly move. In the silence, we awaited the enemy's counter-attack. A cold wind from the plains periodically broke the stillness of the night. I then heard loud snoring. It was coming from Karen Ouloubabyan, a giant of a man from Martouni. His snoring was so loud I was afraid it would give our position away to the enemy. (Karen was killed when we destroyed the enemy's position in Ghourouchkh, on the heights opposite the town of Martouni).
Karen would sleep like a hibernating bear and it was hard to wake him. We all poked and prodded him from different angles to stop the snoring. He jumped up, weakly looked at us, and said "Don't worry". A few minutes later we heard the same snoring. We began a patrol around Karen. That whole night we moved around in the trench trembling from the cold. We slept in the snowdrifts of Veysalou in damp clothes and frozen feet. I remembered with fondness the socks my grandmother would knit for me; the ones with colored thread. My grandma would dye the threads herself.
A few days later I received a package from Yerevan containing some socks. My grandmother had knitted the socks and sent them. In one pair there was a letter addressed to the soldiers.
While I always think about writing those years, it just doesn't happen. I can't even read my notes of the day. I can't say why.
All I know is that the two lines of this young woman, "I would like to look into the eyes of our frontline soldiers. I want to bring them candy or whatever else I can", greatly resemble the letter in my grandma's socks.
Photo: Sara Anjargolian
If you found a typo you can notify us by selecting the text area and pressing CTRL+Enter