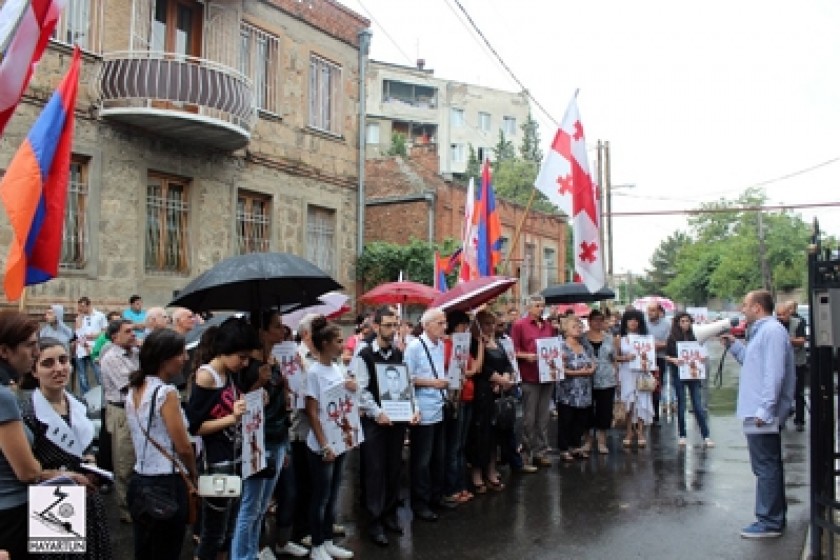 Protest against the extradition of Safarov
Yesterday the "Hayartun" Cultural Centre at the Diocese of Armenian Apostolic Orthodox Holy Church in Georgia and other organizations of the Armenian community of Georgia carried out a protest action in front of the Embassy of Hungary in Georgia.
On 31 August 2012 the Hungarian authorities extradited Ramil Safarov to Azerbaijan. Safarov was an officer of the Azerbaijani army who murdered with an axe the Armenian army officer Gurgen Margaryan. This horrendous crime was committed on February 19, 2004, and was carried out on the Hungarian soil. It was motivated solely by the victim's ethnicity. The manslaughter happened while Margaryan was asleep and another Armenian officer was in line to become the second victim of the murderer's heinous intent. All the officers were participating in the English language courses within the framework of the NATO Partnership for Peace programme.
Although, the Hungarian court sentenced Safarov to life imprisonment without the right of appeal before 2036, the murderer was handed over to Azerbaijan, where he was illegally pardoned and immediately released on August 31, 2012 by the special decree of the Azerbaijani President Ilham Aliev, where he now enjoys his freedom and is receiving a hero's welcome.
We regret to state that Safarov's release is an outcome of a secret and impure deal between the Hungarian and Azerbaijani authorities. It is unacceptable when the values of justice, honour and dignity are traded for other benefits. It is especially regrettable when a member of NATO and EU takes part in such a deal.
Protesters handed over a statement for the Ambassador of Hungary to Georgia, Mr. Shandor Sabos, in which they regret that the Hungarian authorities made a deal with the authoritarian regime of Azerbaijan.
Press Service of the Diocese of Armenian Apostolic Orthodox Holy Church in Georgia
If you found a typo you can notify us by selecting the text area and pressing CTRL+Enter