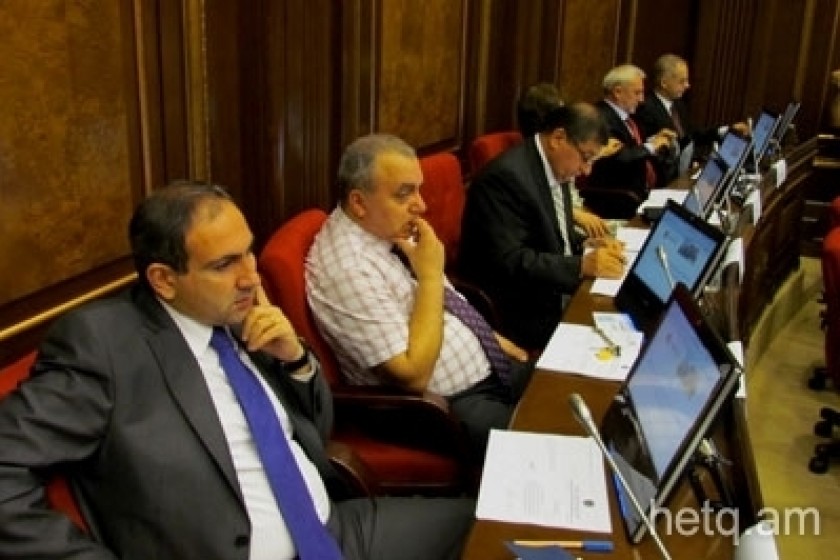 Opposition MP Nikol Pashinyan in Parliament Criticizes Domestic, Foreign Policies
During discussion of the 2011 state budget performance on Thursday, Armenian National Congress (HAK) MP Nikol Pashinyan began his address to the National Assembly with a joke: a man standing in Yerevan's Republic Square was making odd movements when a police officer approached him and asked what he's doing. The man responds that he's fending away crocodiles. The officer remarks that there are no crocodiles, to which the man replies: "That's because I'm driving them away."
Pashinyan then criticized the government's 2011 domestic and foreign policies. According to the opposition MP, that which comprises the budget performance is much like a doctor who after examining a patient who is continuously bleeding says everything is fine — the patient's nails are growing, there are no lice in his hair, his hair is growing as usual, and so on.
"For five years, this government has failed; the economy has also failed," Pashinyan added, before moving on to criticizing "lover of Mercedes" RA Minister of Foreign Affairs Edward Nalbandian. "On what are you 'Mercedes-ing' yourself, Mr. Nalbandian?" he asked rhetorically, noting cases of foreign policy failure, particularly the case of Ramil Safarov who was sentenced to life in prison in Hungary, then later extradited to and pardoned by Azerbaijan.
The 2011 performance of the state budget was voted on in parliament today. Registered in the National Assembly were 71 MPs. Today, as well, the Prosperous Armenia party is not participating with its entire team. President of the RA National Assembly Hovik Abrahamyan specially urged the MPs to "remain in the building or in the rooms in order to organize the voting."