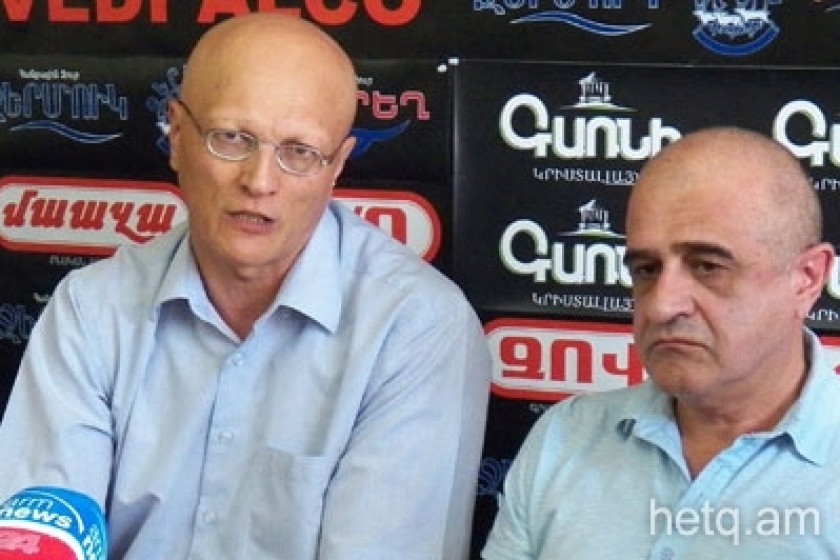 Yerevan Experts Not Opposed to Turning Ministry of Foreign Affairs Building into Hotel
"Of course a cultural center in [Yerevan's] Republic Square would be desirable, but if we [have to] make a choice between a hotel and a state department, then, without a doubt, it would be better for there to be a hotel instead of the Ministry of Foreign Affairs — on the condition that the exterior architectural appearance of the building is preserved," said Ruben Babayan, the artistic director of the Yerevan State Puppet Theatre named after Hovhannes Tumanyan, meeting with journalists today and expressing his views on turning the foreign ministry building into a hotel.
Recall, according to a government decision Thursday, the No. 2 Goverment Building in the city of Yerevan, which houses the Ministry of Foreign Affairs, was sold to Tango CJSC, which belongs to wealthy Argentian-Armenian businessman Eduardo Eurnekian. The building, which reportedly will house a five-star hotel, was sold for the equivalent of $51 million 271 thousand USD.
Samvel Karapetyan, head of the Yerevan branch of the NGO
Research on Armenian Architecture
, is for the most part also not opposed to another hotel in Yerevan's central square, citing as an example the Golden Tulip Hotel, which was sold to Italian entrepreneurs, who, despite conducting other renovations, didn't touch the exterior architectural appearance of the building.
"There's only one small area of concern," Karapetyan cautioned. "To what extent does it define the image of our country, our capital city, its center if half or even more of the buildings at its heart, Republic Square, are to be hotels and not centers of culture?"
Babayan added: "I'm happier that a private individual is coming to take ownership of that building — I no longer trust the state in these matters. We saw what a state official who had the vote of the people did with the Pak Shuka [the covered marketplace on Mashtots Ave. having historical and cultural significance]."
Babayan also noted that in many developed countries, the state departments located in the city center are removed from there. Courthouses are turned into theaters; ministry buildings, into libraries. "Regarding the role of the building, it plays no historical role as, for example, the White House, and even [Yerevan architect Alexander] Tamamyan didn't decide that the Ministry of Foreign Affairs had to be there."