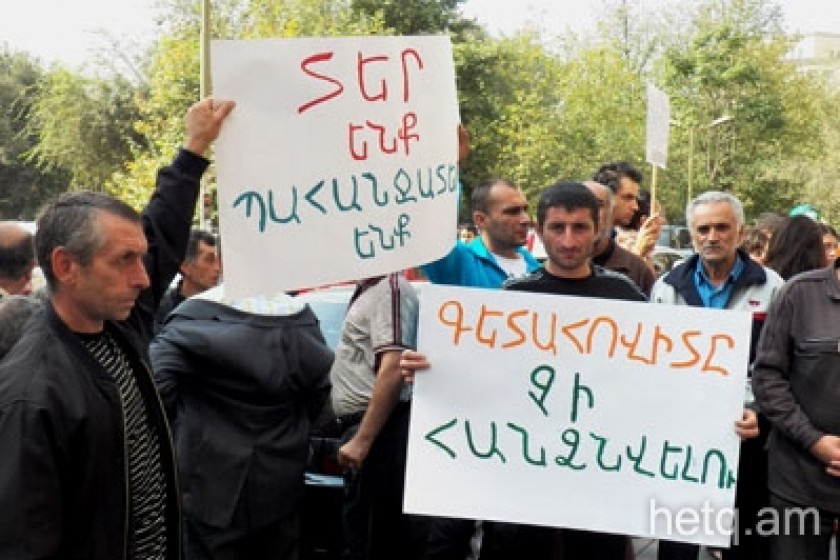 No Water, No Peace: Getahovit Residents Converge on Environment Ministry
Irate residents of the village of Getahovit converged on the Ministry of the Environment in Yerevan to protest the fact that they haven't had drinking water for the past twenty days.
They were joined by local environmental activists demanding an end to the construction of a mini hydro-electric plant that they argue is the cause of the problem.
Residents say they will be forced to leave the village after the plant is completed.
Activists pointed to the numerous violations that have marred the construction of hydro-plants in Getahovit and Yenokavan and claim that the local Paghjour River has all but dried up as a result.
Getahovit resident Vazgen Chaboukhyan summed up the sentiments of his neighbours, "We've gone 20 days without water. If we are deprived of water, we'll be lost."
Activist Yeghia Nersisyan says that construction takes place at night even though the Getahovit mayor has rescinded the construction permit that he had originally issued.
"If this process continues it will be worse than the Trchkan waterfall fiasco. Some twenty kilometres of virgin forest is being destroyed by bulldozers."
Protestors carried signs reading "Getahovit will not surrender", "Small hydro-plants, big problems" and "Nature's answer is unavoidable".