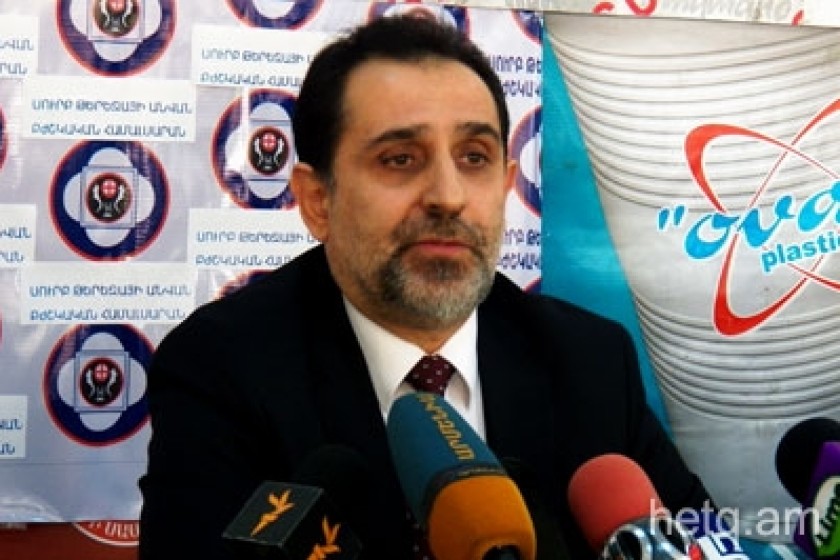 Aram Haroutyunyan: 'I'm the only presidential candidate with the moral right to criticize the government'
Presidential candidate Aram Haroutyunyan told reporters today inYerevanthat if elected his first measure would be to modify the electoral process whereby voters would rate the candidates on a scale of one to seven.
Haroutyunyan, who heads the National Agreement Party, faulted the other candidates for being stooges for the current regime, stating that only he had the moral right to criticize the government given that he has never been a government official.
Haroutyunyan said that only Nikol Pashinyan had the right to be nominated from the Armenian National Congress (HAK), after Levon Ter-Petrosyan chose not to run. He said that MP Hrant Bagratyan should have resigned from the National Assembly before declaring his candidacy for president.
Haroutyunyan chided Bagratyan for riding the HAK coattails as a way to get into the National Assembly and using his newly won popularity as a platform for his presidential run.
Haroutyunyan also criticized Heritage Party leader Raffi Hovannisian, another presidential candidate, for recently travelling toBaku, labeling the visit "senseless". He argued thatAzerbaijanhad already been scolded after the Safarov affair and that there was no need for Hovannisian to go.
He also said the government was right to dismiss Hovannisian as foreign minister after stating inIstanbulthat Armenians had built that city's palaces.
Regarding the present government, Haroutyunyan was more circumspect, stating that its program wasn't bad but that President Sargsyan needed to demonstrate the political will to implement it.
This reporter was somewhat perplexed when Haroutyunyan declared that he was in the race till the end, but that there was a possibility he would drop out ten days before the election.