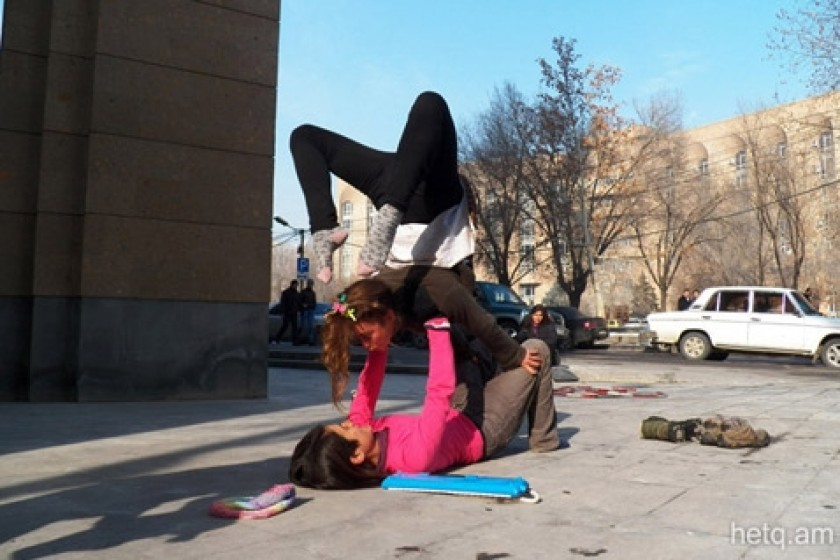 Free Spirits: Argentine Globetrotters Elicit Smiles & Stares in Yerevan
Three young Argentine women have been trekking across the globe for the past few years, bringing smiles, love and liberation to those they meet on their way.
It is perhaps no coincidence that the three adventurers have camped out in Armenia during the presidential campaign.
After all, now more than ever, Armenians are in need of a little jolt of sincerity and truthfulness; of unmasking the deceit.
Louisa, Evelyn and Camila have spent their waking lives on the road; wherever it might take them.
They are proficient singers, dancers and acrobats. The women take their talents to the streets and perform to passersby. After all, they need money to get to their next destination.
"We travel the world in order to convey the simple axiom of living to all. We don't want people to become cogs in the system, victims of the system. We don't want commonly held tendencies to rot the lives of people. We call on the people of whatever country we are passing through to live with love, to see freedom, to surround themselves with smiles and honesty. It's not a difficult thing," says Louisa, her eyes ablaze with a desire to live and to give life.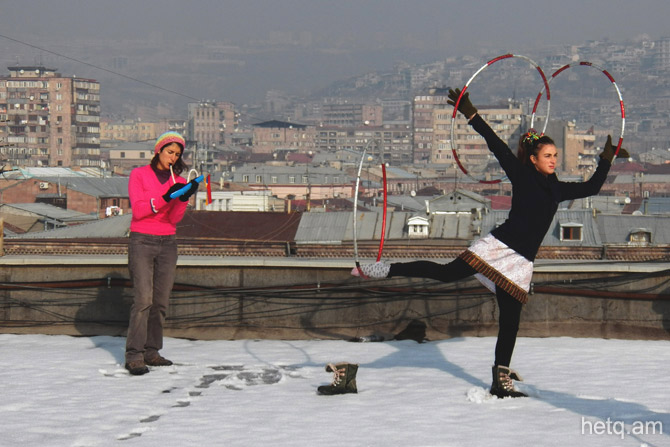 "Sadness is a part of life and we do not reject it. We all share this emotion and we do not have the right to tightly control our feelings. We must not let the minutes of our lives slip by independently of our will," adds Evelyn, who is of Armenian ancestry.
The women arrived in Armenia several weeks ago and have been performing on the streets and in the pubs in Yerevan. The sullen faces of Yerevan residents have posed somewhat of a curiosity to them.
"People here really have difficulty smiling. Our performances are tailored for such individuals," says Camila.
The road of the traveller is both alluring but also strewn with difficulties. During the winter months, the main priority of the Argentine women was to find cheap lodging and food.
They say that one doesn't decide to hit the road just once. Hardships force you to make the decision every day - that this is how you chose to live your life and that today's problems aren't harder than what you have seen or felt.
The women say they never feel alone since they constantly find themselves in new situations, always interfacing with new people.
"The entire world is our home and homeland. We never feel ourselves as strangers anywhere. Sure, language, culture and customs are important, but human emotions are the same the world over," notes Evelyn.
Nevertheless, the globetrotters always remember to call home once a week just to let friends and family where they are.
Their next stop is India, by way of Iran, Afghanistan and Pakistan.
Their motto is to have no set plans and to go where the four winds take them.
They made it to Armenia without incident. They have the self-confidence and wits to complete their journey just as safely, bringing smiles to all they cross paths with.
Video: Saro Baghdasaryan
Photos: Narek Aleksanyan