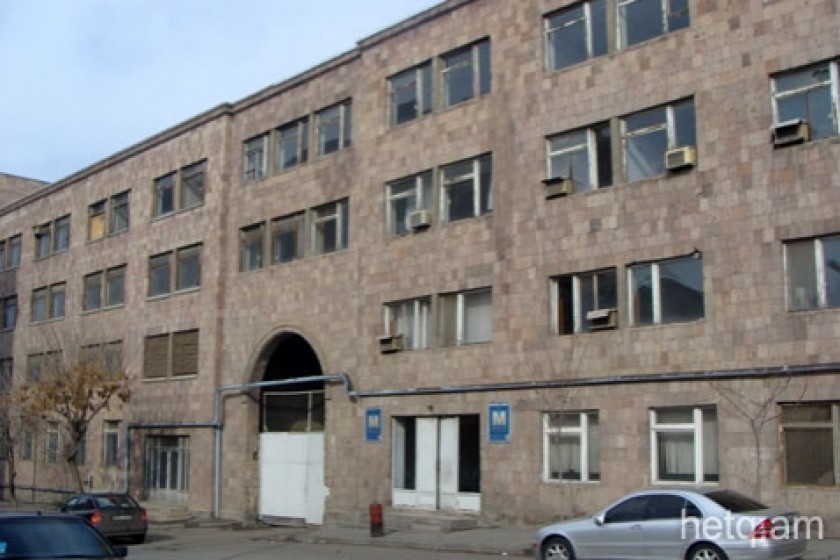 Nairit Loan Scam: Yet Another Scandalous Revelation
Kristine Aghalaryan
Edik Baghdasaryan
Part 3
Photo: The former cloth factory which hasn't operated since 2005. Now houses Megateks Group. Location – 3 Shahamiryanner St, Shengavit, Yerevan.

As we wrote previously, in 2009 Nairit Plant received its second large loan of 35.5 billion AMD ($86 million) from Interstate Bank. At the time, Vahan Melkonyan was the director. He also served as the Interstate Bank representative in Armenia.
Melkonyan decided to purchase 97% of the shares of Megateks Group that had been given as collateral to Interstate Bank. Nairit paid $9.4 million for the shares.
In 2009, Nairit wasn't running at full capacity. It remained idle for 225 days due to capital repairs of production units and limited energy supplies. Readers will remember this was the year of the chloroprene explosion in units 1-12. This fact is registered in the plant's unified financial reports. Usually, limited energy supplies happen when the plan has debts. ArmRusGasprom halts the supply of gas. This was the condition of the plant when it purchased the Megateks Group shares at a cost of $9.4 million.
Who owned Megateks Group?
Primetime players in Nairit credit fiasco.
Vahan Melkonyan (left) and RA Minister of Energy and Natural Resources Armen Movsisyan
Vahan Melkonyan served as the Nairit Plant Executive Director from 2009 to 2011; the period when the plant stopped operating and head towards bankruptcy, despite the $170 million in loans from Interstate Bank. Both before and after, Melkonyan served on the Nairit Plant board of directors.
Megateks Group was the former cloth factory. Why did the necessity arise for a factory producing chemicals to purchase a cloth factory that hadn't operated since 2005? The official reason was to sell the unit. So, Nairit Plant veered away from its prime production function and started to get involved in other transactions.
According to RA State Registry data, the legal successors of Megateks Group were Mahoud CJSC and Nor Ltd. The former was established in 1995 by the RA Ministry of Light Industry and others.
The RA Ministry of industry and Commerce (now known as the Ministry of the Economy) was also previously known as the Ministry of Light Industry. In 1995 it became the Ministry of Commerce, Services and Tourism. From 1995-1996, Vahan Melkonyan served as its minister.
Two companies founded Nor Ltd – Asian Group and NN KO Ltd. There is no information about Asian Group other than it is the founder of "Arir Hay-Iranakan H/Dz Ltd, along with "NNN KO Ltd. Members of Vahan Melkonyan's family founded the latter in 1994. Vahan Melkonyan was also listed as a shareholder.

Now it is clear why Vahan Melkonyan purchased Megateks Group shares via Nairit. He essentially, took out a loan for a factory he managed with his own "assistance".
Who are those mysterious Iranians?
We have come across a list of Iranian organizations and individuals in our investigation of the Nairit Plant loan history. Who are they and who are those who constantly directed Vahan Melkonyan?
In the photo, we see the names of Iranians and Iranian-based organizations in the list of participants. Thus we can infer that Vahan Melkonyan and his family have had dealings with Iranians.
We should note that most of the information regarding these Iranians and Iranian organizations is distorted. Most of the listed addresses either do not exist or are simply wrong.
We should remind readers that in 2009 Numard Trading took Nairit Plant to court, seeking a freeze of its assets. At the heart of the matter was a 2002 supply contract agreed between Esmaeil Motavalli Soufiani Trading and Nayirit Ransat CJSC. Years later, in 2008, Esmaeil Motavalli Soufiani Trading ceded its demand rights to the unknown Numard Trading company. The latter did go to the courts, arguing that Nayirit failed to meet its obligations and must return the 882 million AMD plus interest of about 5 billion AMD. We will cover Numard Trading at a later date. The company is of particular note in the sense that its director is one Stephen John Kelly, a citizen of Great Britain. His name crops up in connection with the infamous Sergei Magnitsky case.
The December 2011 Act, with the inspection results compiled by the RA Ministry of Finance's Financial Control Inspectorate, was sent to the RA Prosecutor General's Office (PGO). The PGO replied to written inquiry regarding this issue, stating that additional studies were being conducted by the RA PGO's Department in the Defense of State Interest based on the above findings.
Sona Truzyan, the PGO's Press Secretary, wrote: "A request was sent to the Prosecutor's Office of the Islamic Republic of Iran for legal assistance in March 2012. We have yet to receive a reply even though several reminders were sent."
For the past year the PGO has been sitting and waiting without conducting an investigation. They can do nothing and say they are waiting. The Office sees no need for urgency in the matter. The main players in this case are in Armenia, they are top government officials. The PGO is frightened to question them because the entire matter can blow up in its face.
We requested that the RA Ministry of Finance provide us with the inspection results dealing with Megateks Group. However, the ministry only provided excerpts of the study Act, noting that the Act contained trade secrets regarding Megateks. The excerpts contained no information regarding transactions by the Megateks shareholders. The public has no access to this information. In the meantime, the Nairit Plant, once a leader in the chemicals production sector with 3,000 jobs, is going bankrupt and incurring more debt before the eyes of RA officials and legal agencies.
What was the fate of Megateks Group shareholders?
After the purchase of Megateks Group shares, as of December 31, 2009, there was a reappraisal of the shares. They had depreciated in vale. The Megateks shares, purchased at 3.5 million AMD, had already depreciated to 2.9 billion. By 2011, they had fallen in valued to 2.5 billion ($6 million).
On August 19, 2010, Nairit Plant sold the Megateks shares to the British company International Capital Group Limited for a mere $972,000, with a repurchase right of more than $3 million. Readers should remember that the shares were originally purchased at $9.4 million. It now becomes clear what devious devices Armenian officials use to launder such large sums of cash.
We contacted Nairit Plant to find out what eventually happened to the shares - had the shares been repurchased? Anoush Harutyunyan, who heads Nairit's Public Affairs and Press Service, responded, "Answers to questions regarding Megateks Group should come from that company."
Nairit Plant became the owner of 97% of Megateks Group shares and at issue is the transaction conducted by Nairit. Thus, it has all the corresponding information at its disposal. To this observation of ours, Harutyunyan issued a follow-up response: "No comment on any matters regarding Megateks Group"
We should also note that the management of Megateks Group also refused to answer these questions. Instead, Megateks Deputy Director Gagik Nazaryan suggested that we refer to the RA State Registry, "where everything is listed". But the Registry does not provide information on the CJSC shareholders.
Certain data was included in the plant's accounts. Nairit Plant operated for 4.5 months in 2009, 3 months in 2010. In 2011, it practically didn't operate at all. But its financial accounts show that in 2009 some 28 million AMD in purchases were made (inventory and leasing services) from Megateks Group. In 2011, some 24 million AMD in purchases were recorded. During 2011, rent payments for the leased space amounted to more than 29 million AMD. As of December 31, 2011, the balance of rental payments was more than 38 million AMD (15 million AMD as of December 2010). This figure was incorporated in the commercial credit debt.
Isn't it odd that the non-operating Nairit Plant would pay such large amounts of rent to Megateks Group, given that it had no need to warehouse either raw materials or product?
(To be continued)
If you found a typo you can notify us by selecting the text area and pressing CTRL+Enter