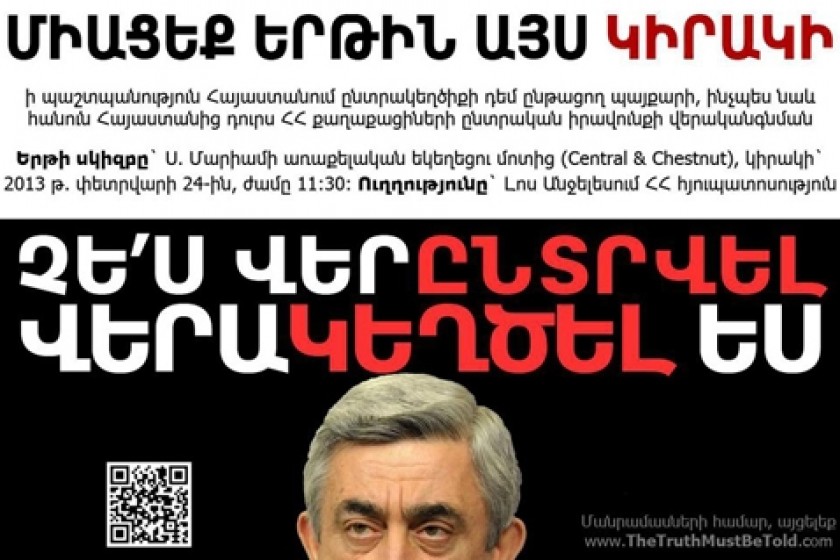 February 24, Los Angeles - March to Protest Phony Elections in Armenia
Armenians of Southern California demand the punishment of vote fraudsters and a fair recount of the ballots in the February 18 presidential election in Armenia.
The recent presidential election in Armenia has once again demonstrated the true face of the current Armenian regime.
There is overwhelming evidence of massive election fraud, which was carried out during the Armenian Presidential Election on February 18, 2013, to skew the overall election outcome in favor of incumbent Serzh Sargsyan.
We, Armenians born and raised in and outside of Armenia's boundaries and residing in Southern California, urge that until the consequences of election fraud are eliminated and the numbers published by the Central Electoral Commission in Armenia inspire confidence, everyone should refuse to recognize Serzh Sargsyan as President-elect. We also demand that the constitutional right of Armenian citizens residing outside Armenia to vote is restored.
We will gather on Sunday, February 24, 2013 at 11:30 am in front of St. Mary's Armenian Apostolic Church on Central Avenue and march towards the Armenian Consulate in Los Angeles to show our solidarity with the people of Armenia.
Give our voice an echo. Let it be known that justice and democracy will prevail!
The link to the Facebook event page: https://www.facebook.com/events/544078458958216/
Ara K. Manoogian