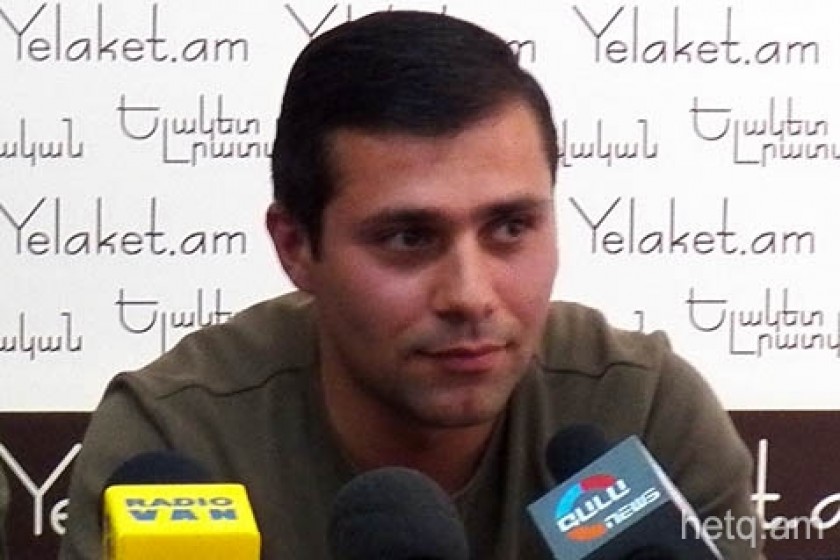 Gevorg Safaryan: 'The Police Detained Me but Couldn't Say Why'
Environmental activist Gevorg Safaryan told reporters today in Yerevan that provocateurs were out and about on April 9.
"In Freedom Square, the provocations began when the cops told us not to sit on the steps of the pedestals of the statues. They gave no reason why we couldn't. They tried to incite passions but they failed," Safaryan said.
"Later, when a group of people tried to go up Baghramyan Avenue to protest, the police closed off all the streets," Safaryan continued. "There were about 100 police confronting thirty or so young activists. Since the young people were more creative and were able to think on their feet, the police couldn't hold them back. When the activists reached the Presidential Palace at Baghramyan 26, the cops then started to use force. There were also cops in civilian dress that participated in the confrontation. They started to push and shove us.
"One police official tore a copy of the RA Constitution from the hand of a female activist and proceeded to tear it up. They forced us down Baghramyan. Heritage Party MP Zarouhie Postanjyan then appeared on the scene. She briefly spoke with top police brass and came back to tell us that the cops said we could stay where we were and that they would ensure our safety.
"After a while, the cops started to press us up against the gates surrounding the National Assembly. Some of the activists sat down on the sidewalk and their safety was in danger. They could have been trampled upon by the crowd.
"The cops then took about twenty of us into custody. They threatened us and cursed. But we had done nothing to deserve such treatment. They let us go later that evening."
Gevorg said they were charged with not carrying out the instructions of the police.
"I signed no such confession, since when I asked which instruction I had failed to obey, the police could offer nothing specific."