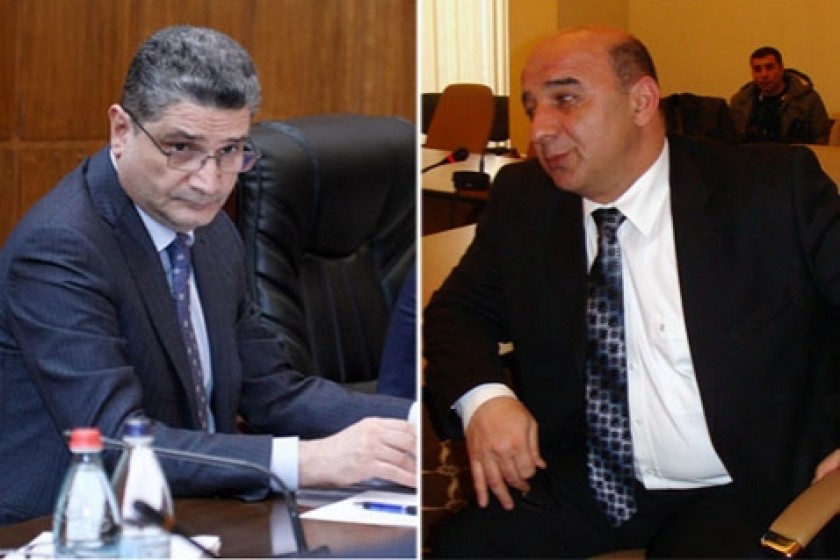 Minister Movsisyan: 'Nairit's Millions Haven't Disappeared,' Our Response: 'Perhaps You Stole Them?'
On March 14, Hetq sent a letter to RA Prime Minister Tigran Sargsyan, informing him that we had published a series of articles exposing the dubious transactions between Nairit Plant CJSC and Rhinoville Properties Limited, and the embezzlement of loans provided by the Interstate Bank.
Is PM Sargsyan aware of the scores of companies registered off-shore and in Russia, through whose channels loans in the amount of $170 million given to Nairit Plant CJSC have literally disappeared?
We forwarded this paramount question to PM Sargsyan and awaited his response.
Yesterday, Energy and Natural Resources Minister Armen Movsisyan answered some of the questions we had posed to the Prime Minister.
What is surprising is that PM Sargsyan appears to have "forced" Minister Movsisyan to take center stage and answer our queries.
I say surprising, because Minister Movsisyan has failed to answer any questions related to Nairit that we sent him some ten months ago.
At minimum, Minister Movsisyan should be obligated to testify as a witness in the Nairit scandal, given that he represents the government's interests as a 10% shareholder in Nairit. Furthermore, Movsisyan signed off on all the transactions related to Nairit.
What follows is Minister Movsisyan's response to Hetq:
According to the RA Government Act N1131-1 of August 18, 2006, 90% of Nairit Plant CJSC shares were purchased by Rhinoville Property Limited from HayGazArd CJSC valued at $40 million. According to the agreement, the purchaser paid $39 million. After an audit of the plant's assets and liabilities, other mutual obligations were enacted. As to the remaining $31 million, this remains a problem for Rhinoville Property Limited.
As of today, the loan obligations of Nairit Plant CJSC amount to $99.915 million and 3.850 billion AMD, at interest rates of 8.5 and 10.5 respectively.
As to Nairit Plant CJSC's purchase transaction of the company Megatex Group, it was enacted in order to ensure the conditions necessary to warehouse 35,000 tons of caoutchouc as well as organize rubber-technical production of the caoutchouc stockpile, employing the production site and existing facilities of Megatex Group.
These loans that were received by Nairit Plant CJSC, and for which they are responsible, have not disappeared via companies registered off-shore or in Russia.
Perhaps Minister Movsisyan is correct; we should have used the term "siphoned off" rather than disappeared.
Minister Movsisyan writes that the fate of the $31 million rests with Rhinoville Property Limited. Nairit Plant is a shareholder in this company. $31 million of the $70 million loan received by this company from Interstate Bank is nowhere to be found.
So Minister Movsisyan, are you saying that you have no knowledge of this? Are you saying that you weren't one of those individuals who brought Rhinoville to Armenia? Are you saying that you have never met with Andre and Eric Narsisyan, the directors of that company?
Do you really want us to believe that you have no clue as to how and where the $31million has disappeared to? What you have to say about the $1 million is another fairytale and you know it.
Rhinoville Property Limited never transferred that $1 million. You would do better to "clarify" to whom it was transferred to. You should also "clarify" how many transactions and reverse transactions were made by HayGazArd to cover that up.
Your next fairytale refers to the purchase of Megatex Group by Nairit Plant. You write that the site was purchased to warehouse 35,000 tons of caoutchouc. What does Nairit, a factory that isn't working, need with raw material stockpiles? Doesn't it have its own?
Minister Movsisyan, do you know how the loan was given and to whom?
Do you know that Megatex Group belongs to Vahan Melkonyan, Interstate Bank's representative in Armenia, and his relatives?
Vahan Melkonyan took about $10 million of the loan received by Nairit Plant for his own factory.
There's no way that you couldn't have known this.
Photo: Tigran Sargsyan (left) and Armen Movsisyan
If you found a typo you can notify us by selecting the text area and pressing CTRL+Enter