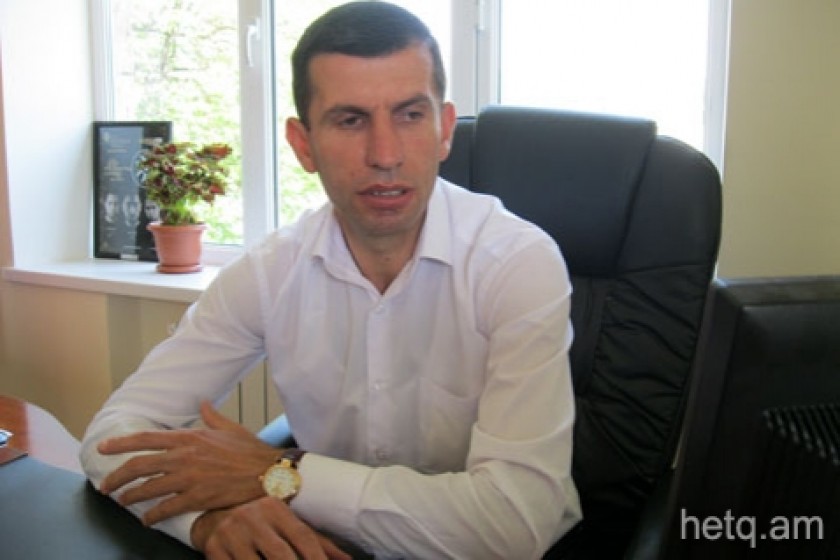 Akhtala Mayor: "The ministry has forgotten about our tailing waste problems"
Haygaz Khachikyan, mayor of the northern Armenian town of Akhtala, says he warned provincial authorities about the growing environmental dangers his community faces caused by the tailings dams owned by the Akhtala Enrichment Plant
In response, on April 14, 2013, Lori Provincial Governor Artour Nalbandyan instructed plant director Madeline Tashjian and Mayor Khachikyan to consult with the Alaverdi Aarhus Center and concerned NGOs and come up with a plan to tackle the problems within twenty days.
Mayor Khachikyan says that Tashjian (who took over management of the plant from her jailed husband Serop Der-Boghossian) rejected the plan that was drafted and offered one of her own.
The mayor says that Tashjian's plan wasn't in the best interests of his community from an environmental perspective.
Mayor Khachikyan adds that in 2013 he also wrote about the environmental situation to Minister of the Environment Aram Haroutyunyan, requesting that he personally intervene to relocate and re-cultivate some of the dams causing the damage.
Khachikyan says that the ministry, in response, noted that the Akhtala Enrichment Plant was on its list of operations subject to inspection and that the matter would be taken care of in due course.
The mayor of Akhtala says the response isn't encouraging because the ministry's Environmental Inspectorate has known about the backed-up tailings waste problem since 2010.
Mayor Khachikyan says that subsequent to a 2010 decree by the Inspectorate, and the consequent dismissal of several department officials, the ministry and Minister Haroutyunyan appear to have forgotten all about the dangers still faced by Akhtala.