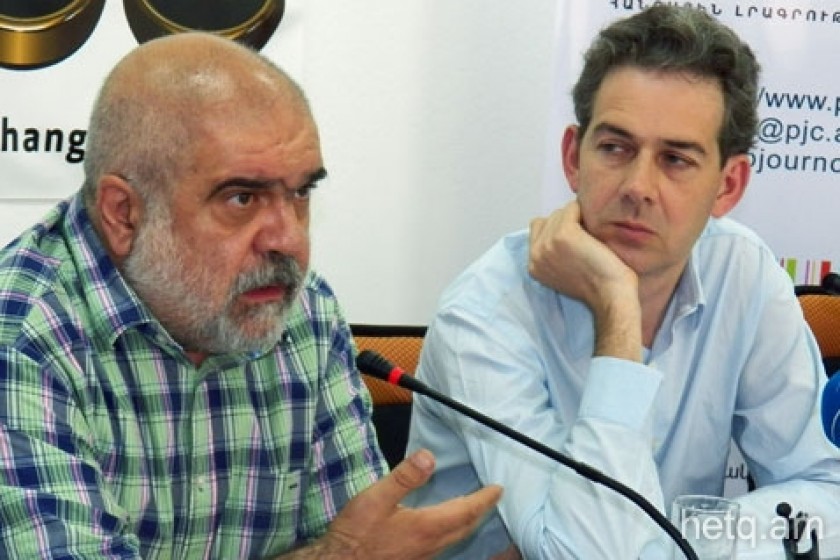 Thomas de Waal: 'Not how, but why should the Karabakh conflict be resolved?'
Thomas de Waal, whose 2003 book Black Garden: Armenia and Azerbaijan through Peace and War, created something of a stir in Armenian circles, is back in Armenia.
At a discussion today in Yerevan, de Waal said that while certain things are taking place around the conflict, sadly, internally nothing is being resolved and the process is even heading in the wrong direction.
A senior associate in the Russia and Eurasia Program at the Carnegie Endowment, specializing primarily in the South Caucasus region, de Waal spoke about the conflict and his recently re-edited book, arguing that the work can help to understand the conflict as it exposes certain myths about the activities of the two sides.
The author noted, however, that the emotions regarding Karabakh aren't myths or illusions, but reality.
"Conflicts must be discussed and in an impartial manner. Naturally mistakes will be made and many will take offense. But that is to be expected," said the other panellist, political analyst Alexander Iskandaryan.
Iskandaryan stressed the importance of the English edition of de Waal's book, given the dearth of English works about Karabakh.
In the previous publication, which came out when Robert Kocharian was president of Armenia, de Waal didn't include photos of Kocharian relaxing in Yalta with his Azerbaijani friends in 1986.
When asked what was hindering a resolution of the Karabakh conflict, de Waal responded that there are many factors at play, adding that what really needs to be asked is 'why must the conflict be resolved?'
"It's a bit of a cynical question, but, in all cases the status-quo is stronger in reality. Of course, there is a desire to resolve the conflict but experience shows us that they primarily aren't resolved via peaceful means," de Waal said.
Photo (l to r): Alexander Iskandaryan, Thomas de Waal