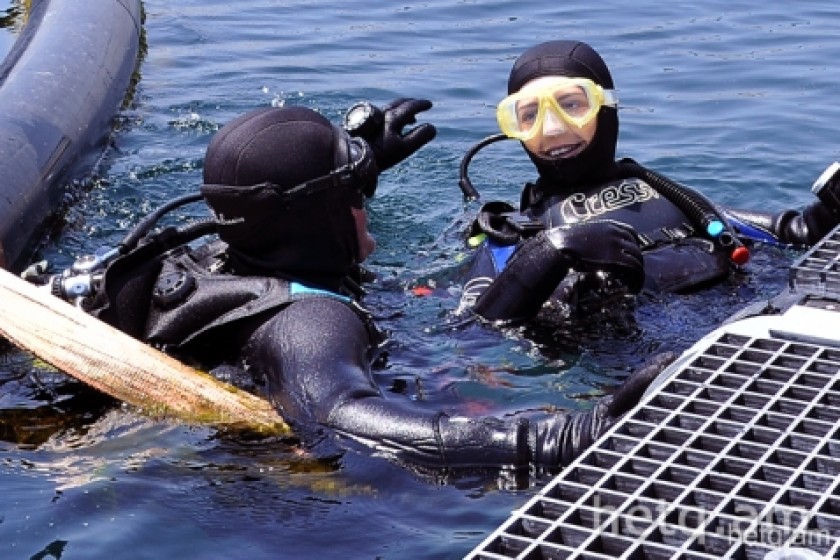 Divers Discover an Unexplored World at the Bottom of Lake Sevan
A research team has returned to Sevan this summer to study the basin of the huge mountain lake, called the blue jewel of Armenia.
It's an initiative spearheaded by French-Armenians Claude Tuloumjian and Stepan Kojoyan, who are ably assisted by local emergency services rescuer Vahe Melkonyan and diver Mamikon Hakobyan.
This year, they have been joined by Anna Tutunjyan, a specialist in ecological chemistry and hydrology.
"We wanted to do some diving in Armenia, not only for pleasure but do do something of benefit," says Stepan.
On their first trip to Armenia, they found out that researchers interested in Sevan didn't have diving capabilities.
Stepan says they removed silt and mud from the lake bottom, an operation that might not seem all that important to the casual observer, but valuable nevertheless given the hundreds of chemical elements contained in the lake mud. It's great research material for scientists.
The expeditions are organized by the recently established Armenian Center for Underwater Research and Dives. Claude Tuloumjian is the president of the center.
The goal of the team is to collect as many samples of the lake's flora and fauna for eventual study by scientists interested in the lake's geology and eco-system.
The team has also brought various objects to the surface of interest to archaeologists.
"The first time we collected artefacts from the lake bottom, taking photos and videos, it was of great interest to scientists. They had never seen such things," said Stepan.
The French-Armenians divers say they also want to develop the sport in Armenia.
Anna, the new scientist on the team, has already become a proficient diver. She plumbs the murky depths with a trained eye, spotting new and interesting things the regular divers miss.