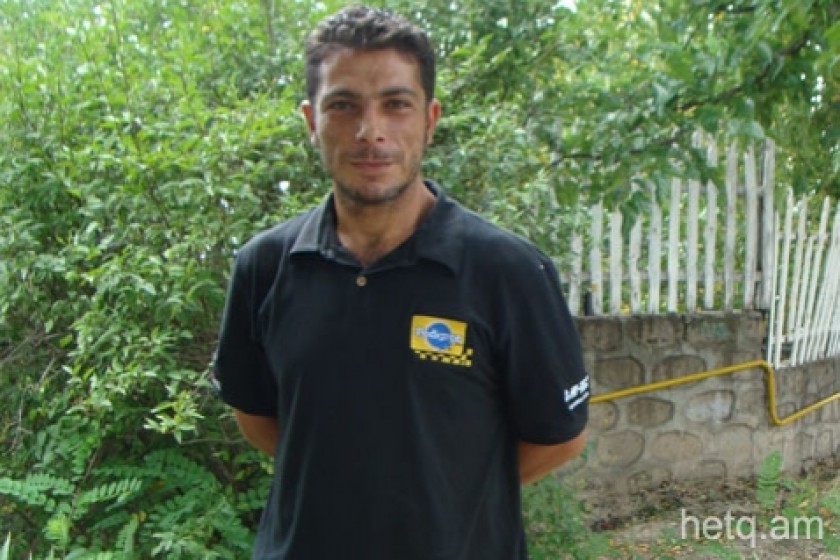 Serop From Syria Starts Anew in Berdzor: "Rich or poor, it's the homeland"
35 year-old Serop Boghos came to Armenia from the town of Qamshli, Syria, one year ago.
After spending two nights in Yerevan, he moved to the small town of Berdzor, the provincial capital of Kashatagh in Artsakh.
When I asked Serop where he lives, the young man joked, "They make me live a dog's life." He then told me that he lives in a guard hut for a wheat, iron and cement storehouse. There is no toilet or washroom in the place. Serop showers outside using cold water.
"Cold water is good for the blood," he says with a grin. "The water comes every two days. If I'm around, I store it in bottles. Otherwise, I have to wait till the next time. But such matters don't irritate me. After all, it's the homeland. Rich or poor, it's the homeland."
Even before the war in Syria, Serop wanted to come to Armenia, but he didn't know the procedure or how he could apply for Armenian citizenship. The war made getting Armenian citizenship a bit easier and more of a necessity. He followed up and now is a citizen of Armenia and Artsakh.
One of his wishes was to change his last name from Boghos to Boghosyan, but the authorities didn't comply when granting him citizenship.
Serop's brother Davit is also in Berdzor with his family. Their other relatives, including their parents, remain in Syria.
Local Artsakh authorities allocated an abandoned house to Serop in which to live. It's in terrible condition, however, and needs extensive repair. Serop told me it makes more sense to gut the place and start from scratch rather than to repair what exists.
"It will take more time and money to tear down the old peeling plaster and such, but it makes more sense," he says.
Serop is an electrician by trade and now works for the Berdzor electric utility. He has a part-time job watering the fields in the afternoons. From the two jobs combined, Serop earns 100,000 ($250) AMD monthly.
He doesn't understand why salaries are lower in Berdzor than Yerevan, while produce and most other goods are more expensive. He believes the government needs to step in and regulate trade more effectively so that goods reaching Berdzor can be sold at cheaper prices.
"I have no idea what the government is doing to make things easier for the people here. Are they twiddling their thumbs? I don't care if they read this. If they want to banish me, let them," says Serop.
There are eight Syrian Armenian families now living in Berdzor. It seems that Serop, at least, has established himself and is preparing to renovate his house from top to bottom.
If you found a typo you can notify us by selecting the text area and pressing CTRL+Enter