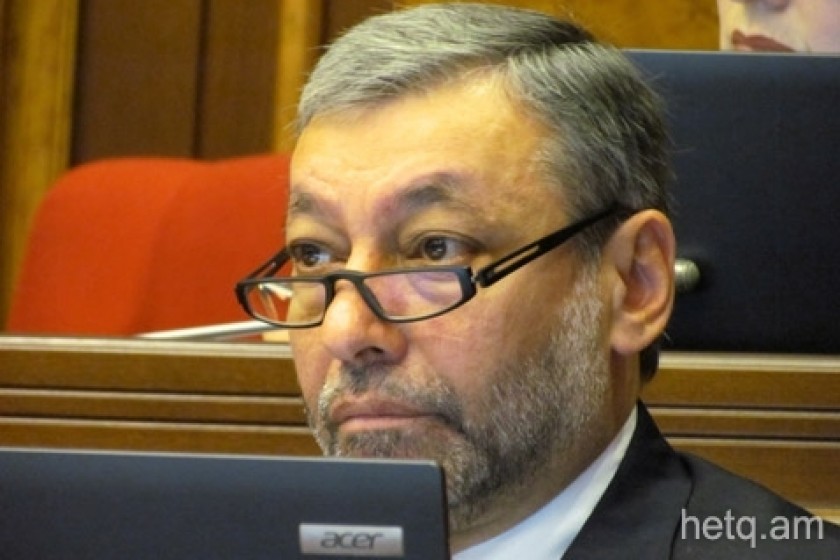 Opposition MP Arzoumanyan Chides Parliament Prez on Customs Union: 'The government can't have it both ways'
Opposition Armenian MPs called on Parliament President Hovik Abrahamyan to allow them the opportunity of familiarizing themselves with ongoing negotiations regarding Armenia's entry into the Russia-led Customs Union.
When Abrahamyan declared that the parliament would debate the issue when the full Customs Union package was finalized, MP Alexander Arzoumanyan countered that they didn't want to discuss a done deal, but rather wanted to get in on the action now.
"The president merely expressed his desire, his opinion, on the matter. We have just been made aware of it. Given that Armenia's sovereignty will be restricted by joining the Customs Union, perhaps it is best that the issue be decided via a referendum. Perhaps some of our government bodies should participate in detailed discussions regarding it. It seems to me that we must first debate the issue and later hold negotiations," Arzoumanyan said.
These remarks surprised and irked Parliament President Abrahamyan.
"You served as a foreign minister of Armenia. What specific law are you referring to that a president must first hold consultations before signing any treaties?" retorted Abrahamyan, once again claiming that President Sargsyan did in fact consult with the majority political forces, his own Republican Party and the minor coalition partner, Rule of Law.
To the comment by Abrahamyan that no Armenian official has stated that the government is refusing to sign the EU Association Agreement, MP Arzoumanyan countered that the government can't have it both ways.
"It's like when the prospective bride is given to someone else but the family says a wedding will take place anyway," Arzoumanyan quipped.